If you have been following Manu's Menu for a while, you would have noticed that the site got a bit of a make-over.  I have been thinking about changing the look of my blog for a while, but never really took the plunge… until now.  There are still a few issues to fix and I am continuously working on them, but I hope you like the new look and feel.  So, to celebrate these changes, I thought of posting a special recipe: Orchid and Chocolate Cupcakes.  I already have a couple of recipes that use Orchid essence on the blog: Orchid and Matcha Macarons and Orchid Panna Cotta, so make sure to check them out too if you are intrigued by this flowery flavour.  It kind of tastes like vanilla, but it has "flowery" undertones to it.  Delicious and perfect to celebrate spring… remember, after all, it is spring here in Australia!  Enjoy!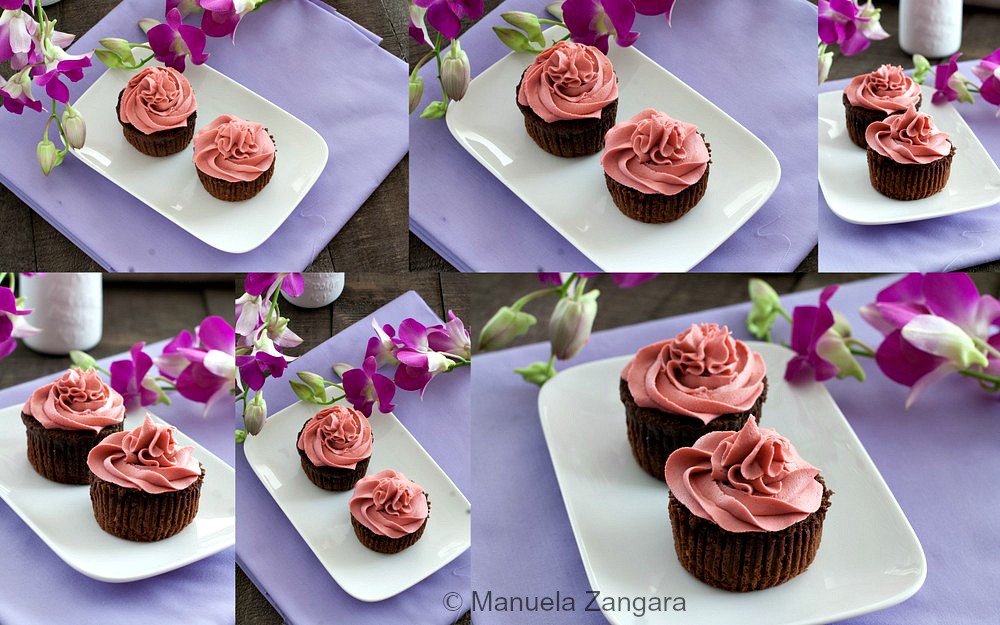 Orchid and Chocolate Cupcakes
The recipe for delicious chocolate cupcakes decorated with orchid flavoured buttercream.
Total Time
1
hour
25
minutes
Ingredients
Chocolate Cupcakes
188

gms

– 1 ½ cups flour

1

tsp

baking powder

¼

tsp

sea salt

115

gms

– 4 oz. unsalted butter

at room temperature

125

gms

– 1 cup + 2 tbsp packed brown sugar

2

eggs

at room temperature

1

tsp

vanilla

½

cup

buttermilk or yogurt

2

tbsp

milk

3 to 4

tbsp

cocoa powder
Orchid Buttercream
125

gms

– 4.4 oz. butter

225

gms

– 8 oz. icing sugar

Orchid essence

to taste – I use Artgato Orchid Essence, you can buy it here

Purple food coloring

powder or paste
Instructions
Chocolate Cupcakes
Preheat the oven to 165°C – 330°F and line muffin trays with papers.

Then cream the butter, vanilla and brown sugar until pale and fluffy.

Add the eggs, one at a time, beating until well incorporated.  Remember to scrape down the sides of the bowl as needed.

Add the flour and cocoa powder mixture in three batches, alternating it with two additions of buttermilk (or yogurt) and milk. Beat until well combined.

Put the batter into the lined muffin tray cups, filling each to about half.

Bake for about 25 minutes or until cooked through.
To Assemble the cupcakes
Put the orchid icing in a piping bag and decorate the chocolate cupcakes with it.
Recipe Notes
This recipe will give you a little bit more buttercream than you require for the cupcakes.  You can store the remaining buttercream in an air tight container and keep it in the fridge for up to 10 days or in the freezer for up to a few months.  Just let it thaw/bring it back to room temperature and re whip it on low before using it.

Related Posts: