I know many people find making bread relaxing.  And I do understand why… kneading is good for you and it does take your mind away from everyday worries.  I have a very similar experience when making pasta.  And more precisely when shaping pasta with my hands.  I find it a very relaxing and fulfilling activity.  It is a bit like creating a work of art (especially when you get the shape right ;-P)… you can make bow ties, trofie, gnocchi, strascinati… the list goes on and on, all from a piece of dough!  You can check out my tutorials here.  One of my favourite shapes of home-made pasta is orecchiette.  I love how easy they are to make and how cute they look when they are ready!  And then, obviously, I love how they pick up all the sauce thanks to their rough surface and their folds!  The recipe for the sauce I am going to share with you today is very quick to make and is perfect for a weekday meal (you can use store bought orecchiette if you are short on time!)… it is a complete meal as it contains vegetables, meat and pasta!  My kids love it and the family is always very happy when I make it!  Hope you like it too!  Enjoy!
Orecchiette with sausage and fennel tops
Orecchiette with sausage and fennel tops - including a tutorial on how to make your own orecchiette by hand!
Total Time
1
hour
20
minutes
Ingredients
450

gms

– 1 lb. Italian pork sausage

casing removed

3

tbsp

extra virgin olive oil

½

onion

chopped

60

ml

– ¼ cup white wine

1

bunch fennel tops

wilted

1

pinch

saffron

30

ml

– 1/8 cup water

Salt to taste

Parmigiano Reggiano

finely grated to serve

400

gms

orecchiette
Instructions
Make the orecchiette as per

my tutorial

(or use store bought ones).

To make the sauce, start by boiling the fennel tops in hot salty water. When soft, take them out of the water with a slotted spoon and keep them aside. Keep the cooking liquid as you will need it to cook your pasta in. This will enhance the flavour of fennel in the final dish. When the fennel tops have cooled down, chop them up.

Put the chopped onion in a frying pan with the extra virgin olive oil and let it fry on a low fire for a couple of minutes.

Now add the sausage and brown it well breaking down the meat.

Add the cut fennel tops and white wine. Increase the flame to high. As soon as the alcohol evaporates, decrease the flame and let it cook for 5 minutes.

Add the saffron, salt and about 1/8 cup of water. Mix well, cook for 5 minutes and then turn the fire off.

In the meantime, cook the orecchiette following the steps on

"How to cook pasta al dente"

. Only in this case you will not have a pre set cooking time. This will vary on the thickness of your orecchiette (it should take approximately a couple of minutes). So, the best solution is to taste it! Remember, it does have to remain firm. Also, cook it in the same liquid in which you wilted the fennel tops (you may have to add some water and/or salt).

When the pasta is cooked, drain it, put it in the frying pan with the sauce and put the fire on a medium flame. Stir well making sure the pasta is well coated and mixed in the sauce.

Serve it hot with a generous amount of finely grated Parmigiano Reggiano on the top and enjoy it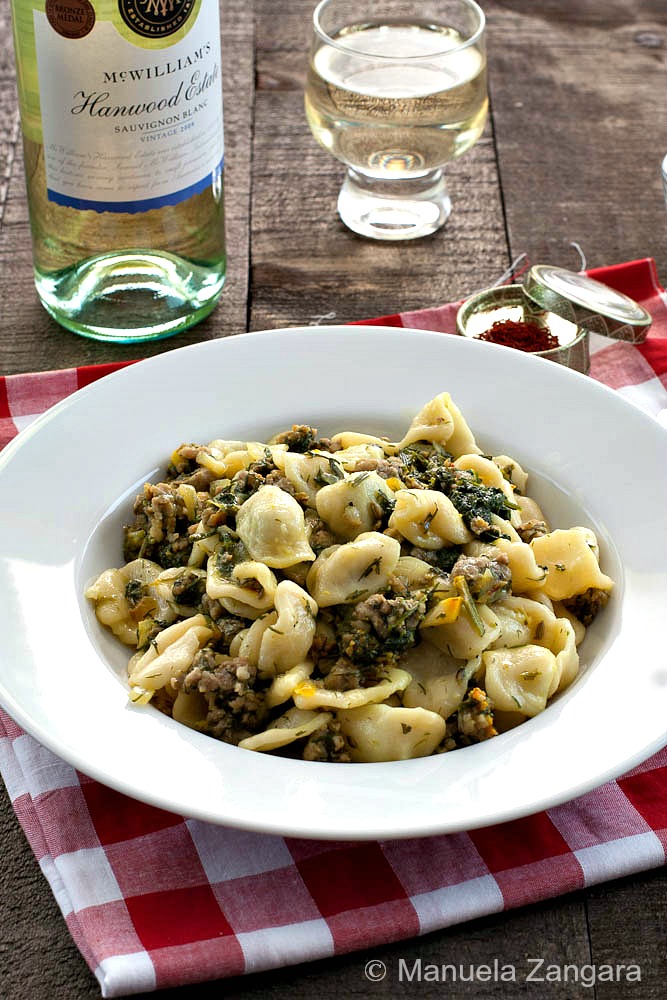 Related Posts: