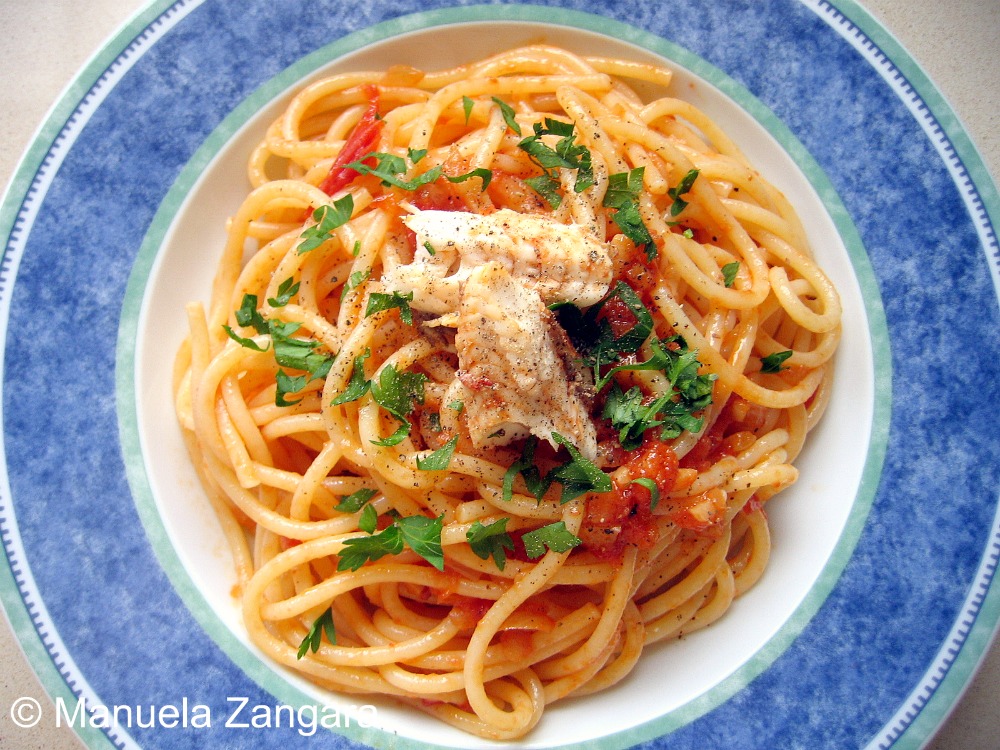 This is another one of my mother's recipes.  It is very simple and very tasty.  I love the delicate fish taste that gets in the sauce… yum!  To make it, you need a very bony fish that is also very cartilaginous… any fish suitable to make soup is fine.  I usually make it with red gurnards, which I might add, is not so easily available here in Sydney.  Because you want to use it for a sauce, it is important that the fish is small (that is why I suggest you use 2 small fishes rather than 1 big fish, with the innards removed) and that you cook it with its bones and head as that is what makes the sauce tasty.  You can debone it once cooked and eat it with your pasta or after it, if you like.
Ingredients (for 4 persons):
2 Small Red Gurnards, cleaned (I used one for 2 people)
1 small onion, thinly chopped
2 cloves garlic, chopped
4 tbsp extra virgin olive oil
6 to 8 tbsp diced tinned tomatoes
½ glass white wine
Salt
Pepper
Parsley, chopped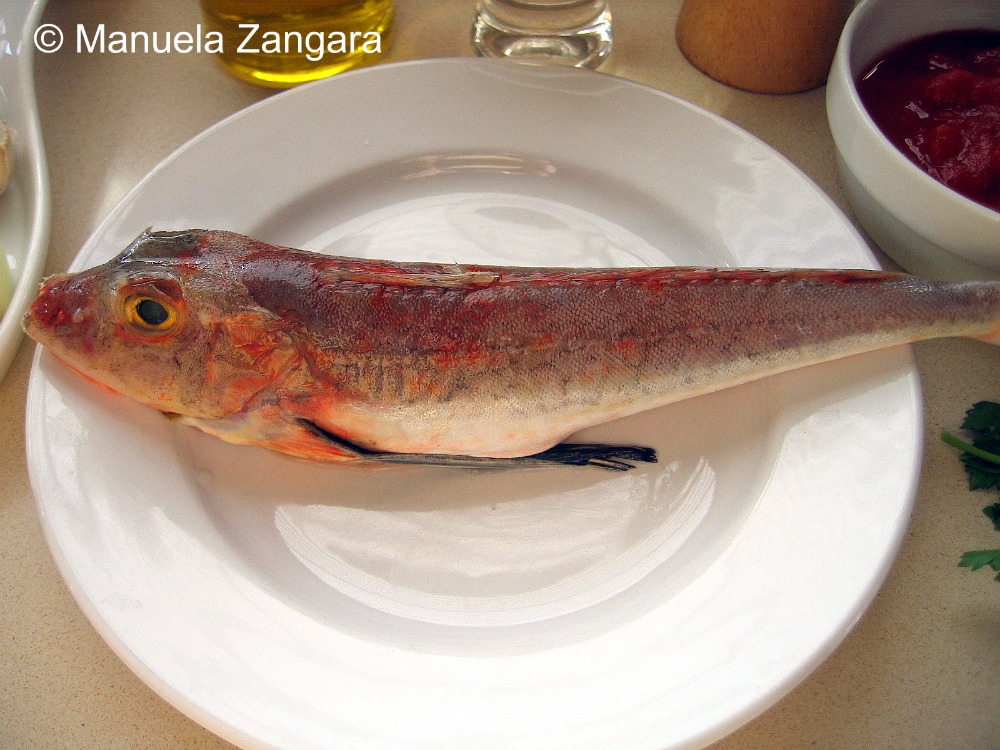 Put the chopped onion and garlic in a pot with the extra virgin olive oil and sauté for a few minutes on a very low flame.
When they are soft and transparent add the diced tomatoes and let that cook for 3 minutes.
Now rinse the cleaned fish and add it to the sauce on the fire.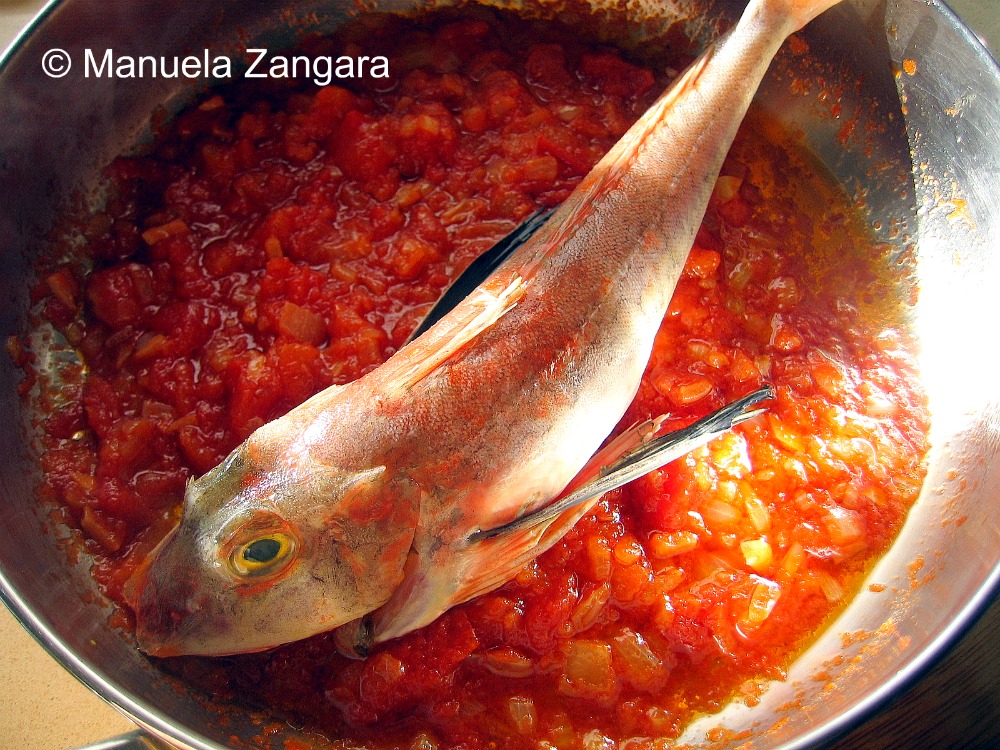 Pour the white wine on the top and increase the flame to burn off the alcohol.
Add salt, a couple of tbsp of water and let it cook on a very low flame until the fish almost comes apart.  You will need to turn the fish around and very likely add a little more water while cooking.  The sauce has to be a bit "runny".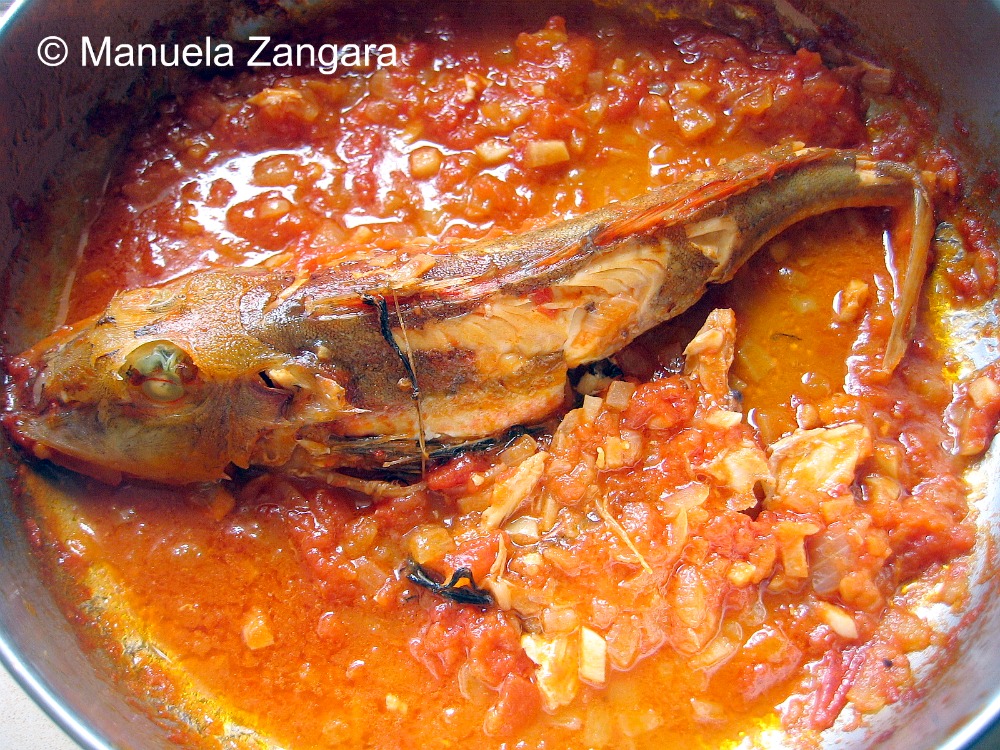 When ready, remove the fish from the sauce and keep it aside.  Do not add the cooked and cleaned red gurnard in the sauce or will absorb it all and you will not have enough for your pasta.  Add it only at the end as a "topping" or eat it separately.
In the meantime, cook the spaghetti following the steps on How to cook pasta "al dente" in the Techniques page of this site. Drain it and serve with the fish sauce.  Top it with freshly ground pepper, chopped parsley and a couple of pieces of cleaned red gurnard (optional).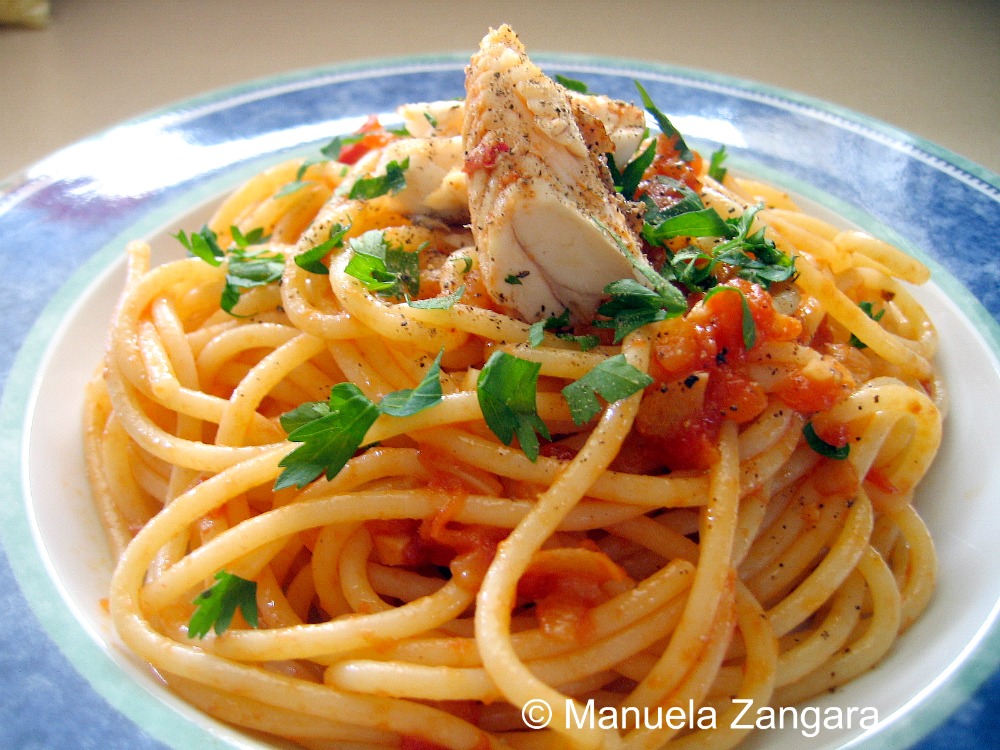 Just a little background on where and how we got the red gurnard from.  As I was saying, finding smallish red gurnards is not that easy around here, so when I saw one at Leichhardt on the weekend, I knew I had to buy it.  We were there to take our daughters to the story time in Italian that is held at the Co.As.It. Multimedia Resource Centre.  While there, we always stop by Norton Grocer's, AC Butcher's and some other shops in the area that sell Italian goodies.  On the ground level of that shopping centre, there is a very small fish shop and that is where I spotted this little red gurnard.  I told the lady at the counter that I wanted the "little one" and she looked a bit annoyed… then she asked "anything else?", I said "no thank you" and she looked even more annoyed.  She weighed the fish and said "1 dollar 60".  She wrapped it and gave it to my husband.  While he was paying I went ahead with my 2 girls as we were running late.  Then I remembered I should have asked them to clean it and I signalled my husband to ask them to clean it (he was still there).  When he came back he was furious.  Guess why?  They told him "it cost only 1 dollar 60 and you even want it cleaned?".  And nobody in the shop wanted to clean it… they made him wait for 5 minutes before someone decided to clean it!  That made me soooo angry… I went back to the shop and told them they had lost a client… and I made sure all the other people buying fish there heard me clearly.  Now, there is no rule that says you cannot buy a small fish (they set the price based on its weight…), there's no rule that says I must buy "a lot" or spend "a lot", and there is definitely no minimum amount to spend in order to get a fish cleaned.  I have bought the same fish at other places and never ever had a problem having it cleaned.  It also took them all of 30 seconds to actually clean it.  If they do not want to dirty their hands cleaning fish, I suggest they stop selling fish and open up a boutique to sell clothes!  And this fantastic (yeah right) fish shop is called Norton Seafoods and it is located in Norton Plaza on Norton Street… Beware all you Sydneysiders!  I suggest you shop somewhere else for your fish!  They surely won't get our business ever again.
On a completely different note I'd like to announce that my Macarons with White Chocolate and Mint Ganache recipe won this month's recipe challenge over at FoodFrenzy!  Thank You all soooo much for your support!  It is the first time that I win a "competition" and I can't even begin to tell you how happy I am!!! 🙂  THANK YOU ALL! <3

Related Posts: