October is breast cancer awareness month and it provides an opportunity for us all to focus on breast cancer and its impact on those affected by the disease in our community. According to a research, breast cancer remains the most common cancer among Australian women… did you know that 42 women are diagnosed each day in Australia?? And while survival rates continue to improve, awareness and research are the key! After organising the Big Barbecue Online Event to spread the word about prostate cancer, this time I am taking part in the #ShowYourSupport campaign launched by the National Breast Cancer Foundation. Please, consider a donation at Show Your Support or scroll down for other useful links. For such an important occasion, I decided to create a simple and healthy Watermelon and Strawberry Salad… pink in colour for the cause, obviously. I love fruit salads in general and this one is exceptional: refreshing, pretty and delicious. I love the lime and ginger syrup, it adds an exotic touch to a simple dish. Do try it!! I'd like to thank Louis Thiers for donating the beautiful pink cutlery in the photos.
Watermelon and Strawberry Salad with Ginger and Lime Syrup
Ingredients
Ginger and Lime Syrup
70 gms – ⅓ cup sugar
70 ml – ⅓ cup water
1 tsp fresh ginger, grated
Juice of ½ lime
Salad
Instructions
Syrup
Mix all the ingredients in a saucepan and put it on the fire until the sugar has melted.
Let it cool down, then filter and keep aside.
Salad
Clean and cut the watermelon in bite-size cubes.
Hull and halve the strawberries and add them to the watermelon cubes.
Add the grated lime zest and some mint leaves.
Dress with the ginger and lime syrup, mix well and let it rest for 10-15 minutes in the fridge.
Serve cold.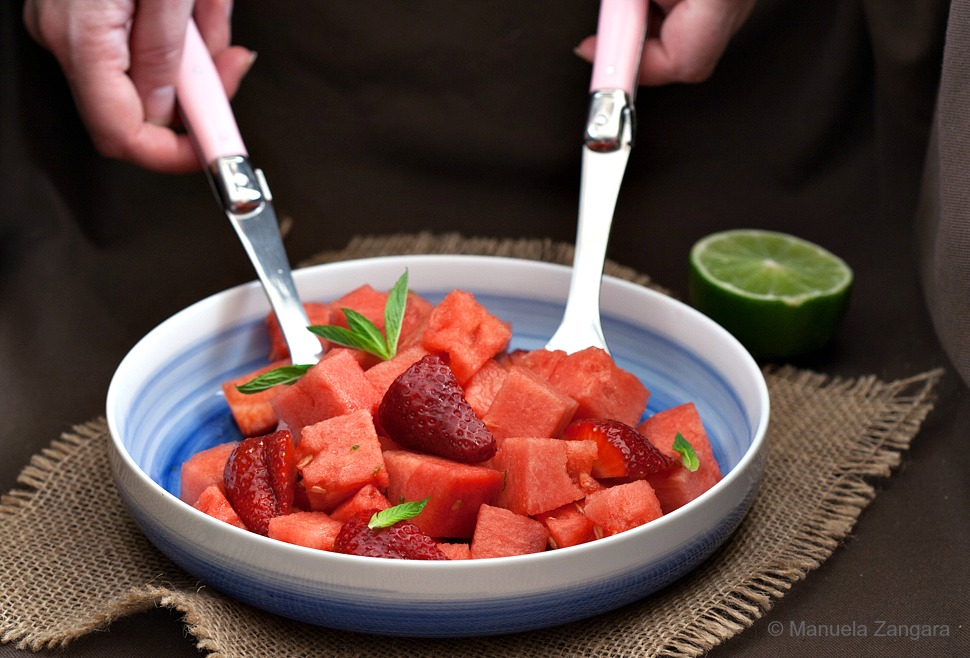 HOW YOU CAN HELP
If you are interested in making a donation or reading more about breast cancer, here are my charities of choice. Remember that this is a really worthy cause to support!
Australia – Breast Cancer Network Australia
New Zealand – Breast Cancer Network New Zealand
US – Breast Cancer Action
US – Living Beyond Breast Cancer
UK – Breast Cancer Now
IT – AIRC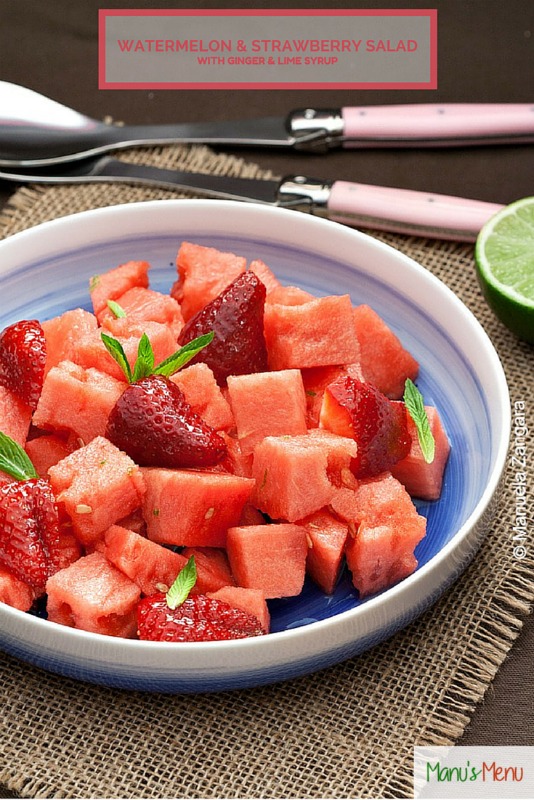 Pin It

Related Posts: