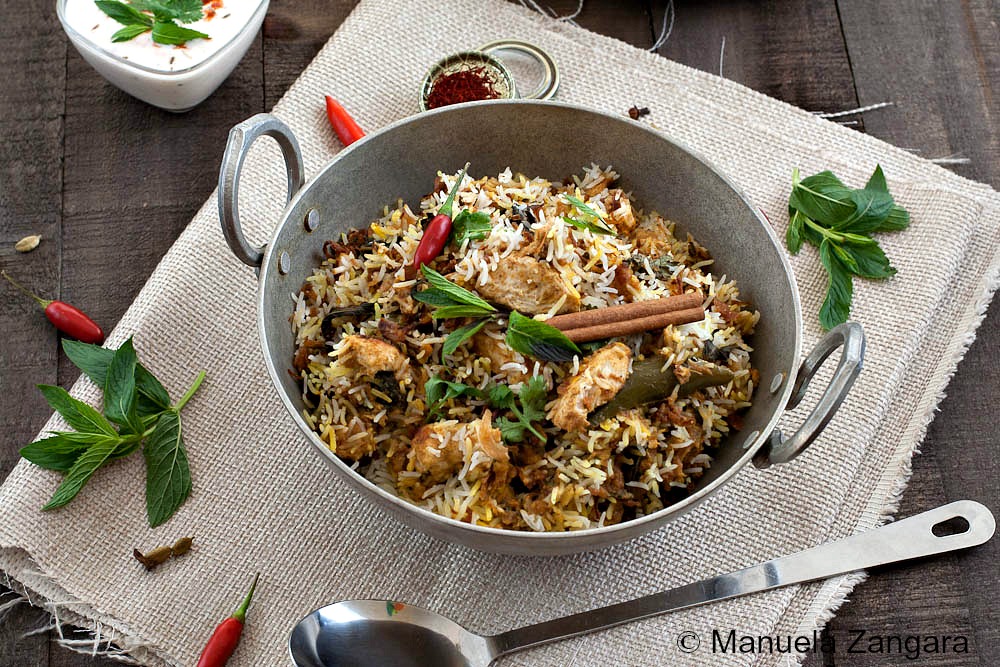 Today's recipe is definitely a special one.  It is one of my favourite Indian dishes.  Hyderabadi Chicken Biryani, like all the food of the area, is greatly influenced by the Mughals, Arabic, Turkish and Iranian food that use plenty of rice, wheat and spices.  I particularly like the mix of spices and herbs in this recipe: the aroma of the mint that you can smell throughout the house while the biryani is cooking is inebriating.  My husband says it is one of the best biryani he has ever eaten, and that is a fantastic compliment being that he has actually eaten plenty throughout his life! hehehehe  When you read the long list of ingredients, this dish looks like a lot of work, but you'll be amazed by how quickly it actually comes together, so much so that I often make it as a mid-week's dinner.  You basically need to mix all the marinade ingredients together, put the chicken in it and refrigerate it.  Then cook the rice for a few minutes and layer both the chicken, rice and herbs in a heavy bottomed pot… let it cook for 30 minutes and you will have a dinner set for a king… or better still, a maharaja!  Serve it warm with some raita on the side for a complete and delicious Indian meal!  Enjoy!  And if you like biryani… check out my Mughlai Lamb Biryani too!
HYDERABADI CHICKEN BIRYANI
Ingredients
Marinade
400 gms – 0.9 lbs. chicken tenders, cut in 3 pieces
½ bunch coriander leaves, roughly chopped
½ bunch mint, roughly chopped
1 cinnamon stick
2 cloves
2 green cardamoms
1 black cardamom
1 bay leaf
½ tsp cumin powder
½ tsp coriander powder
½ tsp black cumin
1 tbsp ginger paste
1 tbsp garlic paste
1 green chilli (you can use more if you like your food more spicy)
¼ tsp red chilli powder (you can use more if you like your food more spicy)
1 tbsp garam masala
1 tbsp javeri mace
1 tbsp lemon juice
1 cup fried onions (I bought mine at my local Indian store)
1 tbsp vegetable oil
3 pepper corns
¼ tsp turmeric powder
235 gms – 1 cup yoghurt
Salt to taste
Rice
300 gms – 1 ½ cup basmati rice
Salt to taste
1 tbsp vegetable oil
Layers
Instructions
To make the marinade, mix all the ingredients together in a big bowl, add the chicken pieces to it, mix well and marinate in the fridge for at least 2 hours (or overnight).
When you are ready to cook your biryani, prepare the rice. Wash it and soak it in cool water for 30 minutes. Fill a big pot with water, add salt and oil and bring it to a boil. Cook the rice in it for 4 or 5 minutes.
In the meantime, take another big pot, spray it with some oil and add the chicken and its marinade to the bottom. Make sure to spread it all around.
When the rice is ready, drain it and spread it on top of the chicken.
Add the mint and coriander leaves, the fried onions and the saffron water.
Put a tight lid on and put the pot on the fire, on top of a tawa or flat pan (this will help the heat to spread uniformly).
Put the fire on high for the first 5 minutes, then keep cooking the biryani on a medium fire for 15 minutes and on low for the remaining 10 minutes (for a total of 30 minutes).
Serve warm with some raita on the side!
Pin It
Related Posts: