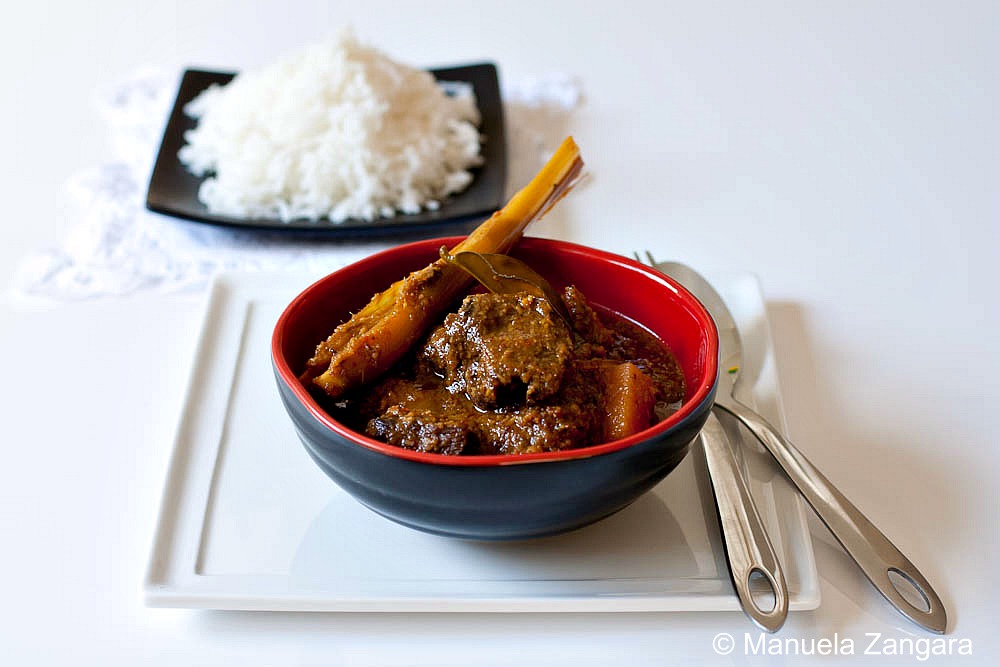 When I saw this recipe at Not Quite Nigella's website I knew I HAD to make it.  It looked too good not to try it!  So I made it and then I made it again, and again and… you got it… again!  It is now officially a recurrent dish in my house and one of my all time favourite curries.  I have already told you about Lorraine from Not Quite Nigella as I have already made her recipes for home-made butter and baguettes!  She's is so talented and such a nice person!!  Make sure you check out her site, I promise you will not regret it as there are many fantastic recipes and tips!  I slightly modified her beef rendang recipe by adding a little extra coconut cream (we like a little extra gravy with our rice!) and by adding potatoes.  I find that by doing this I cut through the spiciness of the curry.  Don't be scared about the number of chillis in this dish: it is spicy but not as much as it would seem!  Anyhow, you can make it milder by reducing the amount of chillis you put in it.  I always serve this with plain boiled rice.  Enjoy!
Recipe adapted from Lorraine at Not Quite Nigella
Ingredients:
600 gms – 1.3 lbs beef chuck steak or gravy beef, cubed in bite size pieces
2 medium potatoes, cut in 3.5 cm – 1.5 inches cubes
1 tsp salt
2 tsp sugar
1.5 tsp tamarind paste
120 gms – 4 oz. desiccated coconut, toasted in a dry pan (keep 2 tbsp for the spice paste)
For the Spice Paste
2 large onions
3 large jalapeño chillies
14 dried red chillies (or fewer if you want it less spicy)
1 thumb sized piece of ginger
2 slices of galangal
3 cloves of garlic
2 tbsp of the toasted coconut from above
The rest of the curry sauce
1 tsp turmeric powder
2-3 kaffir lime leaves
2 stalks lemon-grass, bruised with the butt of a knife
1 slice of galangal
2.5 tbsp palm sugar
1 tsp salt
4 tsp soy sauce
1 tbsp vegetable oil
2 x 400 ml – 13.5 oz. tins of coconut cream
Put the salt, sugar and tamarind paste in a large bowl and mix together.  Toss the beef cubes in this mixture. Then add the toasted coconut and mix well to completely coat the beef. Set aside.
Put all of the spice paste ingredients (onions, both types of chillies, ginger, galangal, garlic and toasted coconut) in a food processor and blend them until you get a fine paste.
Put a large wok or pot onto medium heat and add the oil. Then add the spice paste mixture and the rest of the curry sauce ingredients (turmeric, kaffir lime leaves, lemongrass, galangal, palm sugar, salt, pepper, soy sauce) and cook for a few minutes.

Add half of the coconut cream. Add the beef and heat through while stirring.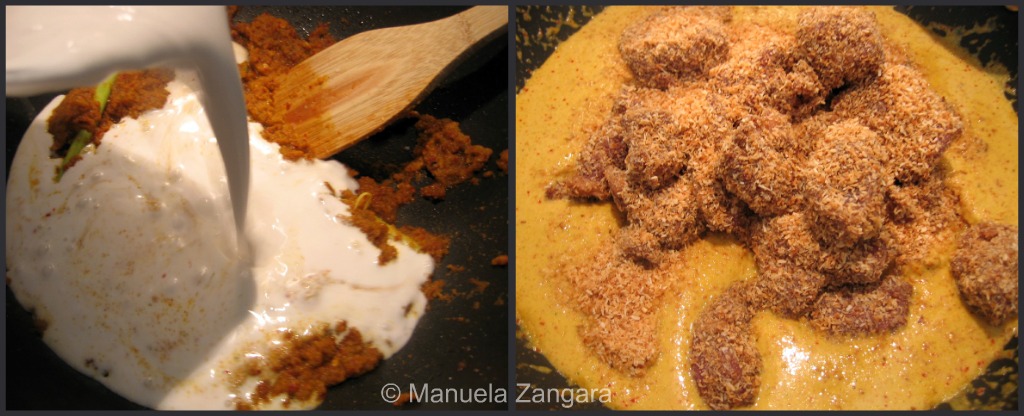 Turn the heat down until it is simmering gently, cover and allow to simmer for 1.5 to 2 hours or until the meat is very tender.
Then add the rest of the coconut cream and the potatoes and cook for another 20-30 minutes with the lid on until the potatoes are cooked.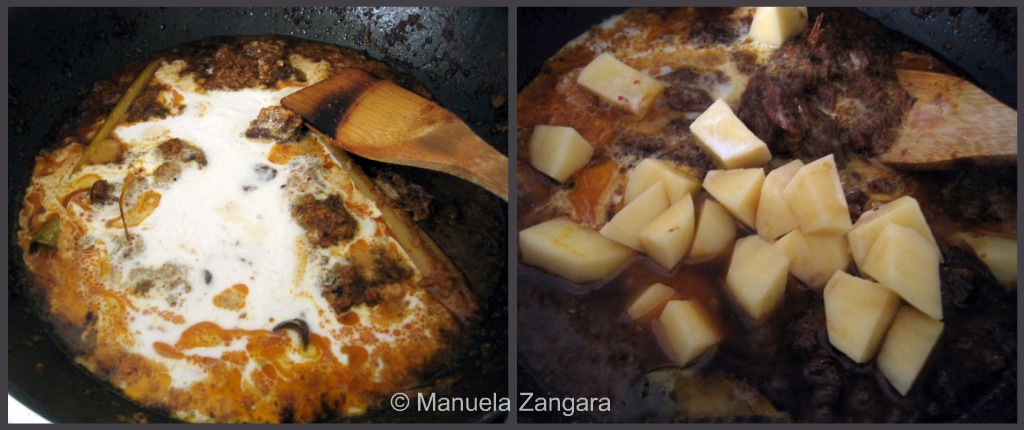 Serve with boiled rice.
I have the pleasure to announce that this Beef Rendang recipe has been featured on Yummly in the article of October 18th, 2011 titled Spice Up Your Evenings with Delicious Curries!  Check it out!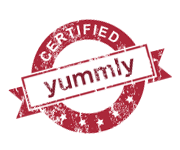 Related Posts: