Over the next couple of days I am going to share with you some South Indian recipes.  Today I will show you how to make a "basic" dosa from scratch.  Dosas are very thin and crispy crêpes, made from a fermented batter of blended lentils and rice.  They are delicious and I can never get enough of them.  They can be eaten by themselves, maybe with some sambhar and coconut chutney or they can be stuffed with delicious masalas.  These are called masala dosas and if you know me, you already know what is the next recipe that I have in store for you!  😉  Anyhow, for today let's have a closer look at how to make dosas and a basic coconut chutney to go with them.  It is a pretty straightforward recipe, but the key to it is fermentation.  You have to make sure you leave your batter to ferment in a warm place because if the fermentation does not happen, then your final dosas will not have the same taste as the ones you can eat at a restaurant.  You will know whether the batter has fermented properly by its smell (sourish, almost yeast-like) and its appearance (foamy).  Enjoy!
To make Dosas
Recipe adapted from Vahrehvah
Ingredients (this makes a lot of batter, for 4 persons half a dose is more than enough):
2 cups rice
¼ cup channa dal
1 cup  urad dal
1 tbsp Fenugreek seeds
Vegetable oil, as needed
Salt, as needed
Water, as needed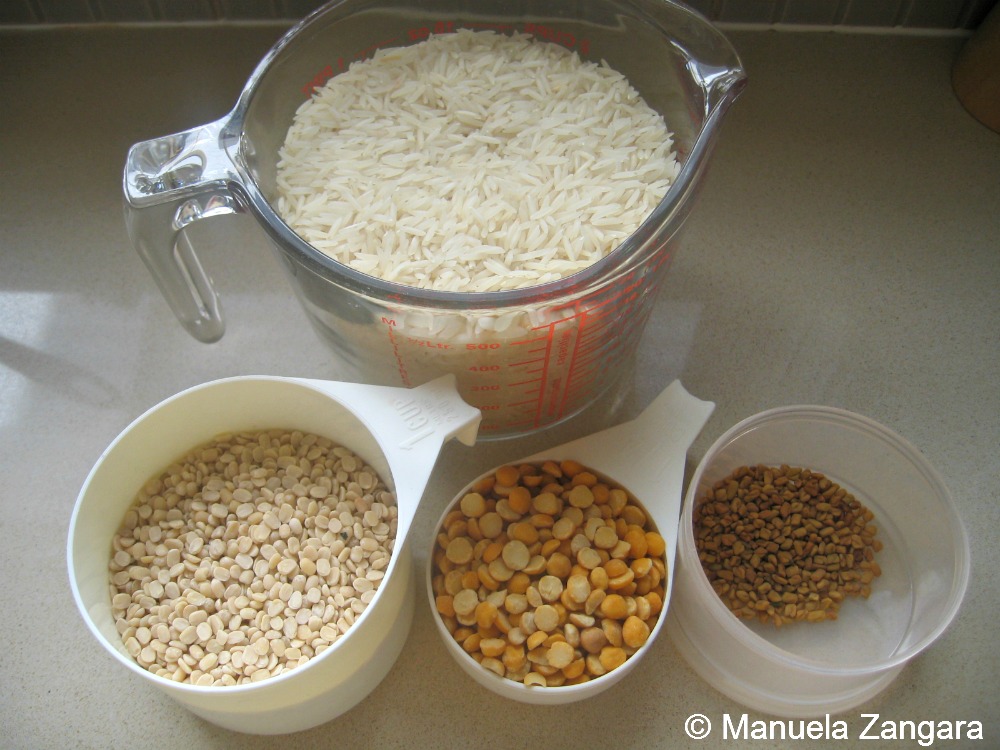 Put the rice in a bowl, cover it with water and soak it for 6 hrs.  Put the urad dal, channa dal and fenugreek seeds in another bowl, cover them with water and soak them for 6 hrs.
After 6 hrs, drain the rice and lentils (make sure to preserve the liquids as you will need them later) and blend them together with some of the preserved liquids into a fine paste.
Ideally, for a crispier dosa, you want to have the batter that is a bit grainy, like in the picture.
At this point, you don't need to worry too much about the consistency, but you can add a little of the preserved liquids to get it as close as possible to the final batter.  The reason for which you want to use the water that you used to soak your rice and lentils in, is because that is said to help fermentation.  I tried it both with normal water and the soaking water and the latter gave much better results.  Keep the batter to ferment overnight in a warm place.  I usually put it in the oven and cover it with a couple of thick towels.
The next day add salt and adjust the consistency with some water (or the preserved liquids) until you get a batter that is similar to a crêpe batter (sorry I forgot to take a picture of the fermented batter before adding the water!).  Mix well and keep it aside.
Now you are ready to cook your dosas.  I have read a lot about how to make thin and crispy dosas, but in the end there was only one method that worked for me… as I am no dosawalla and I only have a normal sized tawa.  To get the best results, it is easier to spread the batter on a cold tawa/non stick pan.  I use a roundish cup to spread it with a circular motion.  You should watch the video of the original recipe to see how dosas are made.  Spread it so you get a very thin layer of batter on the surface.  Now put the fire on and as soon as little bubbles start forming, drizzle a little vegetable oil all around the edges of the dosa.  This will help you remove it.
When the edges start browning, cut the dosa along its radius and roll it around itself.  This step is totally optional, but I think the dosa served in a cone looks really beautiful and it is a very easy step.  You can see how easy it is by watching the video.
After making the first dosa, I usually put the fire off and then cool the tawa down with some cold water.  When the tawa is cold, then I make the second dosa, etc.
TIP: dosas do not need to be flipped over and they are ready when cooked on 1 side.
Serve warm with some sambhar and coconut chutney (scroll down for the recipe).
To make Coconut Chutney
Ingredients:
1 cup fresh, frozen or dessicated coconut
1 green chilli
10-12 curry leaves
1 tsp ginger paste
Salt to taste
For the tempering
1/4 tsp mustard seeds
1/4 tsp cumin seeds
6-7 curry leaves
1 tbsp vegetable oil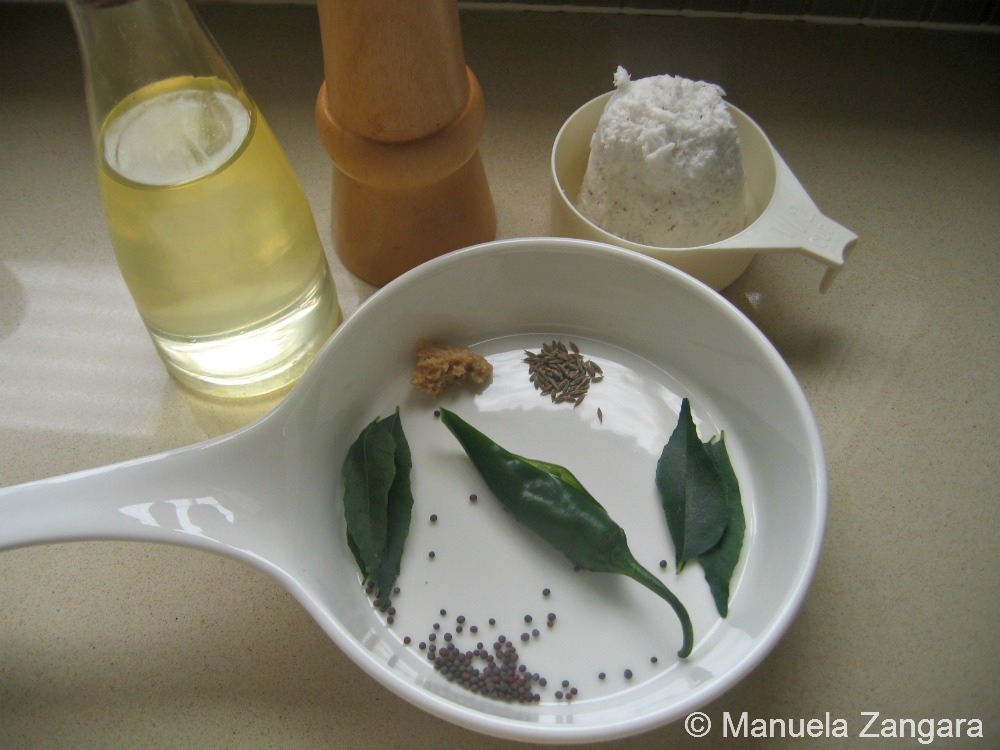 Grind the coconut, green chili, ginger, curry leaves and salt with 1 or 2 tbsp of water.  I like mine a bit "chunky", but if you prefer it smoother, just blend it a few seconds more.  Put the chutney in a bowl and keep it aside.
Heat the vegetable oil in a small frying pan. Add the mustard seeds and, after they splutter, add the cumin seeds and curry leaves.  Fry them for half a minute on a medium flame, making sure not to not burn them.  Once done, add this hot mixture to the chutney.  Mix well and add some more water if required.
This coconut chutney goes great with dosas, idlis and lots of other Indian snacks.
Pin It

Related Posts: