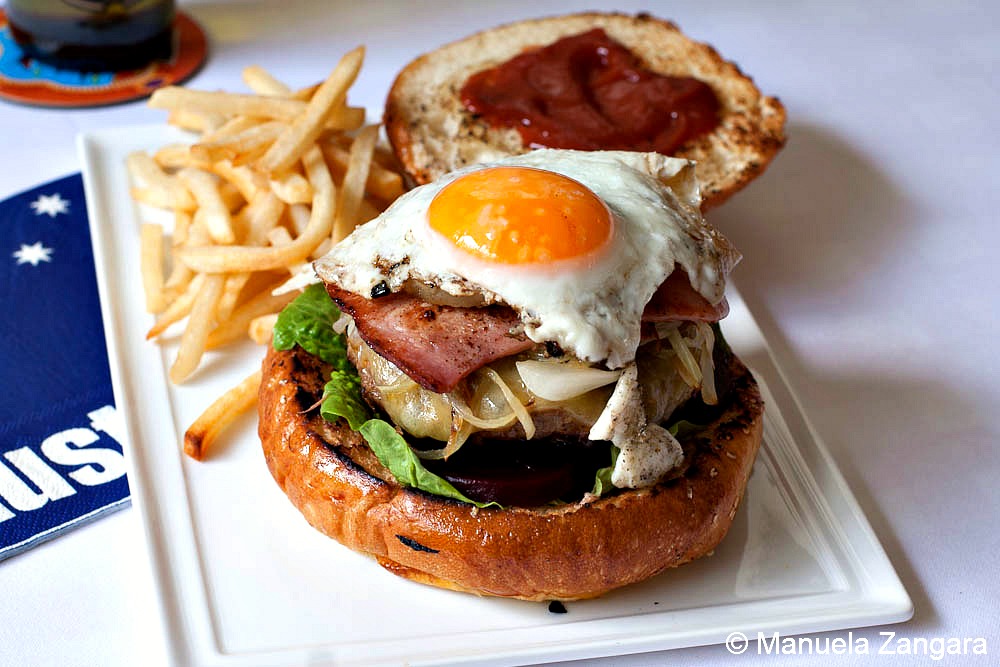 Today I am going to share with you the recipe of what is known as "Aussie burger with the lot".  The reason for the name is evident: this isn't your everyday cheese burger… it is made up of A LOT of goodies!  And it is irresistible!  What's not to love about a sandwich filled with lettuce, tomato, beef patty, cheese, ketchup, beetroot (sliced pickled beets), fried onions, bacon, pineapple AND even a fried egg on the top??  Which, in my opinion, makes the burger also look beautiful with that bright orange yolk on the top!  It is probably one of the biggest burgers I have ever seen and it is usually served on a toasted bun and I served it on the home-made brioche buns I posted about yesterday.  They were one of my mains for the "Come have some Aussie tucker, mate!" party that I organised for this month's Foodbuzz 24×24!  It was a huge hit!  I hope you enjoy it too!
Ingredients (for 4 persons):
For the patties
500 gms – 1.1. lbs. beef mince
1 onion, finely chopped
1 egg
1/3 cup breadcrumbs
2 tbsp ketchup
Salt & Pepper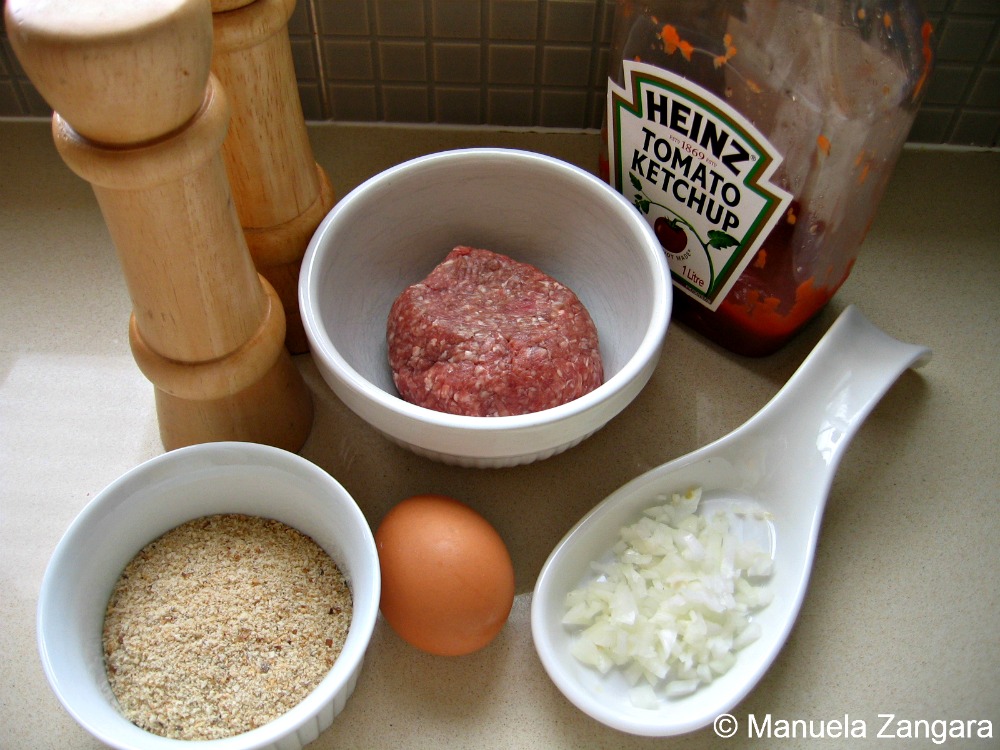 To assemble
4 Burger Buns, halved
4 Patties
4 slices of Tasty cheese
Lettuce, shredded
4 tomato slices
1 onion, thinly sliced
2 tbsp extra virgin olive oil
½ tbsp butter
Beetroot (sliced pickled beets), canned
4 slices of pineapple, canned
4 rashers of bacon
Ketchup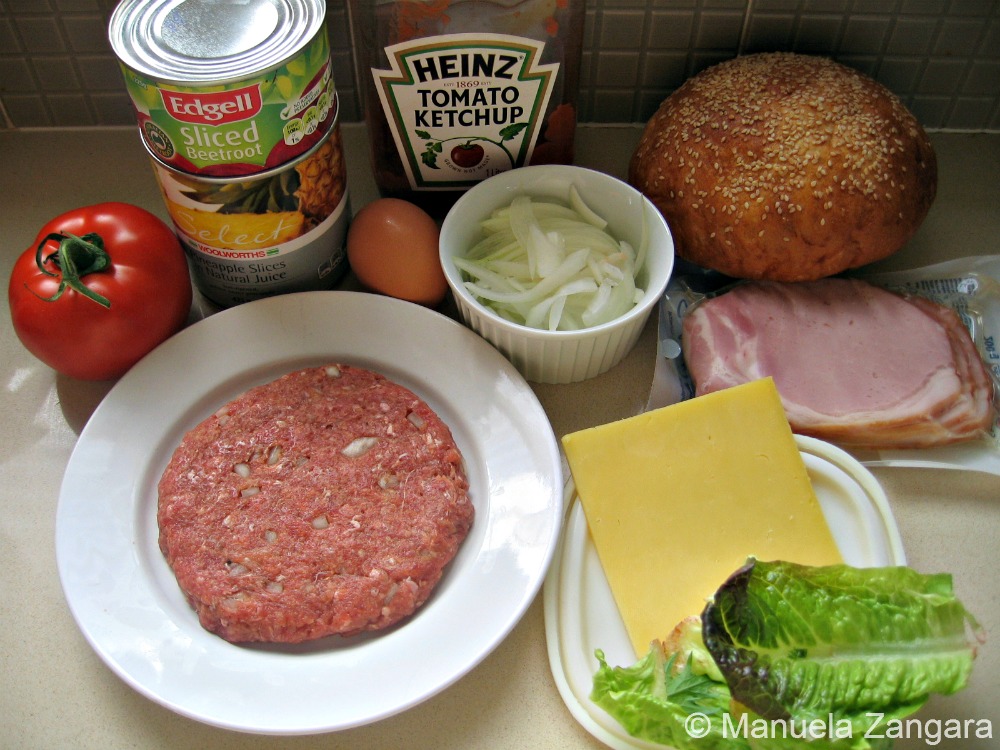 Start by making the burger patties.  Mix all the ingredients together in a bowl until well combined and then shape 4 patties with your hands.  Refrigerate until ready to use.
There are a few methods to cook these.  You can BBQ all the components at the same time (this is the traditional Aussie way!), you can cook all of them at the same time in different pans over the stove, or do like I did and save yourself from washing too many pans!  I cooked everything in the same pan, one after the other.  I started by cooking the sliced onions in the extra virgin olive oil and butter until soft and transparent.  Season them with salt & pepper and keep them aside.  In the same pan, cook the burgers on both sides until done the way you like.  Then add the cheese slices and let them melt.  Then remove the burgers, cover them loosely with some aluminium foil to keep them warm.  Add the pineapple slices and bacon rashers to the hot pan and fry them until golden brown, keep them aside.  Fry the eggs until the yolks just set and lightly toast the burger buns.  I did not take pictures of the above steps for preparing each of the components and I am sure that anyone could easily manage without them!  Everyone was hungry and I was in a hurry to get everything cooked and served before it got cold!  But it is a pretty straightforward recipe. 🙂
To assemble your burgers, start your layers with some shredded lettuce, then a slice of tomato, some beetroot, the burger with cheese, some fried onions, 1 bacon rasher, 1 pineapple ring and finish off with the fried egg.  Spread some ketchup on the other half you the burger bun and serve it with hot chips (fries).
Enjoy!  Doesn't it look delicious?!

Related Posts: