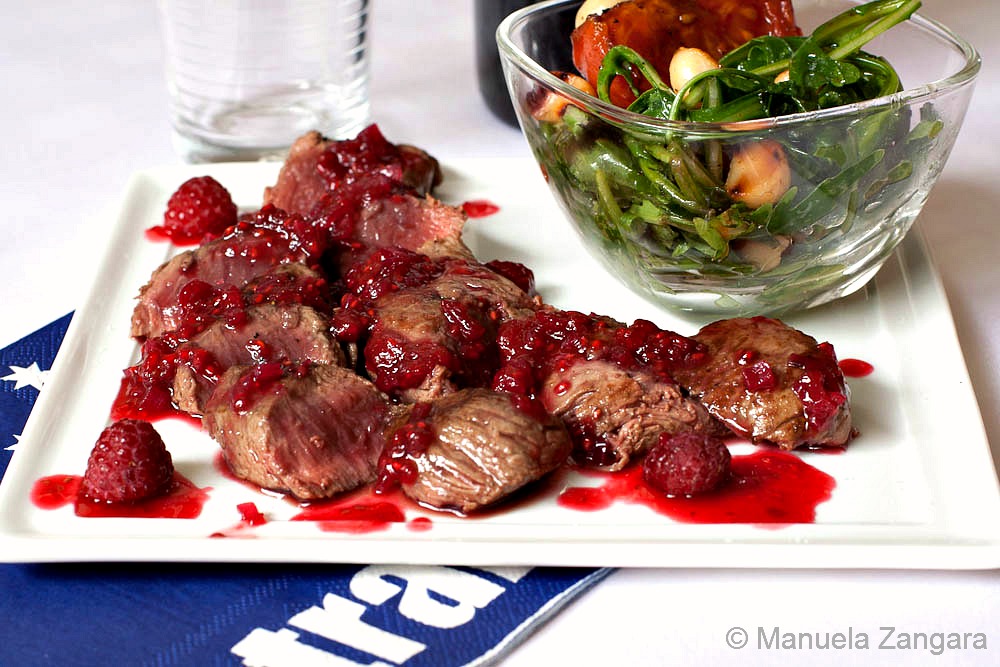 I am sure the majority of you are wondering what kangaroo tastes like.  Well, it is hard to describe its taste, but I would probably compare it to venison, though it is milder and not as gamey.  I still remember the first time I ate it… I was in Uluru and kangaroo was one of the dishes served at the "Sounds of Silence" dinner.  It was a dinner set in the middle of the desert, in a place from which you could enjoy the sunset over Uluru and the Kata Tjuta.  Breathtakingly beautiful.  We had a candle light dinner and I remember thinking that kangaroo was quite tasty.  Then, just before dessert, the candles were put out and an astronomer came to talk to us about the starry night and the constellations.  What we saw was so amazing, that we quickly forgot dinner and I did not eat kangaroo for another year at least.  Then one day, I noticed they were selling it at my local supermarket and decided to try and cook it.  I haven't looked back since.  It is the first dish I cook whenever someone comes to visit us from abroad.  Everyone is a bit sceptic at the beginning but they all love it, after the first bite.  I personally really enjoy the glaze below and my husband and I agree that it is a great accompaniment for kangaroo (and venison in general, I might add).  This dish was a part of my "Come have some Aussie tucker, mate!" 24×24 event.  Enjoy!
Recipe adapted from Taste
Ingredients (for 4 people):
4 (about 125 gms – 4.4 oz. each) kangaroo fillets
Extra virgin olive oil spray
2 French shallots, finely chopped
1 tbsp extra virgin olive oil
80 ml – 1/3 cup salt-reduced chicken stock
1 ½ tbsp raspberry jam
1 ½ tbsp red wine vinegar
60 gms – ½ cup raspberries
Put the shallot in a frying pan with 1 tablespoon of extra virgin olive oil and sauté it until soft.  Add the stock, jam, vinegar and raspberries and simmer, crushing the raspberries with a fork, for a couple of minutes or until the mixture reduces by half.  Keep the glaze aside.
Season the kangaroo on both sides with grated black pepper and keep it aside.
Heat a non-stick frying pan over high heat and spray it with some extra virgin olive oil.  Cook kangaroo for a couple of minutes on each side for rare.  Transfer it to a plate and cover it with foil.  Let it rest for a couple of minutes, then thickly slice it across the grain and serve it with the raspberry glaze on the top.

Related Posts: