During our trip to Chile and Argentina last June, we also visited Buenos Aires. We stayed for 5 days in this beautiful city, which is the capital of Argentina and one of the biggest and most important cities in Latin America.
Buenos Aires is known as the "Paris of South America" and lives up to its nickname with a lively café culture to rival its European counterpart. Buenos Aires has a very distinct European feel to it and a growing international expat community.
Originally, we had planned to stay only for 4 days, but a national strike planned for the day we were supposed to fly to Santiago de Chile meant that all flights were cancelled and we had to stay an extra day in Buenos Aires. And boy, were we happy!
We fell in love with Buenos Aires the moment we landed. We passed through customs as we were coming from Chile and the man on the other side of the counter was so friendly that we immediately felt like we were "home". The moment he saw our Italian passports, he started speaking to us in Italian! And no, he was not Italian! Just plain nice. I wish all customs officials were like that!
I had the sensation of being "home" throughout our stay in Argentina. After all, many Argentinians have Italian origins, so we have a lot in common. However, this feeling was much stronger in Buenos Aires. Maybe because I had always wanted to visit this beautiful city. I almost felt as if I had already been there.
I also LOVE the local accent. If you speak some Spanish and have visited Argentina, you will have noticed that the local Spanish is very peculiar. It's much more melodic, they use vos instead of tu, and they almost sing when they speak. This inflection is very similar to the way we speak in Italy. In the North-West of the country though (the other area we visited during this holiday), these characteristics are much less common, as people speak more like Peruvians and Bolivians. People in Buenos Aires instead have a full-blown porteño accent. And I LOVE it.
However, what I loved the most was being able to finally meet a dear friend of mine and her beautiful family. I grew up at a time where there were no emails and no Facebook (weird, I know)… I had penfriends instead and Gisela and I had been writing to each other for about 25 years without ever meeting in person! We kind of grew up together but in 2 different continents.
When we met, it was like we had always been face to face, it did not feel like it was the first time we were meeting. It was the most wonderful feeling! We both got married and had kids during the years and it was wonderful for our families to meet and for the kids to be able to play together. I will always treasure the time we got to spend together and we can't wait to meet them again!
If you are interested in history, especially the more recent one, you will find plenty of iconic places to visit and many experiences and encounters that will touch your heart in this amazing city.
Just a quick note about "dangers" and criminality. We had read a lot about this issue before travelling to South America and we were ready for the worst. However, I personally never felt in any kind of danger anywhere in Argentina. Not even in a big city like Buenos Aires, and not even during the strike and demonstrations. I am not saying you should go around at night showing off your expensive camera in a poorer area of town… but you should not be paranoid either. Just use a little bit of common sense.
I know many people don't spend a lot of time in Buenos Aires and mainly use it as a hub in between other destinations, however, I strongly suggest you spend at least 4 days in town as there is a lot to see and do. We will definitely be back!
WHEN TO GO
The weather in Buenos Aires is ideal in autumn (between March and May) and spring (between September and November). However, the most beautiful time to visit is apparently October and November when the jacaranda trees are in bloom.
"High season" goes from December through February and "low season" goes from June to August. In December, the weather is pleasant for the most part. In January and February, much of the city is abandoned by the locals who flock to beach resorts in Mar del Plata or Uruguay. January is a time when many tourists do visit, resulting in overbooked hotels.
We instead visited in June and I was really happy with that. The weather was pleasant – sunny every day apart from 1 cloudy afternoon – and even though it was quite cold, I was happy it never rained. Not only, but there were also not too many tourists, which to me is always a plus!
SIGHTSEEING
As we had limited time for our visits, we decided to remain in the city. I would have loved to visit places such as Tigre, San Antonio de Areco, and even Colonia del Sacramento in Uruguay (which is about 1 hour by ferry from Buenos Aires), but it'll have to wait till next time.
PLAZA DE MAYO
The very first things we went to see were Plaza de Mayo and Casa Rosada.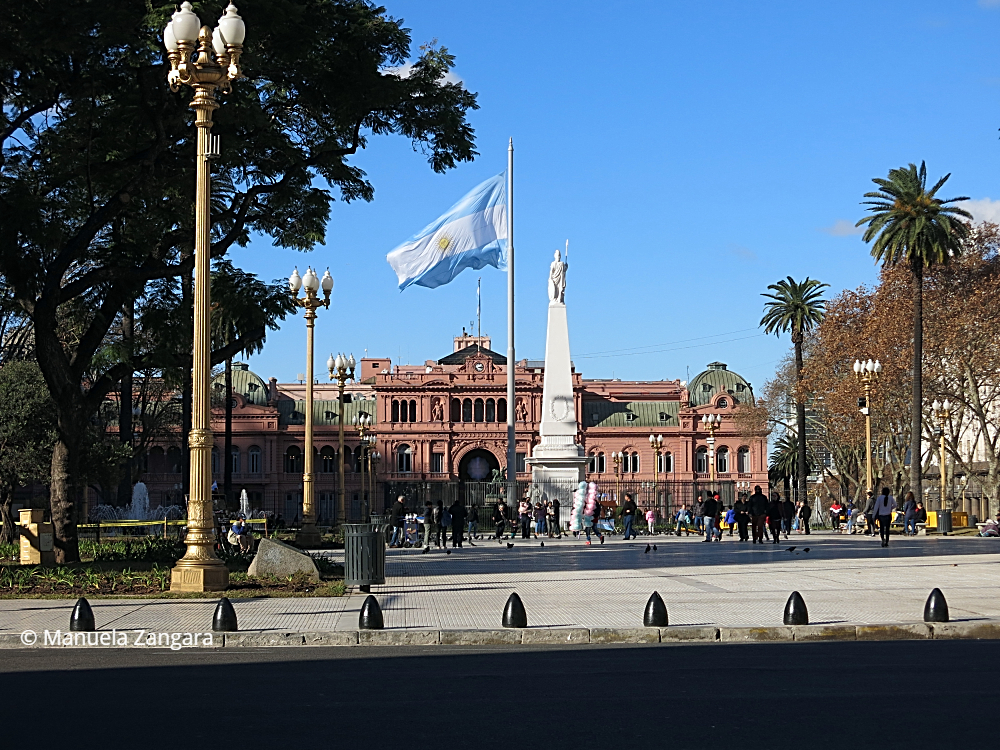 Plaza de Mayo is probably the most famous square of the city. Around it, you can see the Casa Rosada, the Cabildo (town hall)…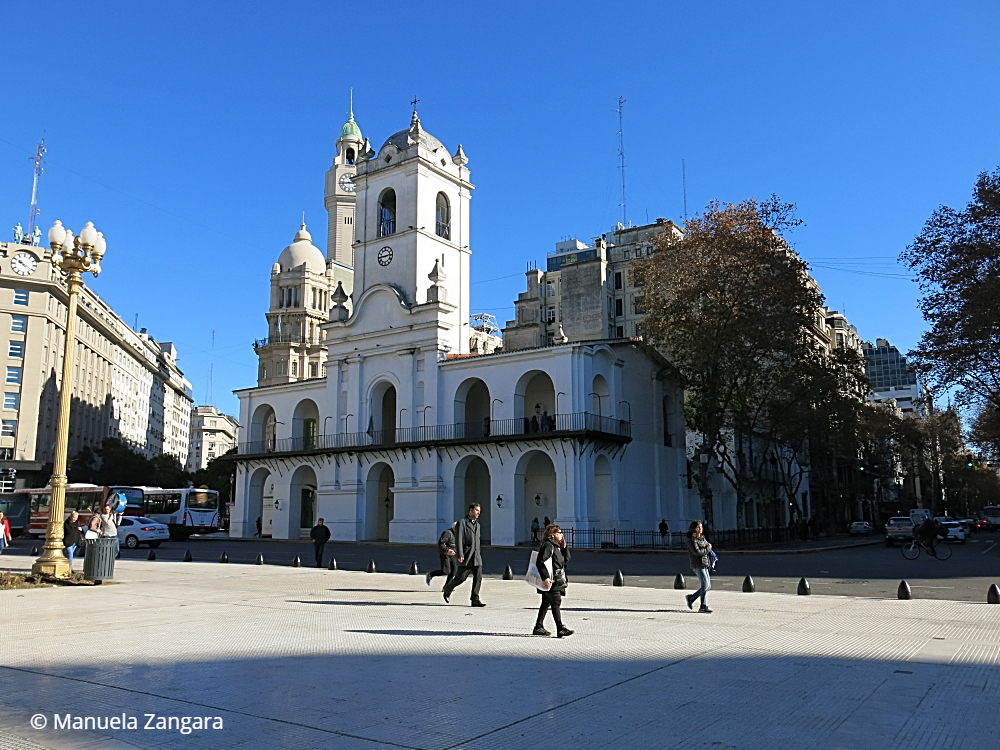 …and the city's cathedral.
At the centre is the Pirámide de Mayo, a white obelisk built to mark the first anniversary of Argentina's independence from Spain.
I made sure to be in Buenos Aires on a Thursday. In fact, every Thursday at 3:30 pm in Plaza de Mayo, you can find the Madres de Plaza de Mayo who gather and circle the pyramid, holding photographs of their missing children. These mothers of the "disappeared" (Argentinians abducted by the state during the last military dictatorship of 1976 to 1983) continue to march for justice and for other social causes. The madres remind everyone of the fact that 30,000 people were killed and made disappear during the dictatorship. The remains of many of these people are still to be found.
I have been a supporter of their fight since I can remember, so meeting them and talking to them was really moving for me and a true honour. The madres were happy to talk to us and gifted 2 flags to my girls. I am also very happy that my children got to meet them as they are a role model of perseverance and courage for everyone.
If you walk on Reconquista, the street on the left-hand side of the Banco de la Nacion Argentina, look down. You will see plaques remembering the desaparecidos who used to work for this bank. And there are many. Heartbreaking.
CASA ROSADA
On the eastern side of Plaza de Mayo stands the Casa Rosada (aka the Pink House), named for its distinctive colour. It was from the balcony here that Eva Perón used to address the throngs of supporters packed into Plaza de Mayo. The building houses the President's offices.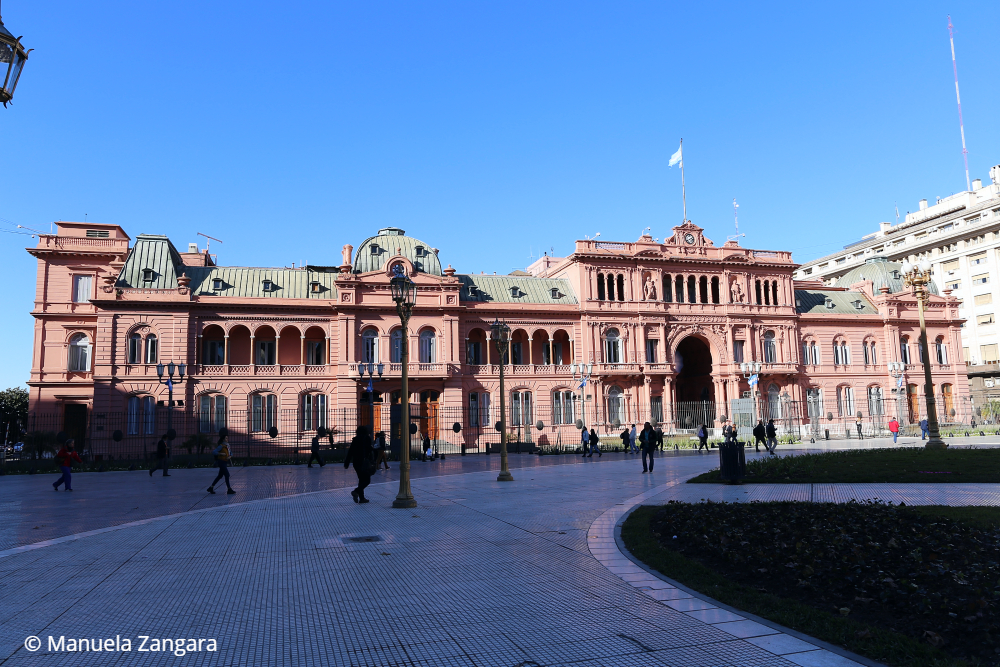 Free guided tours are given on weekends and must be booked online in advance. We did not know about this, so it will have to be for the next visit.
CAFÉ TORTONI
Café Tortoni is a café on Avenida de Mayo inaugurated in 1858. It was named Tortoni after the Parisian café of the same name located on Boulevard des Italiens. The café itself was inspired by fin de siècle coffee houses and it is absolutely beautiful. 
Over the years the café has been visited by many famous people including Carlos Gardel, Juan Manuel Fangio, Albert Einstein, Federico García Lorca, and Juan Carlos de Borbón.
We stopped by to have tea. The kids also had some delicious churros. While I had my first "real" alfajor… unforgettable!
AVENIDA 9 DE JULIO
Avenida 9 de Julio is the widest street in the world. It was named after the day of Argentina's Independence on the 9th of July 1816. This impressive avenue stretches from the northern neighbourhood of Retiro, to Constitution station to the south.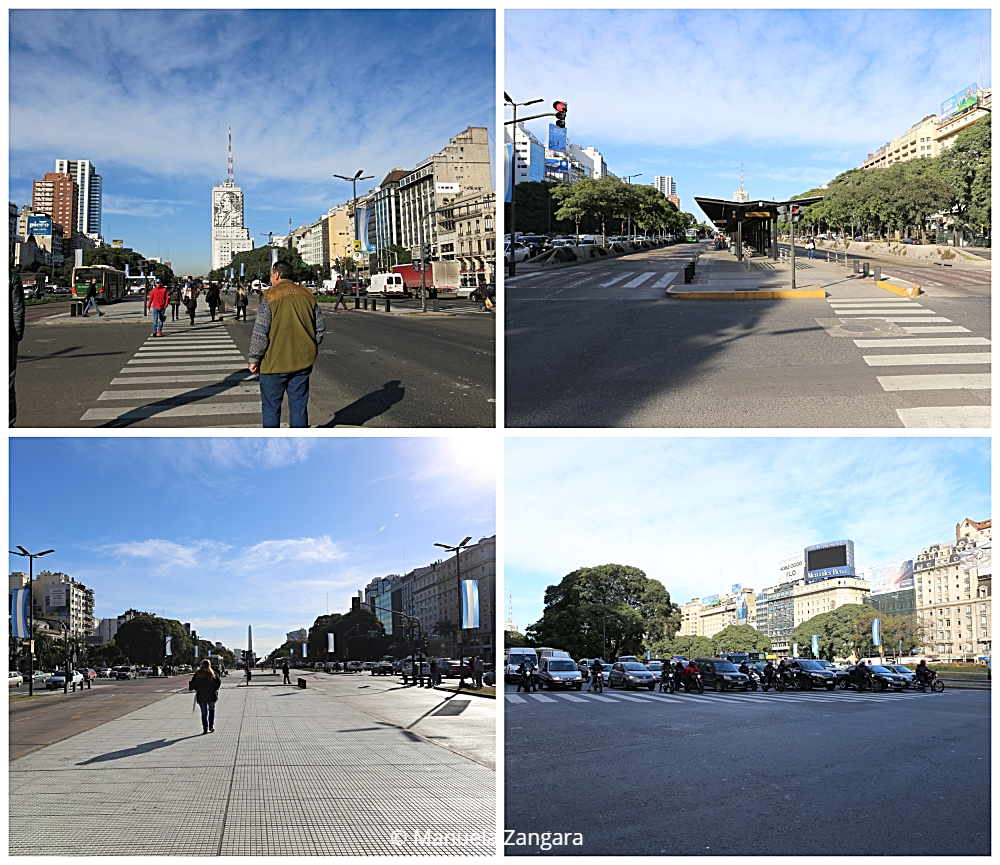 The Avenida is 12 lanes wide (there are 6 in each direction) and it is virtually impossible to cross in one go before getting caught by the traffic lights changing.
Running alongside Avenida 9 de Julio are a number of landmarks and attractions:
TEATRO COLON
Considered to be one of the most beautiful buildings in Buenos Aires and one of the world's top 5 best concert halls acoustically, the Teatro Colón has hosted many famous opera singers, as well as world famous ballet dancers.
OBELISCO
At the very centre of Avenida 9 de Julio, where the avenue crosses with Avenida de Mayo, is one of Buenos Aires' most famous and recognised landmarks. The Obelisk, or Obelisco, is a 70m high, white, needle-like structure that was built to commemorate Buenos Aires' 400th Anniversary. Today it is the focal point for many Porteño celebrations and the starting point of many of the political demonstrations.
In fact, we saw the demonstration for the National strike of June 25th here.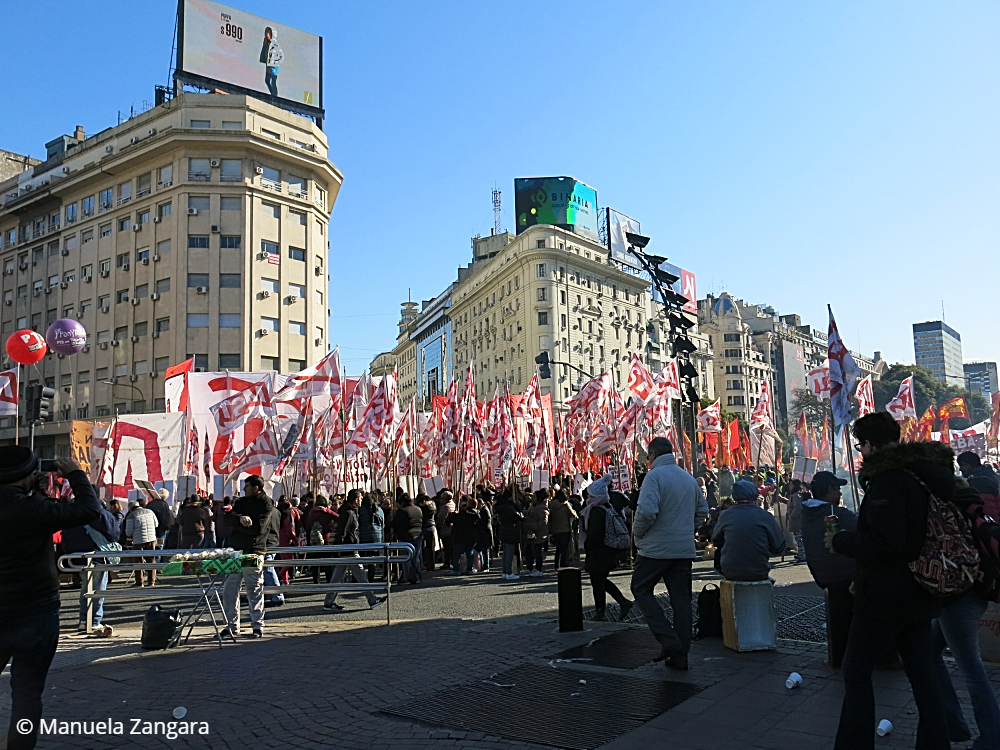 MOP
This building originally housed the Ministerio de Obras Publicas – MOP (aka the Ministry of Public Works), but is now the headquarters of the Ministry of Health and the Ministry of Social Development.
On both the north and south walls is a large steel image of María Eva Duarte de Perón, known as Evita. Her official portrait faces the south.
While the image to the north depicts her giving a passionate speech.
CONGRESO
Palacio del Congreso (aka the Palace of the Congress) is a monumental building, seat of the Argentine National Congress, located at the western end of Avenida de Mayo (at the other end of which is the Casa Rosada). Constructed between 1898 and 1906, the palace is a National Historic Landmark.
In the same square, you can see the Senate.
And the offices of the Asociación Madres de Plaza de Mayo (see above). I would have loved to enter, but unfortunately, they were closed due to the national strike. Next time.
PARQUE DE LA MEMORIA
Parque de la Memoria (aka Memory Park), is a monument located along the Rio de la Plata in the Belgrano neighbourhood. Its official name is Monument to the Victims of State Sponsored Terrorism and it commemorates the victims of Argentina's last military dictatorship, where from 1976 to 1983, over 30,000 civilians died and disappeared under governmental terrorism.
The memorial was designed to cut into the landscape like an open wound, representing the people lost during this violent part of Argentina's history. There are eighteen different sculptures around the park and the primary monument (huge walls) has the names of thousands of victims engraved on plaques, while there are thousands more empty plaques to signify the disappeared.
Many of the women who disappeared were pregnant. They often gave birth in a cell and in terrible conditions. A few hours after the birth, the child would be taken away from the mother (who was made disappear) and given away to another family, a family that often had links with the military. The idea was to have the child grow up without knowing his/her real identity and to prevent the "real" family from ever finding him/her. The fact that the "new" families were often linked to the military was not casual, as they would often brainwash these children to turn them against their real parents. So sick.
These "kids" are now my age and over 100 of them have been found and reunited with their original families, also thanks to DNA tests and the work of Abuelas de Plaza de Mayo (a group of grandmothers who never gave up looking for their grandchildren). However, over 400 of them are still missing. If you are reading this and have doubts about your own identity, please visit Abuelas' site. You don't need to be in Argentina, as these kids could be anywhere in the world! This is a really overwhelming matter as the grandmothers are getting old and many of them are dying without the consolation of having found the missing children of their own missing children. It's heartbreaking.
There is also a monument with the image of one of the disappeared (the artist's father) that can be seen only from one specific perspective. The moment you move, the image "disappears". And a sculpture that says "Pensar es un hecho revolucionario" – to think is a revolutionary act.
It is located only 300 meters from the military airport from where the vuelos de la muerte (flights of death) would take off. During these flights, the victims of the state terrorism were taken up into the sky and dropped, alive, into the Rio de la Plata, never to be seen again. It's just a 5-minute bus ride from Aeroparque airport.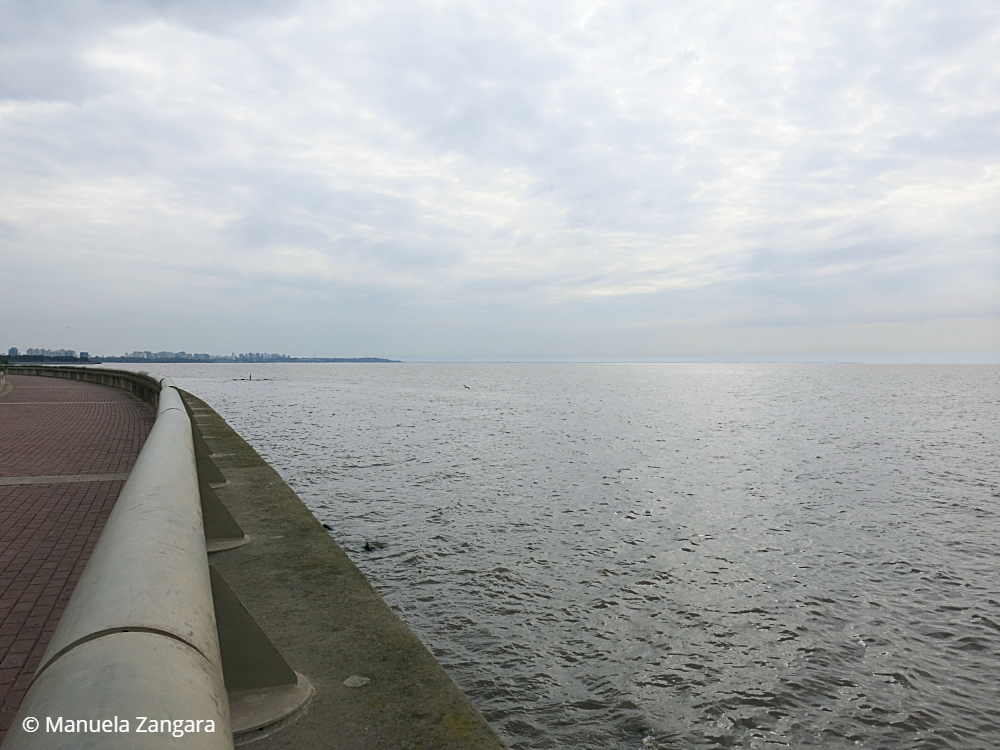 The afternoon we visited was the only time when the weather was cloudy… but I guess it fit the mood of the place perfectly. Yet another emotional visit. Highly recommended.
CEMENTERIO DE LA RECOLETA
This cemetery is one of Buenos Aires' top attractions.
You can wander for hours in this incredible city of the dead, where the "streets" are lined with impressive statues and marble mausoleums.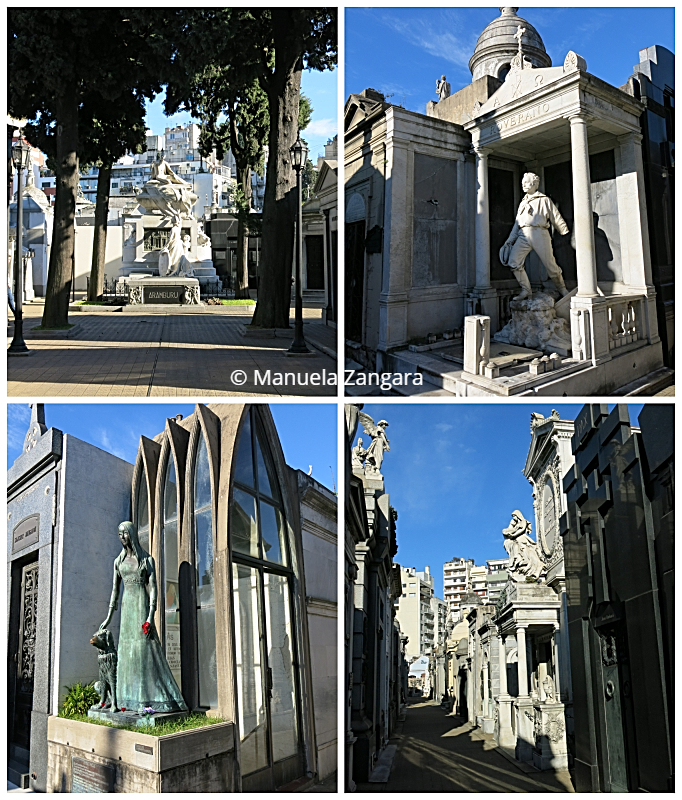 Past presidents, military heroes, influential politicians and the just plain rich and famous have made it past the gates here.
The only grave with flowers, however, is the one of Evita Peron.
This was the second cemetery we visited during this trip, the other one being Cementerio General in Santiago de Chile. They are both moving, however, they are very different. Recoleta is only a monumental cemetery, while Santiago's is much bigger and you can find people of every path of life in there, both rich and poor, including desaparecidos. Emotionally-wise, Cementerio General was a much more powerful experience, while Recoleta is just beautiful.
Free tours are offered in Spanish at 11 am from Tuesday to Sunday and also at 3 pm on Saturday and Sunday (weather permitting).
NUESTRA SENORA DEL PILAR
This is one of the biggest churches in Buenos Aires and it's located just outside the cemetery.
It has a beautiful baroque altar and it's worth a visit.
LA BIELA
Café La Biela (aka the Connecting-rod) is a traditional café in the Recoleta neighbourhood, just opposite the cemetery. The café has a large terrace with outdoor tables under the shade of a giant rubber tree (Gomero gigante).
For many years popular with politicians, writers, artists, actors, and media celebrities, La Biela acquired its present name in the 1950s when it became a popular meeting place for racing car champions, including the five times Formula One world champion Juan Manuel Fangio and for fans of the sport.
Black-and-white photos of racing car champions, together with a variety of motoring memorabilia decorate the walls of the traditional interior which has wood panelling and curtains at the windows.
There are also statues of Jorge Luís Borges and Adolfo Bioy Casarés sitting at a table in the café!
RECOLETA
Recoleta is a residential and quite affluent neighbourhood.
It is an area of great historical and architectural interest, due to its Beaux-Arts architecture as well as the Recoleta Cemetery (see above).
People-wise, however, I did not get such a pleasant feeling. It was the only place on earth (of all the countries I've visited) where people pretended not to hear me when I tried to ask for directions. I kid you not. And I was speaking Spanish, so they could understand me… they probably thought too highly of themselves to stop and help a tourist! This happened to me twice! I had to enter a shop and ask the shopkeeper who was very helpful and happy to give me a hand.
We walked all the way from the cemetery to Calle Florida, passing by amazingly beautiful buildings. This is certainly one of the most spectacular areas of town, architecturally speaking.
There are also many Embassies here in beautiful buildings.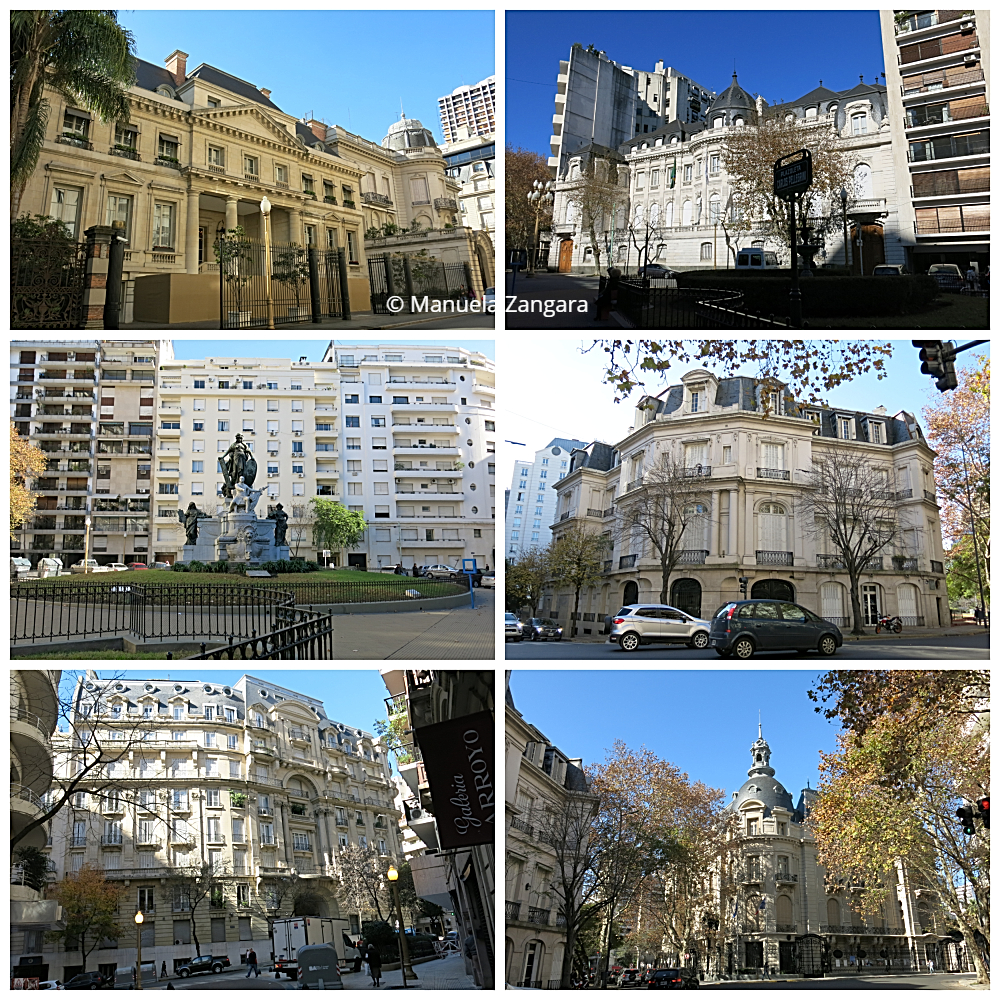 If I hadn't known we were in South America, I could have sworn we were in Paris.
RETIRO
On our way between Recoleta and Calle Florida, we stopped at Plaza San Martin.
From here we saw the Retiro station.
And Palacio Kavanagh, a concrete building finished in 1936 that, at the time, was the tallest building in Latin America.
CALLE FLORIDA
Calle Florida is a popular pedestrian shopping street and one of the city's leading tourist attractions. Florida Street bustles with shoppers, vendors, and office workers alike because of its proximity to the financial district.
By evening, the pace relaxes as street performers flock to the area, including tango singers and dancers, living statues, and comedy acts.
Its variety of retail stores, shopping arcades, and restaurants is of great interest to tourists.
GALERIAS PACIFICO
Probably the most famous of these shopping arcades is Galerias Pacifico.
The monumental building, designed by Roland le Vacher in 1888 to house the Au Bon Marché shops, was restored in 1991. Its grand interiors also feature ceiling frescoes by Antonio Berni, Juan Carlos Castagnino, and other famous Argentine painters.
It is simply beautiful. It reminded me a bit of the QVB here in Sydney.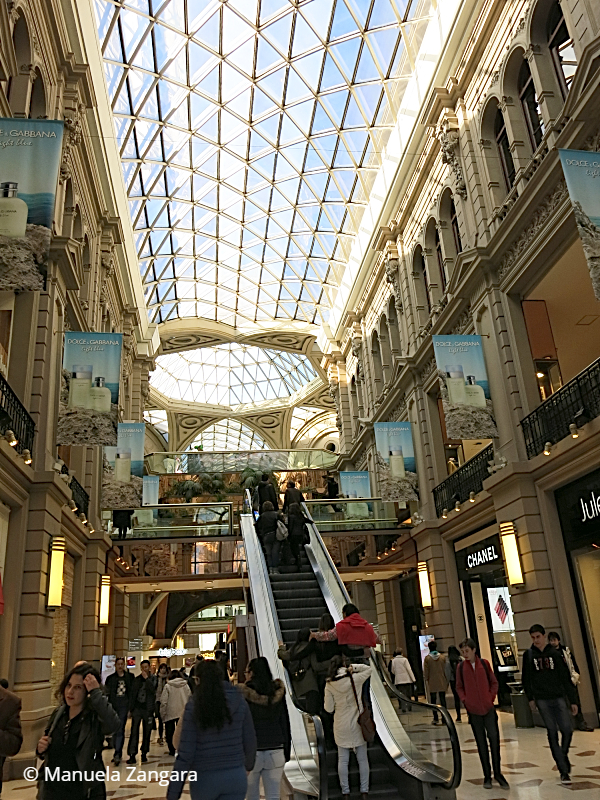 We had lunch here in the food court while watching one of the matches of the soccer FIFA World Cup, just like the locals.
SAN TELMO
San Telmo is the oldest neighbourhood of Buenos Aires. It is a well-preserved area with colonial buildings and it has a somewhat Bohemian atmosphere.
Cafes, tango parlours and antique shops line the cobblestone streets, which are often filled with artists and dancers.
In order to properly enjoy San Telmo, you really need to go there on a Sunday. That's when the huge antique market (feria de San Telmo) turns Calle Defensa into the best place in town. There are hundreds of stalls and lots of street performers.
We also visited the covered Market in San Telmo that takes up nearly a full block between Defensa, Bolivar, Estados Unidos and Carlos Calvo streets. Each side has an entrance, and the perimeter of the block is comprised of places to eat and drink, as well as shops and grocery stores.
In the past, the market may have been more well-known for its antique shops, where you can get a huge array of brick-a-brac, souvenirs and high-quality vintage clothing, but more recently it has transformed into something of a gastronomic hub in the city's oldest neighbourhood.
Coffee Town is one of San Telmo's favourite coffee joint. This coffee shack brews up delicious cups of the best coffee from Latin America and Africa.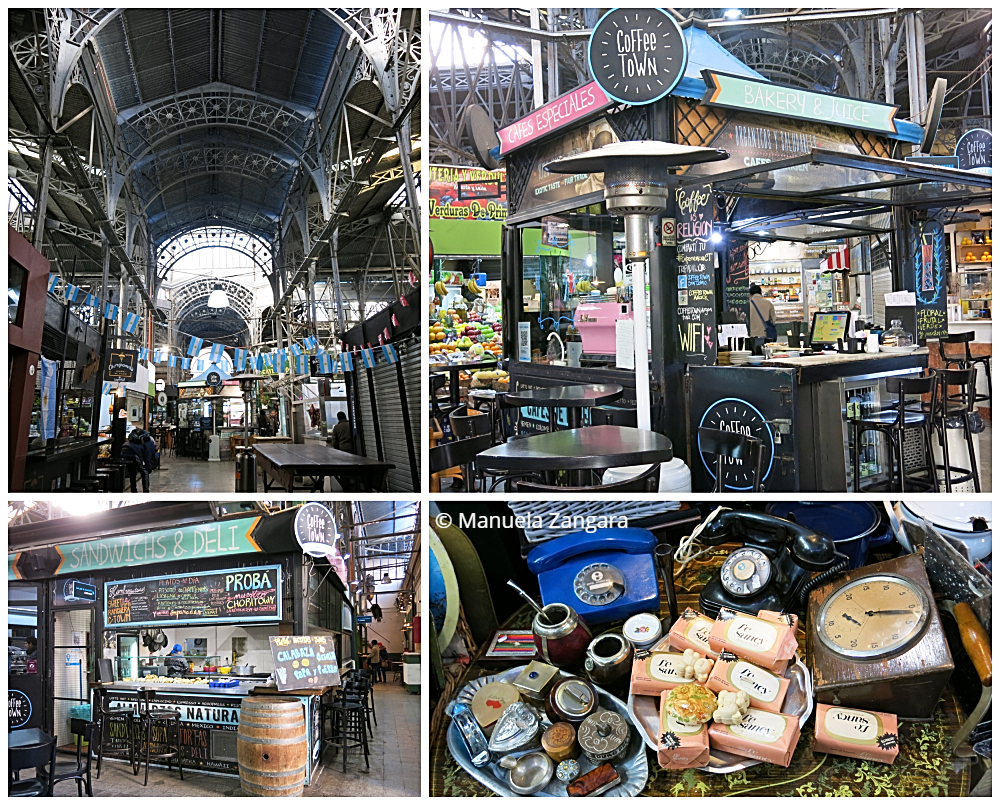 For another coffee opportunity, Bar Plaza Dorrego (Defensa 1098) has a lot of old-time atmosphere. It was established in 1881 and much of its original décor has been preserved.
We also visited Pasaje la Defensa. Originally built for the Ezeiza family in around 1880, this building later became a conventillo (aka tenement house) that was home to 32 families. These days, it's a charmingly worn building with antique shops clustered around atmospheric patios.
CAMINITO – LA BOCA
Located in La Boca neighbourhood, Caminito (Little Path, in Spanish) is a street museum comprising of colourful painted houses typical of the immigrant dwellings that came to characterise the port area towards the end of the 19th century.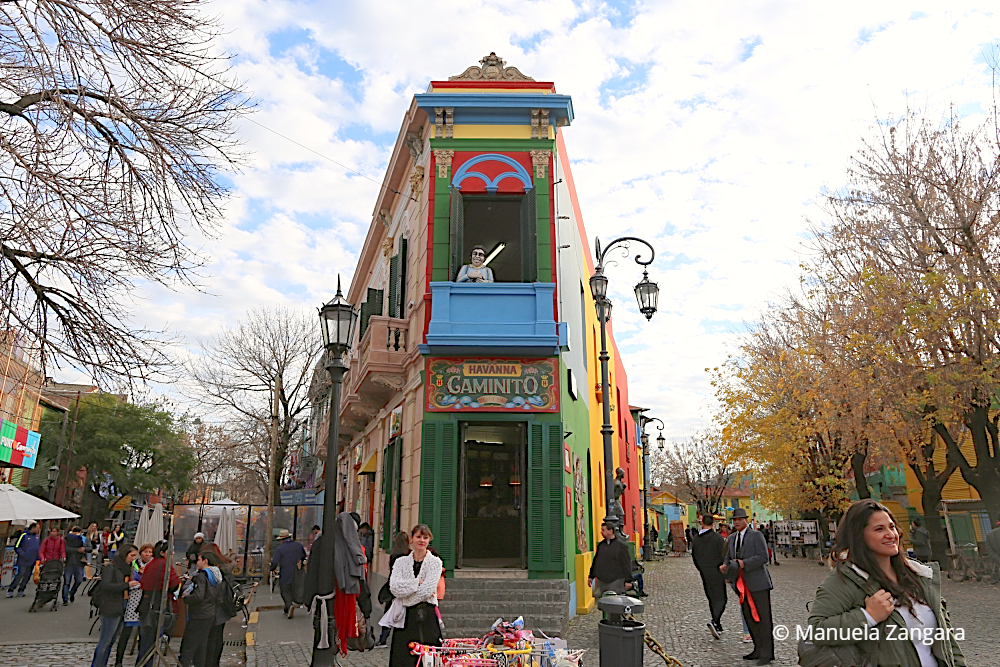 The buildings made of wood and sheet metal are typical of the conventillos (tenement houses): precarious, communal dwellings built by Genoan immigrants in the 19th century. Many dwellings are built on raised foundations due to frequent flooding in the past.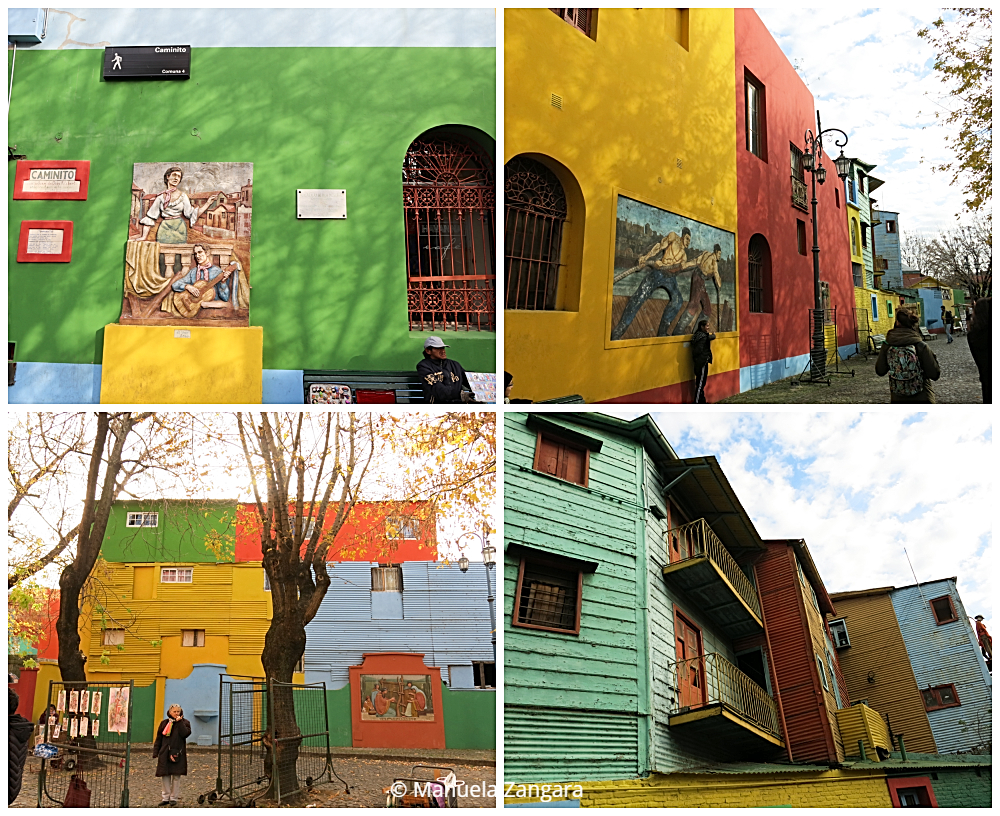 Today, there are several works by Argentine artists as part of the street museum and Caminito has become a favourite with tourists.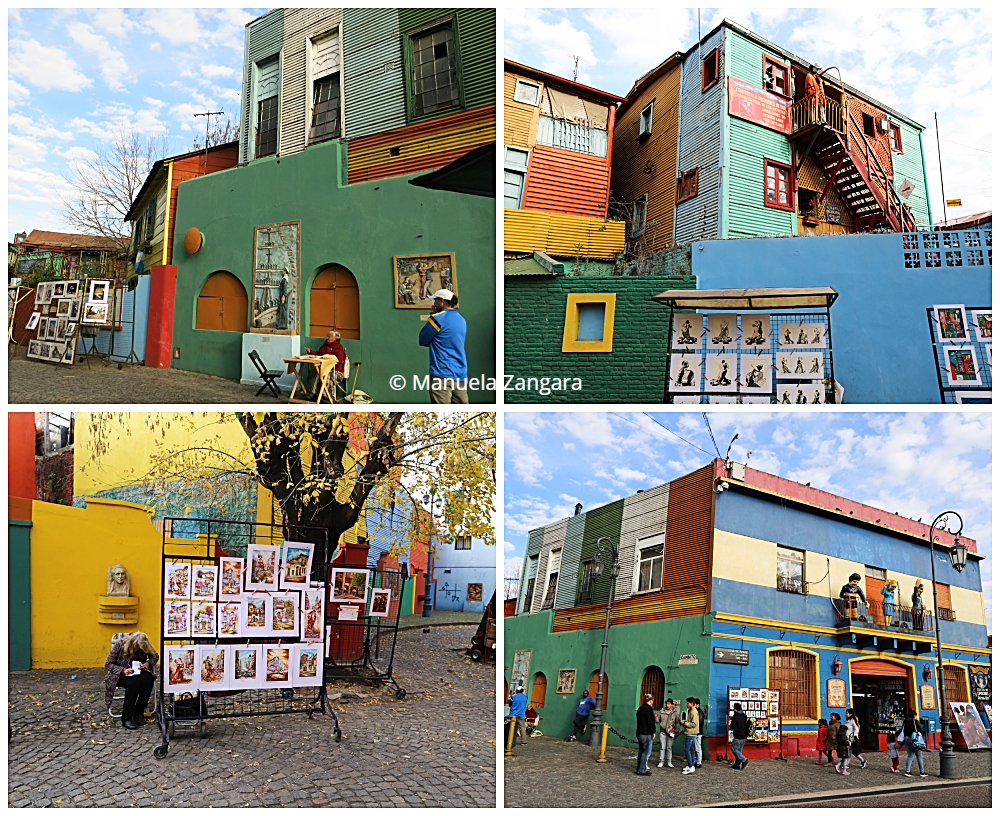 It is beautiful!
If you are in the area and are big soccer fan, stop by La Bombonera (or la cancha as it is locally known), the soccer stadium of Boca Juniors.
USINA DEL ARTE
After visiting Caminito, our friends drove us to La Usina del Arte, a multidisciplinary cultural centre located in the neighbourhood of La Boca.
Built in 1916, the building was used as a power plant by the Italian-Argentine Electricity Company for many years. It opened as a cultural centre in 2012 following an ambitious regeneration project undertaken by the Buenos Aires City government.
The centre has a symphony hall and multiple spaces dedicated to dance and art exhibitions.
PUERTO MADERO
Puerto Madero was originally a port, even though it was only a functioning port for about fifteen years after it was finished in 1897. It was built to accommodate the cargo ships of the day, but the increasing use of larger cargo ships around that time quickly rendered it obsolete.
From 1911 until 1999 the Puerto Madero area was used for ancillary port functions. Rusting ships and decaying warehouses littered the area. Finally, inspired by places such as the Docklands in London and Darling Harbour in Sydney, the area was restored and turned into an upmarket neighbourhood.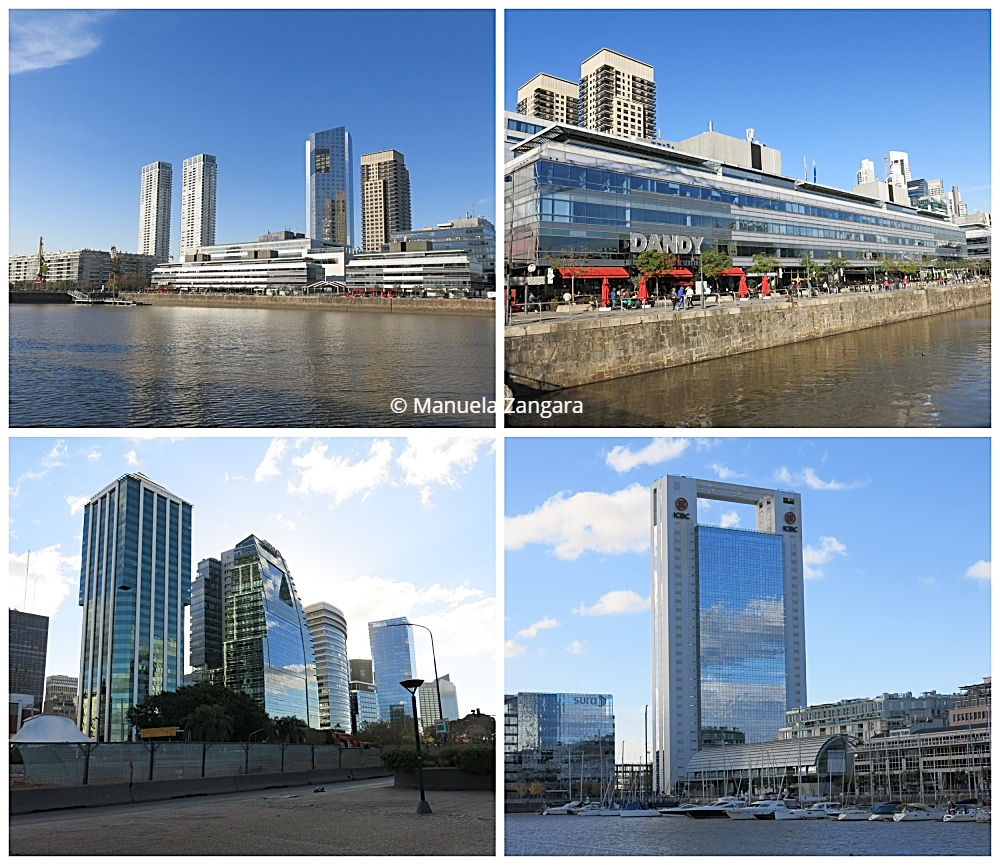 There are two ship museums, Sarmiento and Uruguay, which can be visited.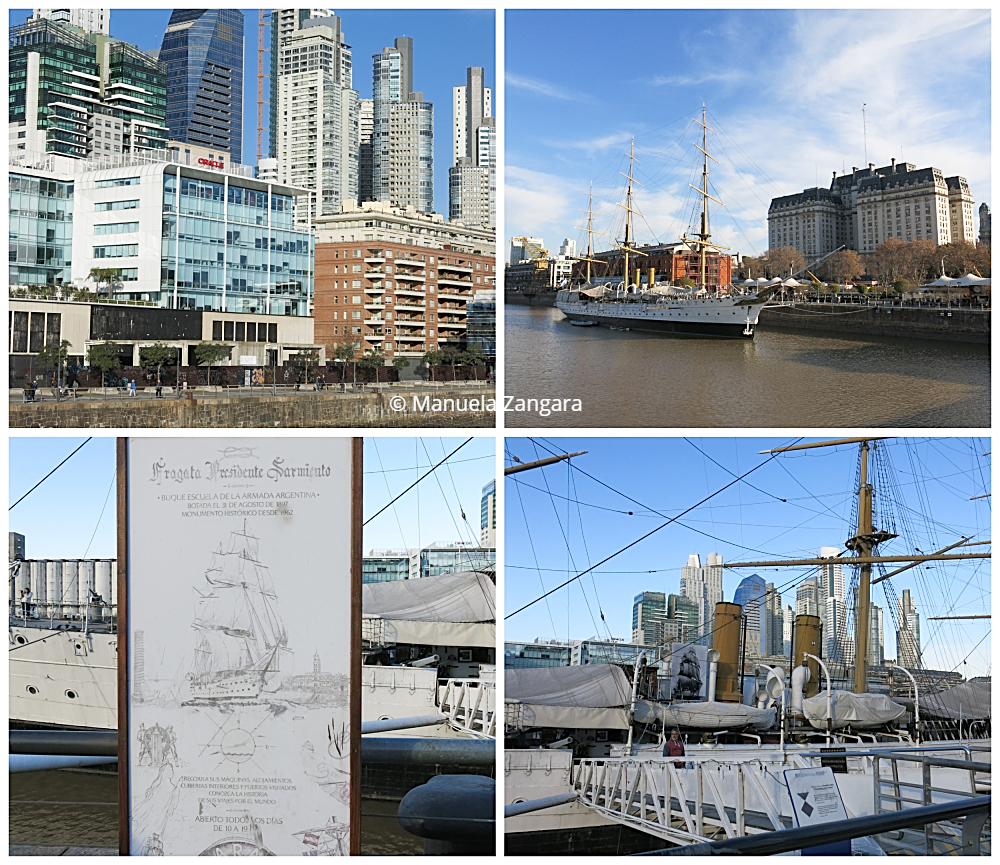 Puente de la Mujer is another landmark of Puerto Madero.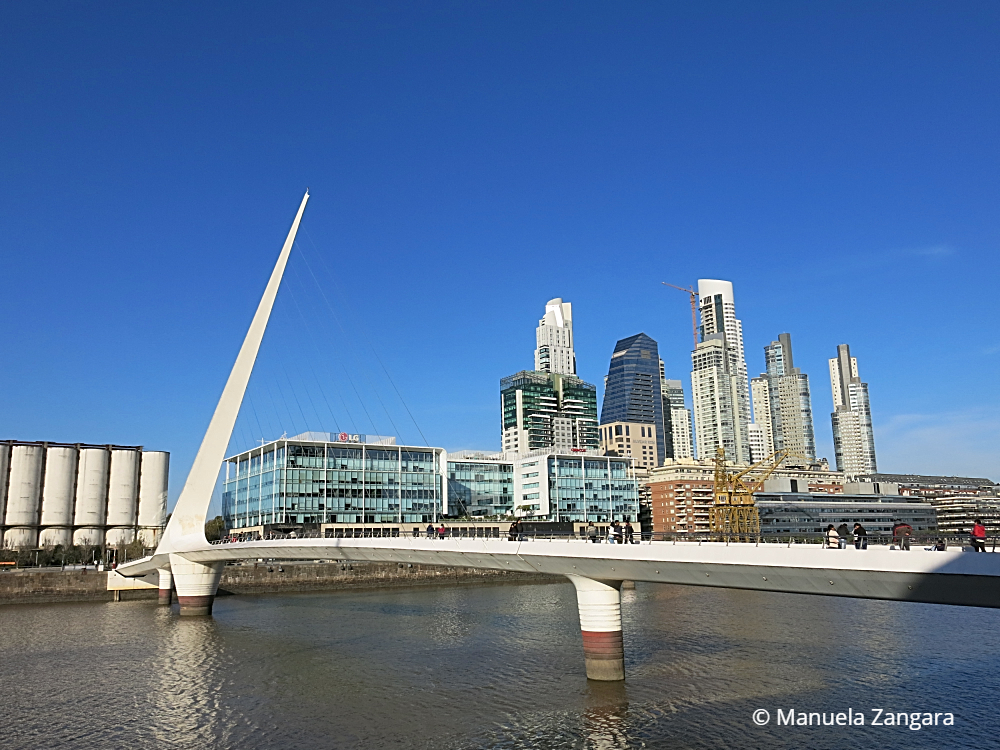 And it's particularly beautiful at night.
The best thing in Puerto Madero is the huge ecological reserve (Costanera Sur) that sits between the high rises in Puerto Madero and the Rio de la Plata. It's a very popular weekend spot for birdwatchers, walkers and cyclists.
OTHER PLACES WORTH VISITING
In my opinion, other places worth visiting would be the following.
ESMA – This space was created in 2004 to preserve the memory of those who died during Argentina's last civil-military dictatorship (1976-1983) and to promote and defend human rights.
The former naval campus known as the ESMA is the most notorious of some 600 secret detention centres in Argentina, where during the military dictatorship of 1976 to 1983 tens of thousands of "disappeared" people were taken to be tortured and killed. The actual building where the secret detention centre was located, the Casino de Oficiales (officers' club), is now a museum that also features testimonies of survivors. Due to the disturbing subject matter, children under 12 are not permitted. That's why we did not go this time.
The loft space where more than 5,000 detainees were kept hooded and chained has been preserved, as has the "nursery" where some 30 pregnant women gave birth to babies that were then taken and secretly given to families (often with military links – see above) to raise as their own. Also part of the museum is the basement where detainees selected for a "transfer" were taken before being put onto a plane and thrown alive into the Río de la Plata. Audio guides in English are available.
Palermo – Palermo is a big neighbourhood divided into sub-neighbourhoods: Palermo Soho, Palermo Hollywood, Palermo Viejo, Palermo Chico. This area is famous for its nightlife, cafés, restaurants and boutiques
Centro Cultural Kirchner – This beautiful building was near our hotel, however, we did not have time to enter and explore all that it has to offer.
Tigre – Tigre is a town just north of Buenos Aires. It's a gateway to the rivers and wetlands of the vast Paraná Delta. The town's old fruit harbour, Puerto de Frutos, is a busy craft market.
FOOD
During the 5 nights we spent in Buenos Aires, we ate out only twice. The other 3 nights in fact, we were too tired to go out and had dinner in the hotel.
We stayed in Puerto Madero, so we tried 2 local restaurants.
Cabañas Las Lilas
The first night we ate at a restaurant called Cabañas Las Lilas.  It is a parrilla place that serves up some amazing meat and desserts! The food was really good but very expensive for Argentinian standards. Our dinner actually cost us more than a similar dinner in Sydney!
The waiters brought us some complementary starters. I could not eat any of them, but it was salmon mousse, chicken with a pepper sauce, mozzarella+cherry tomatoes+pesto, and my husband's favourite: sweet and sour fried eggplant.
Then we had some delicious beef carpaccio.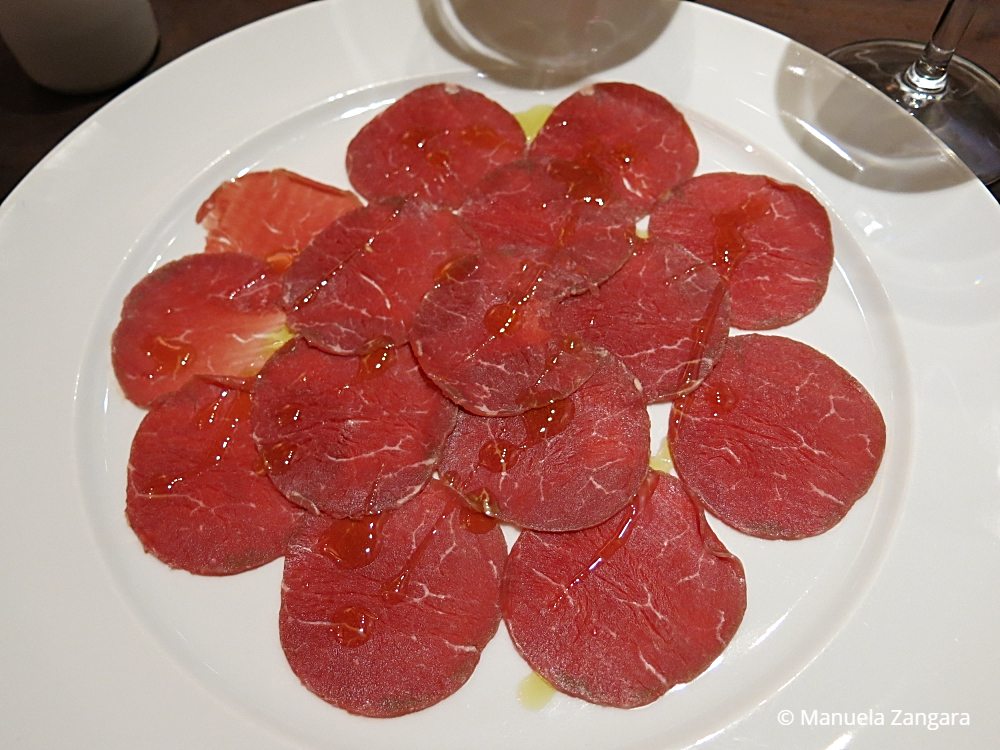 And a huge steak each. Mine was rare.
While my husband's was blue.
The kids had chicken schnitzel with chips. And ice cream (vanilla and chocolate).
My husband had the home-made crème caramel with caramelised plums and orange syrup.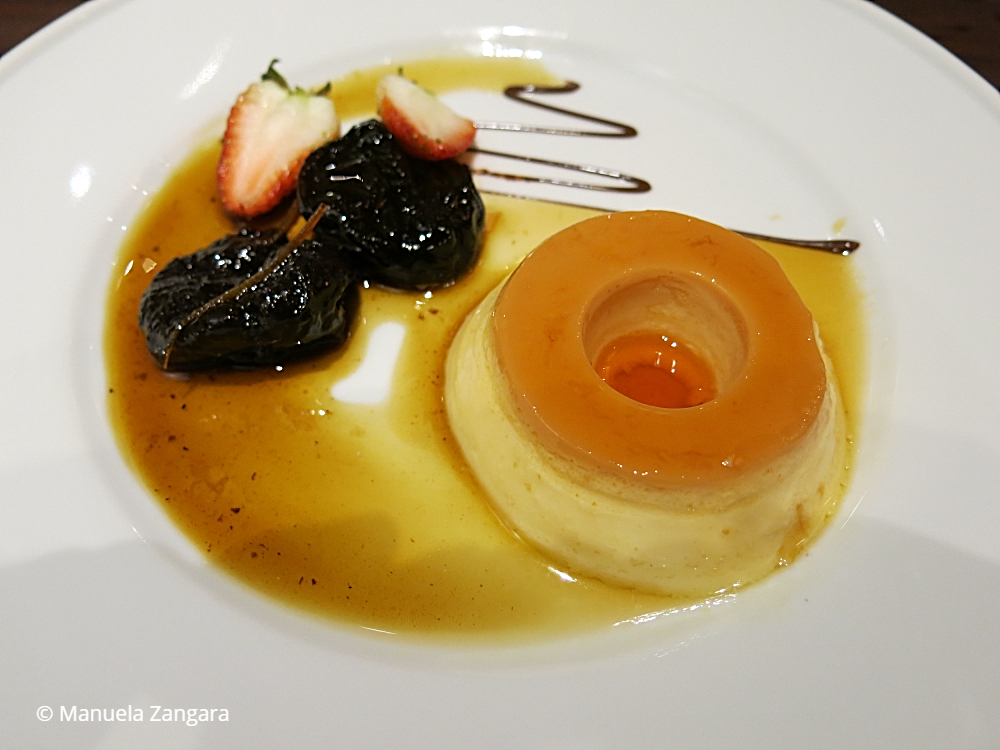 I was too full to eat dessert as the steak was HUGE.
The quality of the food was very good, however, we felt the price was way too high in comparison to other places where we ate during our trip.
Happening
The other night, we ate at a restaurant called Happening. The food was good too (we never really had bad food in Argentina!) and it was slightly less expensive than at Las Lilas, but still quite hefty.
Both my husband and I had a delicious steak.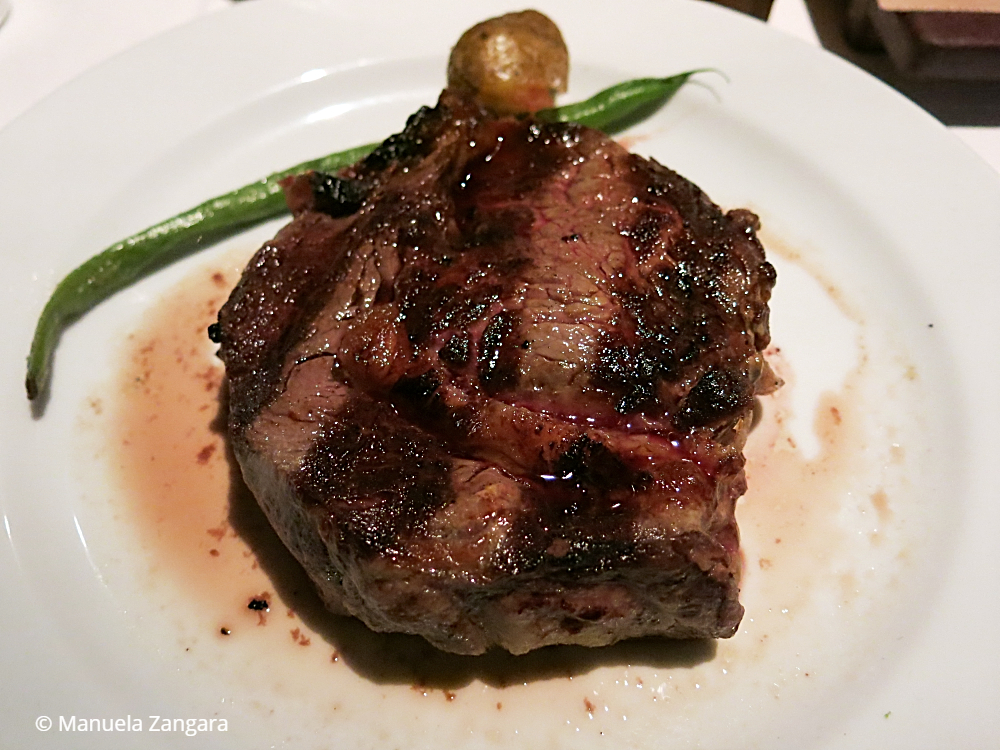 While the girls had a huge burger (plus ice cream).
For dessert, my husband had a white chocolate semifreddo, which he said was "ok" – it didn't taste much of white chocolate according to him.
I instead had a fantastic caramelised Crêpe filled with Dulce de Leche. If you like caramel, you must try it at least once in your life. However, I needed help to finish it!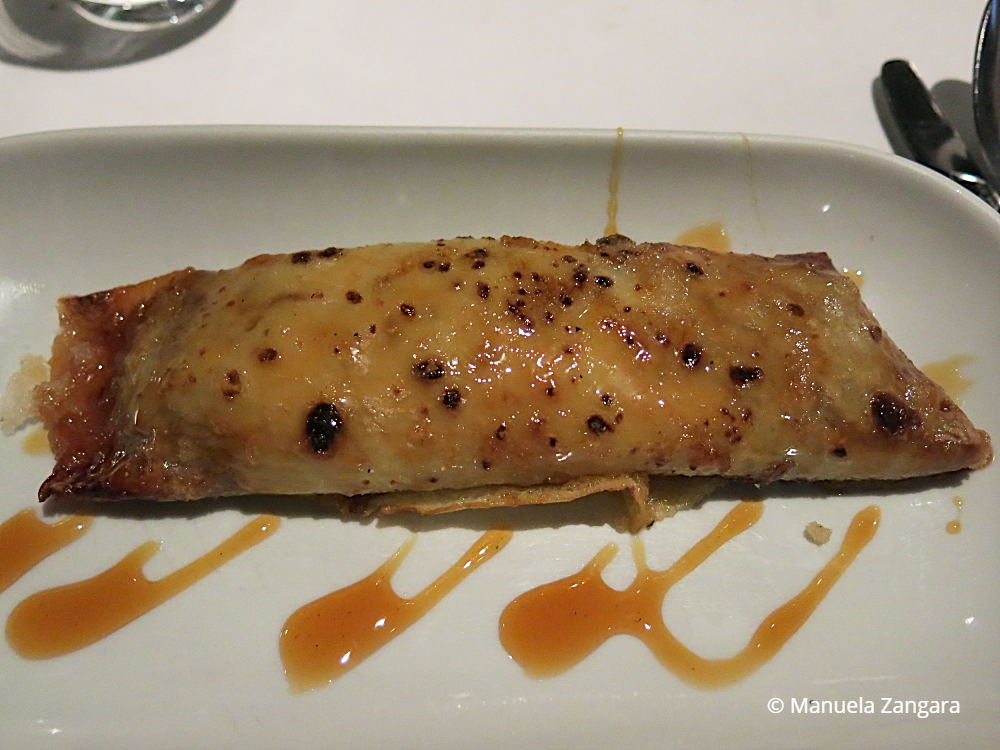 Good, but not as good as to go back for another dinner.
Hilton
The other 3 nights we had dinner at the hotel (Hilton – see below for the accommodation review).
One of the nights we had room service and everyone had pizza, apart from me. I had a Smoked Salmon Bagel with pickled cucumber and potato wedges. It was quite tasty.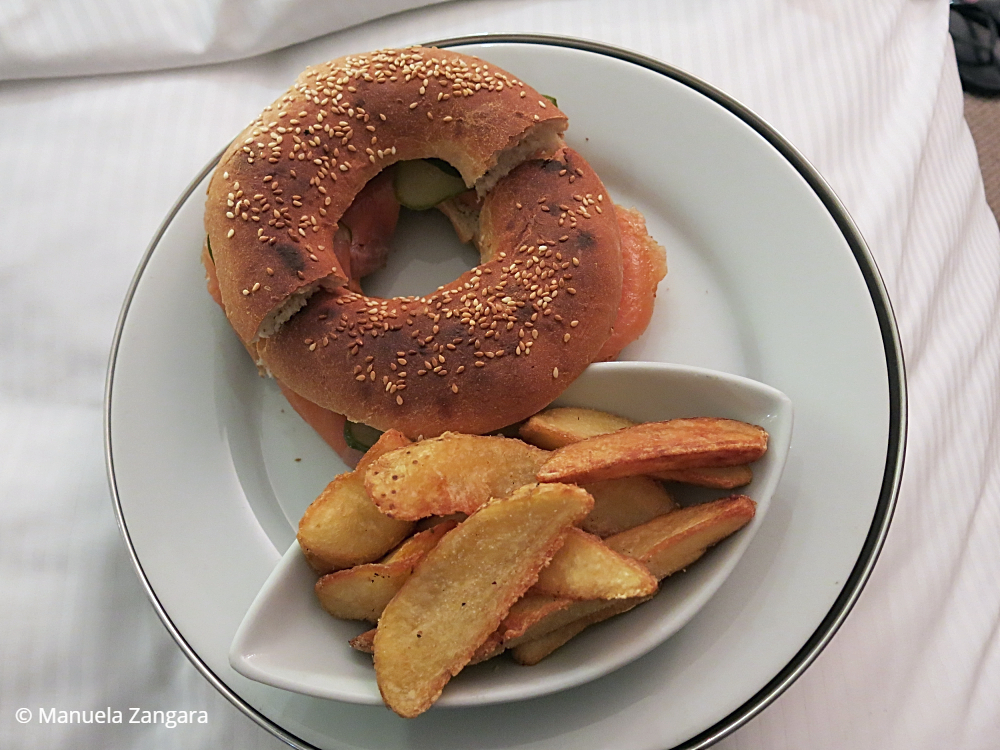 The other 2 nights, we had dinner at the bar, as the restaurant was… unavailable. One of the nights they had a function with a very long set menu from which the kids and I wouldn't (and couldn't) have eaten anything. While the other night, it was simply closed. Yes, you got that right. The restaurant at the Hilton is not open every day. It's closed at least twice (or maybe 3 times!) a week! I kid you not.
So, I can't comment on the restaurant's food and service. However, I can comment on the bar and I had some HUGE issues. In fact, the only issues I had with food throughout our 3 week holiday… and the Hilton was the last place I was expecting to have problems at. Both times I explained to the waiters that I have huge problems with food and I just ordered a simple steak with chips. I specifically told them I could not eat any onion or garlic. No condiments, no marinades. Easy, right? Apparently not so much.
The first time they brought me a steak surrounded by huge drops of chimichurri, which is not onion and garlic free. When I told them, they simply moved my steak to a clean plate. By then, the steak was completely cold.
The second time was even worse. I re-explained my issues to the waiters and I also told them what had happened the previous day. They assured me they would be extra careful and put a note on the order for garlic/onion. Guess what? When I had the first bite of my steak, it had an overwhelming taste of… GARLIC. My husband tasted it too, just to make sure I wasn't being paranoid… 😉 Well, to cut a long story short, they had "forgotten" to clean the grill!!! They made me a new steak, but I still paid the consequences of their mistake the next day… Besides, what a huge waste of food!!!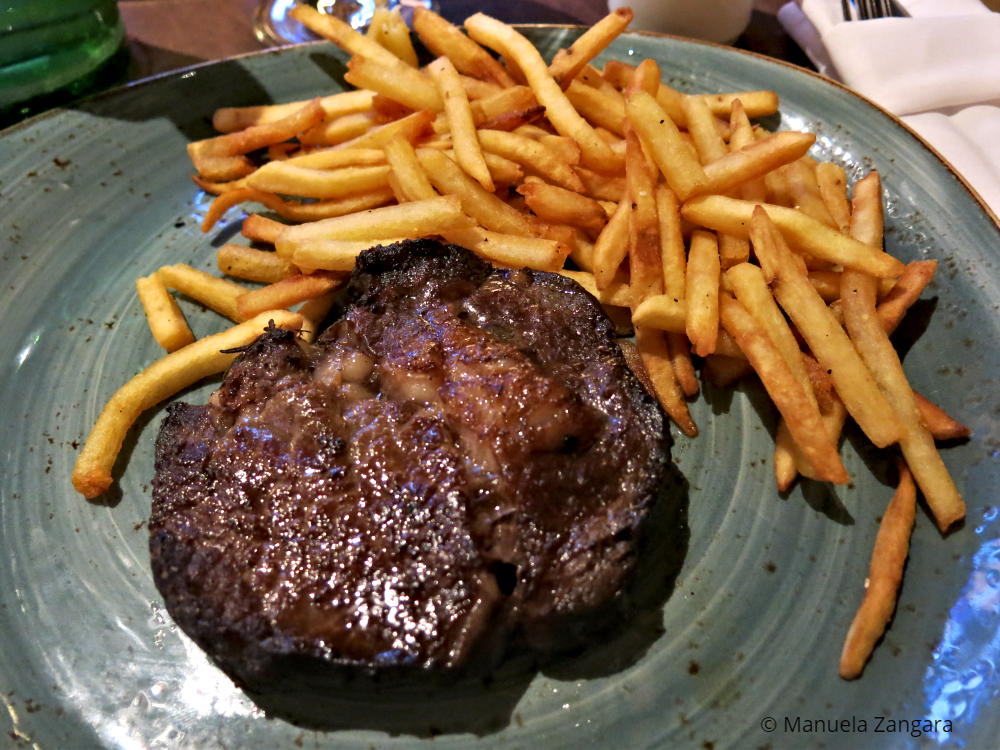 So, be extremely careful if you have any food allergies.
Their dessert chef, however, was absolutely brilliant. My husband had a Malibu Mousse.
And I had one of the best Chocolate Mousse I have ever had!
The kids had burgers, chips and ice cream.
I Central Market
One day we had lunch at I Central Market, a cool place just opposite the Hilton. It was packed with office workers out on their lunch break. There is a decent choice of cold (including sushi, sandwiches, fruit salads, regular salads, cold cuts, etc.) and warm dishes (including soups, empanadas, schnitzels, etc.) and even tasty desserts and pastries.
The kids and my husband had chicken schnitzel with tomato sauce and mozzarella – something Australians call a Chicken Parmigiana, while Argentinians call it "Milanesa Napolitana", which I found extremely funny. You see, this is clearly and Italian dish which we would call Cotoletta alla Parmigiana, however, cotoletta/schnitzel is a traditional dish from Milan, so it's called Milanesa in Argentina. As the topping tastes like pizza, they made Parmigiana (which literally means from the city of Parma) into Napolitana – aka from Naples, where pizza was created. Such geographical chaos! Hahahaha
Anyway, it tasted delicious I was told. Sorry, no pictures.
Then the 3 of them had ice cream: Cookies and Cream, Chocolate and Pistachio. All great.
I had had a heavy breakfast, so I just had a huge Alfajor de Maicena. Sorry, no picture again. But it was amazing.
I highly recommend this place. The food is good and the atmosphere genuine. Besides, the prices are honest.
La Clotilde
The best meal we had in Buenos Aires was our lunch at La Clotilde's, a local parrilla restaurant in Palermo, where we went with our friends.
The décor is bright and cheerful and it gets really crowded really quickly, so get there early. It's noisy, full of families and "real". This is not a tourist trap, as it's full of locals.
We ordered a big empanada with parrilla meat, to share. Yum.
And the specialty of the house: la tabla La Clotilde. It's huge, very reasonably priced, and every meat lover's dream! It's got a little bit of everything: beef, pork, chicken, morcilla (aka blood sausage – sooo good!), 2 different kind of chorizos/sausages, kidneys (very good too), other offal, pumpkin puree, potatoes, grilled onion, tomato and peppers, sauces (chimichurri included), and some very tasty rice. The showstopper, however, was the Provoleta, the cheese they set fire to so that it melts in front of your eyes. Everything was so good! I wish there was a place like this in Puerto Madero!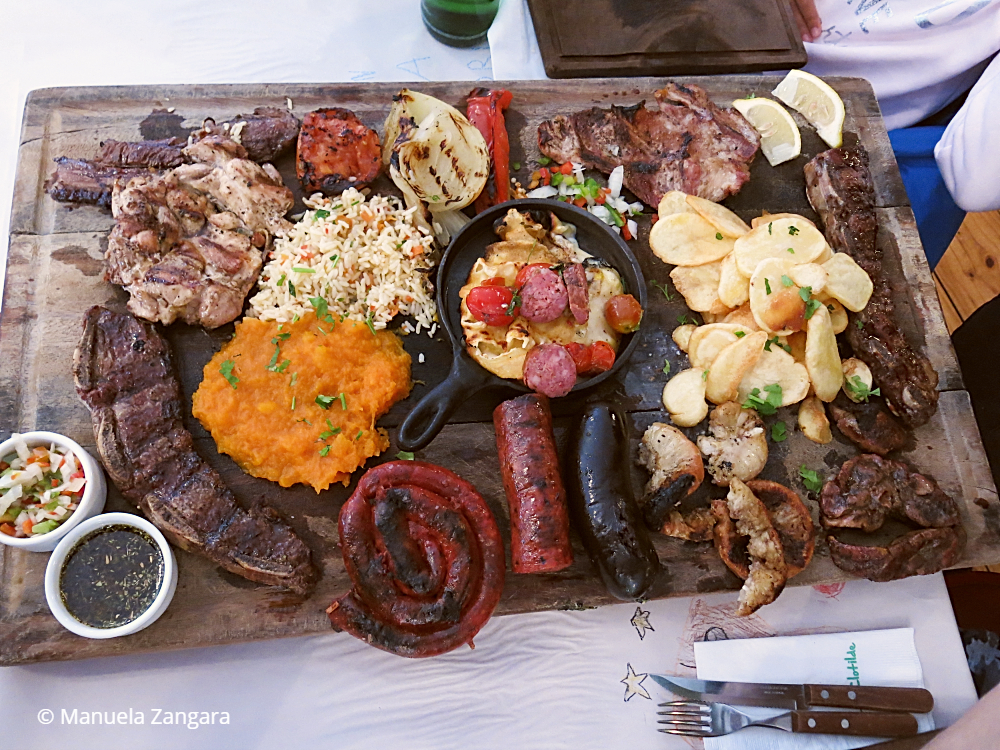 Highly recommended! Thanks, Gis and Sergio for taking us there!
Freddo Ice Cream
We also had some delicious ice cream at Freddo's. We stopped by a shop near La Clotilde, but there are many other Freddo shops throughout the city.
I must say that throughout our trip we had some very tasty ice cream and very unusual flavours: from Mate Cocido in Puerto Iguazu, to Malbec and Torrontes in Cafayate.
In Buenos Aires, I had the best Dulce de Leche ice cream at Freddo's. Highly recommended!
Havanna
A quick note about this brand. There are many Havanna shops and cafes around town and their alfajores (and dulce de leche) are very very good! Highly recommended.
ACCOMMODATION
At first, I wanted to rent an apartment in Buenos Aires. I was thinking of staying other in Palermo or Recoleta, as I had heard they were both very nice areas to stay at.
In the end, however, I found a good offer for the Hilton, in Puerto Madero. I was a bit worried about the area, as I had read it was a bit of a soulless place… which it was, to tell the truth. But when I checked the hotel on google maps, I was sold. Yes, maybe Puerto Madero doesn't have the bohemian atmosphere of San Telmo, or the beautiful Parisian architecture of Recoleta, or the trendy nightlife and restaurants of Palermo. However, from there, you can walk almost everywhere! And you can get to further destinations with a bus that stops nearby.
To me, when travelling to a new place with kids, being able to reach the areas we want to visit easily is paramount. To give you an example… you can walk to Plaza de Mayo in 10 minutes, Calle Florida in 15, and Obelisco in 20!
We were very happy with our choice. The hotel itself is new and, architecturally speaking, beautiful. The foyer is impressive, with shiny floors, a central bar, a glass roof, and transparent elevators.
On the 7th floor, there is a gym, a spa, and an open-air pool on the terrace with a nice view of Puerto Madero.
Besides the bar, there are also a coffee shop and a restaurant (see above), however, please note that the restaurant is not open every day.
The room itself was quite big. We had 2 very comfortable queen beds, a desk, a flat screen TV, and a huge bathroom with both a shower and bathtub.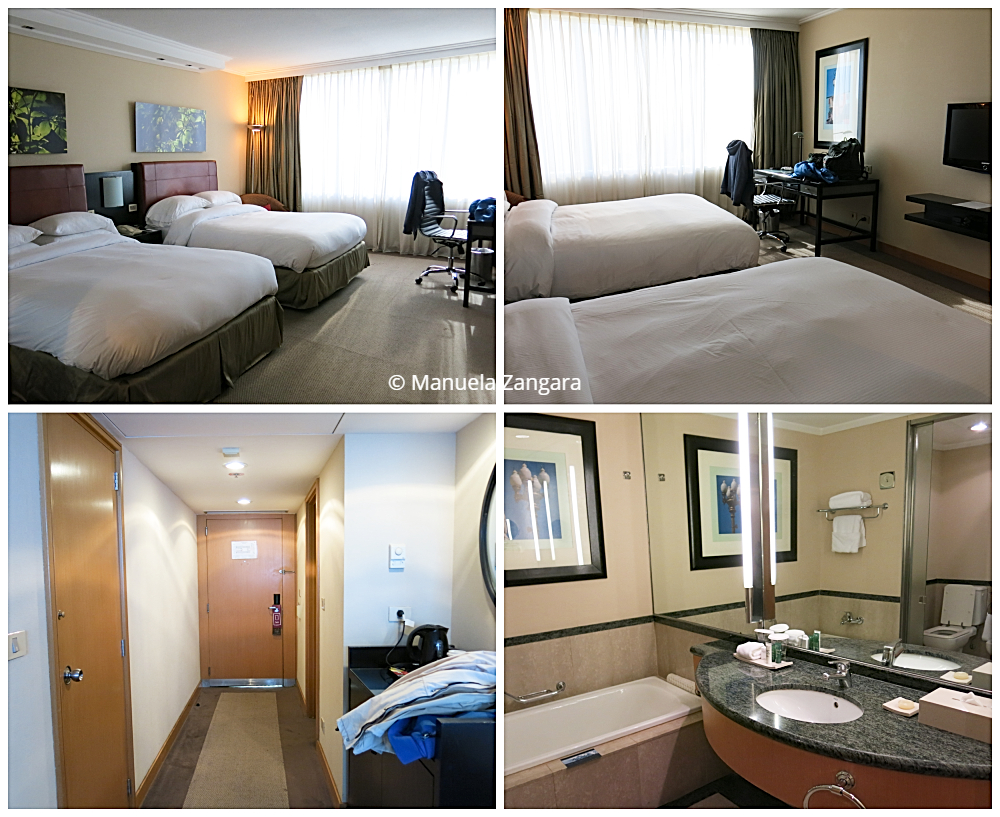 We also had a walk-in-robe.
Check-in was a smooth process and we were given room 517, on the 5th floor. This was our view!
The service was impeccable, as you would expect from the Hilton. The people were friendly and quite helpful (some more than others).
In fact, we had a problem with Latam during our stay. As I wrote before, due to a national strike, our flight from Buenos Aires to Santiago de Chile was cancelled. We got notified via email… actually, Latam just sent us an email saying that our flight had been cancelled and that we had to call them. What??? No explanation at all, no rescheduling… nothing. So we went back to the hotel and explained the situation to one of the guys at the concierge who just dialed Latam's number and passed them on to us.
The people of the Latam's call centre could not speak English very well, so I had to talk to them in Spanish. It would have been tremendously helpful if the concierge person on duty had done that for us, in Spanish. However, after 2 hours of going back and forth, I managed to get us on the same Latam flight for the day after. Thumbs down for Latam! I would have expected them to simply reschedule our flight or at least have someone who could speak English at their call centre!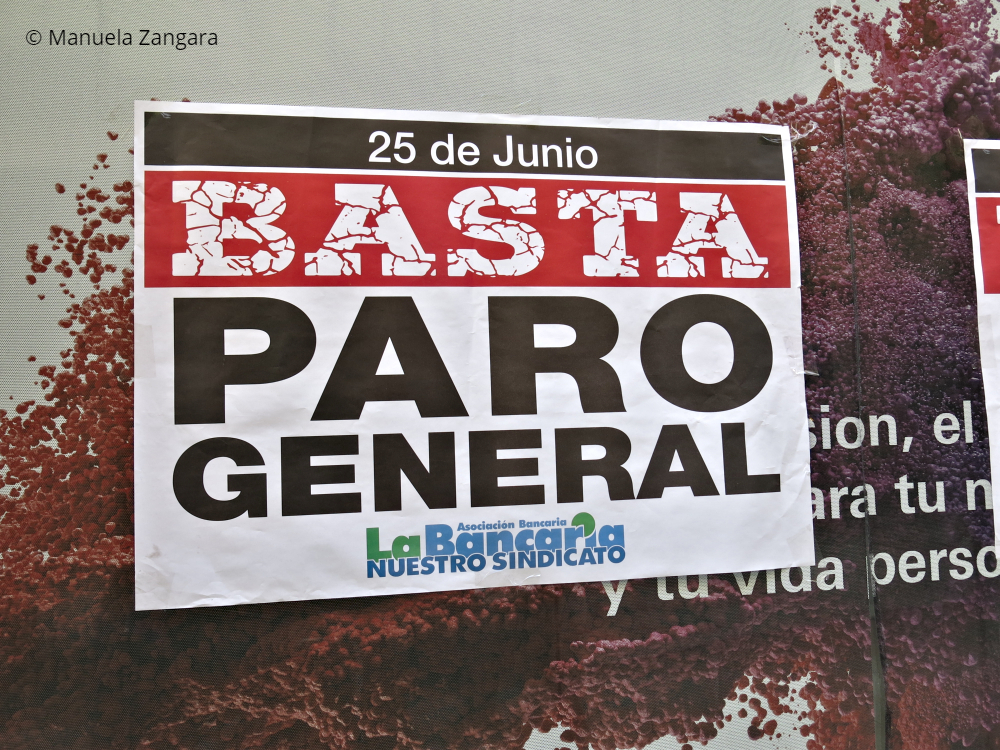 Another lady at the Hilton, Vanessa, helped us change our hotel booking, so we could stay an extra night at the same rate and in the same room. She was extremely helpful. Claudio was very nice too and made sure our stay was a comfortable one.
Breakfast was to die for with a HUGE buffet which was constantly replenished.
There was an area with pastries, including delicious croissants, medialunas, and pain au chocolat. A chef would also make eggs and omelettes to order.
Cold cuts, cheese, fresh fruits, salads, smoked salmon.
Churros, pastries, chipas (a typical cheese bread from the area), all kinds of breads, bagels, muffins, doughnuts, spreads (including Dulce de Leche), jams, cream cheese, etc.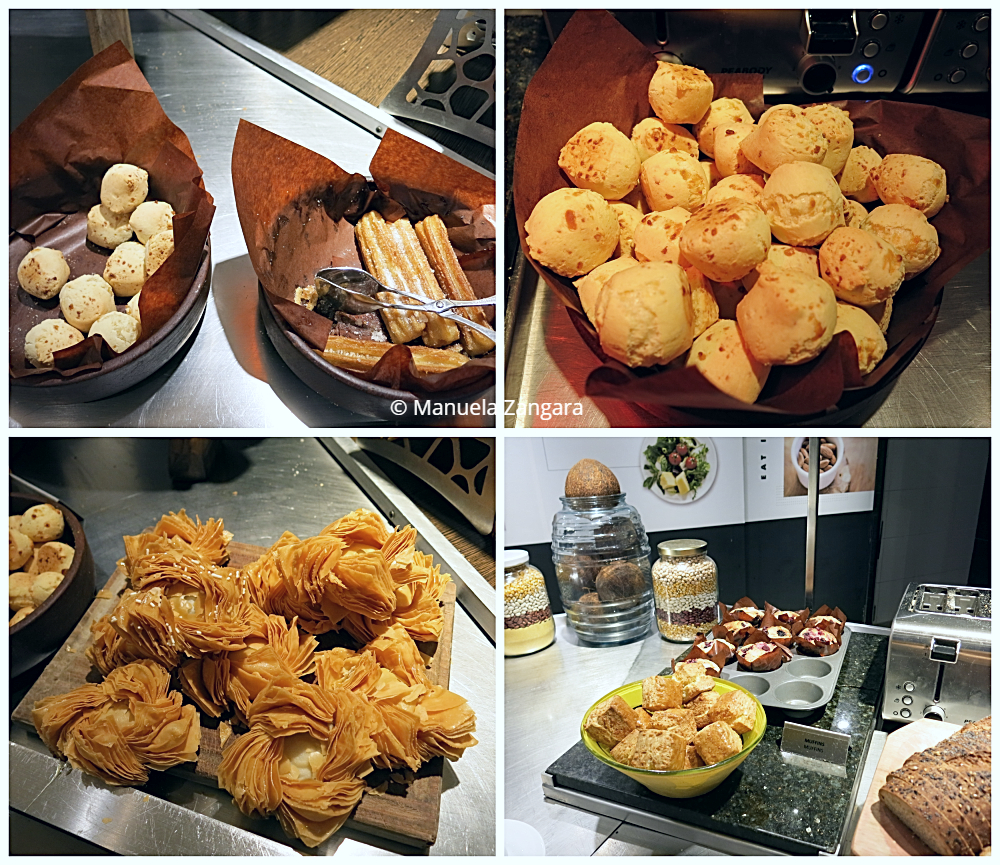 Juices, cereal, tea, coffee, and honey with honeycomb!
You name it! You could also order espresso and cappuccino.
There was so much good food that I was often too full to have lunch. Hats off to the chefs on the breakfast shift.
All in all, I highly recommend the Hilton Buenos Aires for its friendly service, beautifully appointed rooms, amazing breakfasts, and above all, for its perfect location! If you are after nightlife though, it's not the place for you, as the restaurants in the area are quite pricey and there are definitely better choices in other areas.
We'll definitely be back!
HOW TO GET AROUND IN BUENOS AIRES
In Buenos Aires, we walked as much as we could. We like to walk around and see the cities at a leisurely pace. When we had to get to farther places, however, we used busses.
To ride the bus (or subway) in Buenos Aires, you need to buy a SUBE Card. You can get it at any kiosk (including at Aeroparque) and it costs 25 ARP. You then charge it with as much money you like. Each bus ride costs 10.95 ARP. You don't need 1 card per person, you can simply use one and scan it once per person. You enter the bus from the front door, tell the driver where you are going so he can calculate the fare, and you scan your SUBE Card in the machine. Easy.
From the airport in Buenos Aires (Aeroparque) we used a remis to get to our accommodation in Puerto Madero. We used Transfer Express, but there are a few different stands. Check their prices before choosing. It cost about 450 ARP each way. The stands are just after you retrieve your luggage and BEFORE getting out in the open air. I personally loved this system… you pay at the counter and they give you a voucher to present to the driver, so you know the price is fixed and you don't have to worry about anything.
CONCLUSION
If you are planning a trip to South America, you simply MUST stop in Buenos Aires! It has a lot to offer: beautiful architecture, interesting museums, historical and meaningful places to reflect on the recent past, good food and cafes, and friendly people! We will definitely be back!
RESOURCES ON MSM
RECIPES:
Sopaipillas con Pebre y Pasadas
TRAVEL IN SOUTH AMERICA:
Santiago de Chile Guide – Chile
Iguazu Falls Guide – Argentina and Brazil
Quebrada de Humahuaca Guide – Argentina
Cachi and Molinos Guide – Argentina
MAP

Related Posts: