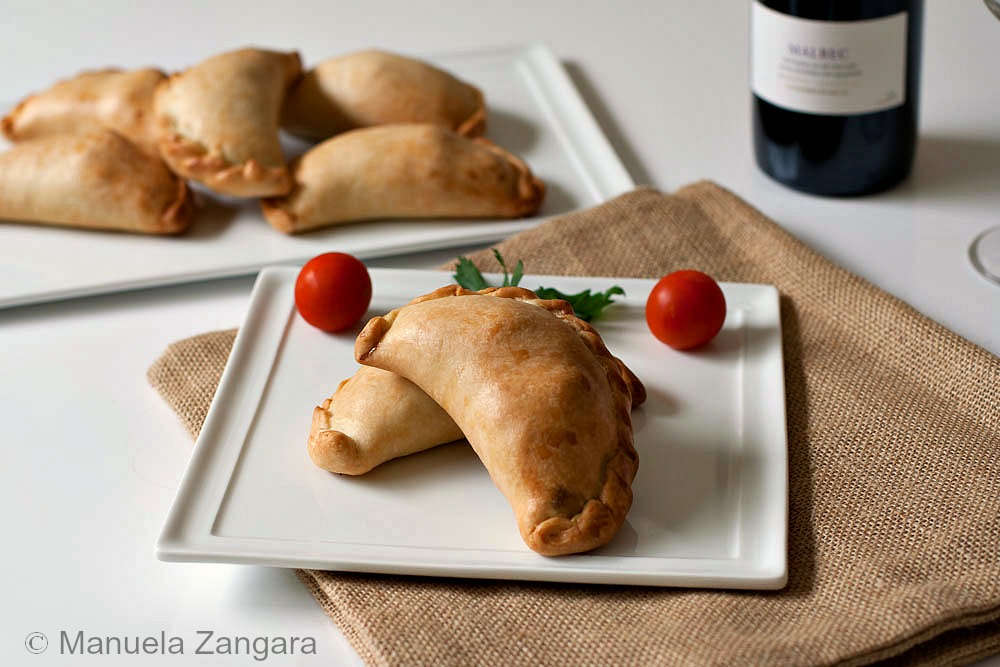 Today's recipe is not Italian as you may have guessed.  Empanadas are a South American delicacy and are very popular in many countries.  I have actually learnt that there are many different kinds of empanadas, many different fillings and doughs and different ways of cooking them too!  I guess it is one of those dishes that is so popular that every family has its own version.  I did some digging and in the end, I decided to try the classic Argentinian meat filled empanadas as a first attempt.  I did not put any boiled eggs in them as I do not eat any (one of the very few items I do not eat), but feel free to add them in yours if you like them.  Empanadas can be fried or baked and this time I decided to bake them.  They were delicious and I will be making more for sure and trying out other combinations of fillings/doughs.  In the meantime, enjoy these baked empanadas!  Buen provecho!
Recipe adapted from Delicias y Manjares
Ingredients (makes 30 empanadas – I made half a dose):
For the masa (dough)
1 kg – 2.2 lbs. flour
300 gms – 10.5 oz. beef dripping
1 ½ tsp salt
375 ml – 1 ½ cup water (to add little by little)
Milk, to brush
For the filling
200 gms – 7 oz. beef dripping
500 gms – 1.1 lbs. beef sirloin tip, finely chopped with a knife
500 gms – 1.1 lbs. onion, chopped
3 carrots, chopped
2 tomatoes, chopped
1 tbsp pimentón dulce or sweet paprika
1 tbsp cumin powder
1 tbsp raisins
1 green olive per empanada, pitted
Salt to taste
Start by preparing the filling.
Sauté the chopped onion with the beef dripping in a frying pan.  When the onion is soft and translucent, add the chopped tomatoes and carrots and cook for a few minutes or until the vegetables are just cooked.  Add the meat, pimentón dulce or sweet paprika, cumin powder, salt to taste and raisins and cook until the meat is done.  Keep it aside to cool down completely before filling the emapanadas.
In the meantime, prepare the masa.
Put all the dry ingredients in the bowl of an electric mixer fitted with a dough hook and knead well by adding the water little by little.  Make a ball with the dough and let it rest, wrapped in some cling wrap, for 15 minutes.
Roll the dough into a 3 mm – 0.12 inch sheet and cut rounds out of it.  Put some filling into the centre of each round and top with a green olive.  Fold the dough in half and fold the edges over to seal your empanadas.  Put them on an oven tray covered with  baking paper and brush them with some milk.
Bake the empanadas in a pre heated oven at 200°C – 390°F for 15 to 20 minutes, or until golden brown.
Enjoy!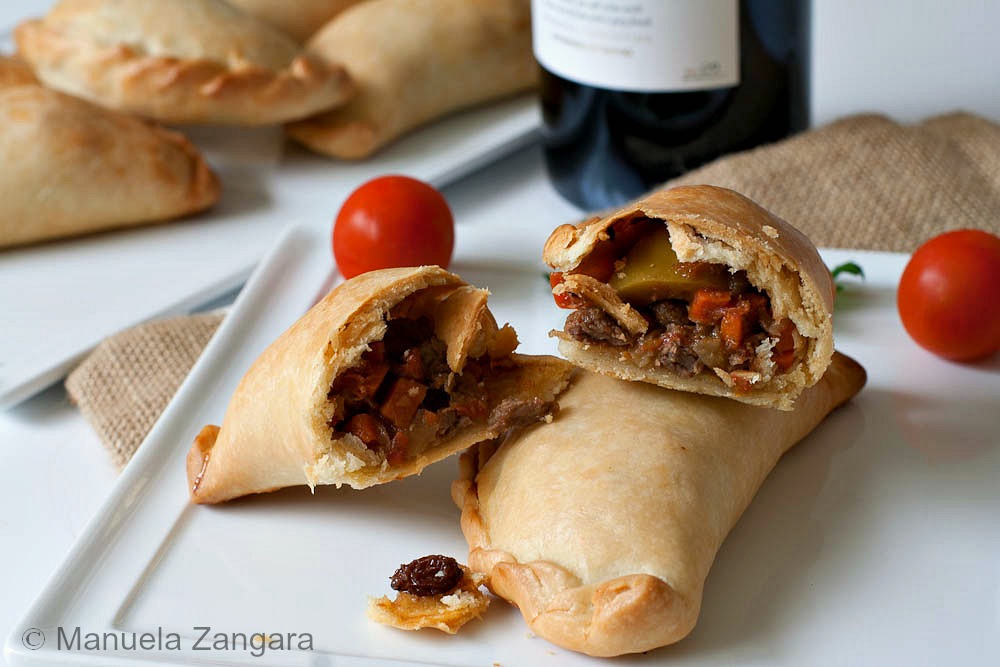 Pin It

Related Posts: