During our trip to Chile and Argentina, we stayed 2 nights in the village of Purmamarca, at the entrance of the Quebrada de Humahuaca (quebrada means "canyon" in Spanish), in Argentina's North West.
This area is in the province of Jujuy, very close to the Andes and Bolivia. Here, you can find a prevailing indigenous and rural culture and it feels very different from the rest of Argentina, which is much more "European". Being so close to Bolivia, you will also encounter many roadblocks where the police will constantly ask for your documents, etc. as this is a huge route for drug dealers apparently.
There is a lot to do in this region of Argentina and it's also one of the cheaper areas to travel to. I highly recommend to rent a car and visit the picturesque towns of Humahuaca, Purmamarca, and Tilcara to see how Andean cultures continue to thrive. You will be driving through impressive rock formations with amazing colours and tiny villages that look too pretty to be real. This was one of my favourite parts of the trip.
WHEN TO GO
The region is great to visit at any time of the year. If there was an ideal time to come, then it would be in spring and the beginning of summer (September to December). During this period daytime temperatures fluctuate between 23°C and 30°C (74°F and 84°F), with lows rarely falling below 10°C (50°F). Spring is also the dry season.
At the height of summer temperatures can hit the 40°C (104°F) mark and flash thunderstorms occur. Autumn is another great time to visit as the summer rain gives life to the mountainous landscape and creates a sweeping panorama of greenery.
We visited in June, which is just the beginning of winter. It was starting to get cold (freezing at night!), but we had amazing blue skies and it was sunny every day, apart from one day, when it was rather cloudy. All things considered, it was still a great time to visit.
The best part about travelling in winter is the lack of crowds. In fact, that was probably what I loved the most: being able to wander around almost alone.
SIGHTSEEING
Stretching north from Jujuy the Ruta Nacional RN9 cuts its way through the magnificent Quebrada de Humahuaca. This mountain valley route runs for around 155 kilometres (96 miles) alongside the Río Grande. Historically, this is an old trade route known as "Camino Inca" and has been used for over 10,000 years! Spreading out at intervals along the trail are indigenous towns and villages like Humahuaca, Purmamarca, and Tilcara.
The best way to experience this region is to rent a car and stop off at the various towns. The drive itself is beautiful and the roads are in good conditions. You will pass multi-coloured rock formations and snowcapped mountains, primitive settlements (some very poor ones too), rushing rivers and vast cactus fields.
SALINAS GRANDES
Salinas Grandes is a huge salt lake, very similar to its more famous Bolivian counterpart – Salar de Uyuni. It is situated about 125 km from Purmamarca and it was the first place we visited.
From Purmamarca, you must take RN52 and travel along the Cuesta del Lipán (Lipán Slope) up to Abra de Potrerillo, where the salt flats are located. Cuesta del Lipán is a winding road that takes you really high on the mountains.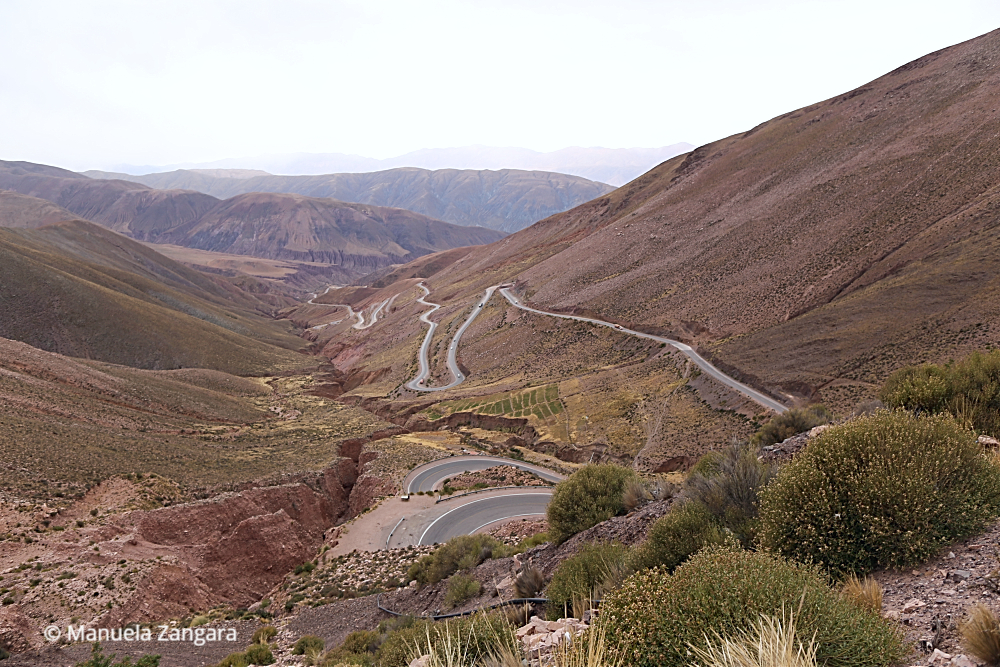 You actually reach 4170 meters above sea level here, so take it easy. My husband did have a few minor issues with altitude (a slight headache) and it was certainly harder to breathe and walk. However, we managed to acclimatise pretty quickly.
Shortly after the Cuesta del Lipán, you can see the first panoramic view of the salt flats.
The salt plains are so beautiful! When you arrive, you can simply park your car and walk on them or, if you want to go further inside and learn a bit about how the salt is harvested, you can pay 200 ARS and get a guide who will ride with you in your car and navigate you while you drive (yep!) on the salt lake! We did that, and I highly recommend it.
The tour was in Spanish only but the experience of actually driving on salt is a fun one to make regardless. Besides, the friendly guide helped us take some funny pictures which would have otherwise taken much longer to figure out.
The kids loved these!
You get to stop in a couple of different places. These are the water holes where salt forms through evaporation. When they fill up, the salt is collected and put in mounds. Then it's taken to be cleaned, packaged and sold.
There is also a smaller lake that never crystallizes because the water that comes from underneath is sweet.
We are quite familiar with salt pans and salt collection methods, as we have visited a few such places, including the Saline di Trapani, in Sicily. But we had never driven on salt before.
Unfortunately, this was one of the very few days when the weather was bad. It was very gloomy and cloudy, and also really windy. The wind was icy cold as we were very high up on the Andes. On a clear day, the white of the salt and the blue of the sky will make this place look even prettier. Be sure to wear sunglasses! Even though we did not get to experience the salar with the sun, we still got to see a circular rainbow, which was breathtaking!
At the parking lot, there are a couple of stands with people who sell local crafts and things made out of salt. These huge statues too were made of salt!
I highly recommend this visit!
PURMAMARCA
We chose to stay in Purmamarca, the first stop along the Quebrada de Humahuaca route. Purmamarca is famous for the Cerro de los Siete Colores (The Seven Colour Hill) and it's a cute little village always busy with tourists that come to admire the colourful hill.
You can stroll through the town and around Paseo de los Colorados for full frontal views of the hill. We did this by car on the first day, as it was sunset and we were already tired. The views and the colours of the mountains are impressive!
In the town centre is Plaza 9 de Julio, around which a market sets up on a daily basis. Here, you can shop for Bolivian-style woven blankets, alpaca wool clothing (many with indigenous designs), hats, scarves, and ceramic bowls.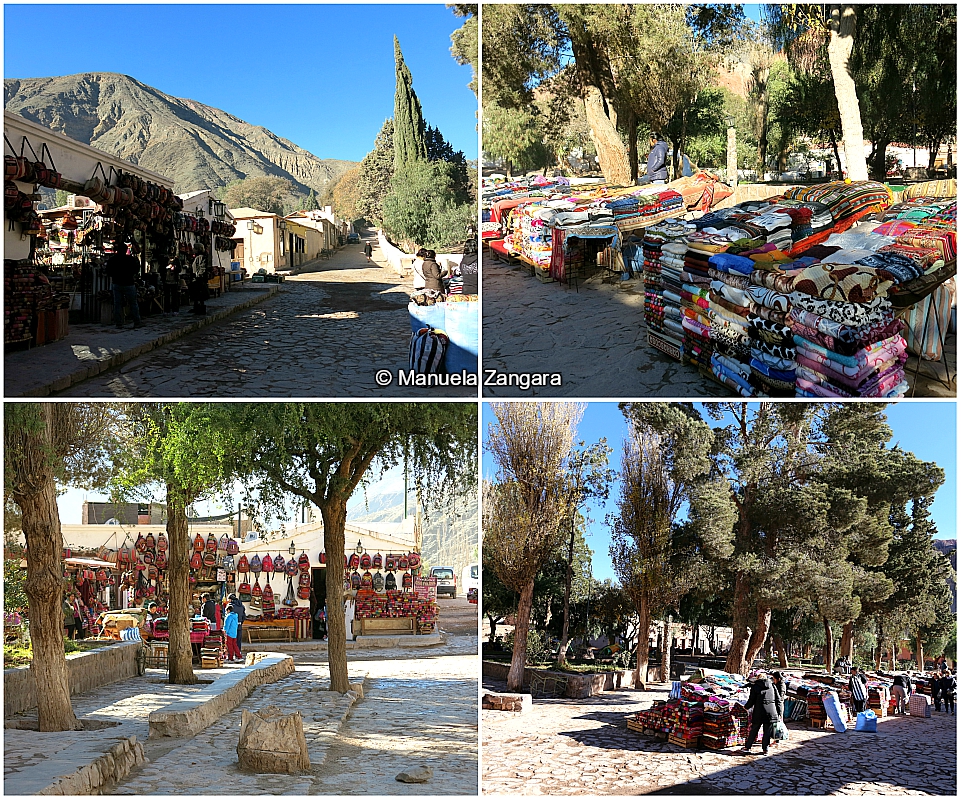 In the square, you can also see the little church with a very ancient tree.
And the colonial style Cabildo (town hall).
There are also 2 miradores/viewpoints from which to take great photos of the Cerro de los Siete Colores. One – Cerro el Porito – is in the town itself, at the end of Florida. You pay 20 ARS and get to climb on top of a little hill right in front of Cerro de los Siete Colores. From here you can see the whole village. We also got a glimpse of our hotel from here.
And the magnificent Cerro de los Siete Colores.
The other viewpoint (Mirador 2) is opposite the entrance of the village coming from Salta (see map below). You need to cross RN52 and the river on foot! And then find the path that leads you close to the pink house and keeps climbing up. I did not go all the way up, as we did not have enough time, but the view from here is quite nice as well.
HORNOCAL – CERRO DE LOS 14 COLORES
We had not planned to go to Hornocal, but the hotel manager in Purmamarca told us not to miss it, so we juggled our plans and fit it in. This place is near Humahuaca and it is famous for the spectacular Cerro de los 14 Colores (aka the Mountain of 14 Colours).
To get there, you need to go to Humahuaca first, find the bridge at the back of town, cross it and turn left towards Santa Ana. The road to get there is gravel but in good conditions and it has some amazing views.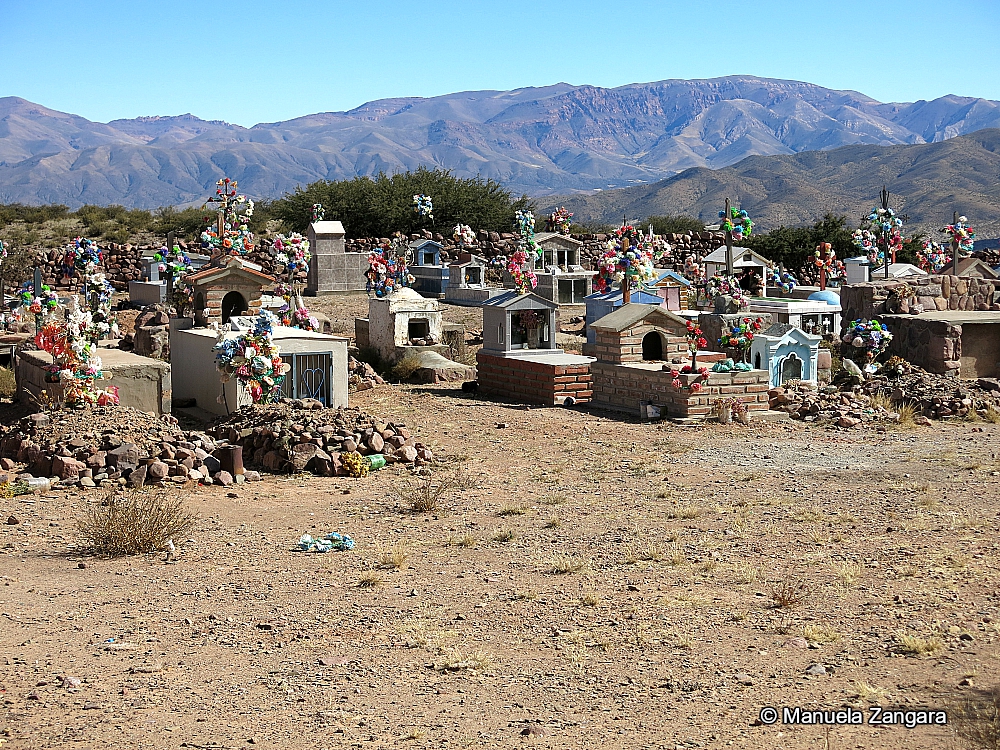 It takes about 40 minutes to get to Hornocal from Humahuaca, but it is absolutely worth it. To access the mirador you need to pay 50 ARS.
The mountain – which is at 4350 m above sea level – is breathtaking. This was possibly the best thing we saw during the whole journey.
We took dozens of photos, but they don't make it justice.
We were alone most of the time, which added to the magic of the place.
A must-see!
HUMAHUACA
After that, we visited Humahuaca. Largely inhabited by indigenous people, this is the place to spot women dressed in wide-brimmed hats and colourful ponchos and men in typical gaucho attire. The town is a common stopover for travellers en route to Bolivia and its appearance and ambiance is far closer to that of Bolivia than Argentina.
With its narrow cobblestone streets and low-rise buildings, and being surrounded by mountains and fields of cactus, Humahuaca feels likes it should be part of a western movie.
The town centers around Plaza Dr. Ernesto Padilla and crowds gather here at noon to watch a life-size figure of San Francisco Solano appear from the clock tower of the cabildo (town hall). Unfortunately, we did not get there in time as we were still making our way down from Hornocal.
On the west side of the square is the Iglesia de la Candelaria (cnr Buenos Aires and Tucumán). Step inside this colonial church to see some beautiful 18th century paintings.
From the main square, a stairway leads to the Monumento a la Independencia. The monument honours the soldiers that fought in Argentina's wars of independence. At the top, there are sweeping views of the Río Grande valley. Apparently, this cactus is one of Northern Argentina's most photographed landmarks.
Humahuaca is ok, but it was definitely my least favourite village of the area.
UQUIA
Uquía is a dusty, sleepy small town just off RN9, between Tilcara and Humahuaca. It's famous for its historic church blessed with armed angels. Yep… armed, although we did not enter to check.
HUACALERA
Here you can find a monolith and a sundial marking the imaginary line of the Tropic of Capricorn.
And a little church.
TILCARA
Tilcara is the busiest of the Quebrada de Humahuaca towns. A town of dusty cobblestone streets and Spanish colonial architecture, Tilcara is fast gaining a reputation as a backpacker destination.
To tell you the truth, we did not enter the town itself, as we did not have enough time. We went straight to the Pucará de Tilcara, a pre-Inca settlement situated on a remote hill above the valley of the Río Grande.
We loved this place. The guide was really good and she explained a lot about the life of the pre-Inca people who used to live in the area over 10,000 years ago! It was amazing how well organised they already were.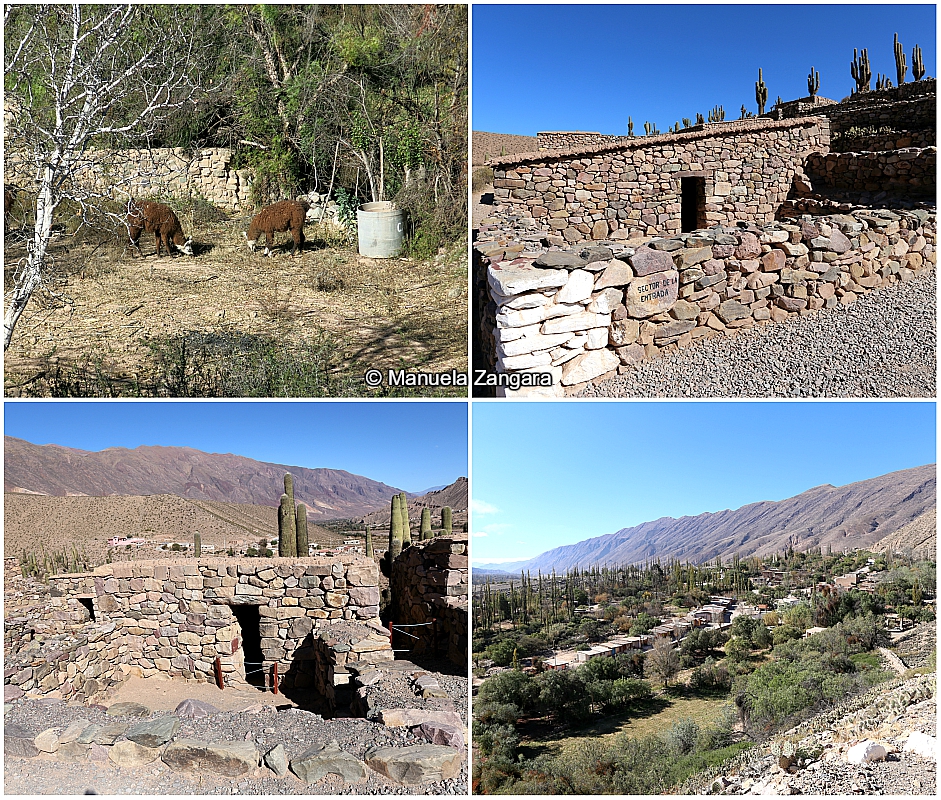 The majority of the buildings have been reconstructed using the same techniques of the original inhabitants of the place.
A nominal admission fee to the site (150 ARS) also grants entrance to the Archeology Museum (Belgrano 445) located by the town's main square. Here, you can see artifacts relating to the region's indigenous cultures.
A small botanical garden displaying native plant species is worth checking out.
Recommended.
MAIMARA
Before going back to Purmamarca, we went to Maimara to see the Paleta del Pintor (Painter's Palette), yet another breathtaking rock formation.
The best panoramic view is from the local little cemetery.
Isn't it amazing?
Recommended.
OTHER PLACES WORTH VISITING
I wish we had had more time to visit the centre of Tilcara, and go up closer to the Bolivian border. The little town of Iruya and its surroundings sound particularly interesting, but getting there takes a long time and we would have required a couple of days extra for that. Check it out if you are in the area.
Also, a guided tour of the Puna, closer to Chile and Bolivia would have been great. But that too would have required a lot more time, possibly 3 or 4 days. We will need to go back!
FOOD
The cuisine of this area of Argentina is very different from the rest of the country. Be sure to try the empanadas. Other local fare includes: locro, a thick stew of corn, beans and potato; tamales, corn flour wraps filled with meat and/or potatoes and steamed in a leaf wrapper; and humitas, steamed corn husks filled with mashed corn and cheese.
We ate twice in Purmamarca and tried 2 different restaurants.
La Posta
The first dinner we had in Purmamarca was at La Posta, on the main square. The place looks cute, with tables with red and white checkered tablecloths. It was also nice and warm inside. We walked all the way from our hotel, which is about a 10-minute walk, and it was freezing cold in the evening!
My husband had empanadas. Both meat and cheese ones.
The kids had roasted chicken breast with chips.
And I had steak and chips.
Everything was very tasty and reasonably priced. The service was very good and attentive. The waiter immediately understood my dietary requirements and made sure the order was brought out perfectly fine.
We would have loved to try a dessert – they had very interesting options (Coca leaf Panna Cotta anyone??) – but we were exhausted and the girls were literally falling asleep at the table.
Highly recommended.
Los Morteros
The second night, we had dinner at Los Morteros. This restaurant came highly recommended by the people of our hotel.
Funnily enough, when we arrived, we found out that the owner was born in… Italy! He migrated to Argentina when he was very young and his restaurant doesn't serve any Italian food! 🙂 Only local specialties. Yay!
The ambiance was beautiful. The lights were low, the fireplace was huge and lit-up, and the red walls made the rooms look warmer. I really liked it.
The food was good too. My husband had Llama Stewed in Malbec with Andean potatoes.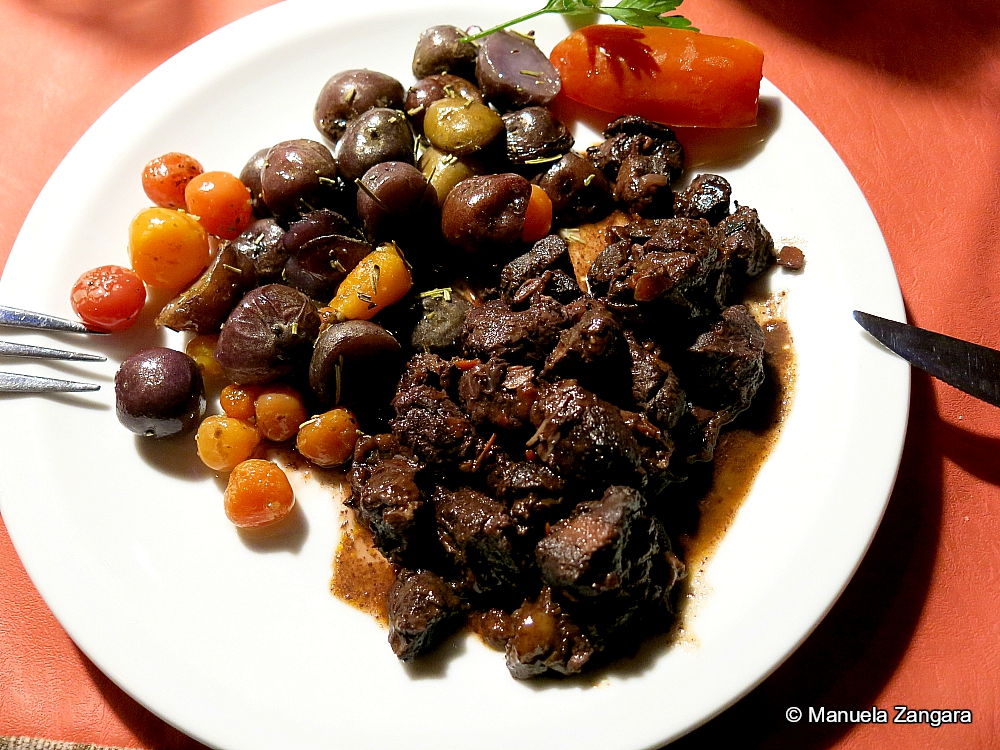 I had a llama steak (sorry – no photos) with Andean potatoes. I don't have a photo of my dish because it had to be remade. I had specifically asked for it to come plain, with no condiments and/or decorations and they smothered it with a sauce made with beetroot and I don't know what else. Anyhow, the llama steak did not taste very good either, but to be honest, that was my fault, as I really wanted to taste llama and I couldn't have it with sauces etc. while llama is a very lean kind of meat that becomes too dry when roasted.
This was my side dish of Andean potatoes.
The kids shared a huge beef fillet!
But the absolute best part of the meal was dessert. The kids had ice cream, while my husband and I shared a Suspiro Limeño (which as its name suggests it's a Peruvian specialty) – a thick dulce de leche mousse/custard topped with fluffy meringue made from egg whites and port wine. YES, it's as decadent as it sounds. It was one of the best desserts we had during the holiday. An absolute must!
Recommended.
Julieta – Humahuaca
We stopped by this restaurant in Humahuaca (Cordoba) to buy some meat empanadas for lunch. I just wanted to mention it, because these were the absolute best empanadas we had during our 3-week trip. So if you are in Humahuaca, go ahead and treat yourself to some! Sorry, no photo… they were too yummy to resist!
ACCOMMODATION
In Purmamarca we ended up staying at Colores de Purmamarca, cute (and huge) 2-story bungalows with a fantastic view over the Cerro de los Siete Colores.
However, this was not our first choice. Actually, it was not our choice at all! We had booked at Los Colorados, but when we got there, we found out that the place was being completely refurbished and it was… closed. Luckily, there was a lady at the reception that told me they had sent me an email a few days earlier to tell me that they had booked us at Colores de Purmamarca because their hotel would not be ready. Somehow, I had not read the email…
However, the full thing was a bit shady, as I had written to them a couple of days before leaving Australia and they had reconfirmed my reservation without any mention of the refurbishing. Their email that advised me of the change of accommodation dated only 2 days after their reconfirmation email!! Weird eh? After this experience, I can't really recommend Los Colorados as I don't think they behaved properly.
Colores de Purmamarca
Colores de Purmamarca instead was a completely different experience. And we loved it.
There are 10 houses, each of which has 2 floors. On the ground floor, there are two bedrooms, each with en suite bathroom and satellite television. In addition, one of the rooms has a patio/sun deck.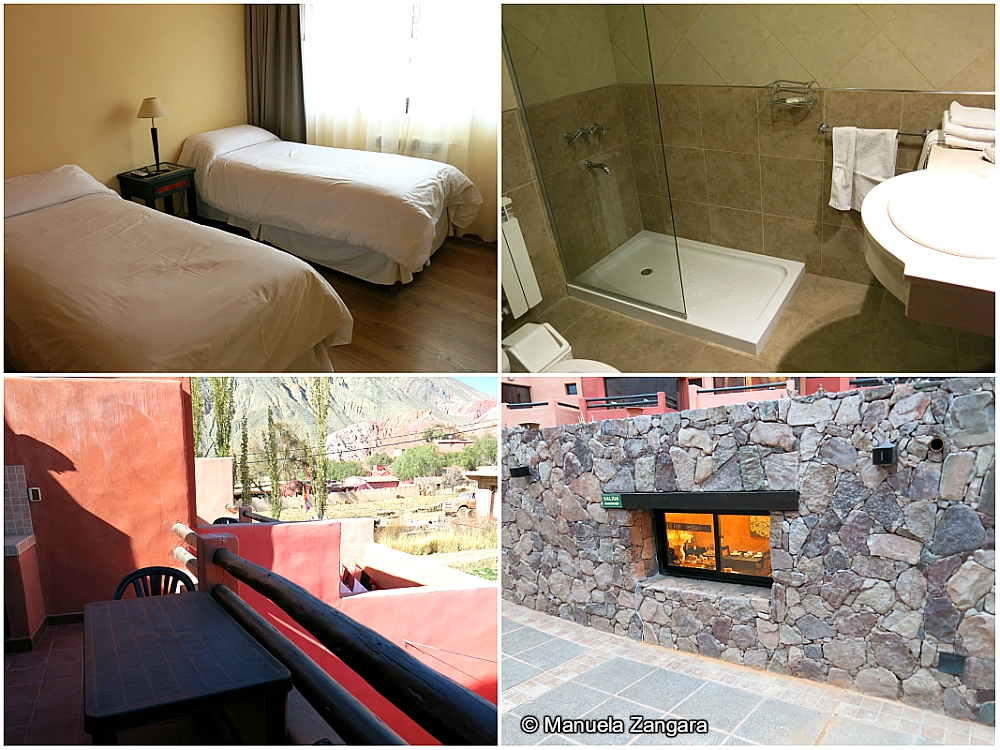 Whereas on the top floor, there is a fully equipped kitchen, a fireplace, a toilet, a dining room, and a living room. I really liked the furniture and house decoration, it was real "Andean"-like.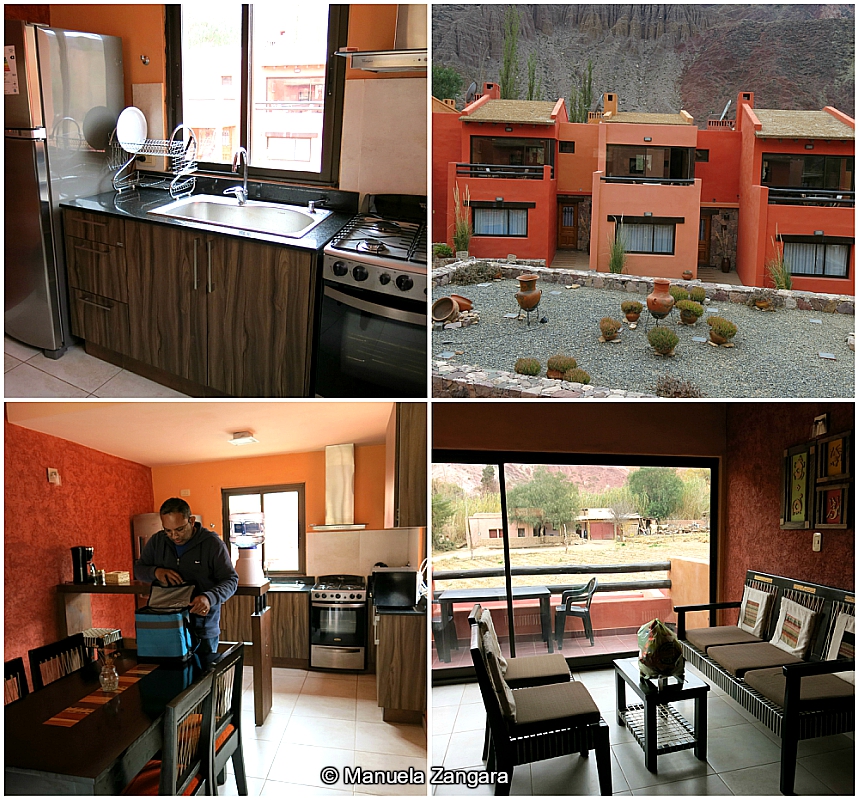 The best part of the house though is the balcony that offers the perfect view of Cerro de los Siete Colores and a barbecue.
In the common patio, there is also a swimming pool with a heated Jacuzzi. Unfortunately, it was way too cold to try these.
Breakfast wasn't a huge affair, and the first day I didn't find much for me to eat with all the restrictions of my low fodmap diet. Luckily I had brought some food with me. The second day, however, they made me scrambled eggs without dairy. Yay! Otherwise, there were all the usual treats: jams, dulce de leche, bread, pastries, juice, fruits, ham, cheese, etc.
Another absolute plus for us was the friendly service from the people at the reception desk. They were always very attentive and gave us great food/restaurant suggestions, and told us what to see and do in the area. If it hadn't been for them, we would have missed out on Hornocal!
There is also free parking available.
I highly recommend Colores de Purmamarca for its friendly service, reasonable price, beautifully appointed bungalows, and for its perfect view and location! We'll definitely be back!
HOW TO GET AROUND THE QUEBRADA DE HUMAHUACA
Car Rental
I highly recommend you rent a car when in Salta to explore the towns and villages of Quebrada de Humahuaca. Major rental companies have offices at the airport and in the city, such as Hertz (Caseros 374) and Europcar (Córdoba 20).
We rented a car for a week to have the freedom to travel around at our own pace. My husband does not drive a manual car, so we were restricted in our choice of rental company and type of car, but if you drive a manual car, then you can have your pick. We went with Localiza, which was the only company we knew had automatic vehicles available.
The car we rented was a Chevrolet Prisma sedan. It was comfortable enough for the four of us and all our luggage (3 medium trolleys and a small one). Having said that, after finding out the condition of some of the roads we drove on, we wished we could have rented a pick-up or an SUV… anything with bigger wheels! The risk of a flat tyre is very high, so be prepared to know how to change a tyre.
Luckily, it did not happen to us, but I think that was pure luck and the fact that the people at Localiza had already given us the car with a hole in one of the tyres. Yep, you read that right. We had noticed that one of the tyres was not as full as the others, but we were told that the car had been thoroughly checked and that it was best to have lower pressure on the gravel roads we were going to drive on. Well, the next morning, just before leaving Salta to start our road trip, the tyre was completely flat! We had to find a gomeria (mark this term which means tyre workshop, in case you need it!) to have the tyre fixed. Luckily I speak Spanish, so we had no problems and 30 minutes later (and 150 ARS lighter), we were on our way.
The car cost 11,000 ARS for 7 days, including the extra driver, and the insurance was another 160 ARS per day with the lowest excess/deductable possible. Gas was about 30 ARS per litre.
All things considered, if I could choose another rental, I would. But finding an automatic car is really hard, so I am not sure that would be an option.
HOW TO GET TO QUEBRADA DE HUMAHUACA
To get to Quebrada de Humahuaca from Salta, you can either take RN66 (which is faster) or RN9. If you choose RN9, you will need to drive along a section known as Camino de la Cornisa, which came highly recommended by the people of the Salta Tourist Information Centre. This is yet another of the region's picturesque drives that passes through hills of stark greenery, many of which spill down into large dams. We took RN9 to go and RN66 to come back. However, Camino de la Cornisa is a winding road of hairpin bends, often with room for one car only, so drive safely!
If I went back, I would definitely skip RN9 as in my opinion, the scenery wasn't worth the extra time and danger! It was ok, but not breathtaking. The best part of RN9 starts after it joins with RN66, when the colourful rock formations begin.
Look out for the many shrines dedicated to Gauchito Gil, the most prominent folk hero in Argentina. They are everywhere!
CONCLUSION
The area around Quebrada de Humahuaca is AMAZING. If you like nature, you are in for a treat. The rock formations have incredible colours and when the weather is nice, the contrast between the reds, greens, and blues is breathtaking.
If you like history and ancient cultures, this is also the place for you. Ancient indigenous communities who have retained much of their culture and traditions still live in the area.
I wish we could have stayed a few extra days to explore the Puna and the area around Iruya as well. We will be back!
MAP
RESOURCES ON MSM
RECIPES:
Sopaipillas con Pebre y Pasadas
TRAVEL IN SOUTH AMERICA:
Santiago de Chile Guide – Chile
Iguazu Falls Guide – Argentina and Brazil

Related Posts: