It is time again for the "Secret recipe club" reveal!  I am sure you all know what the club is about, but for the few of you who still don't know about it, here goes a brief explanation.  It is a great concept… each month you are assigned a participating food blogger to make a recipe from and in turn someone else will be assigned your blog.  All you have to do is choose a recipe, make it and blog about it on the specified date.  The only rule is to keep it a secret!  If you are interested in learning more, or want to join the club, please visit the Secret recipe club website.
The blog I got assigned this month is Gloria's Canela Kitchen.  She lives near Santiago de Chile and has a fantastic blog.  I really had a hard time to choose only one recipe to make.  I know, I have said this already, but I went through her blog many times before I could decide.  What I knew from the beginning was that I wanted to try something from Chile, a country I have always wanted to visit and whose musicians and writers I love, so that helped to narrow my choice down to a few recipes.  How about some Chilenitos with dulce de leche?  Or Manjarates (dulce de leche mousse with a chocolate topping)??  AMAZING, right?  And she also has all sorts of delicious recipes for berries!  In the end, I decided to make something completely different as it could be made both sweet and savoury… so I got a double recipe to try!  I made Sopaipillas which are fried circles of dough made with pumpkin.  I could not find the traditional pumpkin used to make them which is called zapallo, so I settled for butternut squash (which was deemed a good substitute after a little digging on the web) and they were so good, that I got a request from my husband to make them WEEKLY! Hehehehe  I served half of them hot with pebre, a salsa made with tomatoes, onions, coriander and green chilli… great with a glass of your favourite wine, while waiting for dinner or reading a good book!  And then I also tried the sweet version: Sopaipillas Pasadas… dipped in a syrup traditionally made with chancaca (that I substituted with jaggery), orange peel and cinnamon… a real treat, especially in this chilly weather.  In fact, I do understand why Gloria says that Sopaipillas are usually made when it rains… they look like little "suns" and bring back the sunshine in a bite!  Muchísimas gracias por compartir esta deliciosa receta con todos nosotros, Gloria!  Please, make sure you drop by Gloria at Canela Kitchen and check out her beautiful site!
I also want to thank Angie from Big Bear's Wife who is my group's hostess for all her help!!!
Recipe adapted from Gloria at Canela Kitchen
Ingredients:
For the Sopaipillas
215 gms – 1 cup boiled and mashed zapallo or pumpkin (I used butternut squash and pureed it)
40 gms – 3 tbsp margarine (I used butter)
1 tsp salt
440 gms – 3 ½ cups flour
1 tsp baking powder
120 ml – ½ cup hot milk or hot water from the boiled pumpkin (I used 60 ml – ¼ cup of water and added it little by little… it all depends on how much water your pumpkin absorbs while cooking.)
Vegetable oil to fry
For the pebre sauce
1 onion, finely chopped
1 or 2 tomatoes, chopped
1 green ají, chopped (jalapeño or chile)
1 tbsp oil
1 tbsp coriander, chopped
1 tbsp lemon juice
Salt to taste
For the chancaca syrup
500 ml – 2 cups water
250 gms – 1 cup chancaca or a mix of brown sugar and honey (I used jaggery, as I have read it is very similar to chancaca)
Rind of ½ orange
½ tsp cinnamon (and/or clove)
1 tbsp corn starch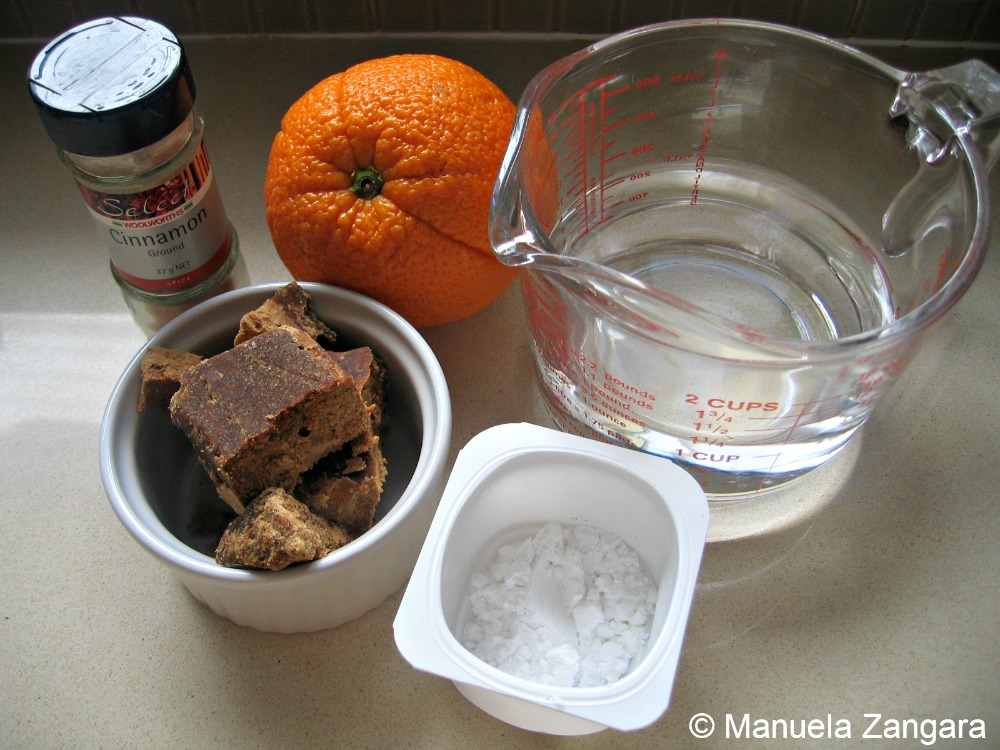 To make Sopaipillas
Put all the dry ingredients and the pumpkin in the bowl of an electric mixer fitted with the hook attachment and add the water little by little.  Knead until you get a smooth and pliable dough.
You can either roll it straight away or make it into a ball and wrap it in cling wrap to let it rest for a while (I let mine rest for 45 minutes because I had made it in advance).
Now you can roll it.  Gloria suggests rolling it 1 cm – 0.4 inches thick.  I tried it but after frying them, they did not look like hers, so I rolled the dough to 0.5 cm – 0.2 inches and they looked just like hers.  Remember that they do puff up a bit when you fry them, and in the end they were at least 1 cm – 0.4 inches thick.
Cut the Sopaipillas with a round cookie cutter or a glass.  Gloria says that they are usually about 7 cm – 2 ¾ inches big, but she made them smaller.  I made mine 5 cm – 2 inches round.
Poke the sopaipillas with a fork to make sure they don't puff up too much and deep fry them in batches in hot vegetable oil (I fried them at 170°C – 340°F) for a minute per side or until lightly golden.  Then put them on a plate lined with kitchen paper to drain the excess oil.

To make the pebre sauce
Combine all the ingredients in a bowl and mix well.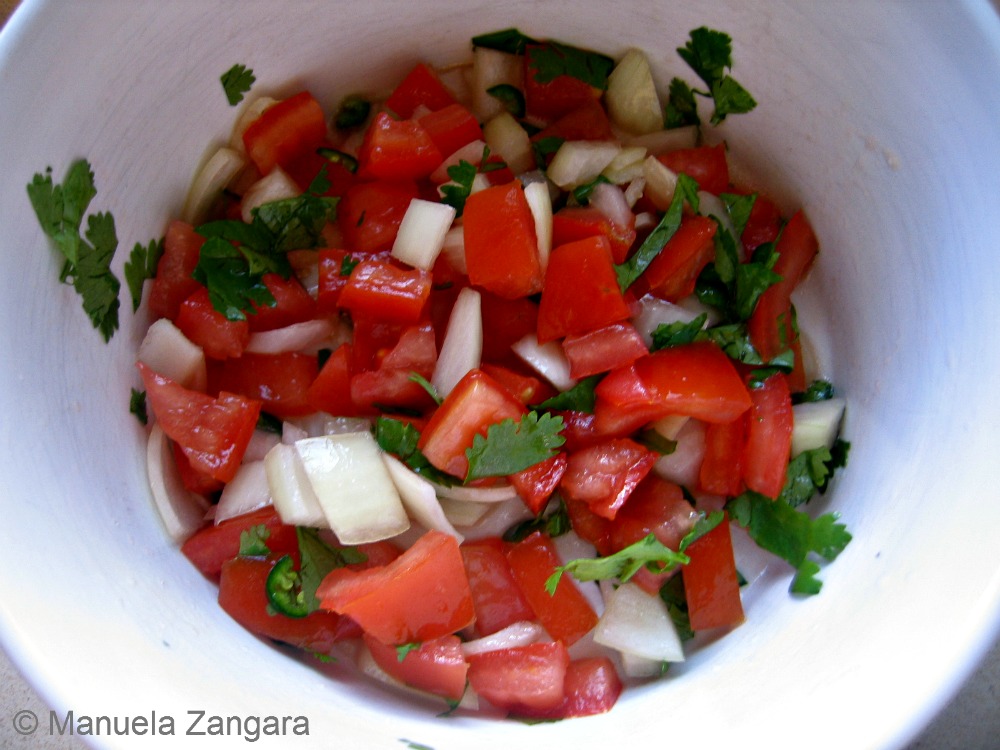 Serve with hot Sopaipillas.
To make the chancaca syrup
Put all the ingredients, but the corn starch, together in a saucepan and cook on a low fire for 10 minutes, stirring to melt the chancaca/jaggery.  Then melt the corn starch in 1 tbsp of cold water and add it to the syrup.  Mix well and cook for another 5 minutes or until the syrup thickens.
To make sopaipillas pasadas, pour the syrup over the Sopaipillas and serve!
Enjoy them while listening to one of my favourite songs ever: Gracias a la vida by Violeta Parra! <3

Related Posts: