When we were in Santiago de Chile, we had some delicious Pisco Sour. A Pisco Sour is an alcoholic cocktail of Peruvian origin that is typical of both Chile and Peru. It is considered somewhat of a South American classic.
The drink's name comes from the liquor Pisco, which is used to make the cocktail, while the term Sour is in reference to the lime juice component.
Both Chile and Peru claim the Pisco Sour as their national drink! Apparently, the Peruvian Pisco Sour uses Peruvian Pisco, freshly squeezed lime juice, simple syrup, ice, egg white, and Angostura bitters. The Chilean version instead uses Chilean Pisco and pica lime, and it has no bitters and egg white. However, the Pisco Sour with had in Chile was more similar to the Peruvian version, so that's what I am sharing with you today.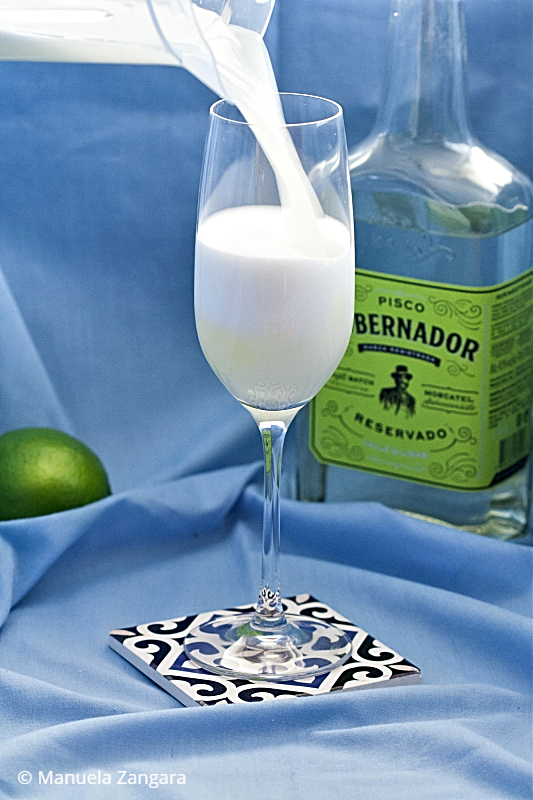 I know, I know… egg white in a cocktail? Well… yes, I had the same reaction at first, but trust me… you can't taste it at all. It just gives the drink a foamy, silky texture. If you can, use pasteurized egg whites.
No matter the origin, this cocktail is refreshing, sweet, tangy, and just plain delicious! I strongly suggest you try it. Don't forget to check out my video recipe and to leave a comment to let me know how you like it! Salud!
Pisco Sour
Pisco Sour – a refreshing, sweet, tangy, cocktail made with Pisco, lime, simple syrup, ice, and eggwhite that is just plain delicious.
Ingredients
90

ml

– 3 oz. Pisco

30

ml

– 1 oz. lime juice

30

ml

– 1 oz. simple syrup

1

egg white

½

cup

ice

2

or 3 drops Angostura
Instructions
In a blender, put the Pisco, lime juice, simple syrup, ice, and the egg white and blend for 30 seconds.

Serve immediately with 2 or 3 drops of Angostura.
Recipe Notes
Simple syrup is made by melting the same amount of water and sugar over the fire. Let it cool down completely before adding it to your drinks.

Related Posts: