If you are a regular reader, you will know that I have spent almost every summer holiday in Sicily up until I moved to Australia.  I used to stay at a place called San Vito lo Capo, the same place where the Couscous Fest takes place.  It is a beautiful little village with one of the most gorgeous beaches in the Mediterranean area.  If you are curious to see what it looks like, click here.  Just before arriving in San Vito, there is a smaller village called Macari where there is a little trattoria from where you can enjoy the best sunset I have ever seen.  Sitting on a terrace having a delicious dinner and watching the sun go down and disappear in the sea is my idea of perfection.  This trattoria, called Azzurra Makari, serves all the popular local dishes like couscous, rianata, busiati… and other traditional dishes that are not as well known outside the area.  Among the latter are cabbuci (or cabbucetti, if smaller).  They are very similar to pita, but they are made with durum wheat flour and cooked in a wood fired oven, just like the local pizza.  They are often used to make sandwiches or served warm, like bread, with another Sicilian specialty: caponata.  This is my homemade version of cabbuci and this week's pick for my Regional Italian dish series.  Enjoy!
Ingredients (makes 6-8):
450 gms – 16 oz. durum wheat flour
3 tbsp of extra virgin olive oil
1 tsp of salt
250 ml – 1 cup lukewarm water
1 sachet of dry yeast (7 gms – 1/4 oz.)
1 tbsp of sugar
Put the yeast and the sugar in 250 ml – 1 cup of lukewarm water and set aside in a container at least twice that size so the yeast can activate (2).  In the meantime put the flour, salt and extra virgin olive oil in a mixer with a dough hook (1).  When the yeast mixture is frothy (refer to the picture – 3), pour it into the mixer (4).  Knead for a couple of minutes, till the dough looks smooth.  It must feel soft and elastic when you touch it.  If you do not have a mixer, you can knead all the ingredients by hand for 5 to 10 minutes.  Make a ball with the kneaded dough, dust it with flour and set it aside (5) in a large bowl covered with a dry cloth to rise for at least 2 hours or until it doubles in volume (6).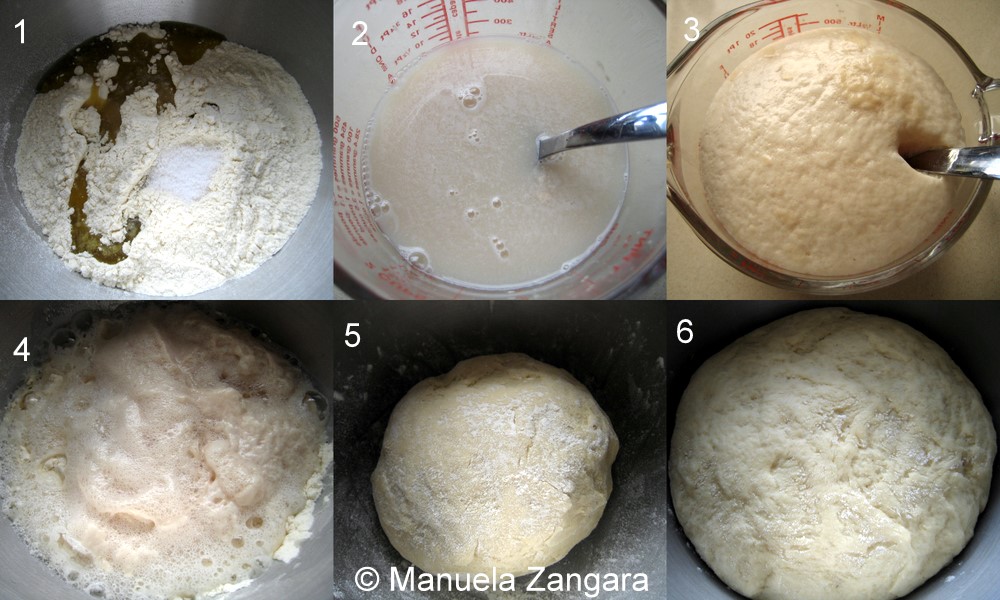 Transfer the dough onto a lightly floured surface, divide it into 6 to 8 pieces (1-2) and shape each piece into a ball.  Roll each ball into a 1/8-inch (0.3 cm) thick oval, about 7-inches (17.5 cm) in length (3).  Remember to keep the remaining balls of dough covered with a sheet of plastic wrap.  Put the ovals on a large baking sheet without overlapping them and cover them with a lightly damp towel.  Let them rise for 1 hour until puffy (4).
Bake in a pre heated oven at 500º F (260º C, or the maximum temperature your oven allows if less than 260º C).  I have used my pizza stones and have put the cabbuci directly on the stones.  They cooked perfectly and puffed up nicely without having to even turn them over.  You can also bake them on baking sheets for about 5 minutes.  Take the cabbuci out of the oven and stack them 3 or 4 at a time and wrap them in clean kitchen towels.
They are best eaten warm with caponata, but they are good also at room temperature, like bread.
Well wrapped cabbuci can be kept for up to 3 days or in the freezer for up to 6 months.  Enjoy!

Related Posts: