Today I am going to share with you one of my Regional Italian recipes!  And this time I will take you all to the beautiful island of Sardinia or, as we say, Sardegna.  Sardinia is a popular holiday destination for people who love the seaside.  In fact it has some of the best beaches and sea in the world.  Malloreddus – also known as gnocchetti sardi – are gnocchi shaped pasta, typically served with a sausage sauce (see my recipe for Malloreddus alla Campidanese).  Today I am presenting them with a different sauce, made with prosciutto and walnuts, Marsala and cream.  It is a delicious dish, one that I would serve for special occasions.  The sauce takes just a few minutes to put together and it is impressive!  Do not forget to check out my tutorial on How to make Malloreddus, so you can make your own!  Enjoy and don't forget to enter my giveaway for a chance to win a Hamper full of Barilla's goodies!
Malloreddus with Walnuts and Prosciutto
Ingredients
Malloreddus
400 gms – 14 oz. malloreddus, prepared by following my tutorial
Sauce
Instructions
Prepare the malloreddus following my turorial.
Put the butter and chopped prosciutto in a frying pan and sauté it for a couple of minutes.
Add the Marsala wine and increase the flame.
When the alcohol has evaporated, add the cream, salt and pepper to taste (be careful with the salt as prosciutto can be salty) and cook, uncovered, until the sauce thickens.
Add the chopped walnuts and parsley, mix and put the fire off.
In the meantime, cook the malloreddus following the steps on "How to cook pasta al dente". Only in this case you will not have a pre set cooking time. This will vary on the thickness of your malloreddus (it should take approximately 5 minutes). So, the best solution is to taste it! Remember, it does have to remain firm.
When the pasta is cooked, drain it, put it in the frying pan with the walnut and prosciutto sauce and put the fire on a medium flame. Stir well making sure the pasta is well coated with the sauce. Add the thinly grated Parmigiano Reggiano and mix.
Serve hot with some extra Parmigiano Reggiano on the top.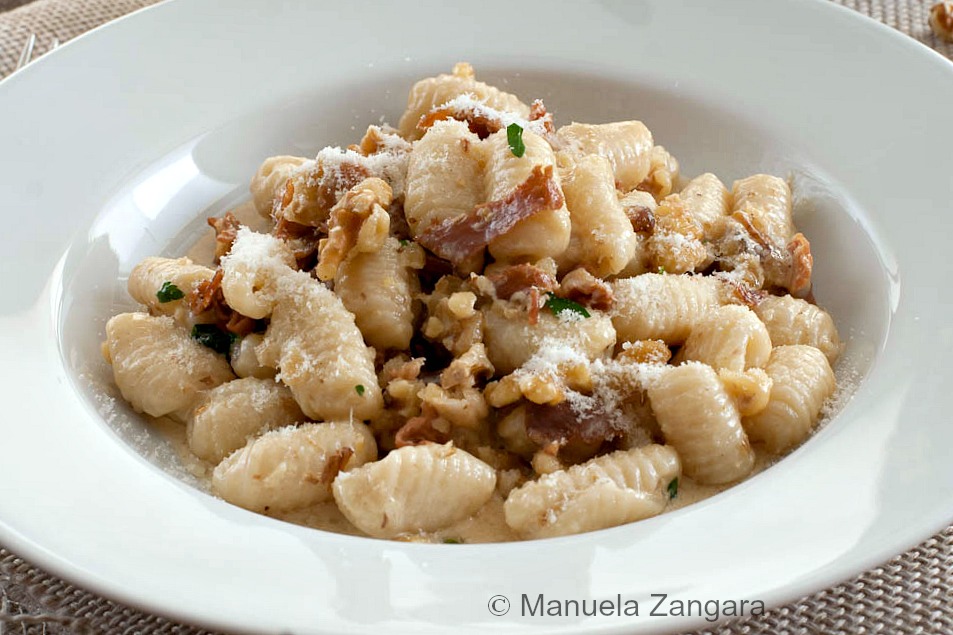 Pin It

Related Posts: