I have a confession to make.  I don't eat bread.  Mmmm, well, that's not really true.  Let me start again.  I don't usually buy bread.  The reason is simple… I like bread so much that if I have it in the house, I cannot leave it alone.  And my little ones like it even more than me.  So, instead of buying it… I make my own: it's healthier, it tastes better and I know what I am eating, no preservatives or hidden ingredients.  I had some brewer's yeast left over from another recipe and I remembered seeing these amazing rolls in an Italian blog a while ago, so I went ahead and made them.  They were so good!  They are everything you want bread rolls to be: airy and soft crumb on the inside and crunchy crust on the outside.  The durum wheat flour on the top is essential as that's what gives them "the extra crunch" and their beautiful rustic looks.  They take a little time to make, but they are very easy and they taste even better than the bread I buy at my favourite Italian bakery!  You can serve them with dinner or use to make "Panini" and fill them with all kinds of Italian goodies like Prosciutto or Gorgonzola!  Yum!!  Enjoy and buon appetito!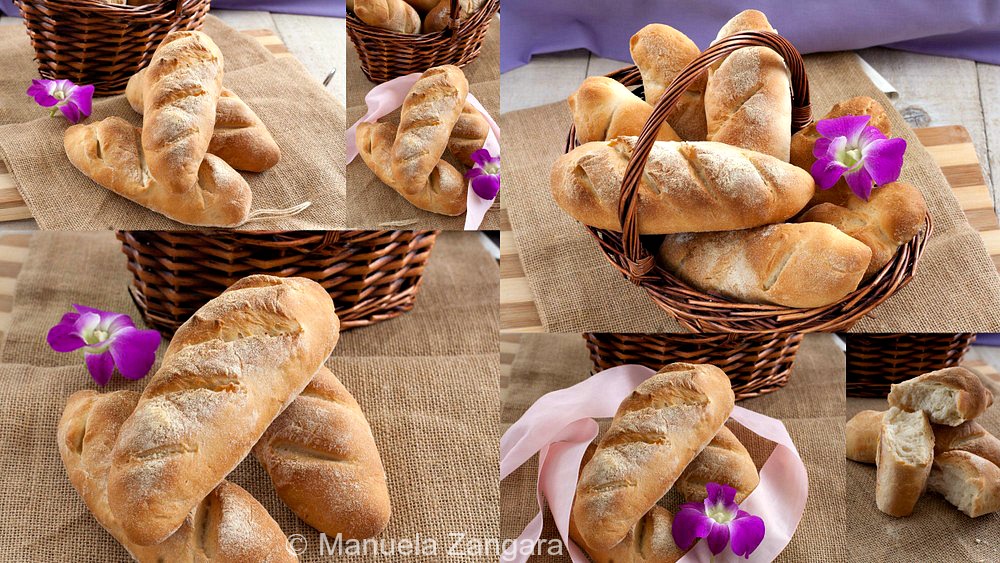 Durum Wheat Italian Bread Rolls
How to make Durum Wheat Italian Bread Rolls with a soft and moist crumb and a deliciously crunchy crust!
Total Time
4
hours
20
minutes
Ingredients
350

gms

– 12 oz. all purpose flour

150

gms

– 5.5 oz. durum wheat flour

13

gms

– 0.5 oz. fresh yeast

brewer's yeast

270

ml

– 9.5 oz. water

35

gms

– 1 ¼ oz. butter or lard

softned

10

gms

– 1 ¾ tsp salt

13

gms

– 1 tbsp honey
Instructions
Mix the flours together.

Put all the water (but 25 ml – 2 tbsp), honey, yeast (crumbled) and half of the flour in the bowl of an electric mixer fitted with the hook attachment and start kneading on low.

Add the flour little by little.

When the flour has been absorbed, add the softened butter or lard.

Add the salt and knead .

Slowly add the remaining water and knead for about 15 minutes or until you have a smooth and very elastic dough.

Make it into a ball, put it back in the bowl, cover it with plastic wrap and let it rise for a couple of hours, or until doubled in volume.

Then punch it down and quickly knead it by hand. Make it into a ball again, cover it with plastic wrap and let it rise for 1 hour, or until doubled in volume.

Now divide the dough into 8 equal pieces. Flatten them with your hands into rectangular shapes, then roll them from the longer side and seal them with your hands (see the picture below). Try and make the 2 ends a little thinner than the inside of the rolls.

Line an oven tray with baking paper and sprinkle it with durum wheat flour.

Put the shaped rolls on the tray and dust them with more durum wheat flour. Make sure to leave some space between the rolls as they will grow some more.

Let the rolls proof for about 1 hour, or until doubled in size.

Bake in a pre-heated oven at 220°C – 430°F for 20 minutes or until cooked through. When you put the bread rolls in the oven, spray a little water in the oven… this will help them to remain soft on the inside and still get a crunchy crust!

When cooked, let them cool down on a wire rack and enjoy!
Recipe Notes
You can substitute the brewer's yeast with 7 gms – 2 ¼ tsp active dry yeast.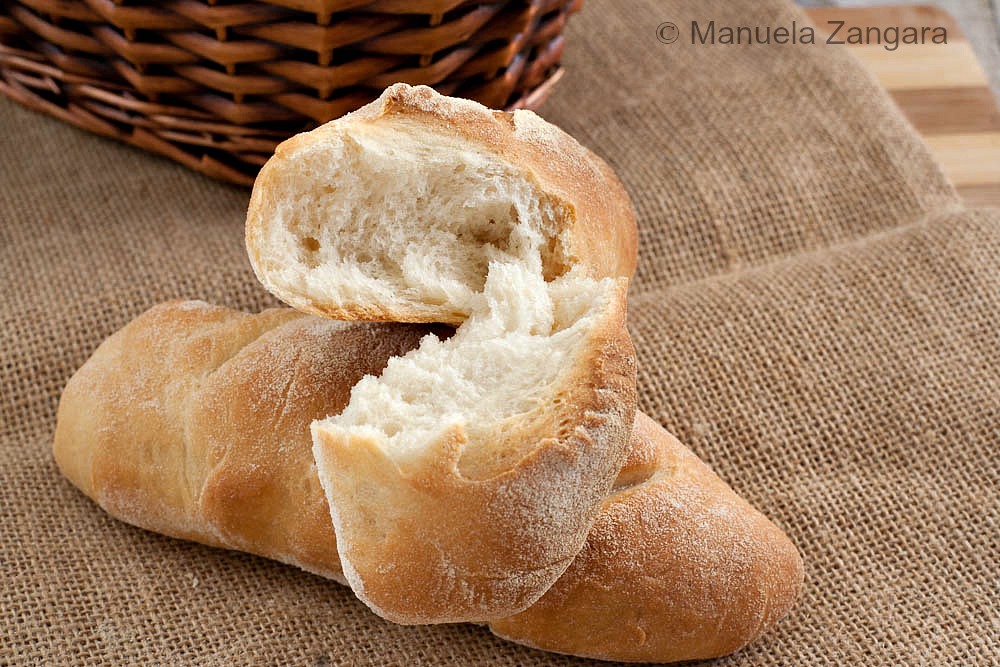 Related Posts: