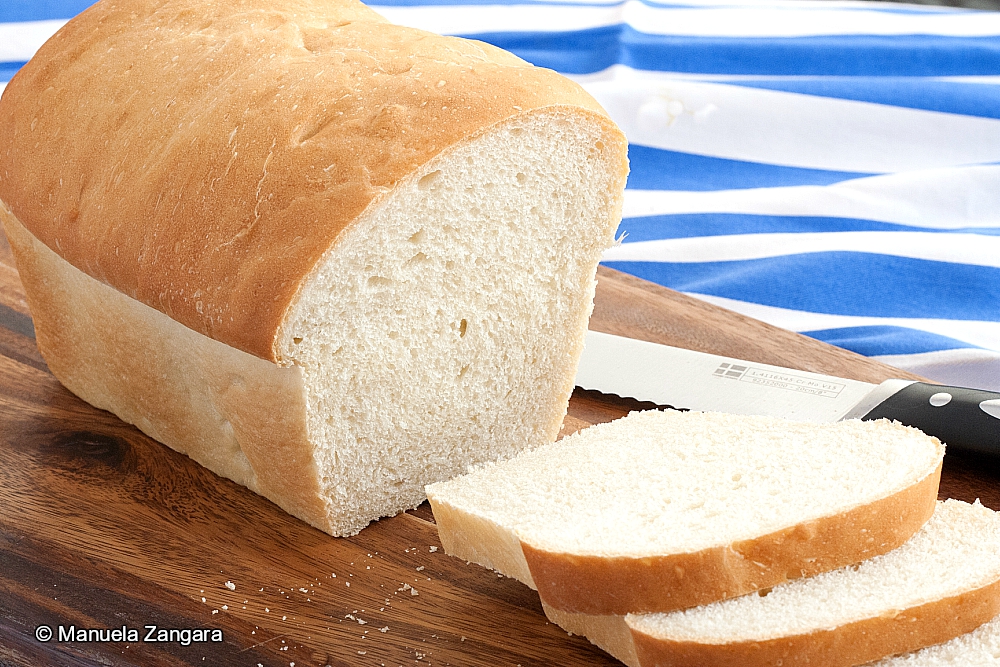 I absolutely adore homemade bread and I try and bake some as often as I can. My go-to bread recipe is this easy to make Ciabatta, as I love bread with a crunchy top. However, I also like homemade sandwich bread. I find it much easier to digest than store-bought ones.
Up until now, my favourite one was my Whole Wheat Sandwich Bread, however, that's got milk in it, so I had to come up with something that didn't. This White Sandwich Bread is simply amazing. It is everything perfect sandwich bread should be: spongy, airy, fluffy, light, springy (is that even a word??), and, above all, very tasty! I don't think I will ever need another White Sandwich Bread recipe! And this one is also dairy-free, so it's a winner.
My house smells heavenly when I bake this, which is a plus. I use it to make sandwiches for lunch or I toast it to have with jam for breakfast. It also freezes very well, so you could even bake a double batch and freeze one loaf for later.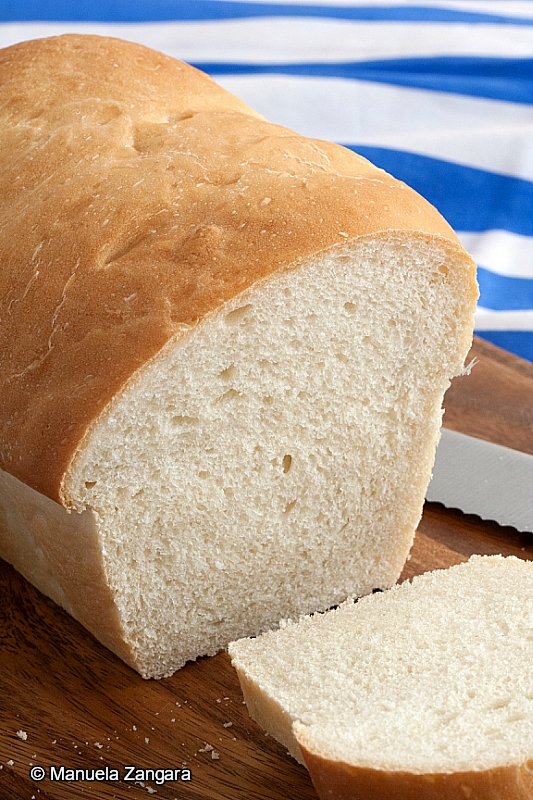 The best thing about this bread though is that it is very easy to make and it only requires a few very common ingredients that you are likely to already have in your pantry, no need to go to the shops to look for fancy ingredients!
So, what's your favourite type of bread? Enjoy and don't forget to check out my video recipe and to leave a comment to let me know how you like it!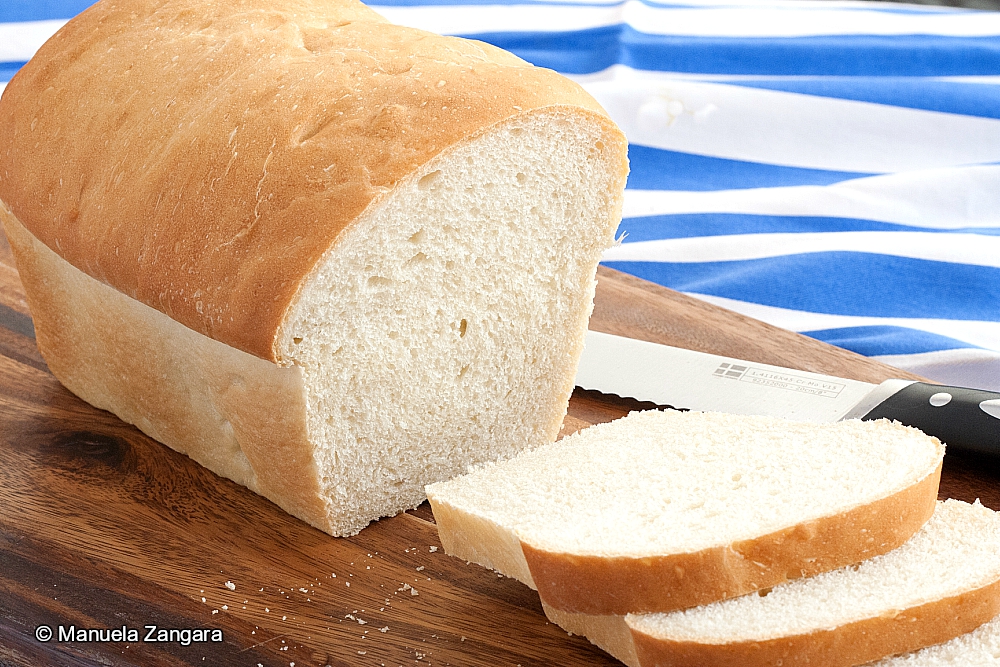 White Sandwich Bread
White Sandwich Bread – the best white sandwich bread ever: airy, spongy, and delicious. It is surprisingly easy to make and is perfect for sandwiches and toast!
Servings
1
loaf (23×12.5 cm – 9×5 inch)
Ingredients
410 to 465

gms

– 3 ¼ to 3 ¾ cups all-purpose flour

1 ¼

tsp

salt

7

gms

– ¾ tbsp dry yeast

25

gms

– 1/8 cup sugar

325

ml

– 1 1/3 cups warm water

30

ml

– 1/8 cup vegetable oil
Instructions
Mix the yeast with the warm water and half of the sugar. Set aside to activate.

In the bowl of an electric mixer fitted with the dough hook, combine half the flour, salt, oil, yeast and water mixture, and the remaining sugar. Mix until combined.

With the mixer running gradually add the remaining flour until the dough comes together in a cohesive ball that clears the bottom and sides of the bowl and doesn't leave a lot of doughy residue on your fingers when touched while still being just slightly tacky (not over-floured and dense). For me, 410 grams – 3 ¼ cups of flour were just right.

Knead for about 2 minutes until the dough is smooth and supple.

Make the dough into a bowl, cover with cling wrap, and let rise until doubled, about an hour or so, depending on the warmth of your kitchen.

Grease and flour a 23×12.5 cm – 9×5 inch loaf pan.

Shape the dough into a loaf. To do so, lightly punch down the dough. Press the dough into a thick rectangle about 20 cm – 8 inches long. Now fold the bottom third of the dough over itself (like a letter) and then fold the top of the dough down to overlap the other layers and pinch it closed with your fingers (on all sides). Roll the loaf over so that the seam is down, then fold the 2 sides and tuck them underneath. Now gently put the loaf into the pan. The seams should be on the bottom with the tight surface facing up.

Cover with lightly greased cling wrap and let rise until doubled and the dough has risen about 2.5 cm – 1 inch above the top rim of the pan, about an hour or so, depending on the warmth of your kitchen.

Bake the bread in a pre-heated oven at 180°C – 350°F for 30-35 minutes until golden and baked through.

Remove from the oven and turn the bread out onto a wire rack. Let the bread cool completely before slicing it.
Recipe Notes
The bread can be stored at room temperature, covered in a bread bag, for a couple days, or frozen for up to a month or so.
Use the flour amount in the recipe as a guideline. The exact amount of flour you use will depend on how you measure flour, the climate and temperature where you live (humidity can be a factor), and several other things. Add flour gradually until the texture of the dough is soft, smooth, and only just slightly tacky to the touch.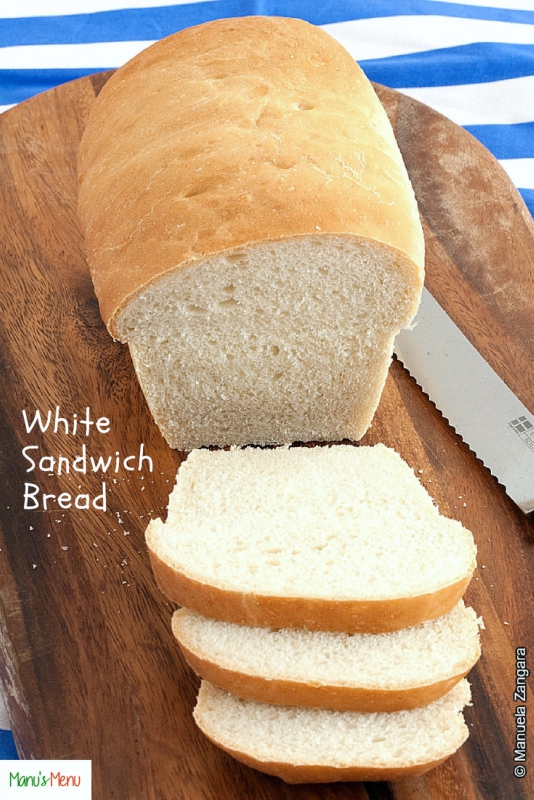 Related Posts: