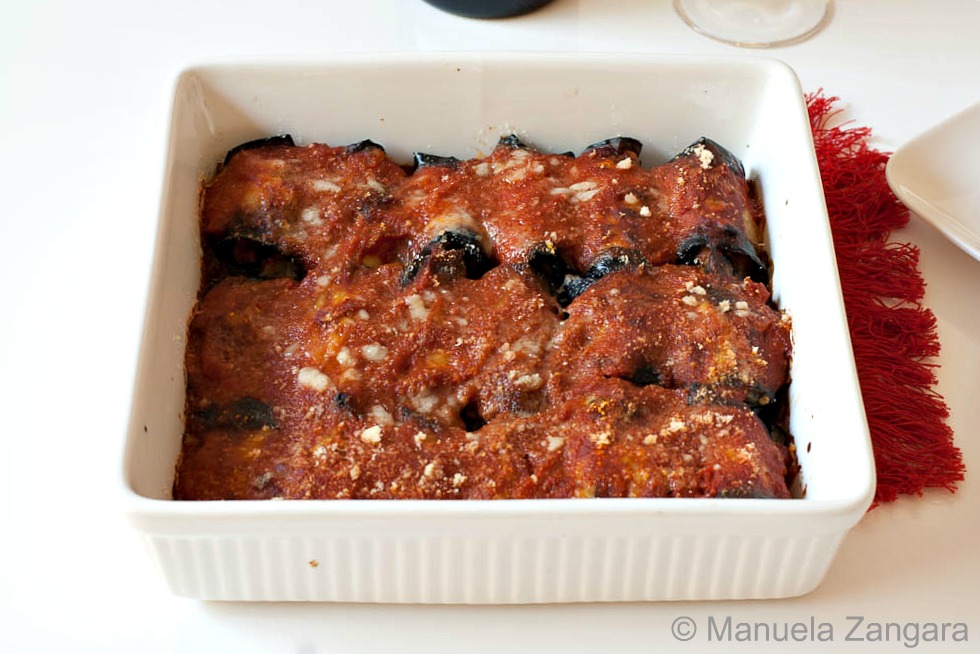 I think I have already said this but eggplant is one of my favourite veggie.  You can make so many things with it and it always tastes so good!  Today I am going to share with you the recipe for what has to be my all time favourite side dish (that can easily double up as an appetiser): involtini di melanzane, aka eggplant involtini.  It is my mum's recipe and like all "mum's recipes" they are hard to beat.  The filling is the same as the one used for meat involtini, but the addition of tomato sauce and Parmigiano on the top makes them even tastier…  They are great eaten warm or cold, but I like them more at room temperature as I find that the taste of all the different ingredients comes together better that way.  They are not hard to prepare and you can make them in advance (even the day before) and bake them when needed, or you could even bake them and eat them cold later on.  Try them, I am sure they will not disappoint!  These involtini are this week's Regional Italian dish from Sicily!
Ingredients for 4-6 persons:
10 slices of fried eggplant cut in half (1 cm – ½ inch thick before frying)
3 tbsp Parmigiano Reggiano, finely grated to sprinkle on the top
For the filling
2 tbsp onion, finely chopped
25 gms salami, chopped small
30 gms provolone piquant, cubed small
2 tbsp Parmigiano Reggiano, finely grated
½ cup breadcrumbs
2 tbsp tinned diced tomatoes
3 tbsp extra virgin olive oil
1 tsp parsley, chopped (optional)
1 pinch salt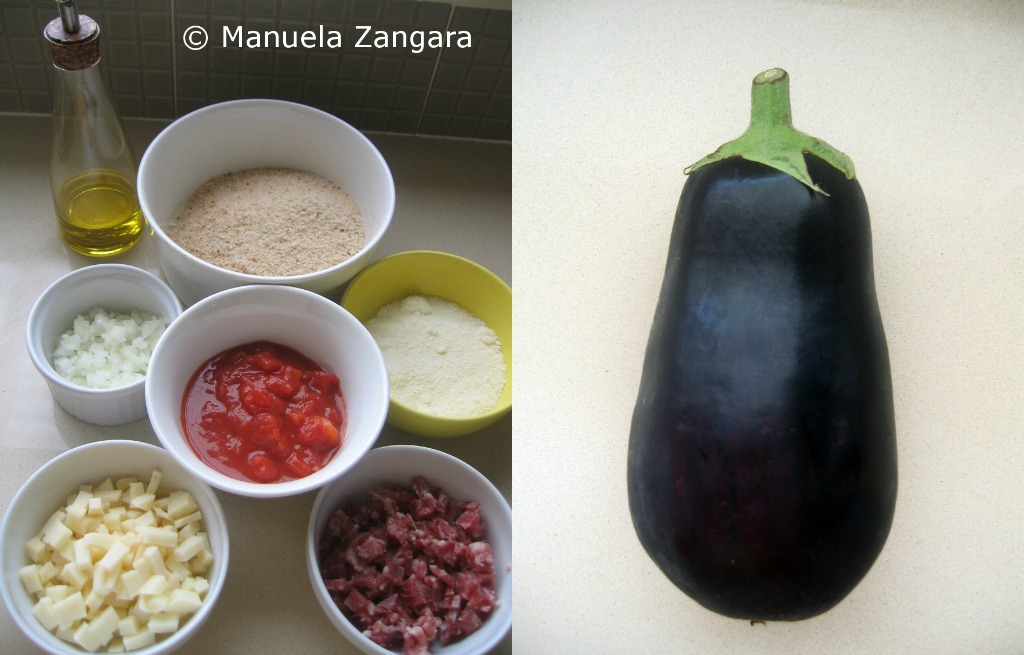 For the tomato sauce
400 ml tomato purée
1 tbsp extra virgin olive oil
1 tbsp onion, chopped
Basil
Salt to taste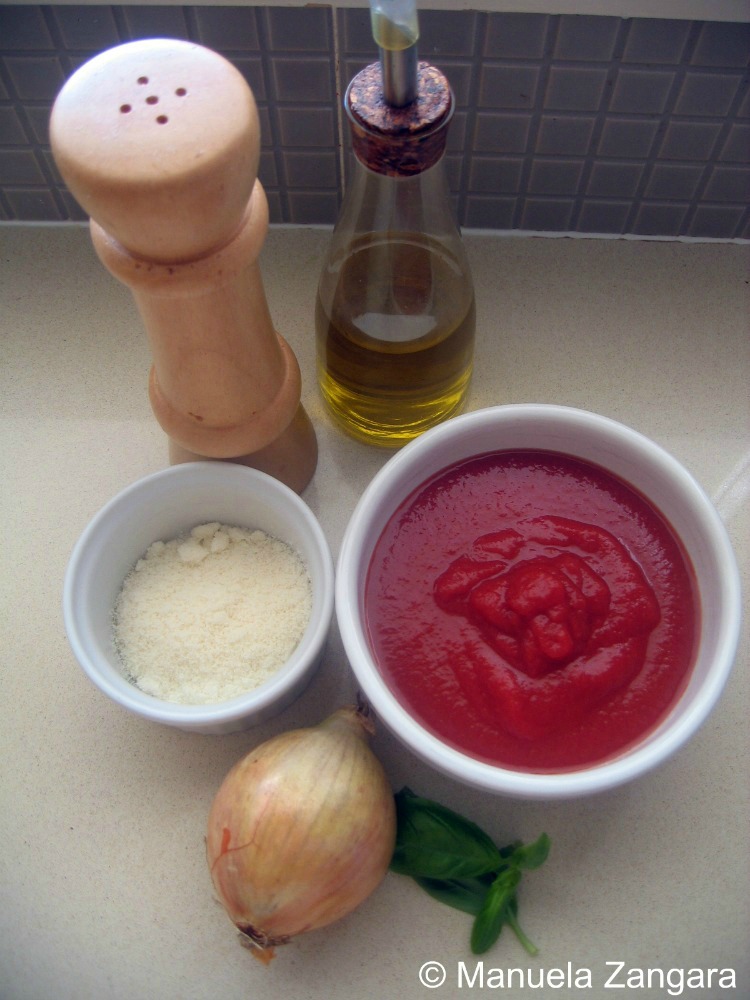 Start by preparing the tomato sauce.  Put the 1 tbsp of extra virgin olive oil in a pot with the chopped onion and sauté until soft and translucent.  Now add the tomato purée, salt and basil leaves.  Cover it and cook it on a low flame for 20 minutes.  Then keep it aside to cool down.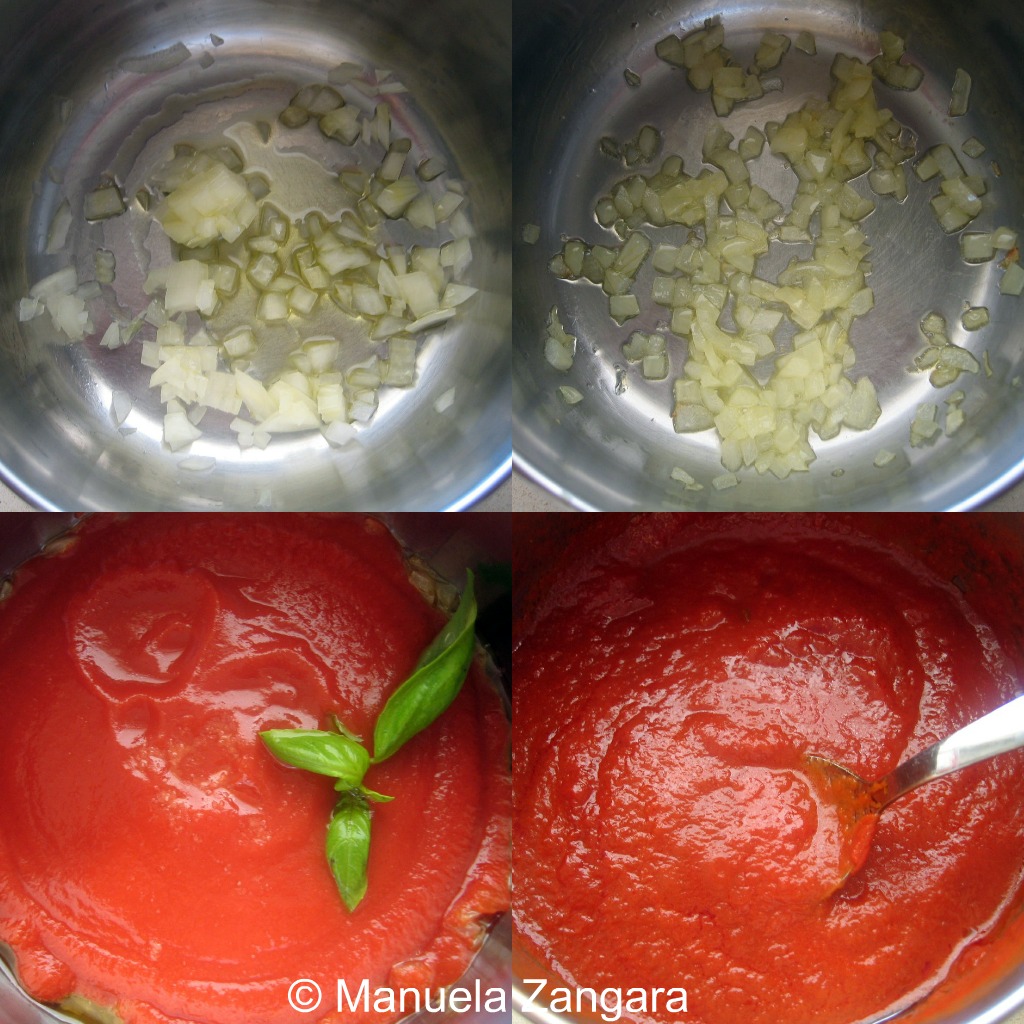 To prepare the filling, put the chopped onion, chopped salami, cubed provolone piquant, grated Parmigiano Reggiano, breadcrumbs, diced tomatoes, extra virgin olive oil, parsley and salt in a bowl and mix well.  You may have to add more extra virgin olive oil, depending on the breadcrumbs and how much they absorb the liquids.  You need to obtain a soft enough stuffing so that when you press it with your hands, it retains the shape you give it and doesn't crumble.
Slice the eggplant into 1 cm (1/2 inch) thick slices and soak them in salty water for 30 minutes.  Pat them dry and fry the eggplant slices in vegetable oil and put them on a plate covered with kitchen paper to drain the excess oil.
Now take one slice of fried eggplant and put some filling at the lower part of the slice.  You should try and put at least 1 or 1 ½ tbsp of filling per slice.  Press the filling with your hands, so it becomes like a patty.  Now, roll the eggplant over it.  Repeat this for all the slices of eggplant and keep them aside.
Put your involtini in an oven dish big enough to fit all of them tightly in one layer.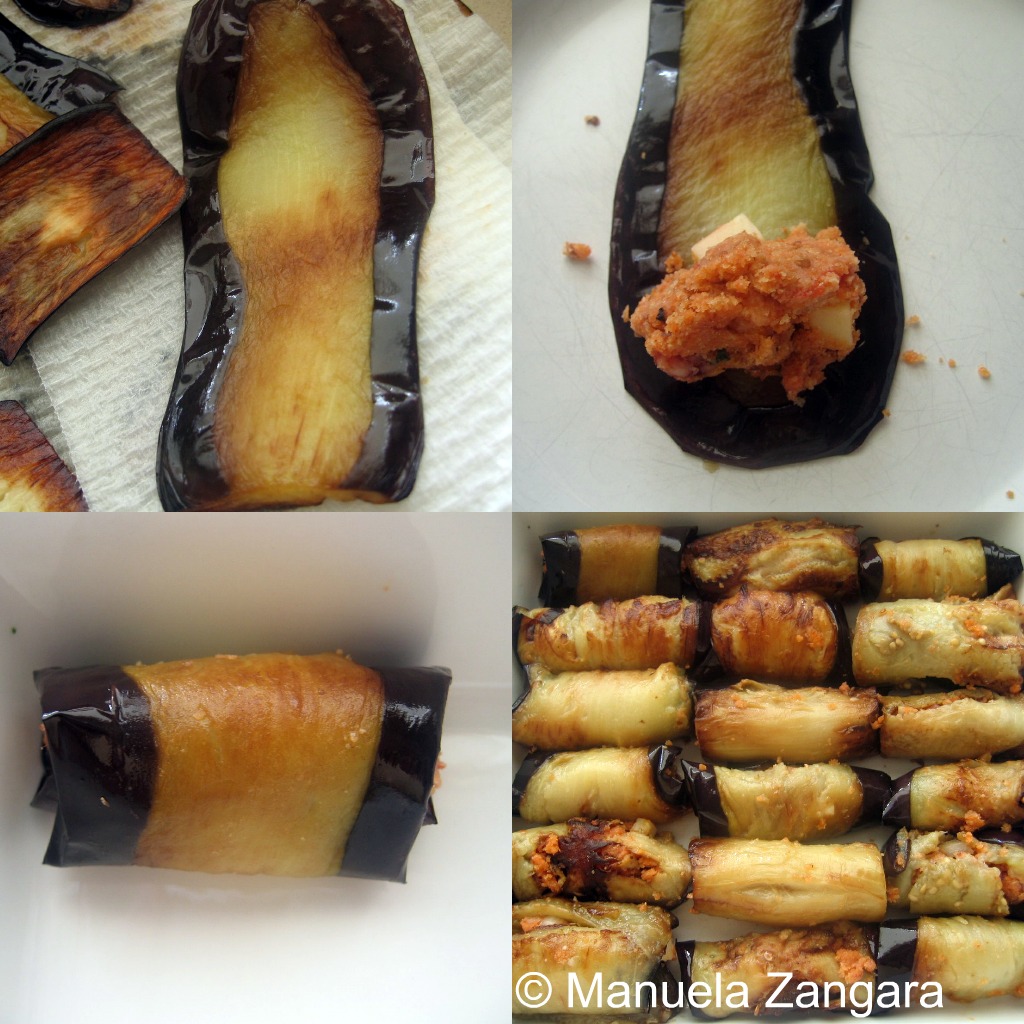 Cover them with the tomato sauce and sprinkle with the 3 tbsp of grated Parmigiano Reggiano.
Bake them in a pre-heated oven at 180°C for 15-20 minutes or until the Parmigiano makes a golden crust.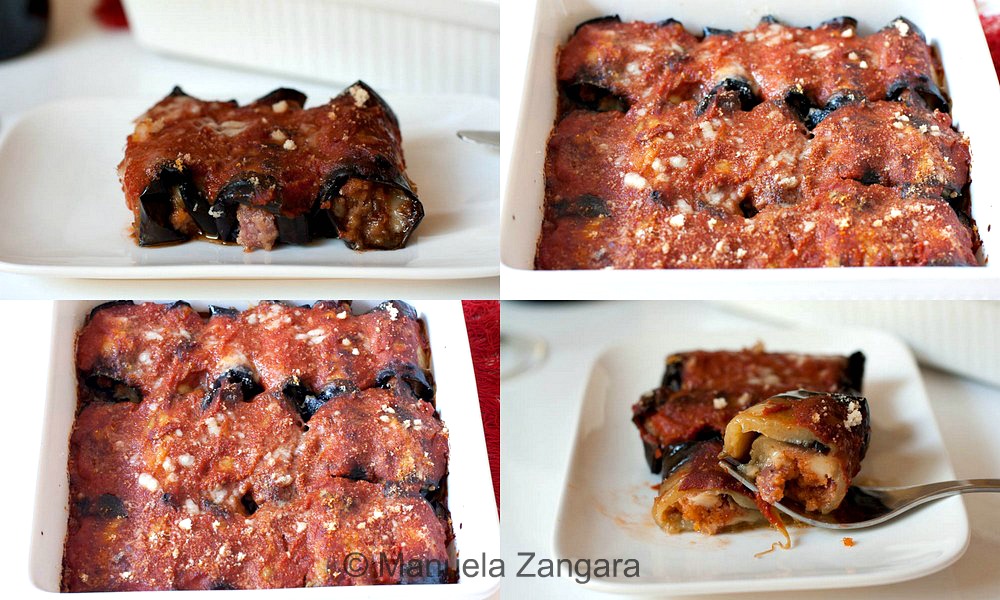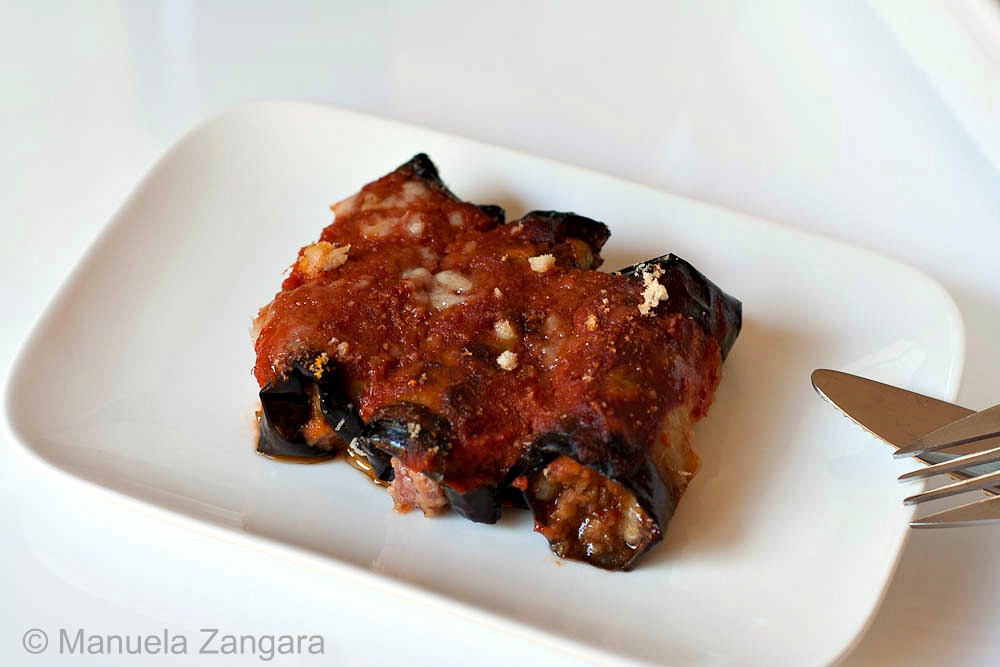 Related Posts: