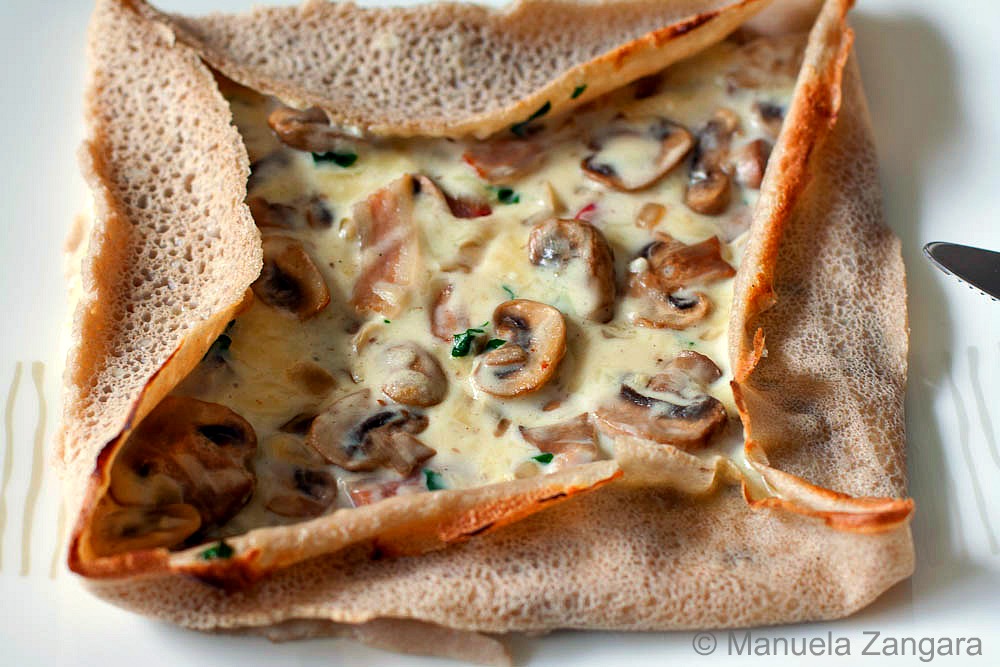 This was my first attempt to recreate a fantastic dish that we ate at Crêperie La Gavotte in Nouméa (New Caledonia) during our holiday in October.  A galette bretonne is very similar to a crêpe, but it is made with buckwheat flour and, as the name suggests, it is originally from the French region of Bretagne.  The filling is made of mushrooms, pancetta and Emmenthal cheese, with a little cream and béchamel to make it smoother.  It is a very easy and homey dish and even though the galette did not come out as crispy as the one eaten in Nouméa, we all agreed that it tasted almost the same.  One thing is for sure… I won't stop experimenting with them so easily! 😉  Enjoy!
Ingredients: (makes 6)
For the filling
600 gms – 21 oz. button mushrooms, sliced
100 gms – 3.5 oz. pancetta, diced
½ onion, minced
1 garlic clove, halved
30 gms – 2 tbsp butter
1 tbsp extra virgin olive oil
1 tbsp continental parlsey, minced
350 gms – 12 oz. béchamel sauce
4 tbsp cream
150 gms – 5.25 oz. Emmenthal cheese, grated
Salt to taste
For the galettes bretonnes, recipe adapted from Recettes Bretonnes
330 gms – 11 oz. buckwheat flour
750 ml – 25 oz. water
10 gms – 1/3 oz. salt
1 egg
Butter (for cooking)
To make the filling
Sauté the garlic and onion with the butter and extra virgin olive oil until soft.  Add the sliced mushrooms and salt to taste. Cook the mushrooms until soft, then add the minced parsley and remove from the fire.
When cool, add the béchamel, cream and grated Emmenthal cheese.  Mix well and keep aside.
To make the galettes bretonnes
Put all the ingredients in a blender and mix well.  Let the batter rest in the fridge for 1 hour.
Take a non stick frying pan and put it on the fire.  When hot add ¼ tsp of butter and a ladle of batter by swirling the pan so the batter coats the base of the pan. You want to make the coating thin (about 1.5 mm thick).  When the surface of the galette dries up, it is time to flip it over.  Do so by using a plastic spatula to loosen its sides first and then flip it over.  Cook it for a minute more, then remove it from the pan and keep it aside.
Repeat this till your batter is over.
To assemble the galette
Put the galette in the centre of an oven proof dish, put 1/6 of the filling in its center and fold the 4 sides like this:
Bake in a preheated oven at 180ºC – 350ºF for 5 to 10 minutes or until the cheese has melted.  Serve warm.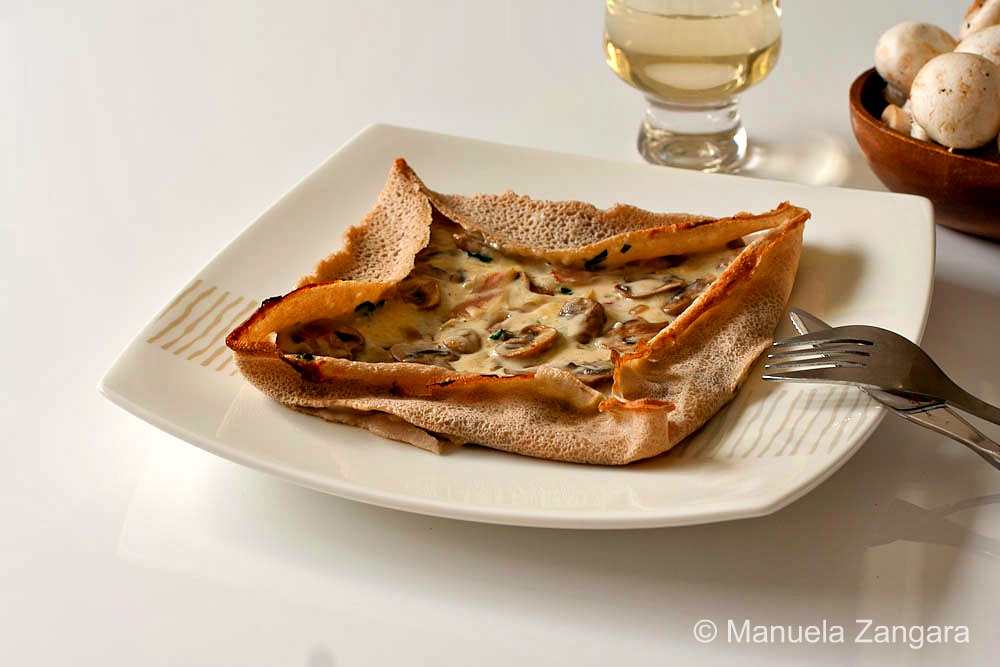 Related Posts: