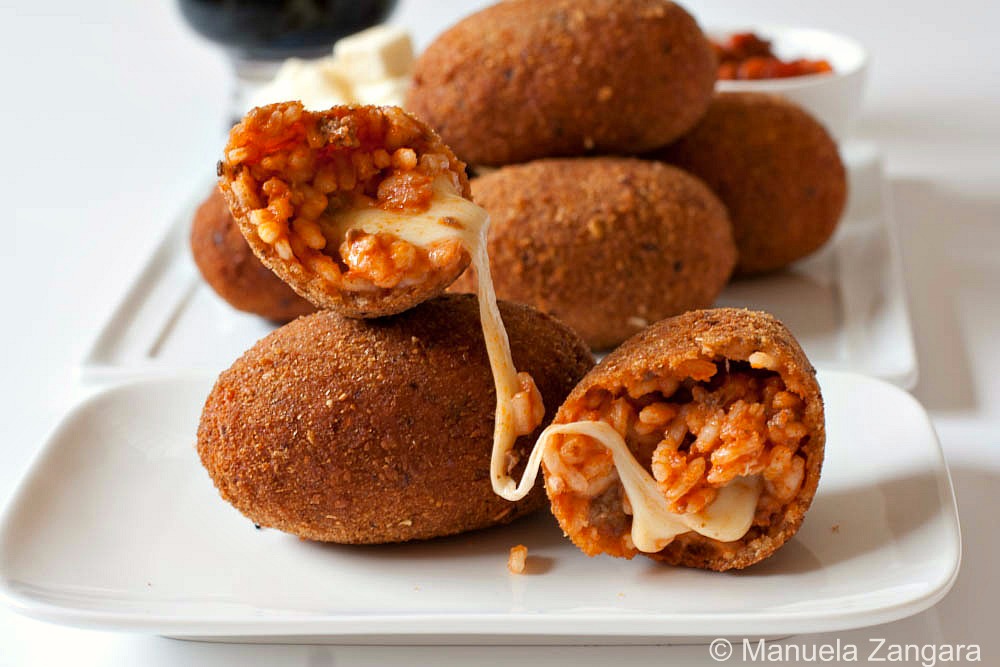 Today's recipe takes us to the Italian region of Lazio.  Lazio is a coastal region in Central Italy and it includes Rome, the capital of Italy.  Many of the most popular Italian dishes come from this area.  They include carbonara, amatriciana, abbacchio, carciofi alla giudia and many more.  So stay tuned for more recipes from this beautiful region!  Today I want to share with you the recipe of supplì al telefono: fried rice balls filled with mozzarella. The name itself is lots of fun as it literally means supplì "on the phone", because if you open them when still warm, the cheese inside that has melted while cooking, will stretch between the 2 halves similar to the wire of a telephone.  The term supplì comes from the French word surprise.  These make a fantastic appetiser or buffet dish… but I often serve them as a main.  And believe me, when you start eating one, it is hard to stop!  The original recipe also calls for chicken liver and dried mushroom in the meat sauce, but I preferred to keep it simple and used only beef mince… they were divine!  Enjoy and remember to check out all my other posts on Regional Italian recipes!
Recipe adapted from Giallo Zafferano
Ingredients: (makes about 20 supplì)
1 lt beef stock
30 + 50 gms – 2 tbsp + 3 tbsp butter
200 gms – 7 oz. beef mince
½ onion, minced
120 gms – 4.25 oz. Parmigiano Reggiano finely grated
200 gms – 7 oz. mozzarella, cubed
2 tbsp extra virgin olive oil
400 ml – 13.5 oz. tomato purée
Salt & Pepper to taste
500 gms – 1 lb. rice for risotto (Arborio, Carnaroli, Vialone Nano)
2 eggs
100 ml – 3.33 oz. white wine
Breadcrumbs and 2 eggs for coating
Vegetable oil for frying
Start by preparing the meat sauce.  Sauté the onion with 30 gms – 2 tbsp of the butter and extra virgin olive oil until soft (1).  Add the beef mince (2) and brown well, breaking all the lumps (3).  Then add the wine (4) and burn off the alcohol (5).  Add the tomato purée (6), season with salt and pepper and let the sauce cook on a slow fire for about 20 minutes or until the sauce thickens.
Now add the rice (1 – 2) and then add the stock little by little (3).  Cook it as you would cook a risotto, but only for 2/3 of the normal cooking time (4) (I usually cook it for about 13 minutes), as the rice will keep on cooking while the fire is off and while cooling down.  If you cook it fully, then you will get mushy rice.  Also, the final risotto will need to be on the dry side to be able to make balls out of it, so keep that in mind when you add the stock towards the end.  When ready, put the fire off and add the 50 gms – 3 tbsp of butter and the finely grated Parmigiano Reggiano and mix well (5).  Also add the 2 eggs, lightly beaten, and mix well (6).
Now pour the rice over a sheet of baking paper and spread it well so it cools down fast.
When the rice has cooled enough to handle it without getting burnt, make 20 balls with it (1).  Make a hole in the centre of each ball with your thumb (2) and insert 2 or 3 cubes of mozzarella into it (3).  Close the ball by pressing it and shape it like an egg (4).
Here is a short video I taped:
NOTE: it will help to wash your hands frequently and keep them wet, in this way the rice will not stick to your fingers.
Beat the eggs in a bowl.  Put the breadcrumbs in a separate plate.  Dip each supplì in the egg (1) and then coat well with breadcrumbs (2), pressing with your palm so the crumbs stick well to your supplì (3).  When you have done this for all the supplì, re dip them in the egg (4) and coat again with breadcrumbs (5) to obtain a double coating (6).
Deep fry them in warm vegetable oil (make sure it is not too hot or the mozzarella inside will not melt), rolling them around with a slotted spoon.  Remove them and put them on a plate lined with kitchen paper to drain the excess oil.  Serve warm!

Related Posts: