This is another traditional dessert from Palermo and it was included in the Sicilian Street Food New Year's Eve Party I organised for this month's Foodbuzz 24×24 event.  I asked my aunts for my grandmother's recipe and here it is.  I still remember her making it during the hot summer months.  It doesn't take long and the result is some very refreshing and sweet watermelon jello.  I love the intense colour and the hint of cinnamon in it.  I also love the crushed pistachios and the chocolate bites that remind me of the watermelon pips!  Some people also add a little zuccata (Sicilian candied pumpkin), but I did not have any (I will try and make my own soon… stay tuned).  Enjoy everyone!
Ingredients (for 4 people):
500 ml watermelon juice
40 gms corn starch
165 gms sugar
½ sachet of vanillina or a dash of vanilla extract
¼ stick of cinnamon
Chocolate chips and ground pistachios to serve
A pinch of cinnamon, ground to serve (optional)
Zuccata (Sicilian candied pumpkin), diced to serve (optional)
Start by making the watermelon juice.  Cut the watermelon, remove the seeds and put it into a mixer.  Mix well until blended.  Sieve it and keep aside.
Add the corn starch to a little bit of the watermelon juice and mix well until dissolved.  Mix with the remaining watermelon juice.  Add the sugar, vanilla and cinnamon stick and mix well.
Put the pot with the watermelon mixture on the fire and bring to a boil.  Simmer on a low fire for 20 minutes, stirring continuously.
Rinse your moulds and leave them wet (this will help you to unmold the jello).
Pour the jello into the moulds and let it cool down.  Keep it in the fridge overnight.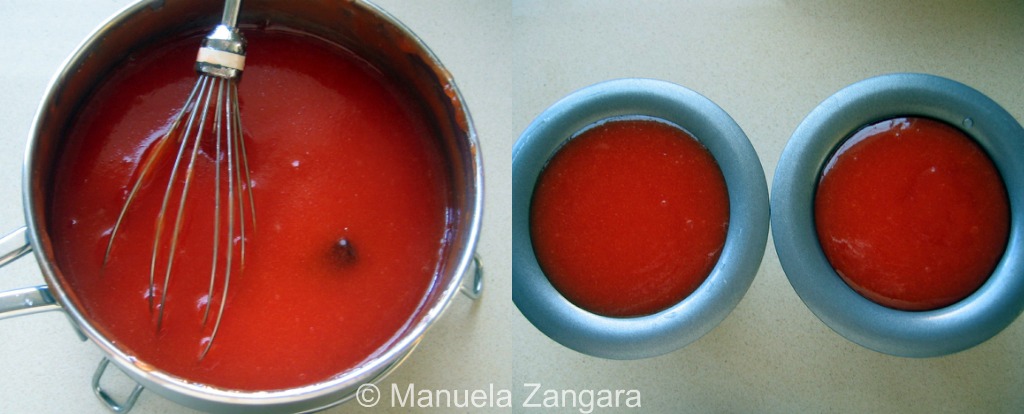 When you are ready to serve it, unmold it and sprinkle it with some chocolate chips and ground pistachios (and a pinch of ground cinnamon and diced zuccata if you want).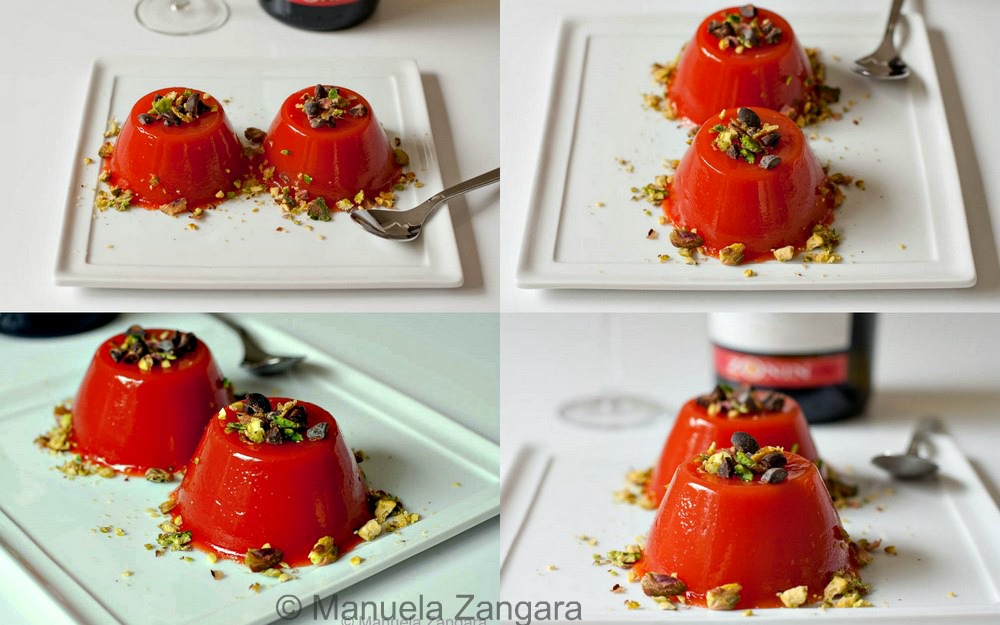 Related Posts: