Buccellato is a Sicilian cake traditionally eaten during the holiday season, especially on Christmas Day and New Year's Eve… so it had to be featured on the  Sicilian Street Food New Year's Eve Party I organised for this month's Foodbuzz 24×24 event!  It is a ring shaped shortbread cake filled with dried figs, raisins, candied fruits, nuts and chocolate and decorated with candied cherries (and/or other fruits) and pistachios.  The recipe below is a mix of many recipes we had at home and it is the final version my mom and I have come up with.  That's exactly the way we like it.  This is one of those dishes where you can clearly see the Arab influence in Sicilian cooking: dried figs, raisins, almonds, pistachios, honey… are all ingredients that are easily found in Middle Eastern cuisines!  I guess you could consider this a Sicilian "fruit cake".
Ingredients:
For the filling
500 gms – 17 oz. dried figs, chopped
250 gms – 8.5 oz. apricot or fig jam
100 gms – 3.5 oz. almonds, chopped
100 gms – 3.5 oz. hazelnuts, chopped
50 gms walnuts – 1.75 oz., chopped
50 gms pistachios – 1.75 oz., chopped
200 gms candied cherries, chopped
100 gms – 3.5 oz. raisins
100 gms – 3.5 oz. candied orange zests, chopped
100 gms – 3.5 oz. dark chocolate, chopped (or chocolate chips)
1 sachet vanillina or 1 tsp vanilla extract
Zest of 1 lemon, grated
1 tsp cinnamon
½ tsp clove powder
1 espresso shot
100 ml – 3.5 oz. Marsala or Muscat wine
125 gms – 4.4 oz. honey
For the dough
500 gms – 17 oz. flour
150 gms – 5.25 oz. sugar
200 gms – 7 oz. lard
3 eggs
1 sachet vanillina or 1 tsp vanilla extract
1 pinch salt
1 tbsp honey
8 gms – a little more than 1/4 oz. ammonium bicarbonate (or baking soda)
For the glaze and the decoration
3 tbsp apricot jam
1 tbsp sugar
1 tbsp water
Candied cherries
Pistachios, ground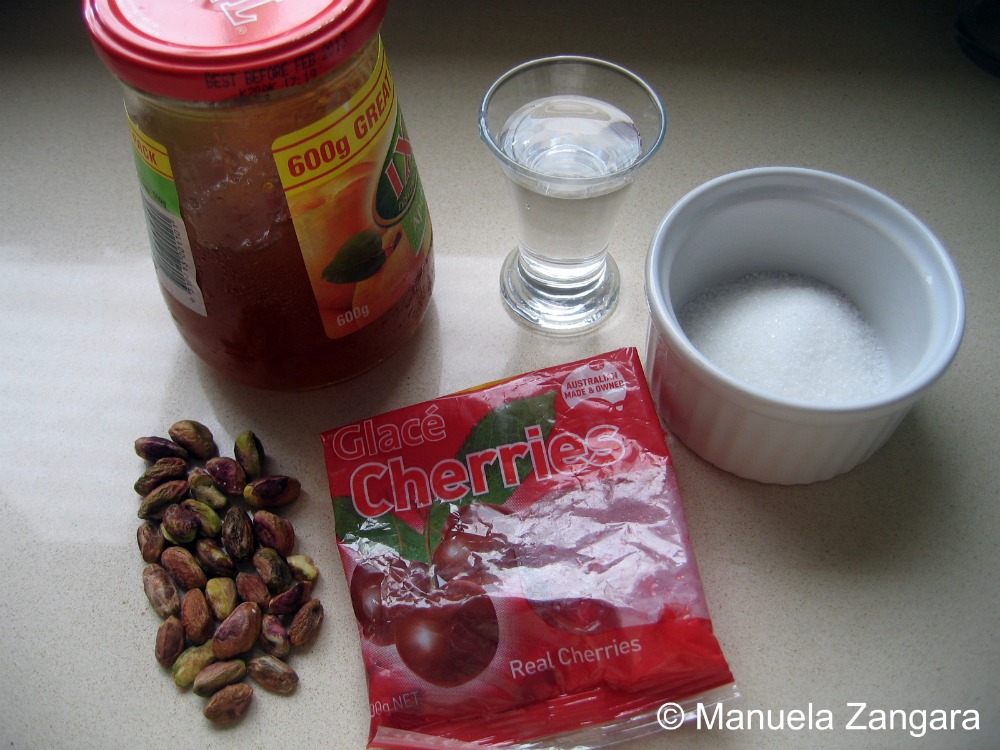 Start by preparing the filling.  I usually do this the day before, so it can cool down completely.
Toast and roughly chop/crush all the nuts.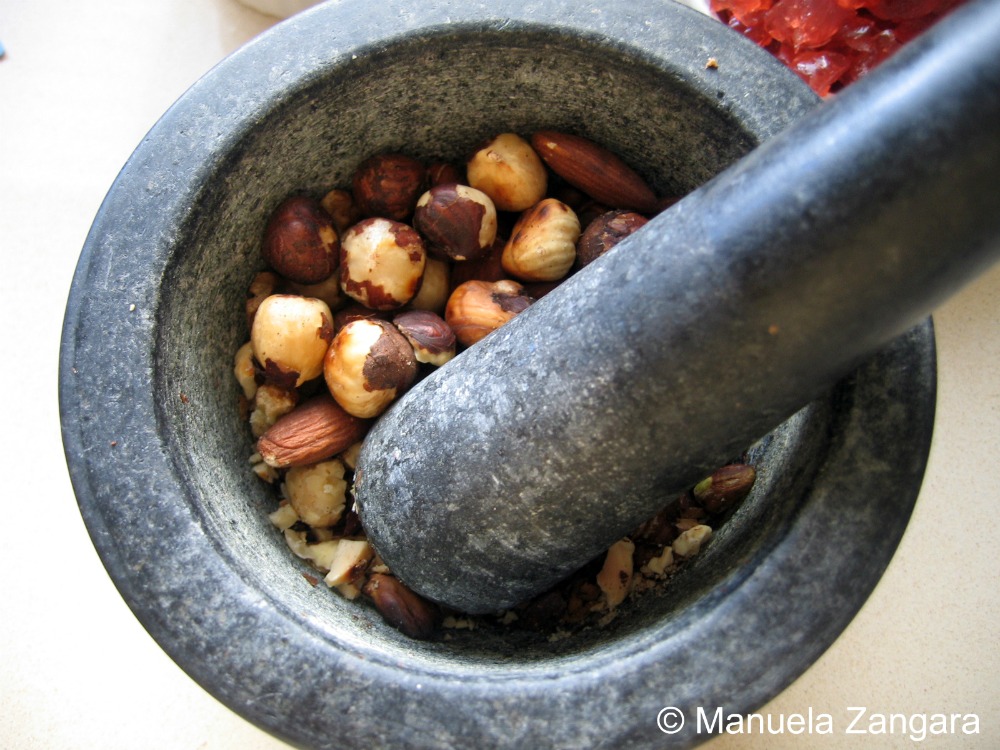 Chop the dried figs and candied fruits.
Put all the ingredients (apart from the chocolate chips) in a pot, heat it up and let it cook on a slow fire for 5 minutes.  Stir well.  Let it cool down completely and add the chocolate.  Stir it and keep it aside.
Now, make the dough.  Put all the ingredients in the bowl of a mixer with a hook attachment and knead for 5 minutes or until you obtain a smooth and pliable dough.  Wrap in cling paper and let it rest for 1 hour in the fridge.
Take the dough out and roll it into a rectangle of 15 cm by 30 cm.  Make a sausage out of the filling and put it in the centre of the rectangle.  Lift one long side of the dough over the filling and fold the other side over the top of the first.  Press to seal it.  Gently transfer the log, seam side down, onto a baking sheet.  Bring the ends together to form a ring and close the joint by pressing with your fingers.
Now for the decoration.  Traditionally, you would need one of these: Pinza per buccellato   However, I did not have any.  I have already asked my parents to bring me one of them from Sicily next time they come… but for the time being, I had to come up with a solution.  So I simply used a fork.  Dig it and slightly drag it into the dough.  Do this in the same direction, all around (sides, top, inside), so that the decoration comes out uniform.
Put the ready Buccellato in the fridge and keep it there for 1 day BEFORE baking it.
The following day, take it out of the fridge and bake it in a pre heated oven at 200°C – 390°F for 35 – 45 minutes, or until brown.  Remove from the oven and let it cool down.
In the meantime, prepare the glaze.  Put all the ingredients in a pot and simmer for 5 minutes.  Brush the cold Buccellato with the hot glaze.

Decorate with candied cherries and ground pistachios.

Related Posts: