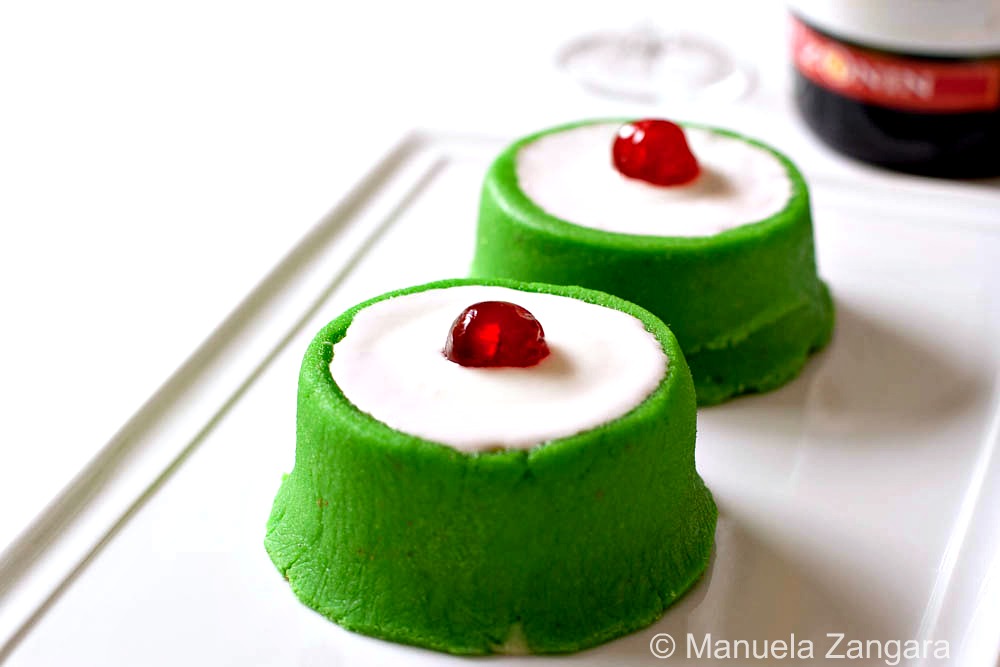 These cassatine are the snack version of the bigger and more famous Cassata Siciliana.  They are pretty much the same thing (apart from the lack of candied fruits on the top), only smaller and more "street friendly" as they are often consumed on the go on the busy streets of Palermo.  They are delicious little cakes filled with a sweet ricotta cream and chocolate and covered with marzipan and Royal Icing.  These are so popular in Sicily that they had to be featured on the Sicilian Street Food New Year's Eve PartyI organised for this month's Foodbuzz 24×24 event!  Enjoy!
Ingredients (for 2 cassatine of 10 cm in diameter and 4-5 cm in height):
2 heaped tbsp of cannoli filling (with chocolate)
A few pieces of Pan di Spagna, cut
Green marzipan (1/2 dose)
Water and sugar
Royal Icing
2 candied cherries
Start by making the marzipan (click here for the recipe).  When ready, cover it with cling wrap and put it in the fridge.
Then bake your Pan di Spagna (click here for the recipe).  Let it cool down overnight before using it.
Make the filling, which is the same as the one used to fill cannoli (click here for the recipe).  Keep it in the fridge until you are ready to use it.
The day before you want to serve your cassatine, assemble them.
Start by preparing your moulds.  You would need a round mould that tapers to the top and is not higher than 3 – 3.5 cm.  I did not have a cassatina mould, so I used a ramekin which was a little less tapering and a little higher.  It still came out fine. 😉
Place some cling wrap at the bottom and on the sides of your mould.  This will help you to unmold the cassatine easily.
Roll out the marzipan into a long strip 3 mm thick and cut it to fit the sides of your mould.  Place it in the mould.  Now take a few pieces of Pan di Spagna (it has to be about 0.5 cm thick) and sprinkle some sweetened water on them to make them more pliable.  Put some at the bottom of your mould and press well into place.  Now add one heaped tbsp of cannoli filling and press well with a spoon.  Finish off with another layer of slightly wet Pan di Spagna and press well.  Cover with the cling wrap and put it in the fridge overnight.  The following day, unmould your cassatine.
Make the Royal icing (you can use this recipe).  Make sure it is quite fluid (as if you had to flood sugar cookies) and, using a spoon, fill the top of the cassatine with it.  Add a candied cherry on the top and put in the fridge to set.
Serve and enjoy!

Related Posts: