Sicily is very famous for its nut production, especially almonds and pistachios.  There is a town in the Eastern part of Sicily called Bronte which is reknowed for the quality of the pistachios that grow in the area.  I wanted to make ice cream and serve it in a brioche (as it is typically served on the streets of Sicily) for the Sicilian Street Food New Year's Eve Party I organised for this month's Foodbuzz 24×24 event, and pistachio flavoured ice cream seemed like the perfect match to represent the island.  Making ice cream is not hard, but when it comes to nut based ice creams, you are going to need to make a "paste" out of the nuts you choose.  You can buy it or make it at home and that is not hard either, but I found that the pistachio paste I made, although delicious, did not come out as green as I wanted it.  The truth is, my pistachios were not very green to begin with… but that's all I could find here.  If you can, buy green unsalted pistachios.  That should help getting a natural colour.  Otherwise, you can add a little liquid green food colour or, if you are as lucky as me to find it, add some pistachio essence (that came already coloured in green) for both some colour and taste.  I will definitely be making this again!

For the pistachio paste

Ingredients:
90 gms – 3.2 oz. unsalted pistachios, skinned
90 gms – 3.2 oz. sugar
30 gms – 1 oz. water
Start by cleaning the pistachios.  Just put them in hot boiling water for 2 to 5 minutes, this will help you to remove all the skins easily.  Remove the skins by rubbing the hot pistachios between your fingers.  Dry them well after the skins have been removed.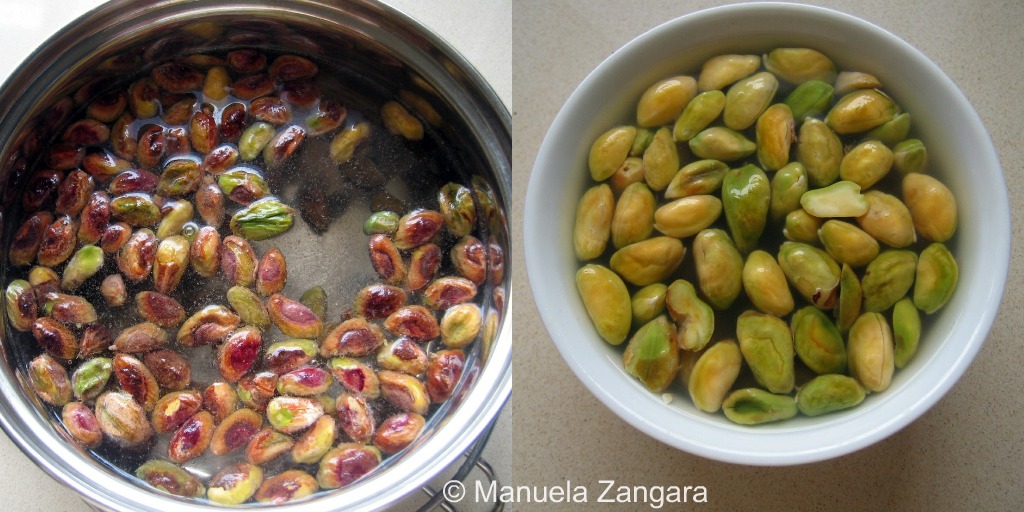 Melt the sugar and water on a low fire (1), until you obtain a light golden caramel (2).  Add the pistachios and stir well (3).  Remove from the fire and spread on some baking paper to cool down (4).
When completely cold and hard, break it into smaller pieces and put it in the mixer.
Mix well until obtaining a creamy paste.  Keep aside.

For the pistachio gelato
Ingredients:
3 eggs, divided into egg whites and yolks
250 ml – 1 cup heavy cream
100 gms – 3.5 oz. icing sugar
90 gms – 3.2 oz. pistachio paste (I used all the above paste)
Green colour (optional)
Pistachio essence/green paste (optional)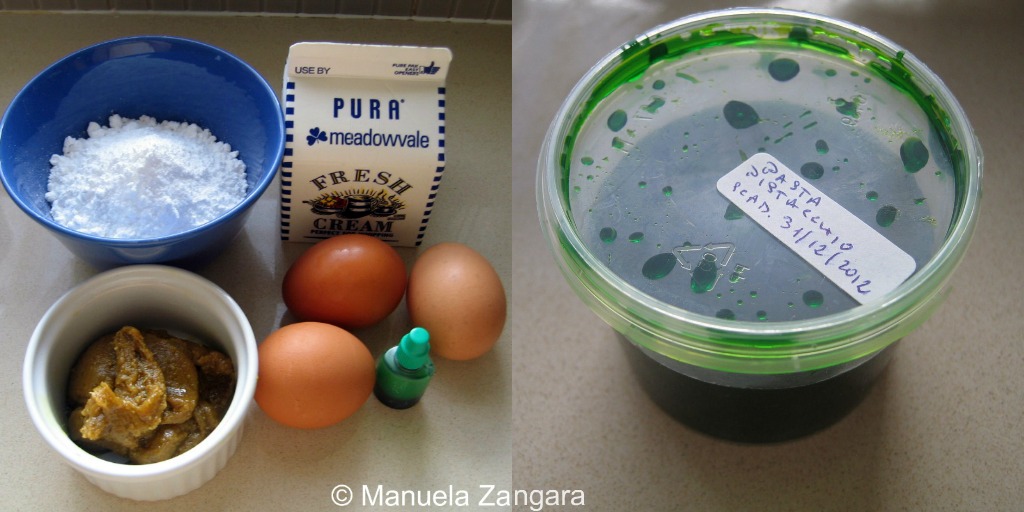 Start by whipping the egg yolks with the icing sugar (1), until pale and smooth.  Add the pistachio paste (2) you made and whatever colour and/or essence you may be using.  Stir well (3-4).
In 2 separate bowls, whip both the cream and the egg whites until firm peaks form.
Gently fold the whipped cream into the egg yolk and pistachio mixture.  Then fold in the egg whites.  Gently mix until well incorporated.
Churn for 25 – 30 minutes in an ice cream maker or according to the manufacturer's instructions.
Transfer into a container, cover it with cling wrap (make sure it touches the ice cream, so no air can pass through) and freeze for at least 3 hours before serving.
This gelato is great to be eaten as is, but it is perfect to be served in a Brioche*, the way it is served in Sicily!  Enjoy!
*a brioche is a round Panino al latte, with a little extra ball of dough on the top.

Related Posts: