Lamb Korma is one of my husband's favourite curries.  It is a delicious, creamy and mild curry.  When cooked well the lamb is so soft that it should melt in your mouth.  I have been looking for years for the perfect recipe for lamb korma and, as it often happens, I found it by chance.  I have had this cooking book by Madhur Jaffrey on Indian Cuisine for a long time and have tried many recipes from it… I have to say they are all great.  There was a particular dish that caught my eye: Mughlai Chicken with almond and sultanas.  It sounded so yummy that I had to make it and I was so pleasantly surprised with the result… it was very tasty and we all liked it.  But then I also thought that it tasted a lot like korma!!!  So, the next time I tried and made it with lamb… and there I had it: the perfect recipe for lamb korma!  It is so flavoursome and creamy… I make this quite often at home as we all like it.  You can serve it with plain Basmati rice or with Pulao, I always serve it with my Kashmiri Pulao.
Sharing this post with Hearth and Soul Hop by Kankana.
Recipe adapted from Madhur Jaffrey's "Mughlai Chicken with Almonds and Sultanas – Shahjahani Murghi" (in Madhur Jaffrey's Indian Cooking).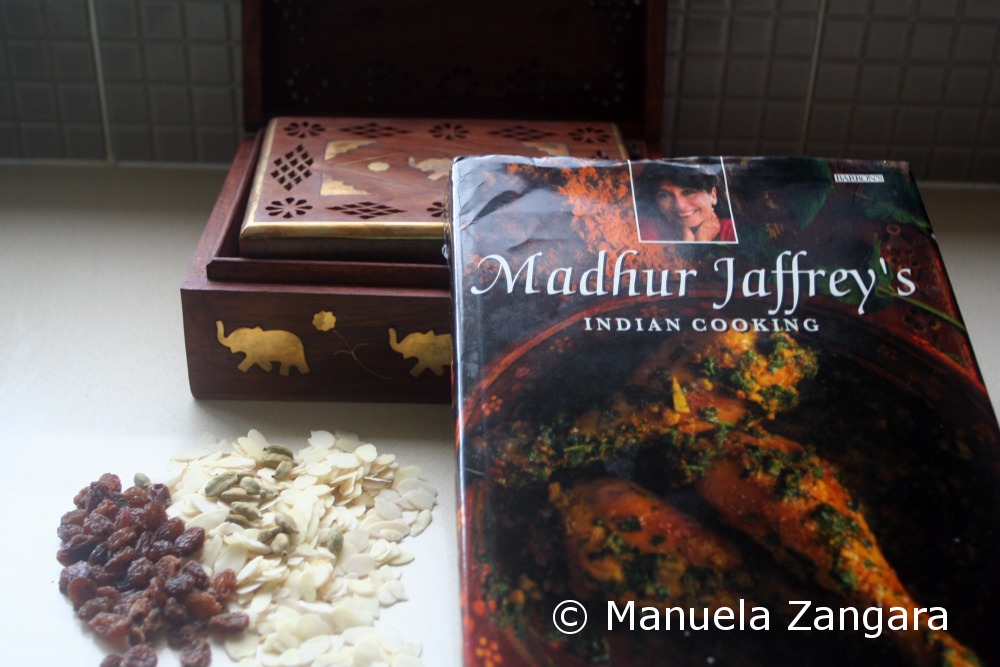 Ingredients (serves 5 to 6 persons):
1 kg lamb, diced
1 tbsp ginger, grated
8-9 garlic cloves, made into a paste
6-7 tbps almonds, blanched and slivered
4 tbsp water
7 tbsp vegetable oil
10 cardamom pods
2.5 cm (1 inch) piece of cinnamon stick
2 bay leaves
5 cloves
200 gms onion, finely chopped
2 tsp cumin powder
1/8 tsp chilli powder (or more if you like hotter curries)
7 tbsp yogurt
1 ½ tsp salt
300 ml cream
1 cup sultanas/raisins
½ tsp garam masala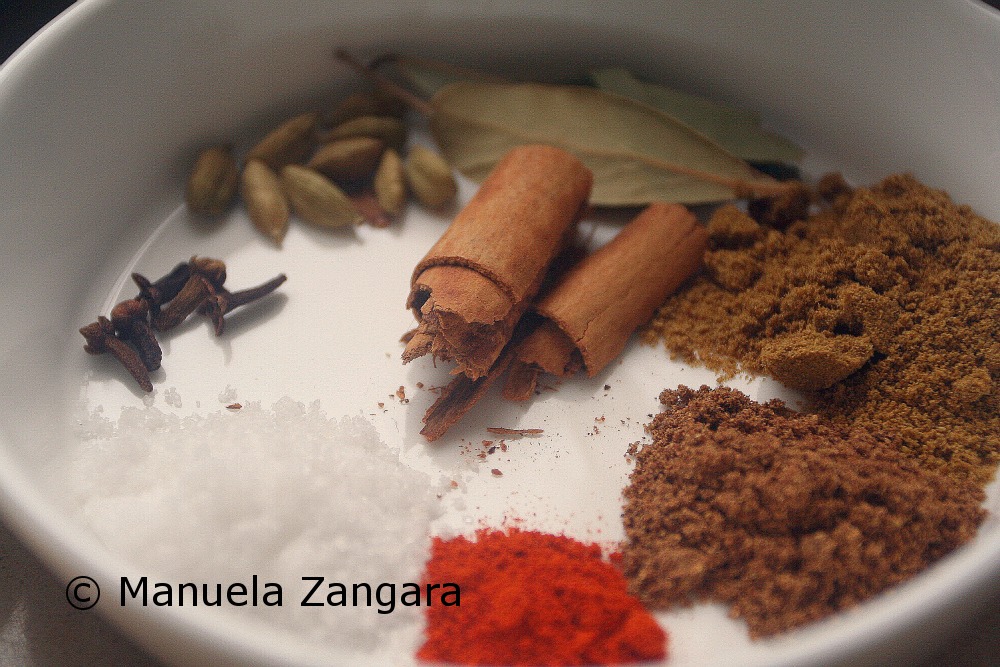 Grind 4 or 5 tablespoons of the slivered almonds into a thin powder.  Add 4 tablespoons of water, the ginger and garlic pastes, cumin powder and chilli powder and mix until well combined (almond masala).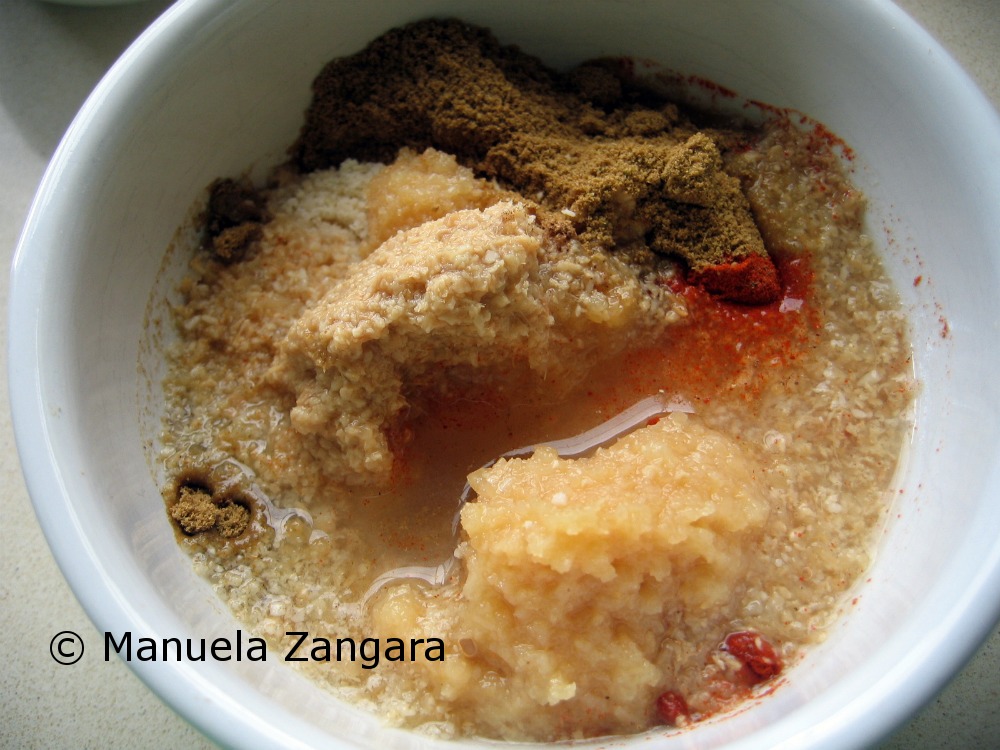 Put the oil in a wok and brown the cubed lamb on a high flame.  Keep it aside.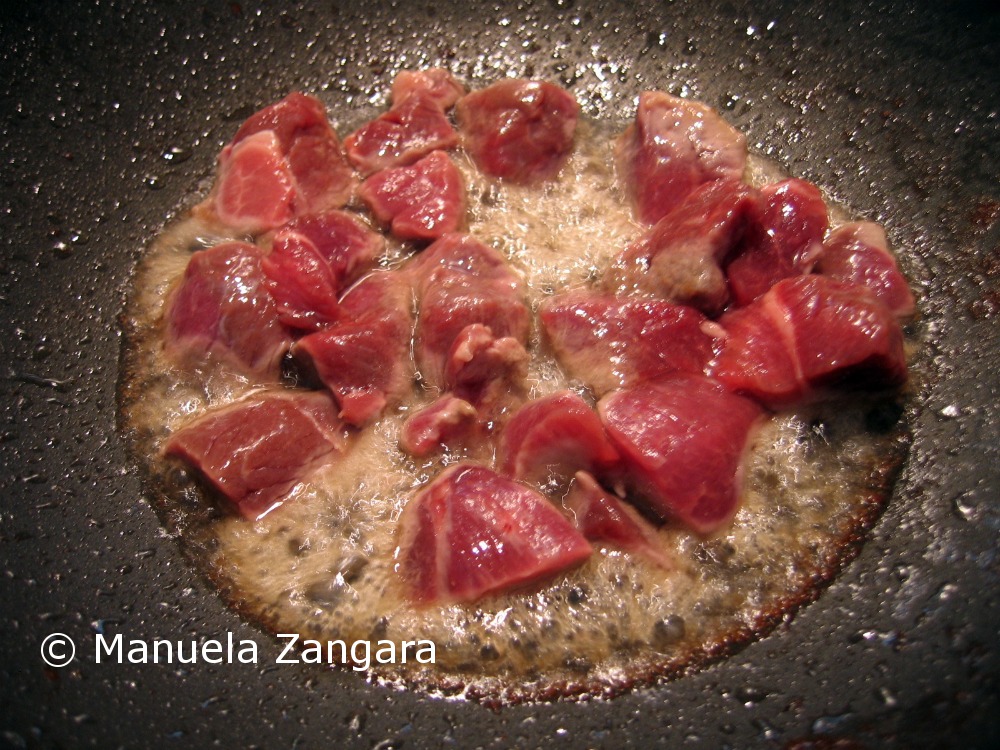 In the same oil, sauté the cardamom, bay leaves, cloves and cinnamon for a few seconds.
Add the chopped onions and fry them for about 3 minutes or until lightly browned.
Put in the almond masala and fry it for about 3 minutes or until the oil separates from the mixture and the spices are lightly browned.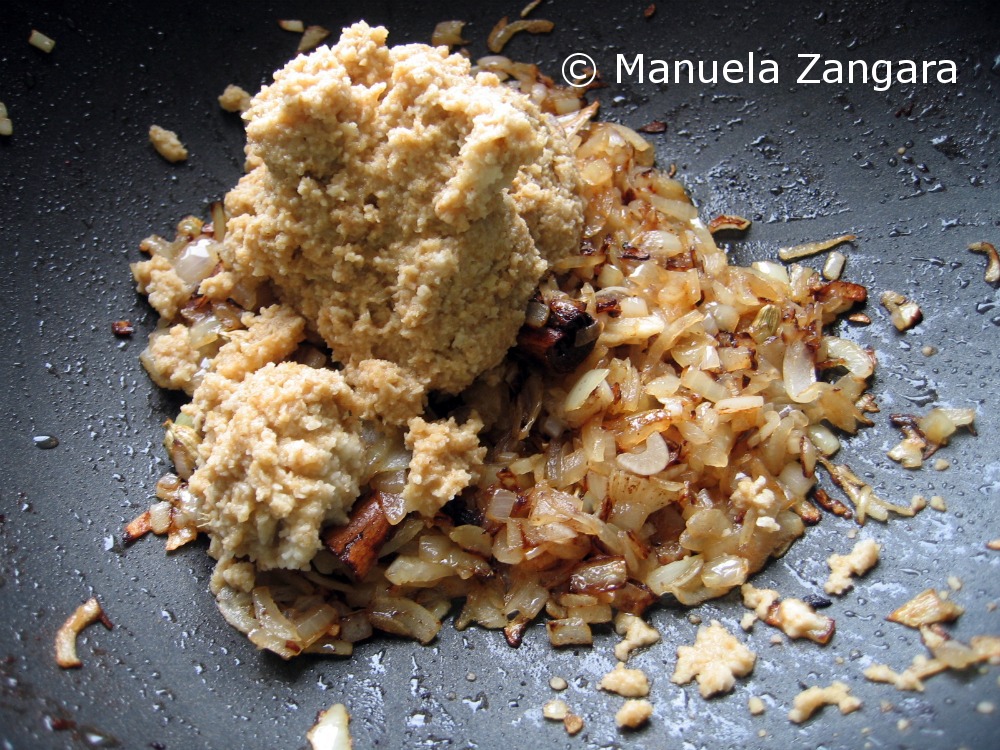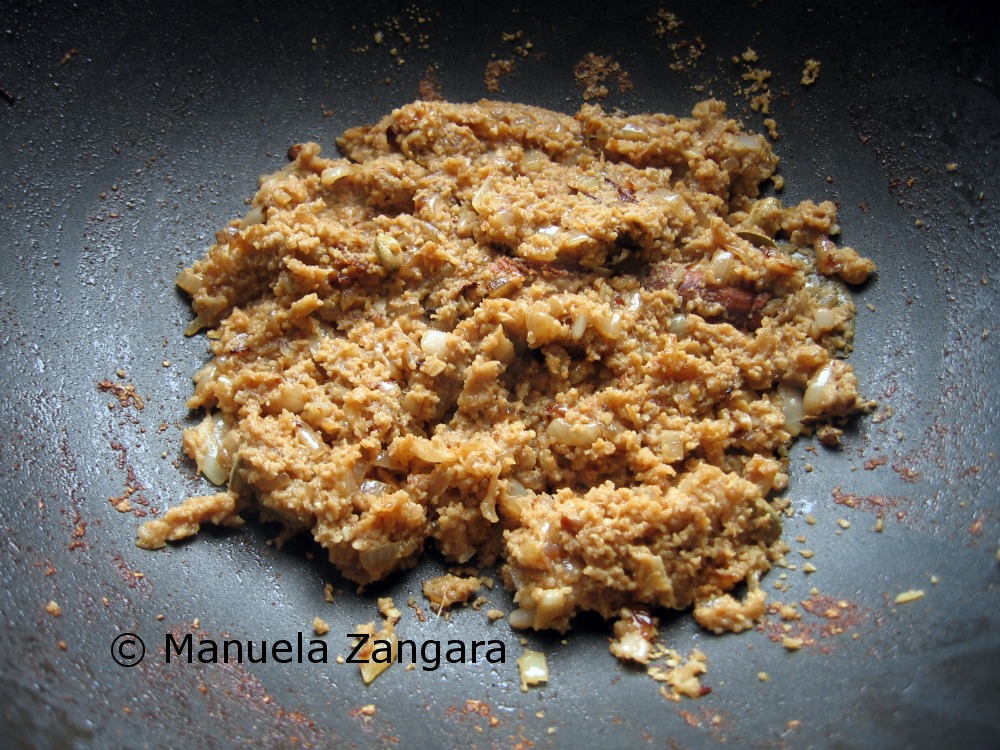 Add 1 tablespoon of the yogurt, stir and fry it for 30 seconds.  Then add another tablespoon of yogurt and mix well.  Repeat this until all the yogurt has been incorporated.
Put in the lamb cubes, any accumulated liquid, cream and salt.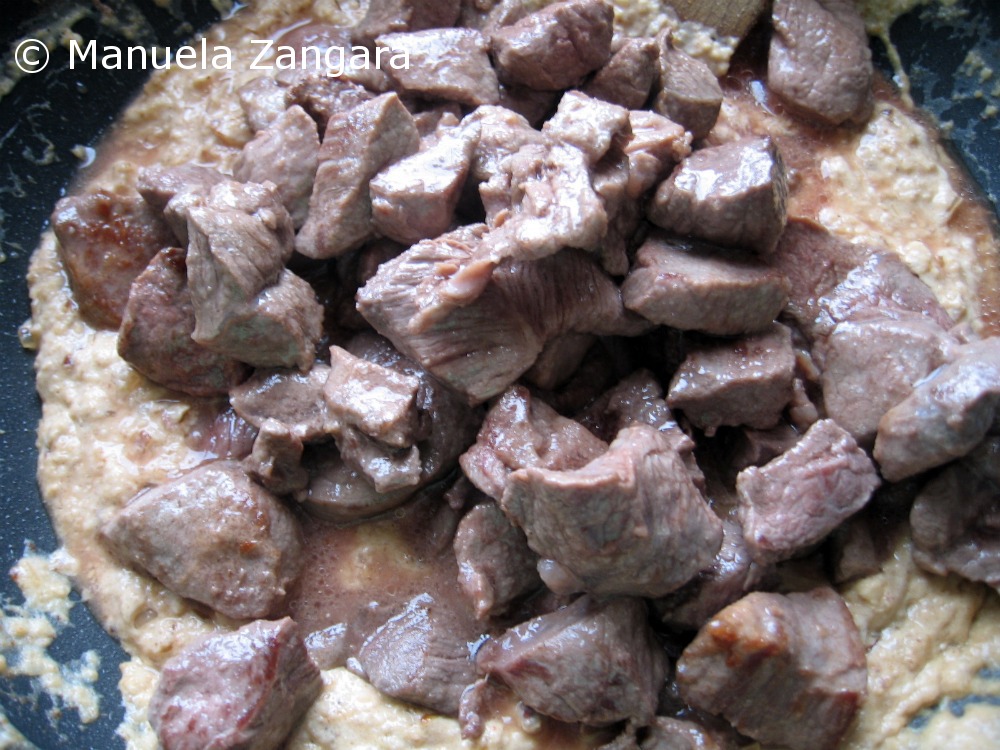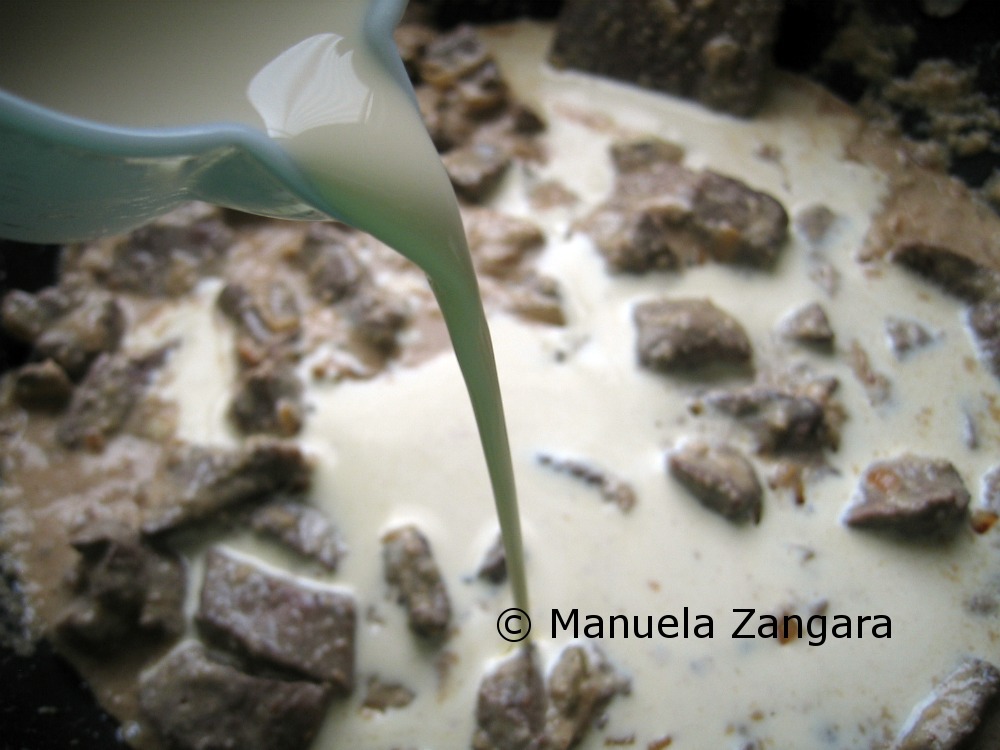 Bring to a simmer.  Cover, turn heat to low and cook for 1 hour (adding water as you go along).  Add the raisins and garam masala, stir and keep cooking for another 30 minutes or until the lamb is so soft that it can be easily cut with a fork.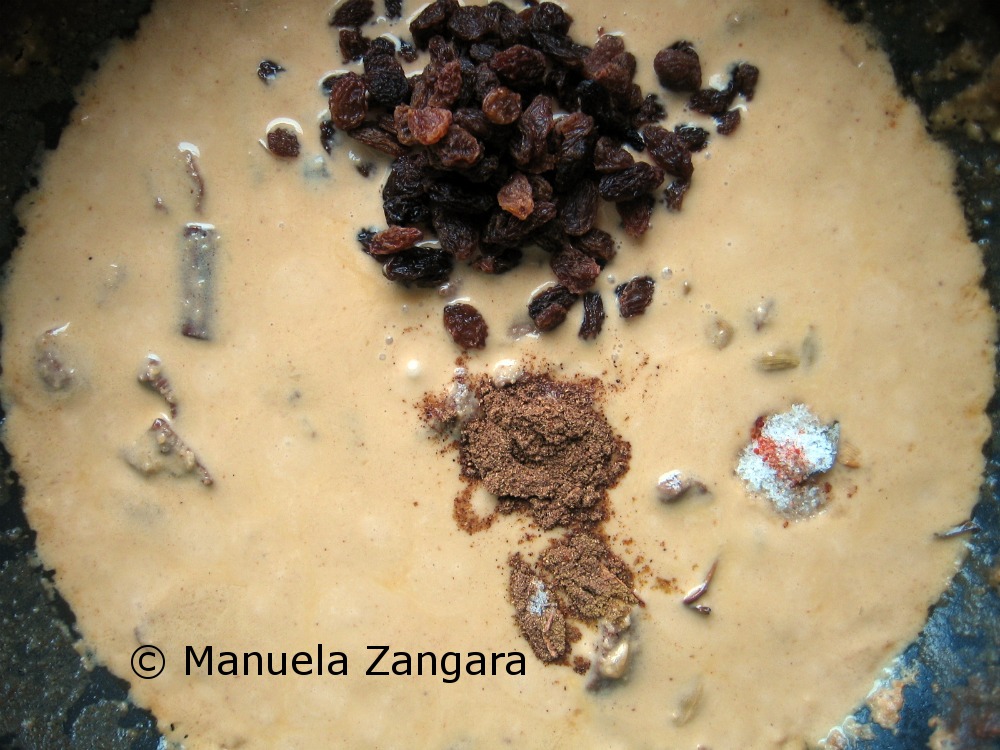 Sprinkle with 2 tablespoons of roasted slivered almonds on the top.
Serve hot with some pickles and/or chutneys and jasmine rice or my Kashmiri Pulao on the side.
On another note, my friend Pola from An Italian Cooking in the Midwest has awarded Manu's Menu with the Sisterhood of the World Bloggers Award!  Ohhh how I love receiving awards, I could get used to it!  Thank you very very much/grazie mille!!!  Pola has a fantastic blog filled with authentic and absolutely gorgeous Italian recipes (but not only) and if there is still someone among you who hasn't visited her blog, I can tell you, you don't know what you have been missing!  So, click on An Italian Cooking in the Midwest and catch up!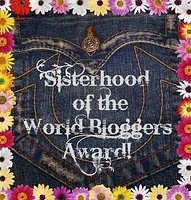 I have been passing along quite a few awards lately… so this time I'll try and award someone I haven't awarded yet (or recently)!  Here it goes:
Hope you have fun surfing these amazing blogs!  I love all of them! 🙂
Before ending this post, I'd like to take a minute to thank Kathy from Food Lover's Odissey for featuring my recipe for Focaccia di Recco in her "Italy on a plate – Top 10 Italian Food Recipes from Around the Web" of this week!  I am so honoured!!! Thank you so much Kathy!  You should check out her site, it is really good! 🙂

Related Posts: