Today's recipe is a variation on the classic Baked Lasagne that I have already shared with you in the past.  The main difference is that this dish is made using "green" pasta sheets that are made with spinach.  You can find a tutorial on how to make your own green pasta dough here.  I can easily tell you I prefer this version to the classic lasagne.  I love both the taste and the colour.  I actually remember the first time I ever ate it.  I was very little, so my memory is a bit blurry, but I remember eating it at a local Trattoria in Bologna with my parents and my grand parents who were there on holiday from Sicily.  When I was a child, I was a very fussy eater (something that is quite hard to believe now!), so my parents ordered lasagne knowing that it would probably be their safest bet.  But when I dug my fork into it, I saw "green"… ouch!  It took a bit of convincing, but in the end I tried it out and I obviously LOVED it!  And the same thing happened with my daughter.  I am going to include this recipe in my Regional Italian dishes series, under Emilia-Romagna as it is a dish from this region, even though this is my family's recipe.  I hope you enjoy it!
Lasagne Verdi
Lasagne Verdi - a classic Italian dish with a secret!
Ingredients
Sauce
1

kg

– 2.2 lbs. beef mince

4

tbsp

extra virgin olive oil

80

ml

– 2.7 oz. red wine

1

carrot

finely diced

1

onion

finely diced

1

celery talk

finely diced

800

ml

– 27 oz. diced tomatoes

300

ml

– 10 oz. tomato purée

140

gms

– 5 oz. tomato concentrate

1

bay leaf

½

tbsp

rosemary

¼

tbsp

fennel seeds

Salt and pepper
Layers
Egg pasta sheets

made with 1 dose of Green Egg Pasta dough

250

gms

– 8.8 oz. fresh mozzarella

sliced

120

gms

– 4.2 oz. Parmigiano Reggiano

finely grated
Instructions
Sauce
Put the extra virgin olive oil, celery, carrot and onion (1) and sauté for a few minutes, until the vegetables are soft (2).

Add the mince (3), stir well and break all lumps with a wooden spoon.

When the meat is nicely browned, add the wine (4) and cook off the alcohol by increasing the flame.

Then add all the tomatoes (5), herbs, salt and pepper and fill with water till the brim of the pot (6). Lower the flame to medium- low, cover and let the sauce cook for at least 1 hour, or until thick. Keep aside.
To assemble
Put a large pot with salty water on the fire and bring to a boil.

Cook the pasta sheets in it for 1 minute. Do this in batches (I use a shallow but large pot and I cook them in 1 layer, so I am sure they do not stick together).

Remove them with a slotted spoon and put them on a clean tea towel to cool down. (I forgot to take a picture, so I uploaded a picture from my Baked Lasagne post, that's why the lasagne sheets are not green.)

Now you are all set to start assembling your lasagne. Start with a layer of meat sauce at the bottom of an oven proof dish. Add a layer of cooled pasta sheets, making sure not to overlap them. Now cover them with a layer of meat sauce, some béchamel sauce, sliced mozzarella and grated Parmigiano Reggiano. Do this for 5 to 6 layers. On the last layer (the top most layer), do not put mozzarella or it will burn and it will taste bitter.

Cook the lasagne in a pre heated oven at 180°C – 355°F for 20 minutes, then grill for 5 to 10 minutes until the top gets golden brown. Serve warm.
Recipe Notes
You can make the meat sauce the day before you assemble lasagne and you can assemble them the day before you serve them. Store them in the fridge and remember to take them out a few hours before baking them (you have to bring them back to room temperature) to make sure they do not remain cold on the inside even after they are baked.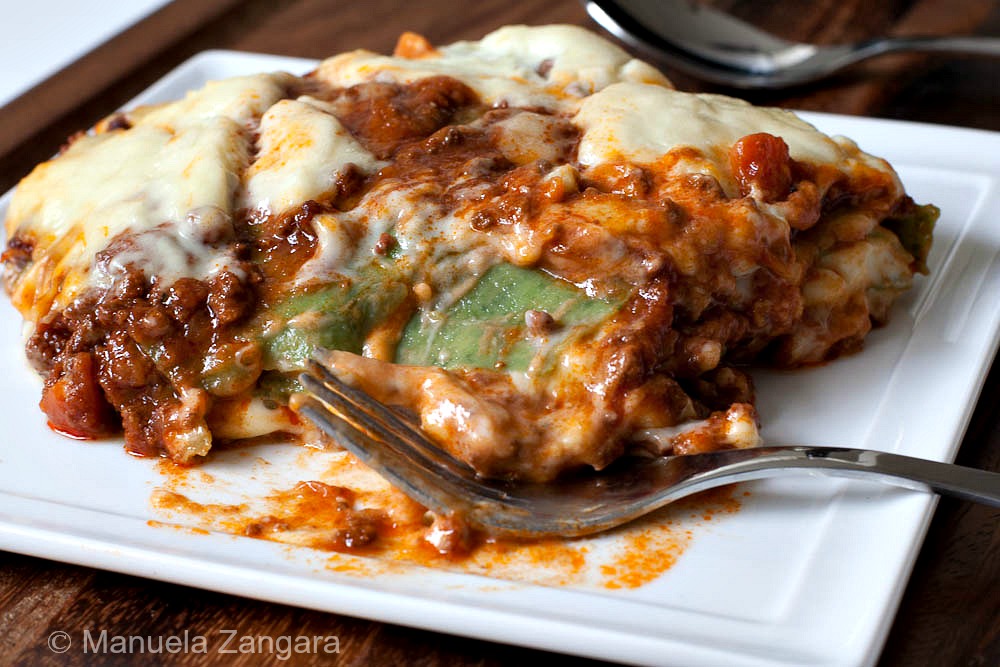 Related Posts: