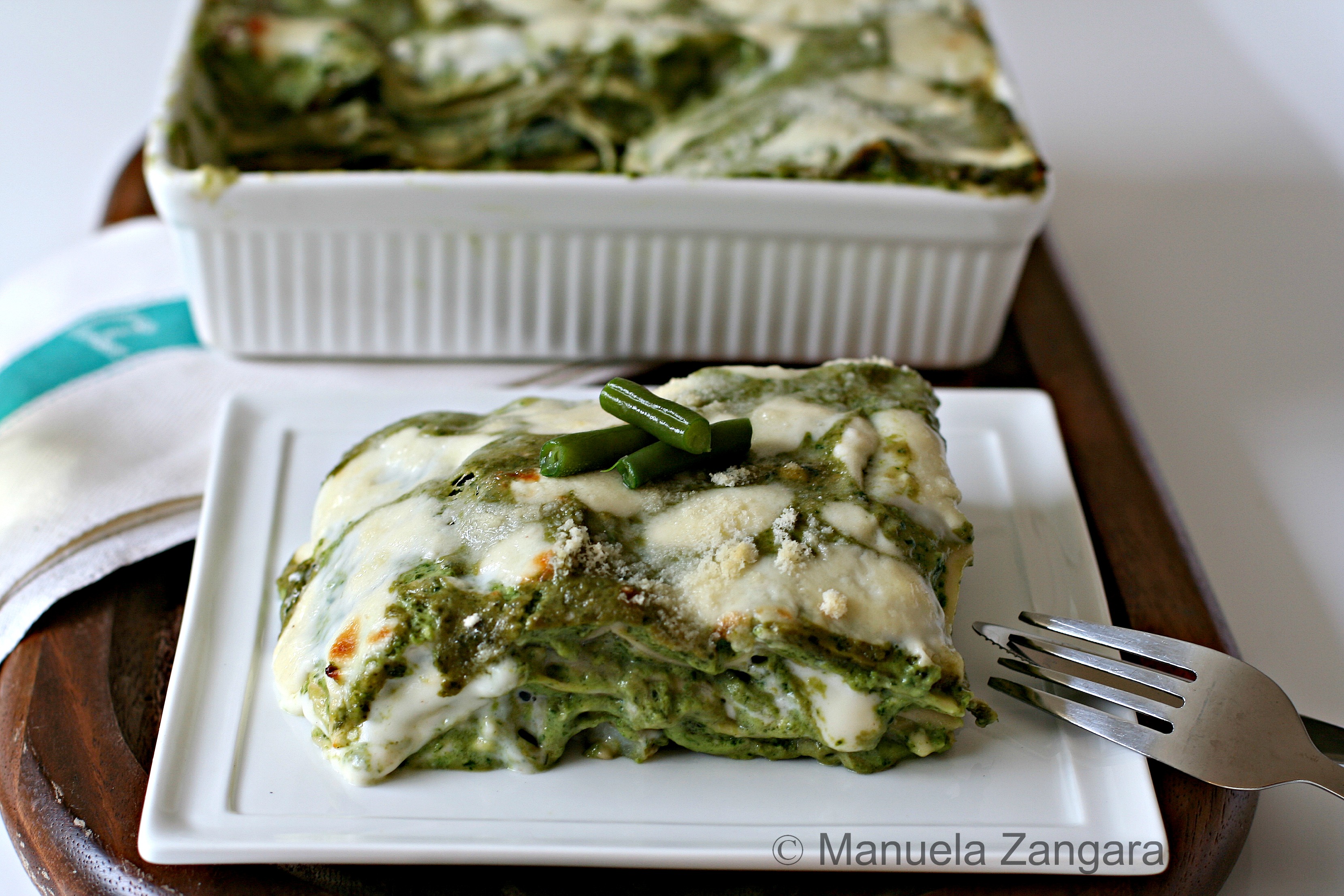 I am very excited about today's recipe.  The reason is simple: it is one of my all time favourite dishes.  I have always loved lasagne, but growing up I had always only eaten the classic meat version.  It wasn't until I was a teenager that I had my first lasagne with pesto.  I was at a wedding near Genoa, where pesto was born, and it was the dish I enjoyed the most.  I have made it quite a few times since then, and every time I like it more.  My 5 year old, who is always very picky, has a weakness for pesto, so when I make these I am sure I will not have leftovers…  It is a fantastic vegetarian option (including some "hidden veggies" that your kids will enjoy eating!) and a faster version than the classic beef lasagne.  Mmmmm don't you just wish you could pick up that fork and put a piece in your mouth??  This is also this week's Regional Italian dish for Liguria.  Enjoy!
Ingredients:
For pesto (makes about 380 gms/2 cups)
160 gms – 4 cups basil, washed
30 gms – ½ cup parsley, washed
2 small cloves garlic
50 gms – 6 tbsp Pecorino Romano, finely grated
20 gms – 2 tbsp Parmigiano Reggiano, finely grated
90 to 120 ml – 8 to 10 tbsp extra virgin olive oil
10 gms – 1 tbsp pine nuts
Salt to taste
For the layers
Egg pasta sheets (made with 3 eggs and 300 gms – 10.5 oz. flour as per my tutorial)
380 ml – 2 cups pesto
1 lt – 33.8 oz. béchamel sauce (made as per my tutorial)
120 gms – 4.2 oz. Parmigiano Reggiano, finely grated
3 potatoes, sliced and boiled
250 gms – 8.8 oz. green beans, roughly chopped and boiled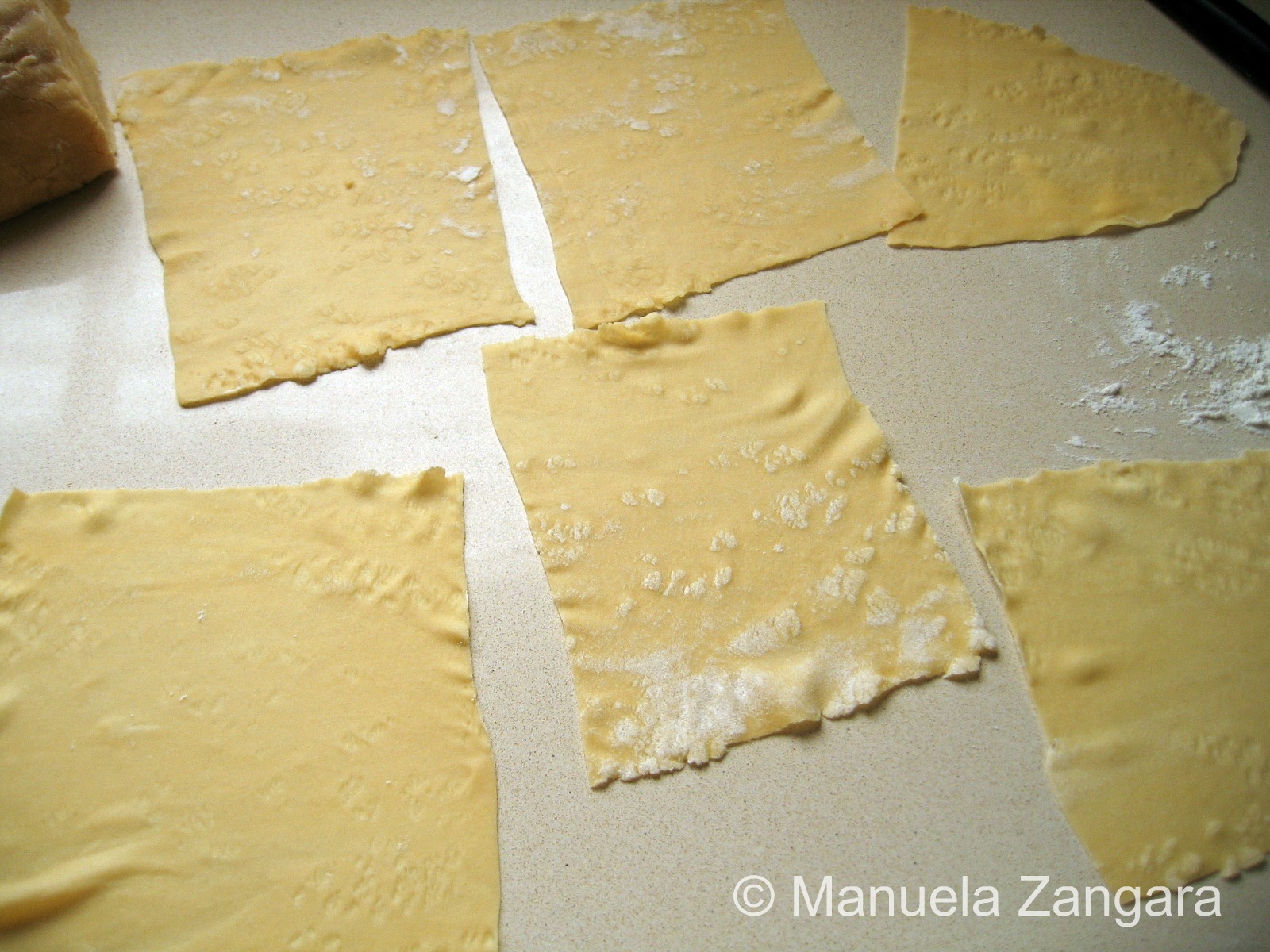 Start by making the pesto.  Simply blend the garlic, pine nuts, salt, basil, parsley and half the extra virgin olive oil together (I use a hand blender to do this) until obtaining a fine paste.  Transfer to a bowl, add the grated cheeses and the remaining extra virgin olive oil and mix well.  Adjust salt to taste and cover it with a thin layer of extra virgin olive oil to prevent oxidation.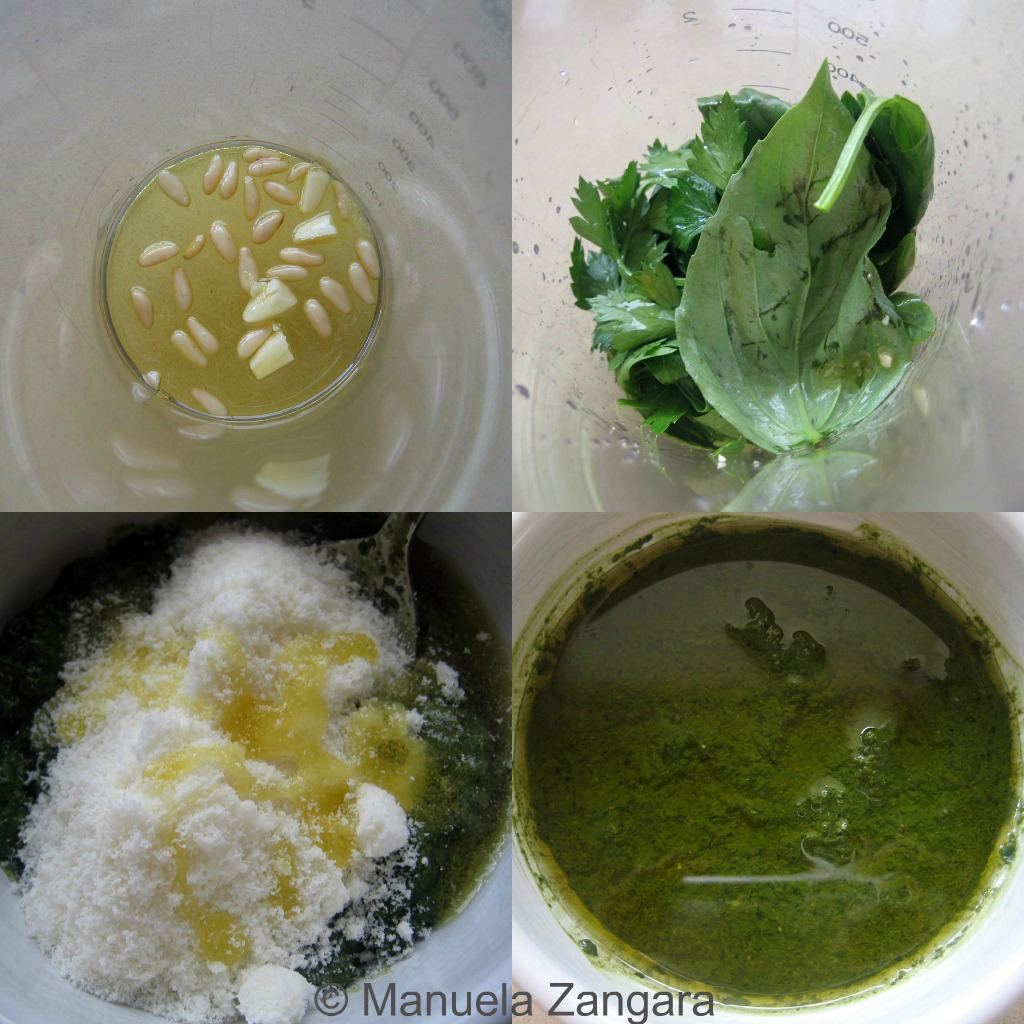 Mix the pesto with 2/3 of the béchamel sauce and keep it aside.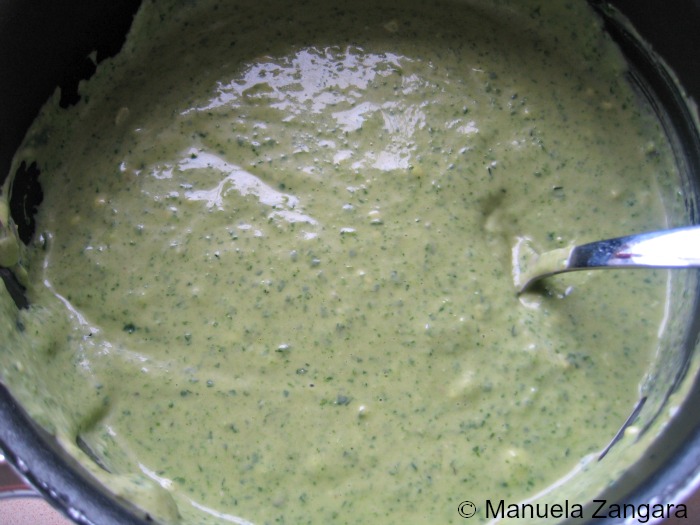 Put a large pot with salty water on the fire and bring to a boil.  Cook the pasta sheets in it for 1 minute.  Do this in batches (I use a shallow but large pot and I cook them in 1 layer, so I am sure they do not stick together).  Remove them with a slotted spoon and put them on a clean tea towel to cool down.

Now you are all set to start assembling your lasagne.
Start with a layer of pesto and béchamel sauce at the bottom of an oven proof dish.  Add a layer of cooled pasta sheets, making sure not to overlap them.  Now cover them with a layer of pesto and béchamel sauce, some boiled potatoes & green beans, a little of the remaining plain béchamel sauce and some grated Parmigiano Reggiano.  Do this for 5 to 6 layers.  On the last layer (the top most layer), do not put any of the vegetables or they may burn.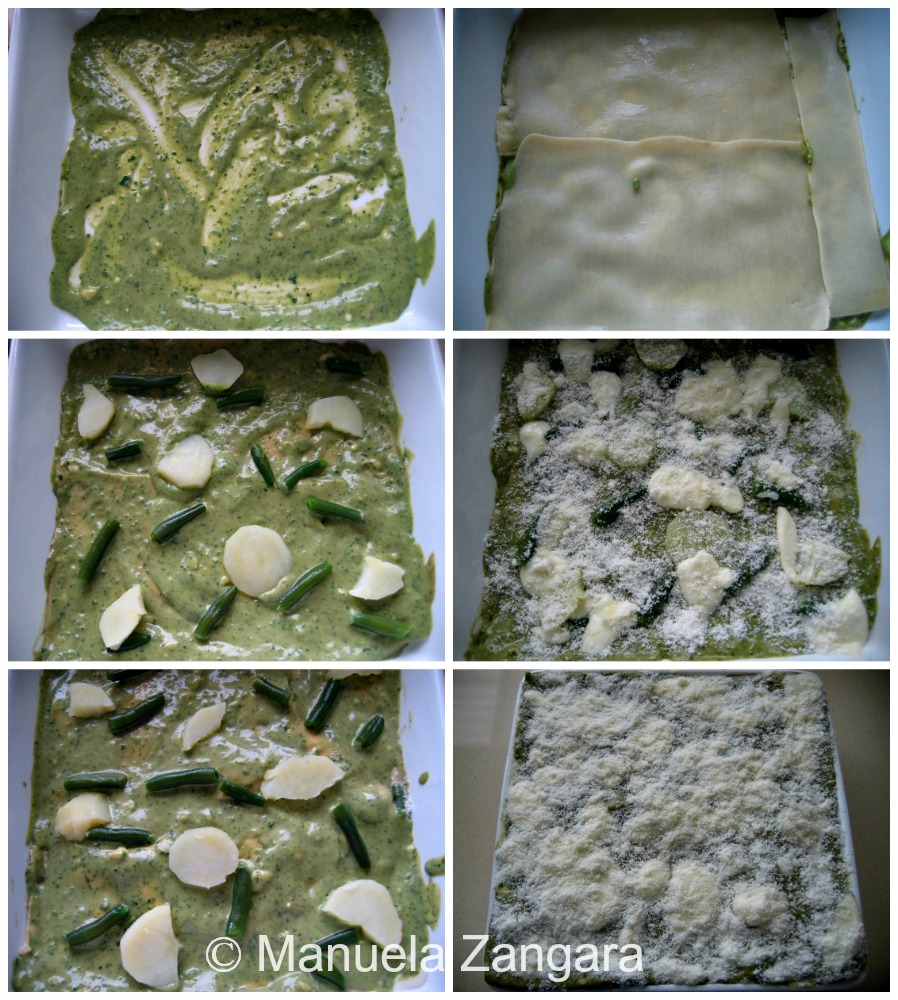 Cover the baking dish with some aluminum foil and cook the lasagne in a pre heated oven at 180°C – 355°F for 20 minutes, then remove the aluminum foil and grill for 5 to 10 minutes until the top gets golden.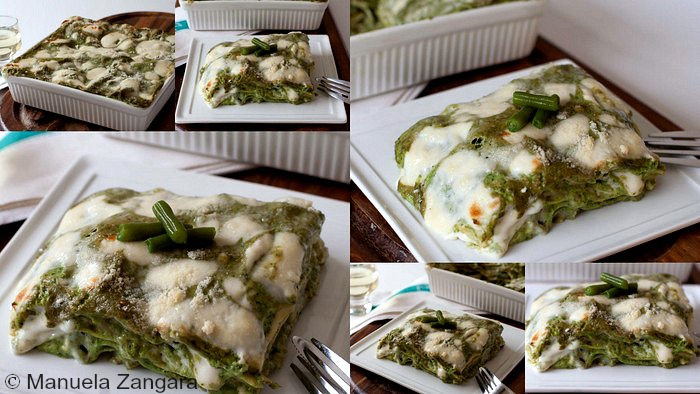 Serve warm.
NOTE:  You can assemble the lasagne the day before you serve them.  Store them in the fridge and remember to take them out a few hours before baking them (you have to bring them back to room temperature) to make sure they do not remain cold on the inside even after they are baked.
Pin It

Related Posts: