A few weeks ago, I have shared the recipe of Delizie al Limone (Lemon Delights), a typical Italian dessert from Naples and the Sorrentine peninsula, in the region of Campania.  They are a beautiful and delicious dessert, but they are very time consuming to make.  I had some of the Lemon glaze left in my fridge, so I thought I should whip up something just as scrumptious but faster to make.  That's how this trifle in a jar came about.  And I served it in little jars because… well, it looks so cute!!  Instead of making a sponge cake, I used savoiardi cookies (ladyfingers – the same ones that are used in Tiramisu) and I dipped them in the remaining Limoncello syrup for extra lemon flavour.  This dessert is soft, creamy, sweet and tangy all at the same time, just like Delizie al Limone, but it is a bit faster to make!  So, you have no excuses… you must give it a try!!!  Buon appetito!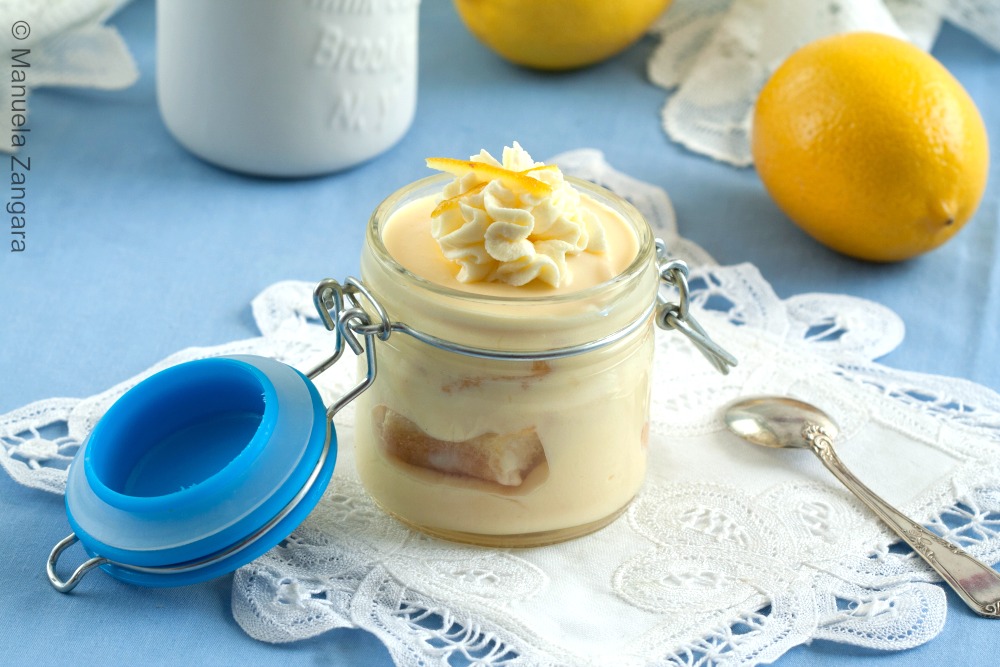 Lemon Delight in a Jar
Lemon Delight in a Jar - Italian lemon and Limoncello trifle served in a jar.
Ingredients
Lemon Cream
40

gms

– 2 egg yolks

40

gms

– 1 ½ oz. sugar

1

or 2 lemons

40

gms

– 1 ½ oz. butter
Lemon Crema Pasticcera
180

gms

– ¾ cup milk

80

gms

+ 30 gms – 3 oz. + 1 oz. cream

80

gms

– 4 egg yolks

60

gms

– 1/3 cup granulated sugar

15

gms

– 5 tsp cornstarch

1

pinch

salt

1

lemon

1/3

vanilla pod
Limoncello Syrup
30

gms

– 1 oz.water

30

gms

– 1 oz. granulated sugar

50

gms

– 1 ¾ oz. Limoncello

½

lemon
Glaze
Lemon Cream

Lemon Crema Pasticcera

60

gms

– 1/3 cup milk

125

gms– ½ cup cream

whipped and lightly sweetned

30

gms

– 1 oz. Limoncello
Assembling
Limoncello Syrup + water

Lemon Glaze

Savoiardi cookies/ladyfingers
Instructions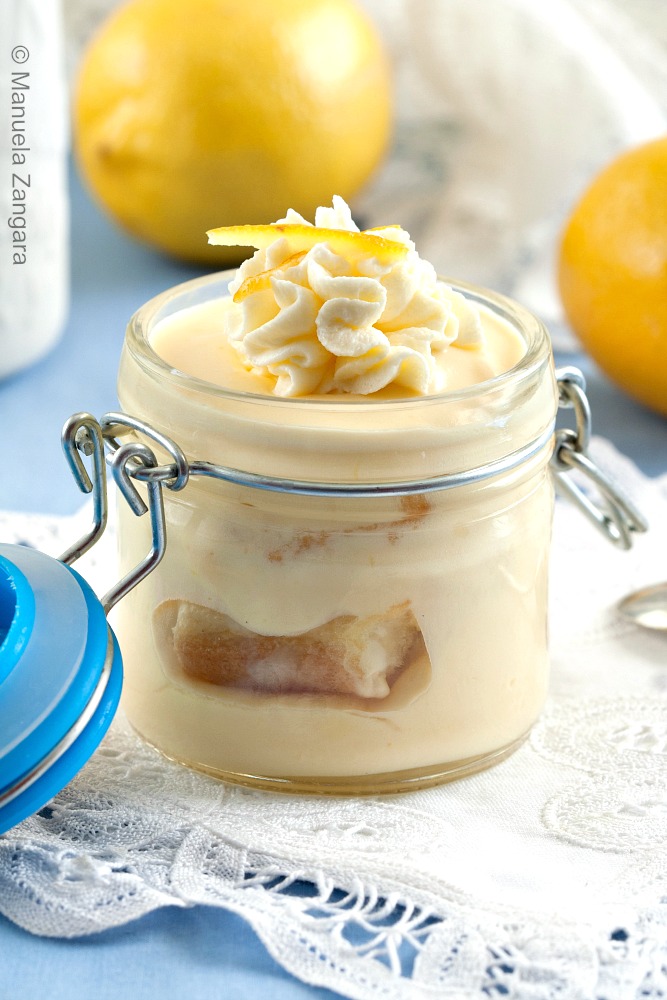 Related Posts: