Today's recipe is not my own.  It's actually my mother's.  It is one of her favourite pasta sauces and she made it for all of us when visiting from Italy.  Usually, as a rule of thumb, Italians do not eat other carbs together with pasta, but this is a delicious exception.  I often say that Italians do not double up their carbs in the same dish and especially do not eat pasta with bread and I have had a few people ask me why and many non Italians even telling me that it is not true nor possible.  I guess foreigners are so used to have their pasta served with bread at not so original "Italian" restaurants, that they think that's the norm.  So, I will stand my ground once more… Italians do NOT eat pasta together with bread.  The only exception is the so called "scarpetta", which means soaking up the remaining sauce (and not pasta) with a piece of bread at the end of the meal.  But back to today's recipe.  I was very surprised by how good this sauce was, especially since it was so quick to put together.  The potatoes become soft and almost creamy and the little tomato purée in it gives the final dish a very nice colour.  Doesn't it look yummy?  Buon appetito and grazie mamma!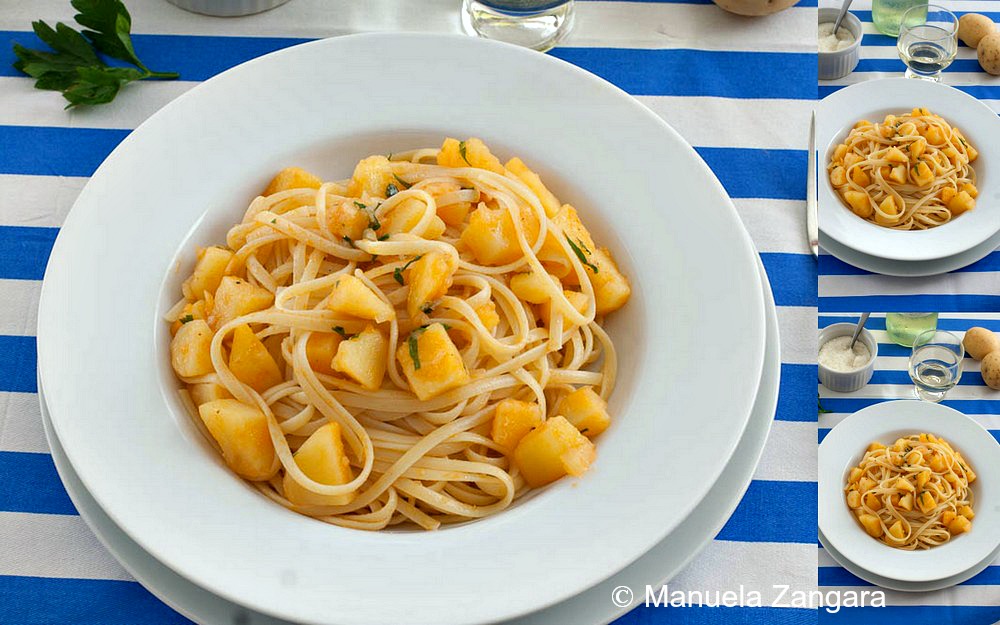 Linguine with Potatoes
Instructions
Put the chopped onion in a saucepan with the extra virgin olive oil and heat it on a slow fire. Cook for 1 minute, until the onion becomes transucent.
Add the chopped potatoes and sauté them for a couple of minutes.
Add the tomato purée and 2 tbsp of water, mix and cook, covered until the potatoes are soft. Stir frequently while cooking and add water little by little as required.
When the potatoes are soft, season with salt and pepper, add the chopped parsley and keep aside.
Cook the linguine following the steps on How to cook pasta "al dente" in the Techniques page of this site.
Add 4 tablespoons of the water in which you are cooking the pasta, into the pot with the potato sauce if the liquid has dried up (potatoes absorb a lot of liquid and you need to keep the sauce moist!).
Drain the linguine and serve immediately with the potato sauce and grated Pecorino Romano on the top.
Pin It

Related Posts: