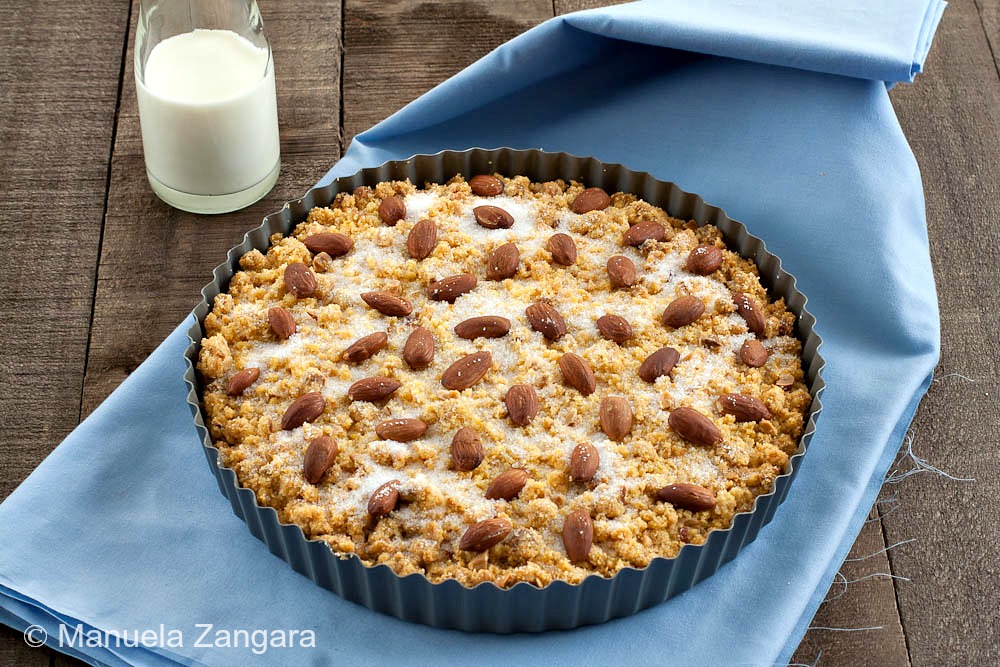 My series on Regional Italian food is back!  Finally!  Today's recipe comes from the region I was born in: Lombardy and more precisely from the beautiful town of Mantova.  This area is a culinary heaven… but then again, what part of Italy isn't?  I have already shared with you the recipes for Mostarda Mantovana and Tortelli di Zucca, both native of this town and today I am posting the recipe for a very famous cake: Sbrisolona.  This cake is very simple and so good.  Like the majority of traditional Italian food, it has its roots in the land where it was created and uses what were known as "poor" and "local" ingredients.  In this case, cornmeal (the one used to make polenta) is added to the white flour as it was cheaper and more easily available.  The name "Sbrisolona" comes from the local dialect and it means "crumbly"… as this cake is really crumbly.  It is more like a huge almond cookie….  The cookie monster would love it and so do I!  When I was a child in Milan, this cake would often be bought at the local bakeries to share with friends and family at any get together.  It is so easy to make, that I now bake it myself and my girls like it so much that it never lasts too long!  I hope you like it just as much!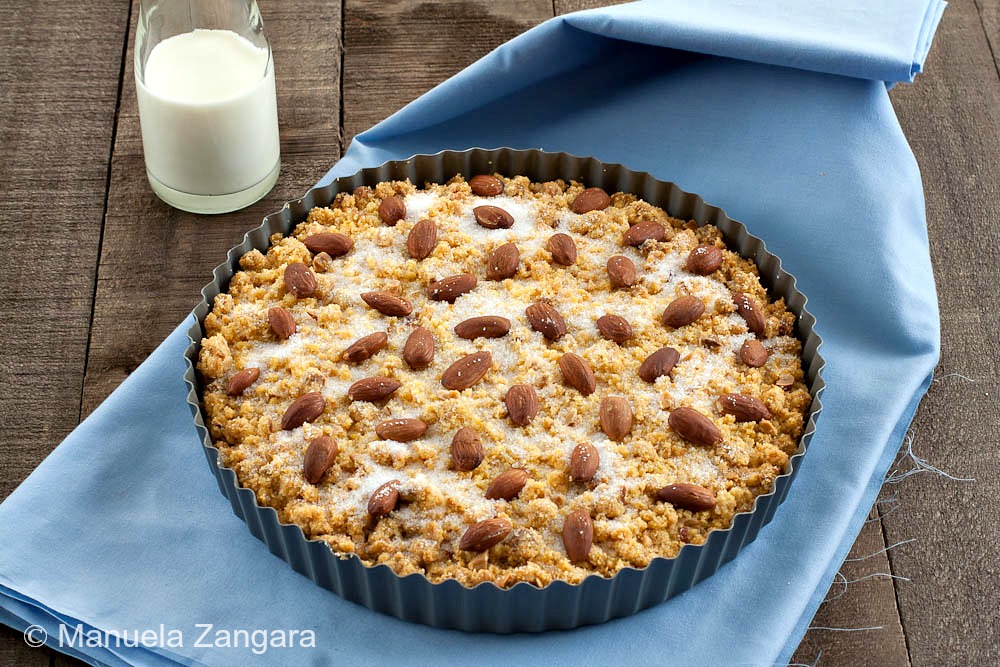 Sbrisolona
Step-by-step instructions on how to make Sbrisolona, a crumbly cake from the Italian town of Mantua, made with polenta and almonds!
Total Time
1
hour
15
minutes
Ingredients
Cake
200

gms

– 7 oz. all purpose flour

200

gms

– 7 oz. cornmeal

finely ground

150

gms

– 5.5 oz. blanched almonds

200

gms

– 7 oz. sugar

1

lemon zest

grated

1

tsp

vanilla essence

2

egg yolks

100

gms

– 3.5 oz. lard

or butter

100

gms

– 3.5 oz. butter
To Garnish
50

gms

– 3 tbsp almonds

to garnish

2

tbsp

sugar
Instructions
Roughly chop the blanched almonds and mix them with the all purpose flour and cornmeal.

Add all the remaining ingredients and mix with your hands until roughly combined (it will be a crumbly mixture, so don't panic!).

Transfer to a greased tart pan. Do not press the mixture down as you want it to be crumbly.

Garnish with the unblanched almonds.

When ready, let it cool down, then sprinkle with 2 tablespoons of sugar.

Break it with your hands to serve.

Related Posts: