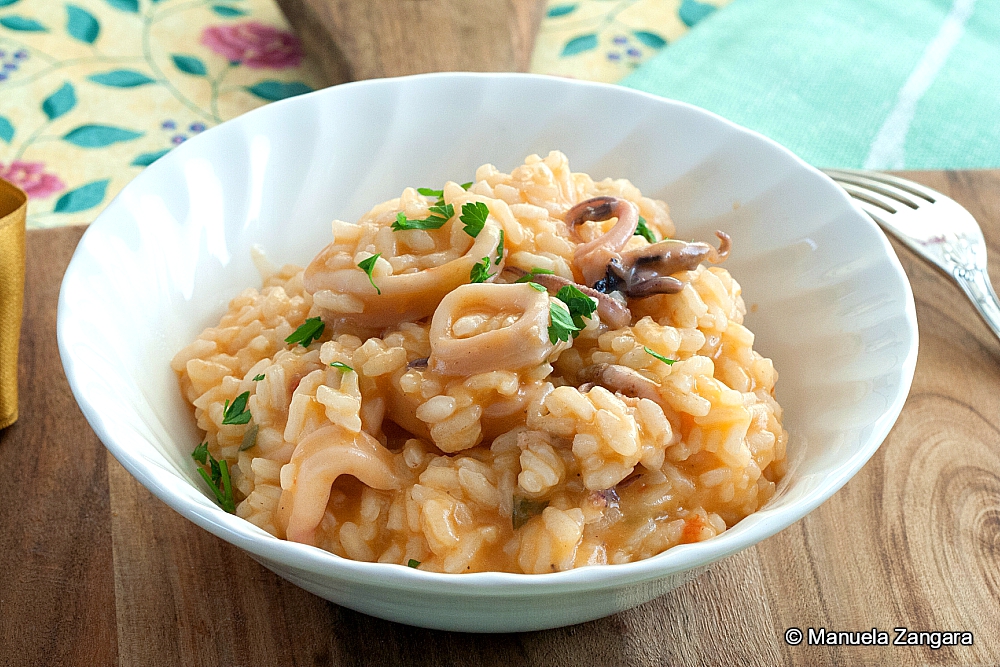 I am so happy about sharing the recipe for this Low Fodmap Calamari Risotto with you! As you may know, I was born in Milan which is the place where risotto was first invented.
In fact, Milan is famous throughout Italy for its Saffron Risotto – among other things – and risotto has always been one of my absolute favourite dishes. So much so that it was the first thing I learnt how to cook on my own when I was about 6 years old (I kid you not).
Weirdly enough, people seem to think that making risotto is very difficult. I am not sure why that is, really… and if a 6-year-old child can master it, anyone else can too!
Making the perfect risotto is very easy, just as long as you follow a few simple rules: never wash the rice, toast the rice before adding hot stock to it, stir it regularly (but not constantly, especially if using a non-stick pan), add some fat (butter, cheese, oil) at the end. That's it.
Since many of my favourite risotto are made with high fodmap ingredients, I haven't made it very often lately. However, I recently came up with this seafood version that is both dairy-free and low fodmap. It was so good, I just had to share it with you!
If you are not on a low fodmap diet, you can still make this risotto and simply use garlic and normal extra virgin olive oil instead of garlic infused oil, and onion instead of the green part of spring onions. Simple, right?
If you like seafood risotto, you will love this version. And the best part is, it is also very easy to make! I often make it for a quick and satisfying lunch and we all love it. Enjoy and don't forget to check out my video recipe and to leave a comment to let me know how you like it!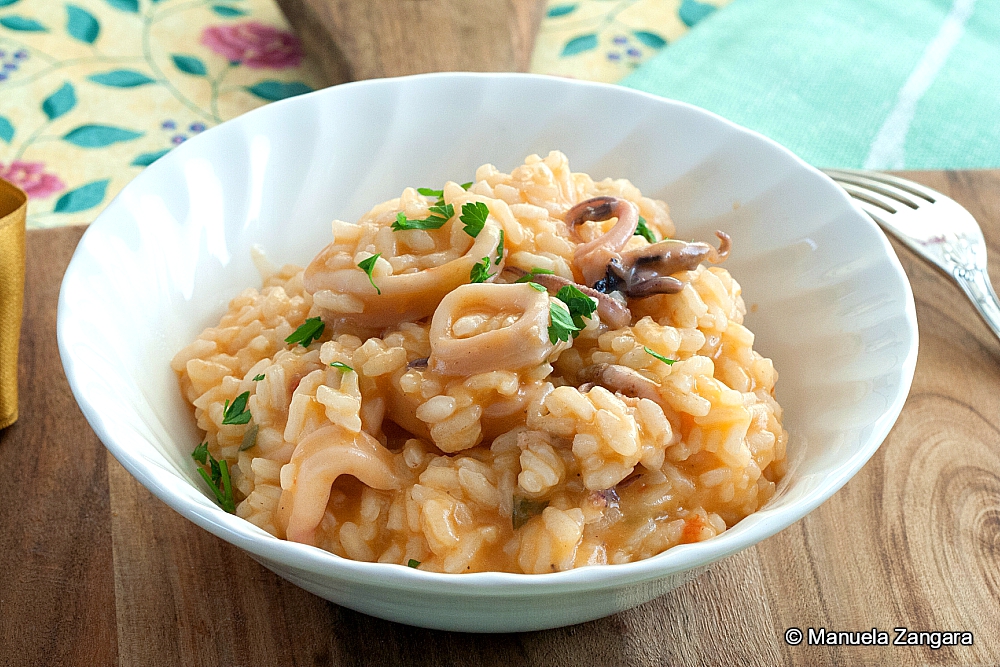 Low Fodmap Calamari Risotto
Low Fodmap Calamari Risotto – a deliciously creamy seafood risotto packed with the flavours of Italy that is also dairy-free and low fodmap.
Ingredients
Calamari
250

gms

– 9 oz. calamari

cleaned and cut

1

tbsp

garlic infused oil

2

tbsp

tomatoes

tinned

Salt to taste
Risotto
200

gms

– 7 oz. risotto rice Arborio

Carnaroli or Vialone nano

3

tbsp

spring onions

green part only

¾

tbsp

extra virgin olive oil

50

ml

– ¼ cup white wine

Salt to taste

1

tbsp

parsley chopped

½

tsp

garlic infused oil
Instructions
Start by preparing the calamari.  Saute them in a warm pot with the garlic infused oil for a minute. Add the tomatoes and salt to taste. Mix and cook for 2 minutes. Keep aside.

Put the stock or water in a pot and heat it on the fire.  The stock/water has to be hot all the time while you are cooking risotto, so that the rice temperature does not drop when you add it to it.

Put the chopped green onion and the extra virgin olive oil in a pot and let it cook on a slow fire for 30 seconds.

Add the rice, mix well and let it cook for 1 or 2 minutes until it becomes translucent.

Now pour in the white wine and let the alcohol burn off by cooking on a high flame.

Then add enough hot stock/water to cover the rice and turn the fire to medium-low. Keep cooking, occasionally stirring the rice and adding hot stock little by little, until the rice is cooked. It is going to take approximately 18 to 20 minutes depending on the rice you are using.

After the first 15 minutes, add the calamari and keep cooking the rice.

When the rice is ready, put the fire off, add ½ teaspoon of garlic infused oil. Mix very well and make sure that your risotto is moist (or, as we say, all'onda – which literally means wavy) and not sticky. You can do that by adding 1 or 2 extra tbsp of hot stock if needed.  Check for salt and season to your liking.

Serve your risotto hot, with some chopped parsley on the top.
Recipe Notes
Do not wash the rice before cooking it. You want to keep the starch in it, as that is what makes risotto naturally creamy.

Related Posts: