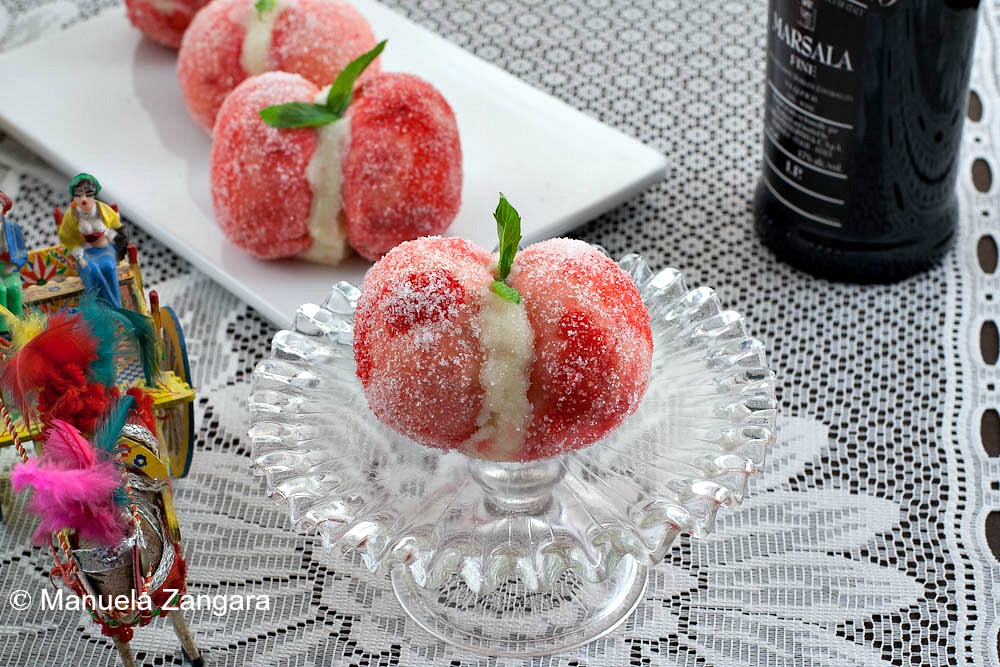 I am very excited about today's recipe.  I am taking you all back to Sicily for this Regional Italian dish… a very special one.  These are among my favourite Sicilian pastries.  They are not as famous as cannoli, but they are just as delicious.  The filling is in fact the same sweet ricotta filling of cannoli, but they are made with soft home-made buns which are dipped in syrup and rolled in granulated sugar to make them look like peaches (thus the name "pesche").  Now, I think I owe you some explanations.  First of all, there are other "sweet pesche" in Italy, but they are quite different to these.  The Sicilian version is much bigger, it's made with buns and filled with ricotta, while the other "pesche" are smaller, made with a more cookie-like dough and are often filled with crema pasticcera.  So they look similar, but do taste different.  Second, these are big pastries… and we often share 1 per couple, especially if eaten after a meal.  Everything is big in Sicily… as people tend to eat quite a bit.  So do not expect small "French-looking delicate pastries".  Of course, there's nothing wrong with eating a full one, but I thought I'd tell you, so you don't go about making a triple batch if you are making this for a family of 4. ;-P  These pastries are not hard to make, but they do involve a little bit of work to get all the components ready… that said, I love the expression of my guests when they set their eyes on them for the first time.  Totally worth the effort! 😉  They are traditionally made with Alchermes syrup.  Alchermes is an Italian liquor, red in colour, that is often used to make desserts.  If you cannot find any where you live, substitute it with rum and add some red food colouring to it to get the same "peach-look".  Hope you like them!!  Enjoy!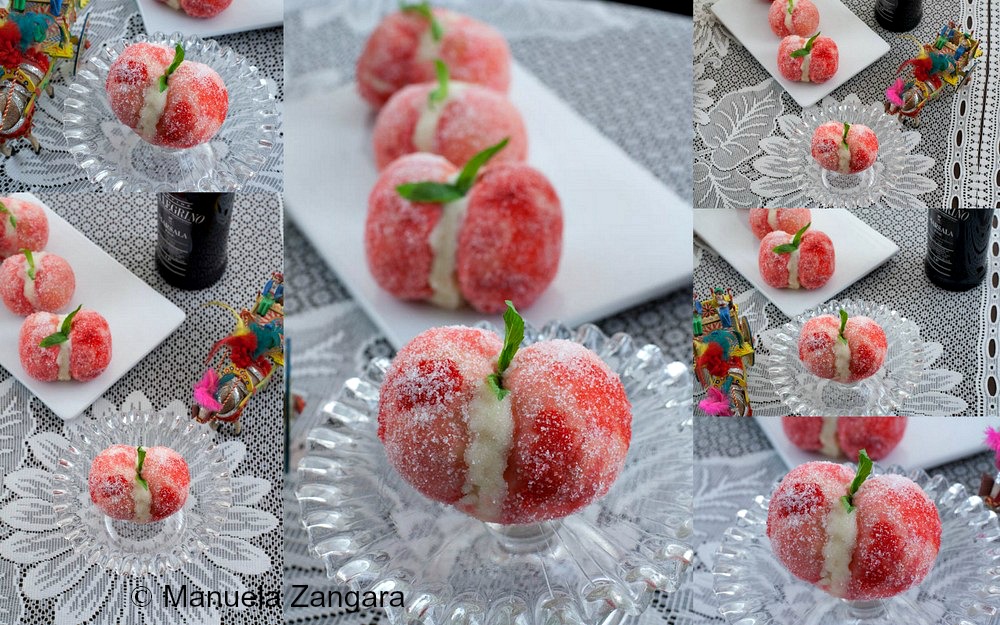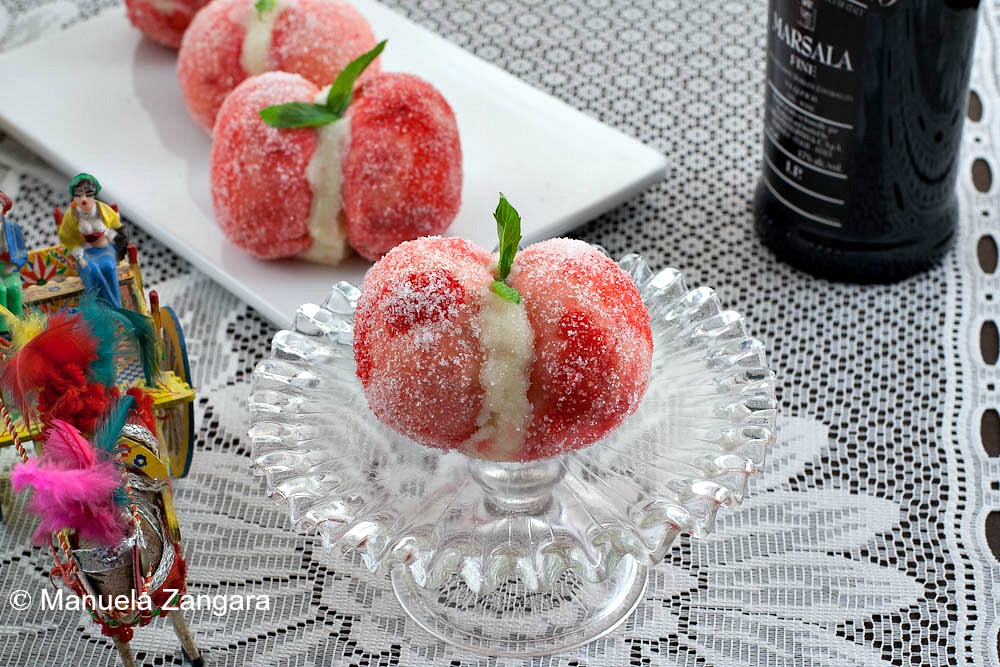 Pesche Dolci alla Siciliana
Pesche Dolci alla Siciliana - the recipe for delicious Sicilian pastries that look like peaches and are filled with sweet ricotta and chocolate!
Total Time
3
hours
15
minutes
Ingredients
Buns
250

– 0.5 lb. flour

125

ml

– ½ cup lukewarm water

25

gms

– 0.9 oz. lard

25

gms

– 0.9 oz. sugar

5

gms

– ¾ tsp salt

5

gms

– 2 tsp dry yeast
Filling
350

gms

– ¾ lbs. ricotta

210

gms

– o.45 oz. granulated sugar

35

gms

– 1.25 oz. dark chocolate chips

1/2

tsp

vanilla essence

optional

1

pinch

salt
Alchermes Syrup
40

gms

– 1.4 oz. water

35

gms

– 1.25 oz. sugar

40

gms

– 1.4 oz. Alchermes

Red food colouring

optional
Assembling
Granulated sugar

Mint leaves
Instructions
Recipe Notes
If you cannot find Alchermes, which is red, you can use Rum and add some red food colouring to it… it won't taste exactly the same, but it will still taste good and look great!

Related Posts: