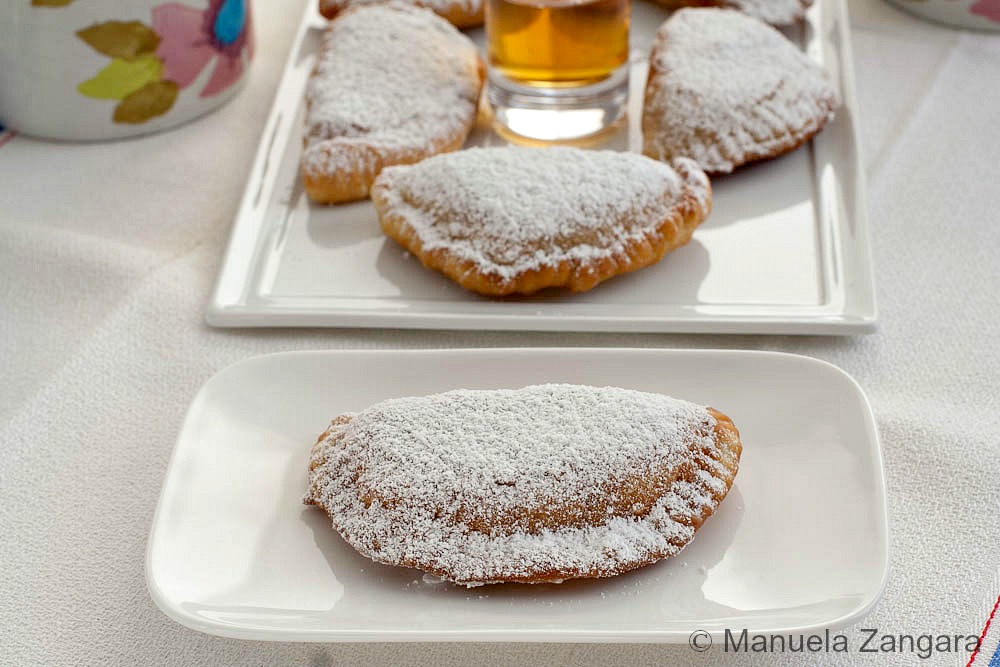 Today's recipe is another one of my Sicilian recipes.  Cassatelle (or cassateddi in Sicilian) are sweets typical of the town of Trapani, where my mum was born.  They are usually eaten in winter and spring, which is when the fresh local ricotta cheese is at its best.  They are traditionally made with sheep milk ricotta, but I have never seen this ricotta in Sydney, so I made mine with normal cow milk ricotta and they still tasted delicious.  It is a poor man's dish, which means it won't cost you much to make and it is made with local ingredients (Sicilian that is, but all easily available everywhere nowadays).  They are basically shallow fried crescents of dough filled with sweet ricotta and chocolate and dusted with icing sugar.  They are best eaten hot, when the chocolate melts and the ricotta is creamy and velvety.  They are out-of-this-world scrumptious, trust me!  This is my Regional Italian recipe for the week… enjoy!
CASSATELLE TRAPANESI – CASSATEDDI TRAPANISA
Ingredients
Dough
500 gms – 1.1 lbs. flour
100 gms – 3.5 oz. sugar
90 ml – 3.2 oz. extra virgin olive oil
180 ml – 6.4 oz. white wine
2 tbsp Marsala wine or dry Sherry
1 pinch salt
Water, enough to get a smooth and pliable dough
Ricotta Filling
500 gms – 1.1 lbs. ricotta
300 gms – 10.5 oz. sugar
50 gms – 1.75 oz. dark chocolate chips
½ tsp vanilla extract
¼ tsp cinnamon (optional)
To Assemble
Icing sugar
Vegetable oil for frying
Instructions
Dough
Put all the ingredients in the bowl of an electric mixer fitted with a hook attachment (or just knead it all by hands). Put the mixer on and slowly add enough water to obtain a smooth and pliable dough.
Make it into a ball, wrap it in cling wrap and let it rest for 1 hour.
Ricotta Filling
Put all the ingredients (apart from the chocolate chips) in the bowl af an electric mixer fitted with a whisk attachment and whisk for a couple of minutes, until the sugar dissolves.
Add the chocolate chips and mix.
To Assemble
Roll the dough into a 3 mm – 0.1 inch thick sheet and cut out discs of approximately 12 cm – 4.5 inches in diameter.
Put a heaped tablespoon of filling in the middle of each disc and rub a little water around the edges with your fingers.
Fold the disc in half and seal it well by crimping the edges closed with a fork.
Shallow fry the cassatelle in warm vegetable oil until golden brown on both sides.
When ready, put them on a plate covered with paper towels to drain the excess oil.
Dust with icing sugar and serve warm!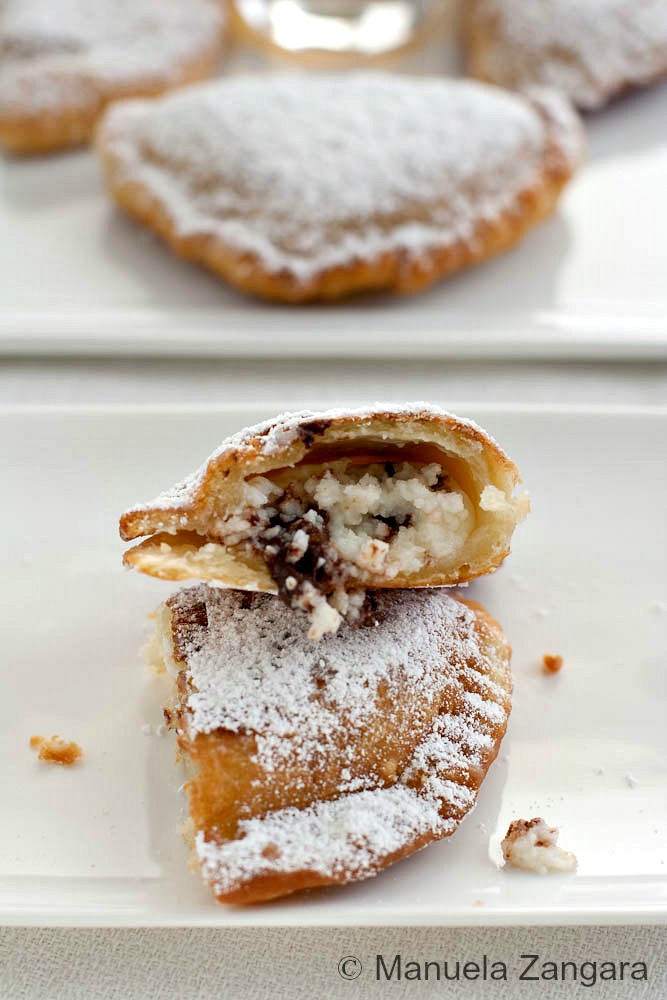 Pin It

Related Posts: