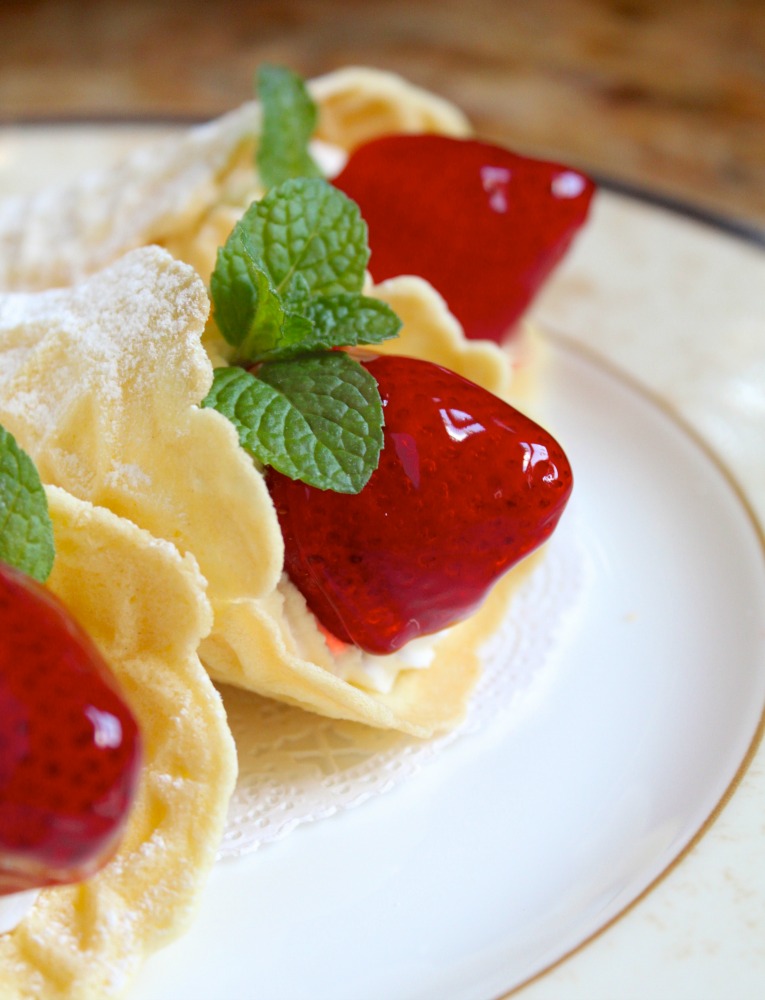 As you know, I am travelling at the moment, so I thought of asking some of my favourite food blogger friends to come over and share some of their amazing creations with all of you!  I told you I would leave you in great company, right?  Today's recipe is very dear to my heart as it is an authentic Italian recipe!  Actually, it is a Regional Italian recipe, which, as you know, are my all time favourites!  My friend Christina from Christina's Cucina has made a recipe from central Italy, typical of the regions of Abruzzo, Lazio and Molise. And I LOVE it!  Christina is one of the most supportive and talented of my blogger friends and I am delighted to have her here today!  She was born in Scotland in an Italian family and she now lives in Los Angeles… so, being "international" is something we have in common!  And we both believe in the importance of "defending" traditional Italian cuisine, so rest assured that any Italian recipe on her blog is 100% traditional Italian food!  Please stop by Christina's Cucina and enjoy her beautiful photos and delicious recipes!  I will leave you in her hands with the scrumptious dessert she made for us!  Thanks Christina!
I am both honored and elated to have Manu ask me to guest post on her site! I have always been in awe of her talent from the first time I clicked onto Manu's Menu, years ago.
Like Manu, I too am Italian, although I was born in Scotland, so I wondered whether I should attempt an Italian recipe or go for something more British. I finally decided on Pizzelle, which in Lazio, Italy are known as Ferratelle: thin, crisp cracker-like sweets wafers, made in a press. My cousin Gianfranco, who lives in Italy, told me that some families have their own designs in the irons which make their Ferratelle. Italians enjoy them at holidays and weddings, but I think they are perfect to shape into other forms such as bowls and cones for a lovely dessert, anytime.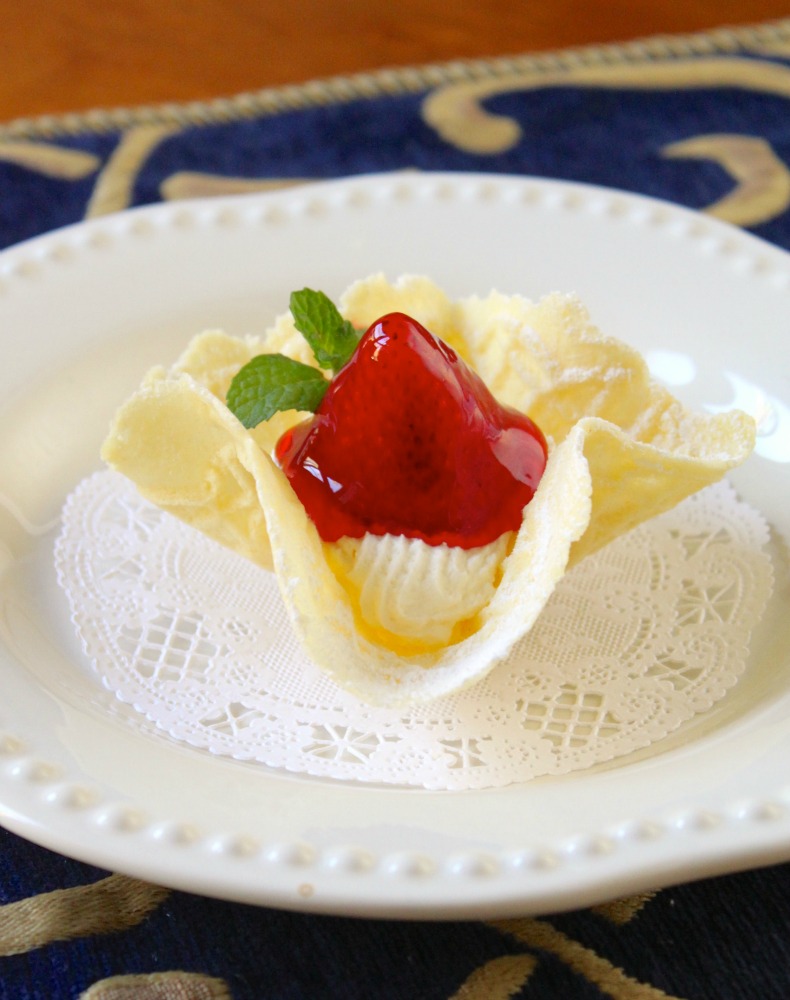 You do need a pizzelle maker in order to make these beauties, but they are readily available in the US/Canada on Amazon: Palmer Pizzelle Maker Classic
(For my Australian readers, try and look for it in the "Italian areas" of your city – like Leichhardt in Sydney and Lygon St. in Melbourne).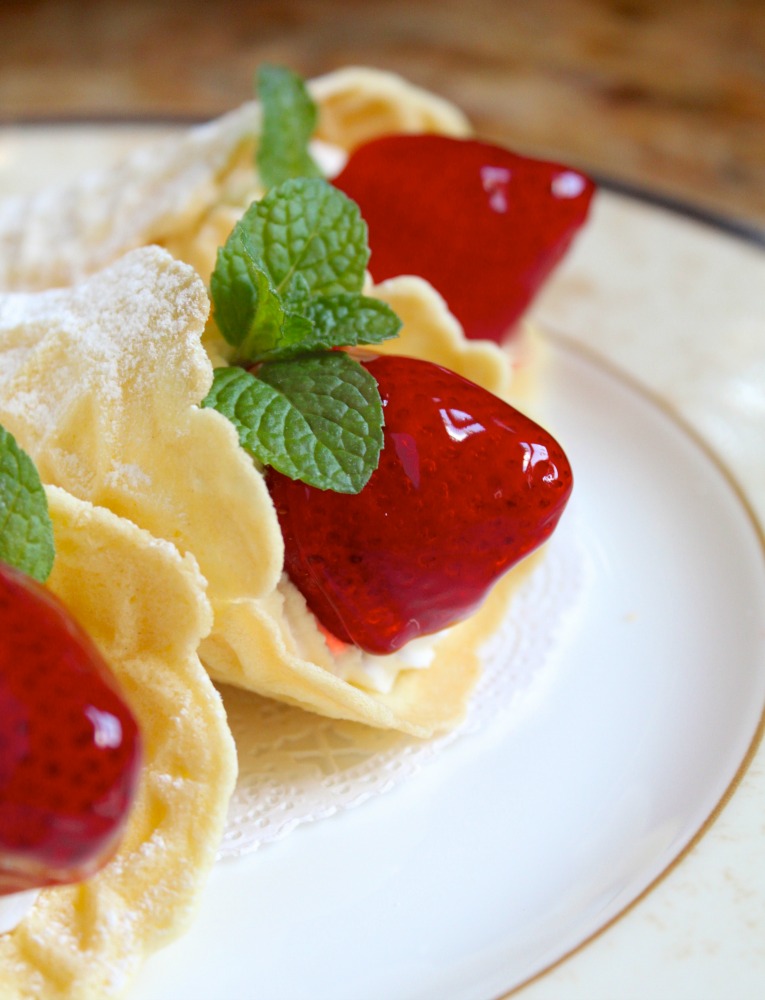 Pizzelle (aka Ferratelle): Cookies, Cups, Cones and More with Strawberries and Cream
Pizzelle (aka Ferratelle): Cookies, Cups, Cones and More with Strawberries and Cream
Ingredients
Pizzelle
3

eggs

150

g

2/3 c sugar

1

tbsp

vanilla

or any other flavored extract

4

oz

1/2 c good quality butter

225

g

1 3/4 c flour

1

tsp

baking powder
To serve
freshly whipped cream or ice cream

strawberries

or your favorite fruit(s)

glaze and sprigs of mint

optional
Instructions
Beat eggs and sugar together.


Heat the pizzelle maker according to the directions. When ready, scoop some of the dough onto the center of each pattern (I used an OXO 1.5 tbsp ice cream/cookie dough scoop so that each one would be the same size), and cook as directed, about 1 1/2 to 2 minutes usually. The pizzelle should be pale, with a slight golden tinge to them.

If you want traditional pizzelle, just place them on a cooling rack, they will be crisp and ready to eat in a minute or two.

You can trim them if you would like perfectly formed pizzelle, (I usually don't) and/or sprinkle them with a little powdered sugar if you like (I usually do).
Now let's get to the fun part: shaping the pizzelle. Doing this is quite easy, but the key is working quickly; if you don't get the desired shape within the first few seconds, there's no "fix" and you'll just have to use another pizzella.For a bowl, use a shot glass. Just remove the pizzella from the iron and quickly place it on top of an upside down shot glass and hold it for a few seconds. You'll feel the wafer getting hard, then remove it and place on a cooling rack. Then you can fill it with whatever you choose; I love freshly whipped cream and strawberries!
Turn the shot glass right side up, and you can shape a cone! Very simple!
You can also roll a pizzella into a cigar shape and hold until firm, then fill with cream or whatever filling you choose (you could even dip the ends into chocolate for a more fancy presentation).
Truly, the possibilities are endless, and they keep fresh and crisp for several days if stored in a biscuit tin! I hope you give pizzelle a try; they are such a wonderful treat!

Related Posts: