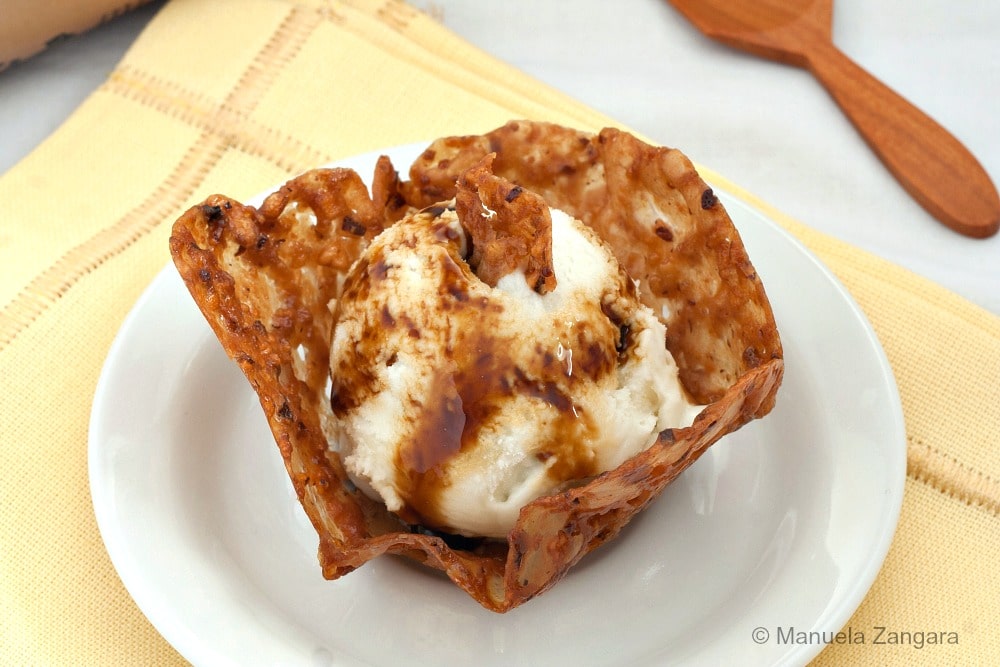 Today I am teaming up with Jomei's Fine Foods for a very special recipe I developed to showcase their newest product: their Organic Sweet Balsamic Reduction.  The moment I tasted it, I knew I wanted to make something sweet with it, but I wanted to go beyond the usual pairing of balsamic vinegar and strawberries. You see, in Italy we do use balsamic a lot, especially in salad or vegetable dressings, but we also often pair it with fruits and cheese. That's how this Pear Gorgonzola Gelato in Hazelnut Balsamic Tuiles recipe came about. I started to build it up from a traditional flavour combination – cheese, fruits and balsamic – and added a modern spin to it. I love to experiment with new ice cream flavours and turning cheese into ice cream is a fantastic idea. It kind of combines dessert and the cheese platter at the end of a meal! And it solves my eternal indecision between the two options whenever I eat at a restaurant!  This gelato is sweet and pungent at the same time. It is also very creamy and it goes really well with the balsamic crunchy tuiles. Jomei's Organic Sweet Balsamic Reduction accentuates their nutty hazelnut flavour. The whole combination is to die for!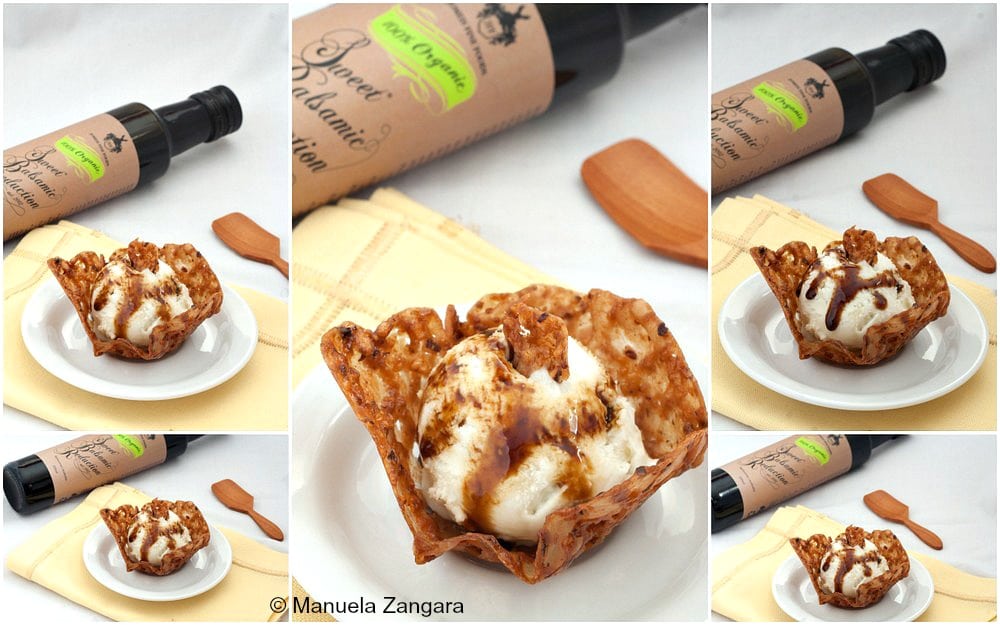 Jomei's Organic Sweet Balsamic Reduction is made in Australia from Organic Balsamic Vinegar sourced from Modena, in Italy – the place where Balsamic Vinegar comes from. That's already a guarantee that the final product will taste amazing. But that's not all, the Organic Balsamic Vinegar, that has been barrel-aged for 5 years, is then blended with Organic Coconut Sugar and gently reduced to create this artisanal Organic Sweet Balsamic Reduction! Yes, it tastes as good as it sounds! It is glossy and thick, sticky and just as sweet as it should be, making it perfect for both savoury and sweet dishes.
What I really like about this product though (apart from its delicious flavour, obviously) is the fact that it is low GI, gluten and dairy free, vegan, Halal certified and GMO free!  It contains Iron, Zinc, Calcium and Potassium, along with antioxidants that may also provide some health benefits.
In fact, Jomei's Fine Foods is all about food's ability to nurture and heal and I love this approach! They also sell other delicious products and you can find the entire list here.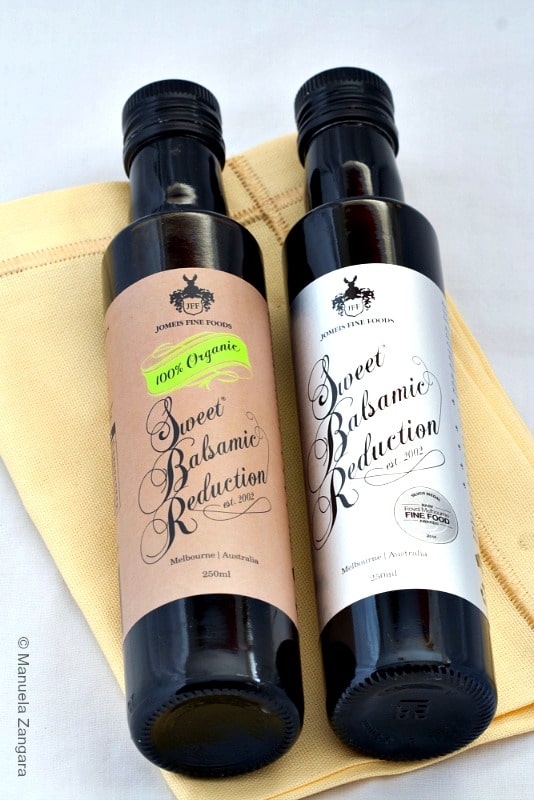 To find out where to buy Jomei's Fine Foods Organic Sweet Balsamic Reduction head over to their website. You can even place your order online and once you have your own precious bottle of nectar, try out this fantastic recipe!  Enjoy!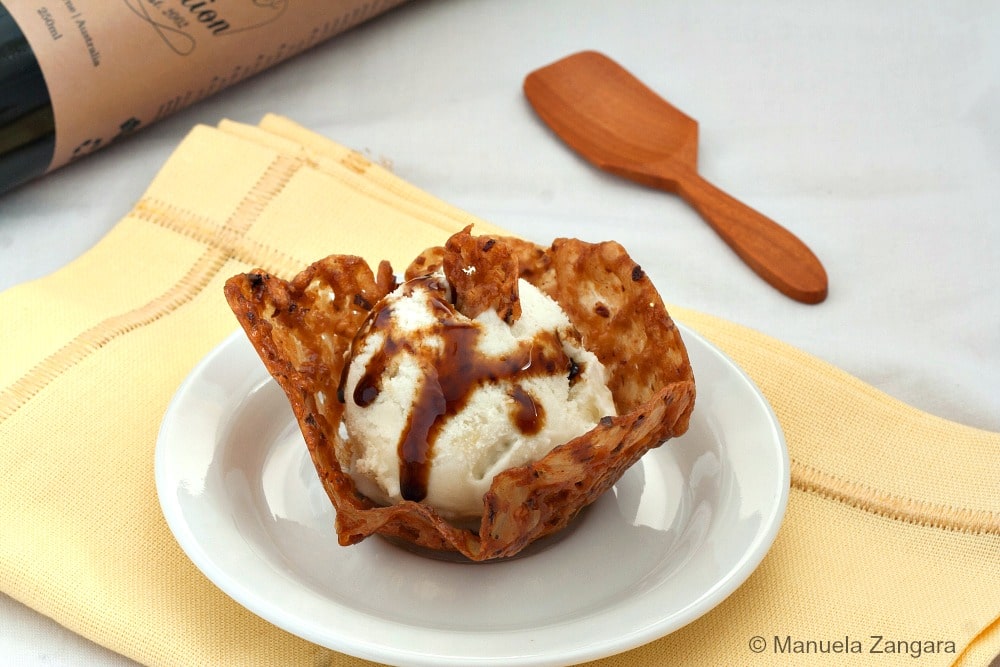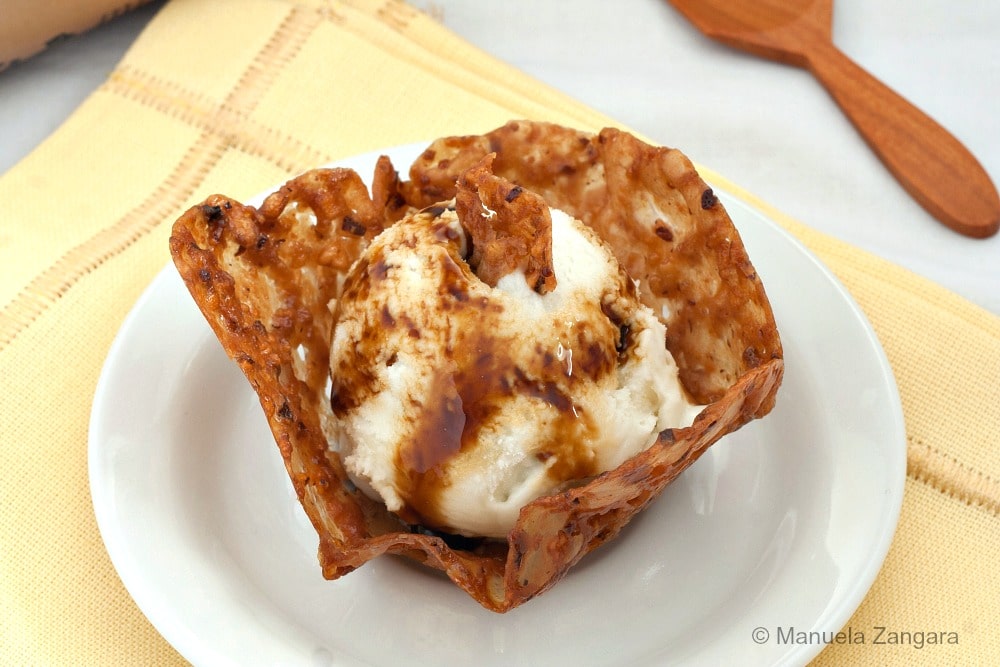 Pear Gorgonzola Gelato in Hazelnut Balsamic Tuiles
Pear Gorgonzola Gelato in Hazelnut Balsamic Tuiles - the perfect end of meal dish that combines dessert and your favourite cheese platter!
Total Time
1
day
1
hour
15
minutes
Ingredients
Pear Gorgonzola Gelato
250

gms

– 9 oz. pear

peeled, cored and roughly chopped

125

gms

– 2/3 cup granulated sugar

120

gms

– 4 oz. sweet/mild gorgonzola cheese

roughly chopped

150

ml

– 2/3 cup milk

2

tbsp

lemon juice

1

tbsp

Vodka

optional
Hazelnut Balsamic Tuiles
70

gms

– ½ cup icing sugar

25

gms

– 1 oz. hazelnuts

finely crushed (but not hazelnut meal)

15

ml

– 1 tbsp water

10

ml

– 2/3 tbsp Jomei's Sweet Organic Balsamic Reduction

20

gms

– 1 ½ tbsp butter

melted

20

gms

– 3 tbsp flour
Instructions
Pear Gorgonzola Gelato
Put the chopped pear, granulated sugar and lemon juice in a saucepan and cook on a medium flame until the sugar melts and the pear is soft. Remove 1/3 of the pear and keep aside.

Add the chopped gorgonzola cheese and let it melt.

Remove from the fire and let it cool down slightly, then blend in a mixer until smooth.

Add the Vodka, if using any, then churn the mixture in your ice cream maker for 20 to 30 minutes or according to the manufacturer's instructions.

When ready, add the remaining pears, mix and transfer to a container. Cover it and put it in the freezer overnight.

If you do not have an ice cream maker, you can pour the mixture in a container, put some cling wrap on the top (it has to actually be in contact with the ice cream) to seal it completely and then cover it with a lid. This should prevent crystallization. Then put it in the freezer overnight.
Hazelnut Balsamic Tuiles
In a bowl, mix together the icing sugar, hazelnuts and flour.

Add the melted butter, water and Jomei's Sweet Organic Balsamic Reduction. Mix well with a fork.

Let the mixture rest for 10 minutes, then drop about 1 teaspoon of batter onto a baking tray lined with baking paper. Using a wet fork press thinly into a round shape. It is very important to spread the batter very thin. Make sure to leave a lot of space between the tuiles and make a couple at a time as they spread a lot and have to be shaped immediately upon removing from the oven (while still warm).

Bake in a pre-heated oven at 180C - 355F until golden brown (about 7 minutes). Rotate the tray front to back halfway through the baking period.

Remove from the oven and let the tuiles cool for about 30 seconds to one minute, until they can be lifted without tearing, but are still flexible. Place each cookie on top of an upside-down small cup and gently press to get the curved shape. Quickly do the other tuiles. If the tuiles become too rigid to shape, return them briefly to the oven to soften.

Repeat with the remaining batter.
Assembling
Serve the Pear Gorgonzola Gelato in the Hazelnut Balsamic Tuiles cups and drizzle with some more Jomei's Sweet Organic Balsamic Reduction.
Recipe Notes
I used Vodka in this recipe because it helps to avoid crystallization and it doesn't add any "extra taste" to the ice cream. You can also make this gelato without any alcohol.
Make sure to use finely crushed hazelnuts, but NOT hazelnut meal which is too fine. You want to have some texture in your tuiles.
The tuiles are best served the same day. They tend to lose their crunch after a day.
This is a sponsored post, but the opinions in this post are my own.

Related Posts: