Todd, who is The Daring Kitchen's AWESOME webmaster and an amazing cook, is our September Daring Cooks' host! Todd challenged us to make light and fluffy potato Gnocchi and encouraged us to flavor the lil pillows of goodness and go wild with a sauce to top them with!
YESSSSS!  I love gnocchi of all sorts, so I was very happy about this month's challenge!  I must admit my love for gnocchi is a recent one.  I would never eat gnocchi while growing up.  They are a common dish in Italy, so much so that they serve them in school canteens as well.  Now, one thing is making gnocchi (at home) for a few people… they are usually pillowy and soft and delicious right?  Well, try and make ready-made/store-bought gnocchi for 100 children.  By the time they got on my plate they would be chewy and rubbery and… well, inedible for me.  So I never ever wanted to try gnocchi again.  That was up until I moved to Australia and I had home-made gnocchi at a friend's house (she is Italian too).  She had no idea of my dislike for gnocchi and I did not want to be rude… so I had a few and OH MY!!  I went for seconds.  They were that good.  That's how I started to like gnocchi and I have been making different kinds in the last few years.  I have a tutorial on the site on how to make them, so make sure you check it out.  It is much easier than you think.  I will also share a little secret with you: gnocchi (both potato and ricotta gnocchi) freeze amazingly well.  So I often make extra and freeze them on a tray.  Once hard, I simply transfer them in a Ziploc bag.  When you feel like eating gnocchi, all you have to do is cook them from frozen and throw them straight into salty boiling water.  That's it.  Nobody will ever know you did not spend your morning in the kitchen! 😉
That said, as I have made potato gnocchi many times, I wanted to try something different for the challenge.  So, I decided to add saffron to them, to get a nice yellow colour (and some flavour too of course!).  Choosing the sauce was easy… I knew it had to be sausage and as I had some frozen porcini mushrooms in the freezer, I went for a classic pairing.  Delicious!  Saffron goes very well with both mushrooms and sausage.  My husband said they were the best gnocchi I have ever made… so you get the point.  Hope you like them too!
Todd, thank you so much for such a yummy challenge!!!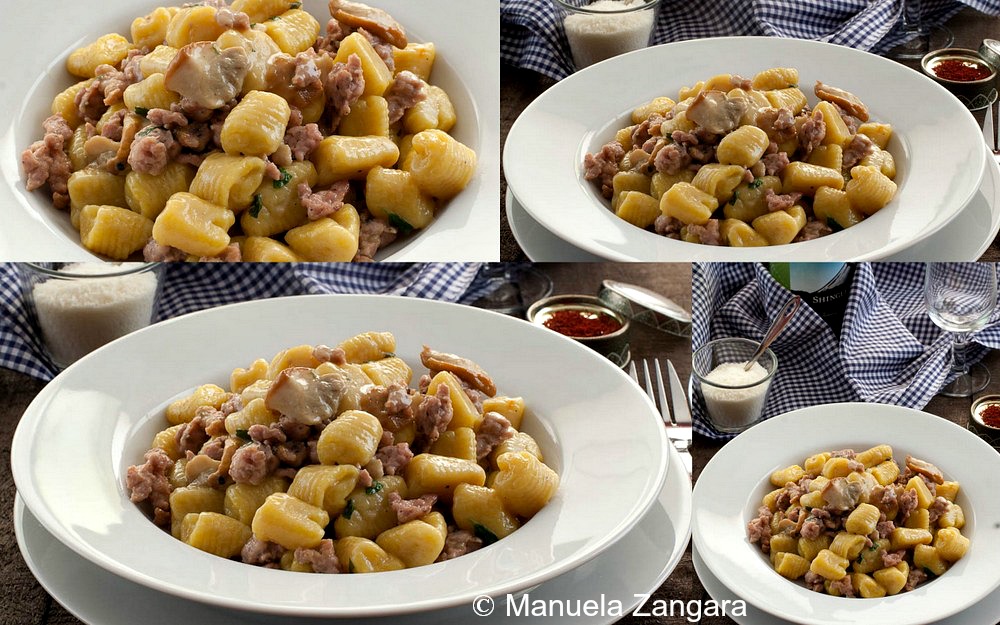 Saffron Potato Gnocchi with Sausage and Porcini
How to make Saffron Potato Gnocchi with Sausage and Porcini from scratch.
Total Time
1
hour
20
minutes
Ingredients
300

gms

– 10 oz. sausage

200

gms

– 7 oz. porcini

sliced

1

garlic clove

halved

2

tbsp

extra virgin olive oil

60

ml

– ¼ cup white wine

1

tbsp

parsley

chopped

Salt to taste

Parmigiano Reggiano

finely grated – to serve
Instructions
Make the Saffron Potato Gnocchi as per my

tutorial

.

Put the garlic and extra virgin olive oil in a pan and sauté it for a minute.

Remove the casing from the sausage, break it into pieces and put it in the pan with the garlic and oil. Brown it well breaking down the meat.

Add the sliced porcini mushrooms and mix.

Add the white wine and increase the flame to high. As soon as the alcohol evaporates, decrease the flame and let it cook for 5 to 10 minutes.

Cook the gnocchi as per the instructions that you find

here

.

When cooked, mix them well with the warm sauce in the pan and serve immediately with some grated Parmigiano Reggiano on the top.

Related Posts: