Today I want to share with you the recipe for one of my favourite Indian/Pakistani dishes: seekh kebab.  Whenever we eat out, we never fail to order some as an appetiser.  They are made of minced lamb with spices and are cooked on skewers, traditionally in a tandoor oven.  They are usually served with hari chutney (either plain or mixed with yogurt) and they are delicious with naan!  And that is exactly how I served them: with hari chutney, garlic naan, onion slices, tomatoes and lemon wedges!  And there you have it, a complete and delicious Indian meal!  If you like them spicier, you can increase the dose of chilly powder, I usually keep it on the lower side for the little ones.  I hope you enjoy these kebabs as much as we do!
Ingredients (for 4 people):
500 gms – 1.1 lbs. lamb, minced
¾ tsp garam masala
1 tsp garlic paste
1 tsp ginger paste
½ big onion, grated
1 ½ tsp carom seeds
1 ½ tsp amchoor (mango) powder
2 tsp cumin seeds
1 pinch nutmeg
¼ tsp chilli powder
1 egg
1 ½ tbsp gram flour (besan)
1 tbsp coriander leaves, chopped
Salt and pepper
NOTE: you can add some red food colouring, if you want them to look like the restaurant ones, but it really does not add any flavour… just colour, so it is totally up to you.
Mix all the ingredients together until well combined and set aside until ready to cook the kebabs.
Take a handful of mixture and put it on a skewer, pressing it well with your hand and shaping it like in the picture.  Repeat this until the meat mix is over.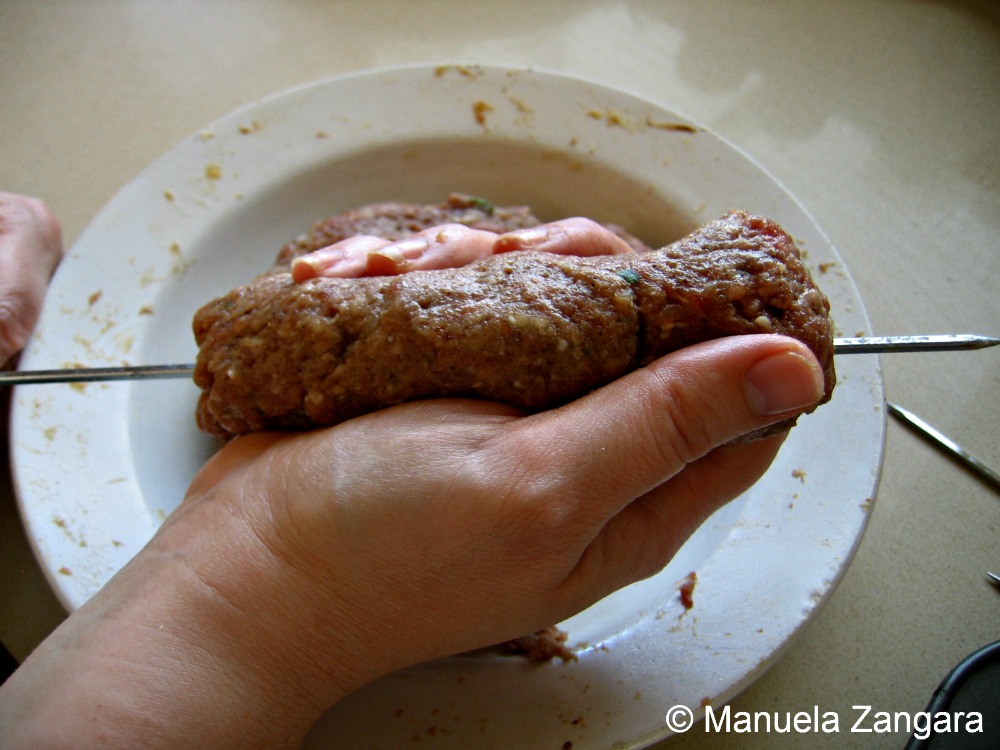 Bake them in a pre-heated oven at 180°C – 355°F until cooked through and then grill for 5 more minutes on each side.
Serve hot with some hari chutney (plain or mixed with yougurt), lemon wedges, sliced onions and tomatoes and garlic naan.

Related Posts: