This is another traditional Sicilian dish.  This time we are talking about Palermo.  For people who like food, Palermo is paradise.  People really enjoy their food and there are so many great dishes, that it is very hard to choose what to eat!  My dad is from this wonderful city and I have been lucky enough to discover this fantastic world since I was a child.  Sfincione is the typical pizza from Palermo.  It is thicker than regular pizza and it is a really tasty kind of street food, often sold at small stalls or by street vendors with little carts.  I used to eat it whenever we were in town, often at one of the beautiful local markets (like Capo, Vucciria or Ballaro') while buying fresh fish, fruits and veggies.  This is my version… I hope you like it. 
Ingredients for 4-5 persons:
Pizza dough for 4 persons as per the instructions on How to make pizza dough
For the topping:
800 ml tinned diced tomatoes
2 tbsp extra virgin olive oil
2 big onions, sliced thin
Water
Salt to taste
50 gms thinly grated Pecorino Romano (plus some Pecorino slivers – optional)
30 gms breadcrumbs
1 tbsp oregano
Extra Virgin Olive Oil
Make the pizza dough as per the recipe and instructions in How to make pizza dough.
While the dough rests, prepare the topping.
Slice the onions and put them in a frying pan.  Cover them with water and cook them on a medium fire till soft.
Then add the extra virgin olive oil and fry them till golden.
Now add the diced tomatoes and a pinch of salt.  Let the sauce cook on a low fire for 20 minutes.
Mix together the grated Pecorino Romano, breadcrumbs and oregano and keep aside.
When the pizza dough is ready, put it in an oven dish and flatten it with your hands until you get a sheet approximately 1.5 cm thick.
Add the tomato sauce onto the dough.
Sprinkle the cheese and breadcrumbs mix on the top and add the slivers of Pecorino Romano (optional).
Pour a little extra virgin olive oil on the top and let it rest for 1 hour, so it rises a little more.
Then bake in a preheated fan forced oven at 180°C for 45 minutes to 1 hour or until cooked through.
When ready, pour a little more extra virgin olive oil on the top and let it cool for a few minutes (the tomato sauce will be HOT, so be careful).  Cut and serve.
NOTE: Sfincione is just as good the day after.
On another note… in the last couple of days, I have been honoured with 2 awards.
I would like to thank Tony from Pasta & Other Things for giving Manu's Menu "The Italian-American Award For Blog Excellence".  I love this award as it is given to blog authors that keep (and spread) Italian traditions.  As Tony says: "This award is not only for Italian-Americans but Italian themed blogs all over the world that help to keep our traditions going as a written history for our next generations".  Thanks Tony, I am very honoured to be one of the recipients of such a special award!!!
And my Zucchini flowers recipe was also featured on Full Plate Thursday by Miz Helen's Country Cottage on March 17th 2011.  Thanks Miz Helen, I am so happy and honoured to be able to display the Red Plate on my blog!
I am very happy to say that the picture of my Panna Cotta Tricolore has been published both by TasteSpotting and Foodgawker!  Hurray!!!
A small reminder… if you like Manu's Menu and haven't done it yet, remember you can vote for it (and other great food blogs) at the Babble's top 100 food mom blogs for 2011.
In closing, I would like to remind everyone that Manu's Menu will take part to the Online Bake Sale for Japan organised by Sabrina at The Tomato Tart that will take place on March 30th.  For your chance to bid for my (and other bloggers') delicious goodies and help raise money for Japan, please participate and spread the word!  If you would like to be among the donors, please contact Sabrina directly at [email protected]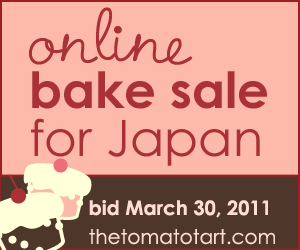 Related Posts: