So here you have it.  My first sushi roll ever.  I decided to go the easy way and make a tuna salad roll as a first attempt and boy was it good!  It is really easy and fast to make and it tastes delicious.  You can make it as spicy (or as mild) as you like by adjusting the amount of wasabi to suit your taste buds   I was a bit worried about rolling it, but it was much easier than I expected.  I suggest you cover your sushi mat with cling wrap, so it does not get dirty.  I love the contrasting flavours and textures of this roll: spicy and soft tuna salad, tangy rice and crunchy refreshing cucumber!  Perfection!  As I said, this was my first experiment with sushi and as it was a big success, you can definitely expect more sushi recipes on Manu's Menu in the future, as I get more "daring" with it!  For now, enjoy these Spicy Tuna Salad Rolls!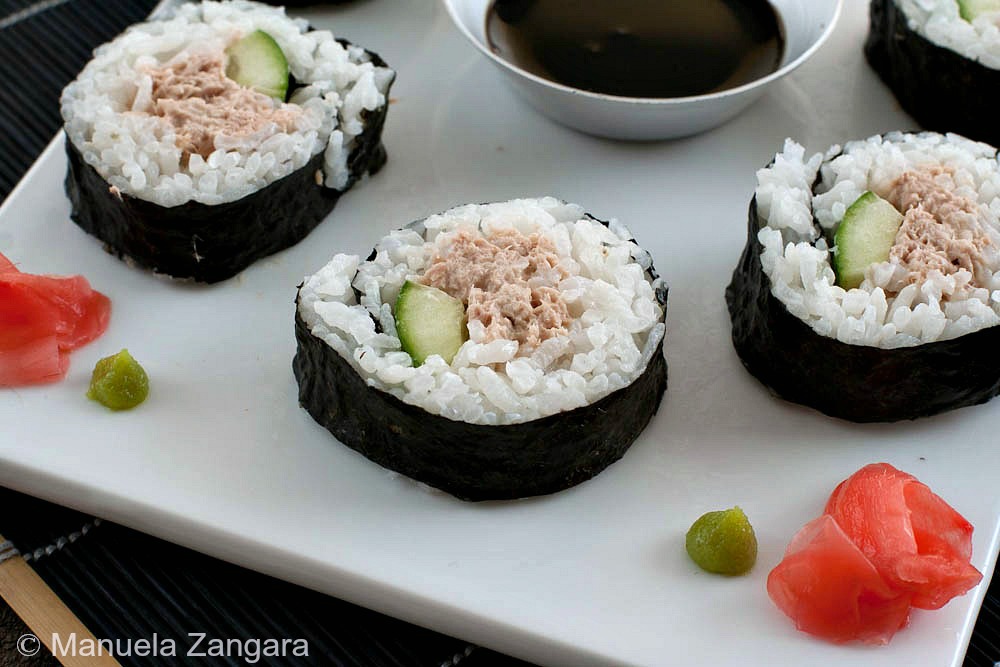 Spicy Tuna Salad Sushi Roll
How to make Spicy Tuna Salad Sushi Roll at home
Ingredients
Tuna Filling
185

gms

– 6.5 oz. tinned tuna

drained

1 ½

tbsp

mayonnaise

1 to 1 ½

tsp

wasabi paste

adjust to taste
Instructions
To roll the sushi, cover a bamboo sushi rolling mat with plastic wrap. Lay a sheet of nori, rough side up, on the plastic wrap. With wet fingers, firmly pat a thick, even layer of

seasoned sushi rice

on top of the nori and cover it completely.

Place 2 slices of cucumber in a line along the bottom edge of the sheet, then spread a line of tuna mixture alongside the cucumber.

Pick up the edge of the bamboo rolling sheet and fold the bottom edge of the sheet up to enclose the filling. Tightly roll the sushi into a thick cylinder.

Once the sushi is rolled, gently squeeze to compact it tightly.

Cut the rolls with a very sharp knife into 5 or 6 pieces each and serve them with soy sauce, pickled ginger and wasabi on the side.
Recipe Notes
To ensure your rolls are neatly cut, use a very sharp knife and slightly wet the blade before each cut.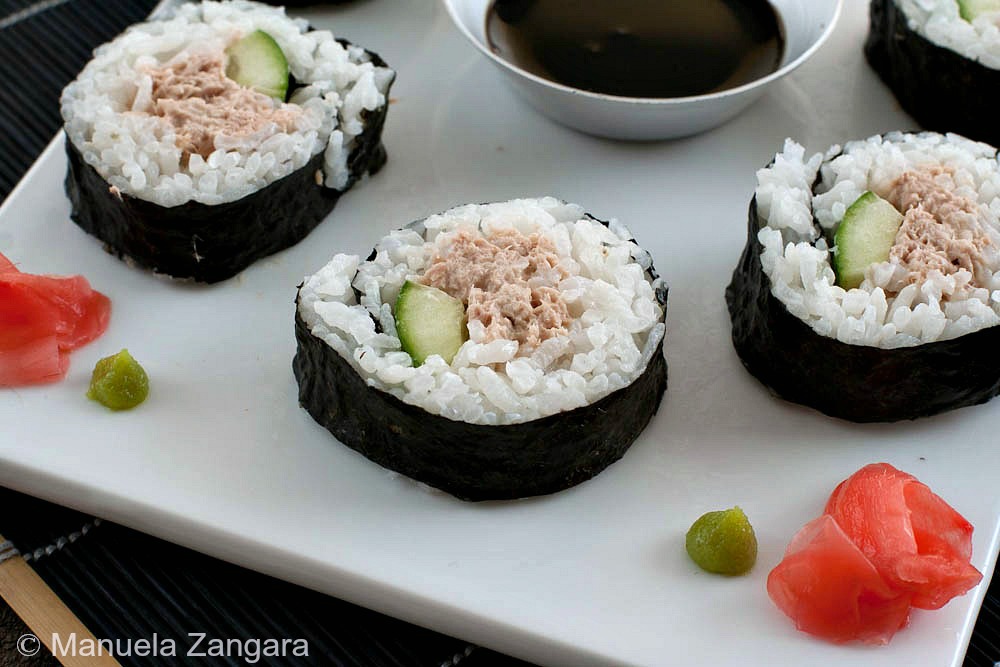 Related Posts: