It is time again for the "Secret recipe club" reveal!  I am sure you all know what the club is about, but for the few of you who still don't know about it, here goes a brief explanation.  It is a great concept… each month you are assigned a participating food blogger to make a recipe from and in turn someone else will be assigned your blog.  All you have to do is choose a recipe, make it and blog about it on the specified date.  The only rule is to keep it a secret!  If you are interested in learning more, or want to join the club, please visit the Secret recipe club website.
The blog I got assigned this month was Denise's From Brazil to You.  I was so excited when I opened her blog and read a little bit about her life.  Denise was born and raised in Pernambuco, Brazil and now lives in Texas, USA.  Like me, she shares the love for her country through her cooking and she blogs about it.  Like me, she has 2 beautiful daughters.  I can so relate to her.  Unlike me though, she is a trained chef as she attended the California Culinary Academy, graduating in Culinary Arts – Le Cordon Bleu program and she teaches others how to cook.  How cool is that?  In fact, her recipes are all so good that it was really hard to choose only one… I only knew that I wanted to try something from Brazil, a country that has always fascinated me.  I went through her archive a few times and after bookmarking at least 10 recipes (!), I settled for this amazing looking Bolo de banana, aka Spiced Banana Upside Down Cake.  Why?  Well, it is getting cooler down here and in this weather I am always looking at new cake ideas to have with a hot cup of tea… and, have you seen those caramelised bananas as a topping??  I really liked the spices added to it, as they give the cake a little extra kick.  I also loved the fact that the base of the cake remained fluffy and moist… it was a real treat!  Thank you so much for this delicious recipe Denise!  Please, make sure you drop by Denise at From Brazil to You and check out her beautiful site!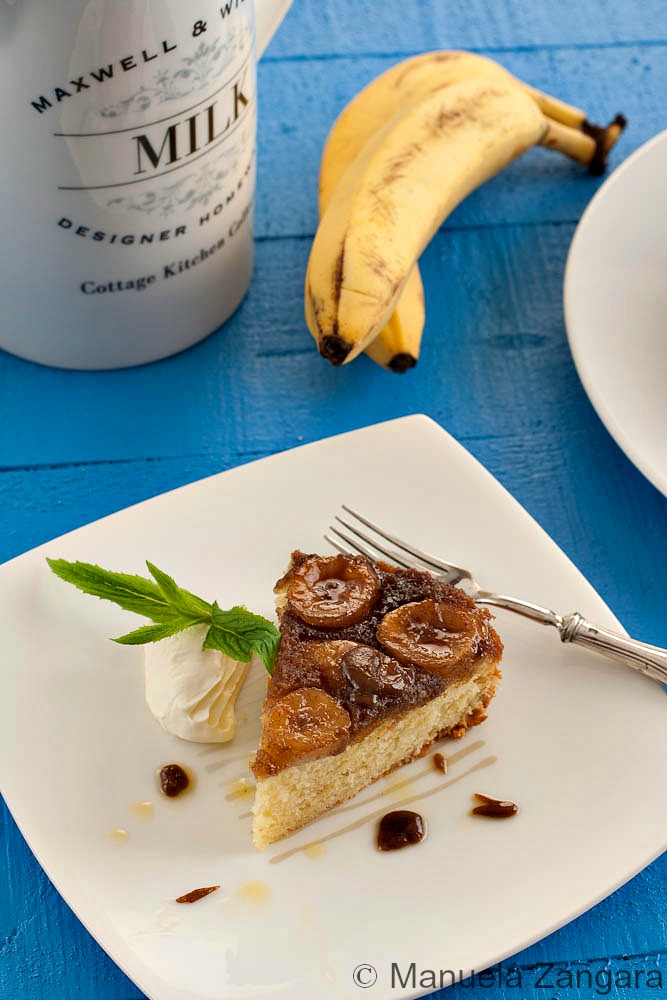 Spiced Banana Upside Down Cake – Bolo de Banana
Bolo de Banana - aka Spiced Banana Upside Down Cake, with a Brazilian twist.
Total Time
1
hour
20
minutes
Servings
1
x 23cm – 9 inch round cake pan with 7.5 cm – 3 inch sides
Ingredients
Cake Batter
195

gms

– 1 ½ cups flour

sifted

2

tsp

baking powder

sifted

¼

tsp

salt

113

gms

– ½ cup unsalted butter

at room temperature

200

gms

– 1 cup granulated sugar

1

tbsp

vanilla extract

2

large eggs at room temperature

separated

120

ml

– ½ cup whole milk

¼

tsp

cream of tartar
Topping
55

gms

– 4 tbsp unsalted butter

cut in small pieces

160

gms

– ¾ cup dark brown sugar

½

tsp

cinnamon powder

1/8

tsp

ground nutmeg

A dash of ground cloves pinch

¼

tsp

vanilla extract

2

large ripe but firm bananas

peeled, strings removed, sliced diagonally – 0.6 cm or 1/4 inch thick
Instructions
Cake Batter
Grease a 23 cm (9 inch) round cake pan with 7.5 cm (3 inch) sides with butter or a non-stick cooking spray.

In a large bowl, sift together the flour, baking powder and salt.

With an electric mixer, beat the butter and sugar until light and fluffy (make sure to scrape down the sides of the bowl).

Add the vanilla extract and mix well.

Then, beat in the egg yolks, one at a time, mixing well after each addition and scraping down the sides of the bowl.

Add the flour mixture, alternating with the milk.

In a separate clean and dry bowl, whisk the egg whites at low speed until frothy. Add the cream of tartar. Then, beat at medium speed, increasing the speed gradually to high until the whites form a firm peak.
Topping
Slice the bananas and keep them aside.

Put the butter, brown sugar and spices in a small pot and stir over medium heat until the butter melts and the sugar has dissolved.

Without stirring, continue cooking for a few more minutes or until bubbles just start to form around the outside edges of the mixture

Pour the caramel into the greased cake pan and evenly arrange the sliced bananas on top of it.

Bake the cake in a pre heated oven at 180º C – 350º F for 45-50 minutes or until a toothpick inserted into the centre of the cake comes out clean.

Remove the cake from the oven and place it on a wire rack to cool for about 10 minutes.

Run a metallic icing spatula or a sharp knife around the edge of the pan. Invert the cake onto a serving plate and serve it warm by itself or with vanilla ice cream or a dollop of cream on the top.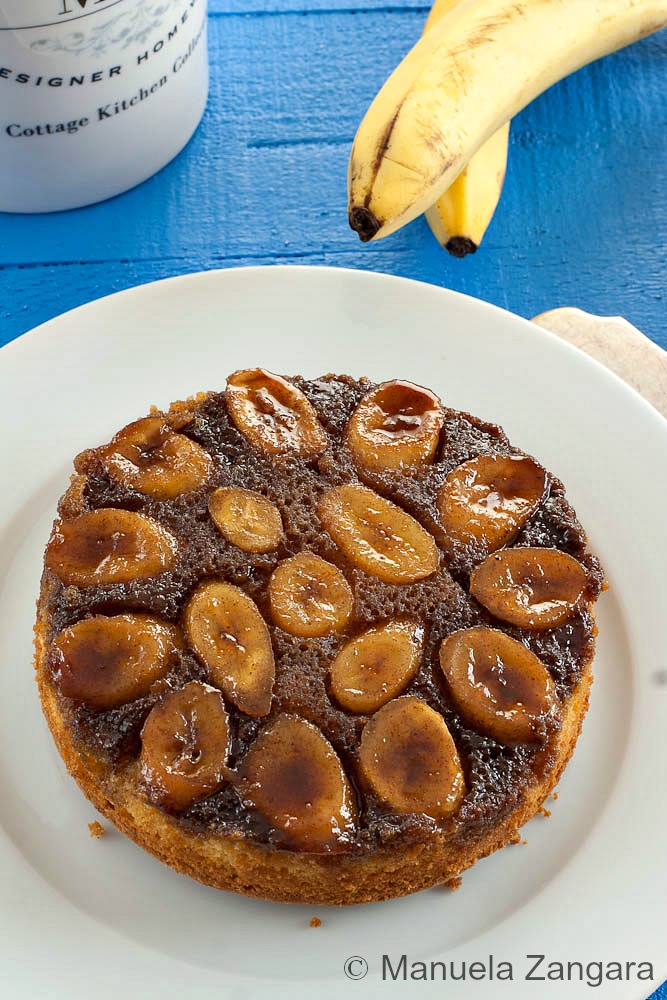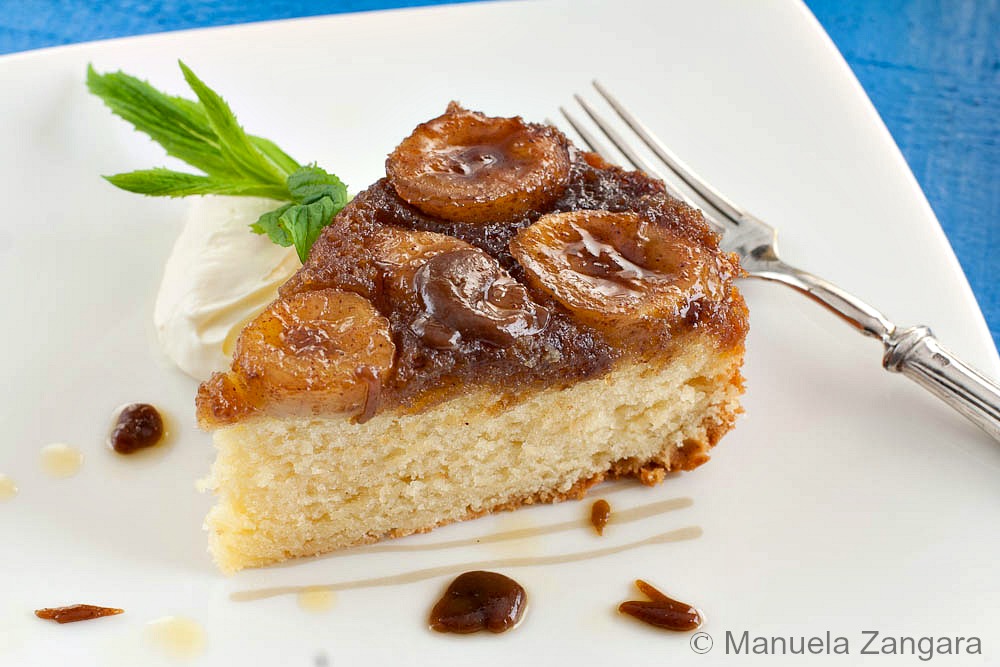 Related Posts: