Who doesn't love cheesecakes??  I do!  I must say that I discovered them quite late in my teenage years as they are not an Italian "thing" (though now they are quite popular in Italy too).  I was in New York for 3 weeks as an exchange student when I was 17 and one of the (many) things we experienced was to see a show on Broadway.  Just before the show started, my friends and I went for a quick dinner/snack in a little deli near the theatre.  That's where I had my first slice of cheesecake… YUM!  Many years have passed and I have tasted many different kinds, though my preference is always for the "non baked" ones (apart from my Mini Cheesecake Cupcakes, which I LOVE!).  The only thing is… I find Cheesecakes a bit "heavy".  Well, the truth is, I like them so much, that I find it hard to have a "small" portion, if you know what I mean!  These cheesecakes in a (shot) glass are the answer!  They are the perfect size and really fulfilling.  They are also perfect to take to parties (I did!) and make it easy/not messy at all to eat even while standing!  I like everything served in a glass or in small portions, especially for parties and buffets!  I made these in 2 flavours: strawberry and lemon and I loved them both and even more together! 😉  I hope you enjoy them as much as we did!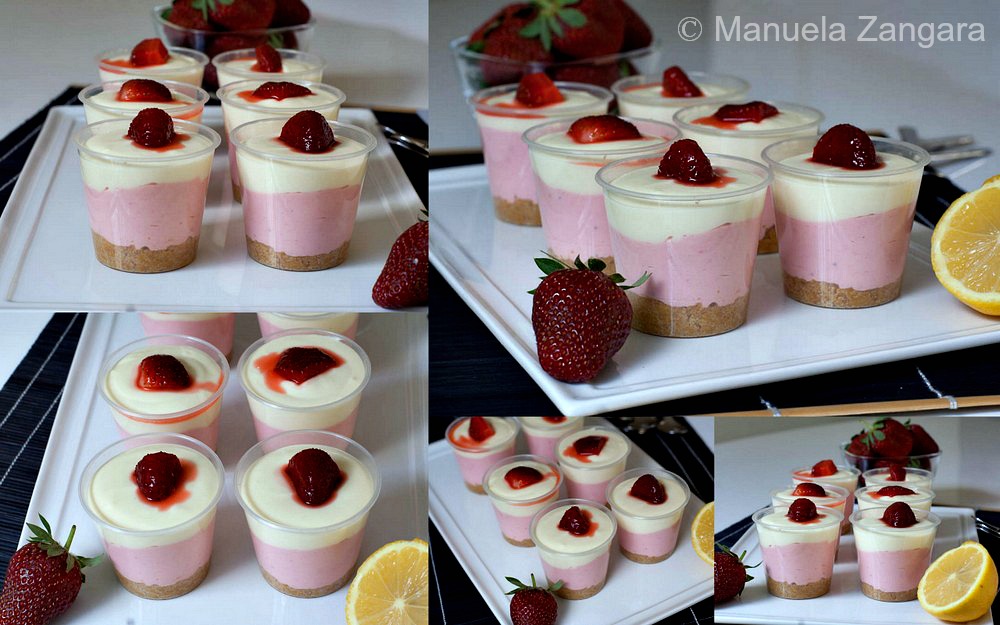 Strawberry and Lemon Cheesecake in a Glass
Not available How to make Strawberry and Lemon Cheesecake in shot glasses!
Ingredients
Crust
140

gms

– 5 oz. cookie crumbs

I used Scotch Fingers

70

ml

– 2.5 oz. melted butter
Lemon cream
115

gms

– 4 oz. cream cheese

very soft (I used a reduced fat version which is more spreadable in consistency)

180

ml

– 2/3 cup sweetened condensed milk

60

ml

– ¼ cup lemon juice

120

ml

– ½ cup whipping cream + ½ tbsp caster sugar
Strawberry cream
250

gms

– 8.8 oz. Philadelphia Cream Cheese

softened

100

gms

– 3.5 oz. caster sugar

2

tbsp

lemon juice

250

gms

– 8.8 oz. strawberry

200

gms

– 7 oz. whipping cream + ½ tbsp caster sugar
Instructions
To make the base
Chill for 30 minutes.
To make the lemon cream
Put the soft cream cheese, sweetened condensed and lemon juice in a bowl and whip it with an electric whisker until smooth.

Then whip ½ cup of cream with ½ tbps of caster sugar until stiff peaks appear.
To make the strawberry cream
Whip the cream with the caster sugar and keep it aside in the fridge.

Purée the strawberries with the lemon juice and caster sugar.

Beat the cream cheese until smooth. Beat in the strawberry purée until smooth.
To assemble
Gently spoon the strawberry cream on top of the chilled base up to 2/3 of the glass.

Top with the lemon cream.

Decorate with the marinated strawberries.

Serve chilled!

Related Posts: