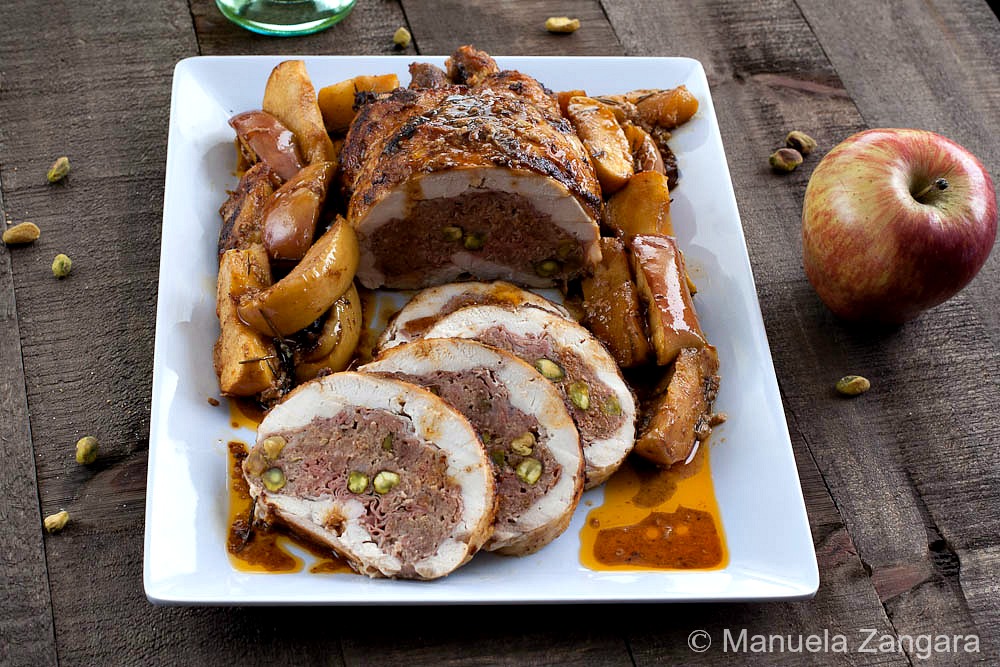 For the April Daring Cooks Challenge, Lisa from Parsley, Sage and Sweet has challenged us to debone a whole chicken, using this video by Jacques Pepin as our guide; then stuff it, tie it and roast it, to create a Chicken Ballotine.
Wow! What a challenge!  I was absolutely thrilled when I saw it!  I had never deboned a whole chicken before, but the thought of doing it did not scare me at all.  In fact, I could not wait to try!  I have always been fascinated by the butcher's work.  I think it has something to do with the fact that, when I was a child, my parents would take me to this old fashioned butchery in Piedmont to buy meat to last us all winter (stored in the freezer).  The butcher had his own animals and that meat would be so much tastier and genuine than the one we could get in Milano.  Anyhow, it would take a long time to get our order and I would stand on a chair and watch the butcher cut, slice, weigh, debone… it was just entertaining.  Not only… his wife would usually give me a few slices of their home-made salami or ham to munch on… yummmmm!  I have some great memories of that place!  Once home, I would help my parents to divide, wrap and freeze all the meat we had bought… I think that's why I have never been intimidated or grossed out by raw meat.  This was however the very first time I deboned a full chicken by myself.  The video that Lisa provided was amazingly helpful.  All you have to do is follow the instructions and you'll be able to do it too.  I did not have any serious problem with the deboning… but my tying needs a little improvement! Hehehe  I could not take many pictures of the deboning as my hands were a bit… dirty, but I will put up the video in the post, so do not worry!  I filled my ballotine with a typical Italian filling made of mince, sausage, prosciutto, mortadella and pistachios.  We usually fill our roasted capon with it and have it for Christmas (though the capon is usually not deboned).  I made some roasted apples to serve with it and it was delicious.  And the best part?  It tasted even better the next day!  I must say, slicing a whole chicken and eating it without worrying about bones, was a great experience!  I hope you like it too!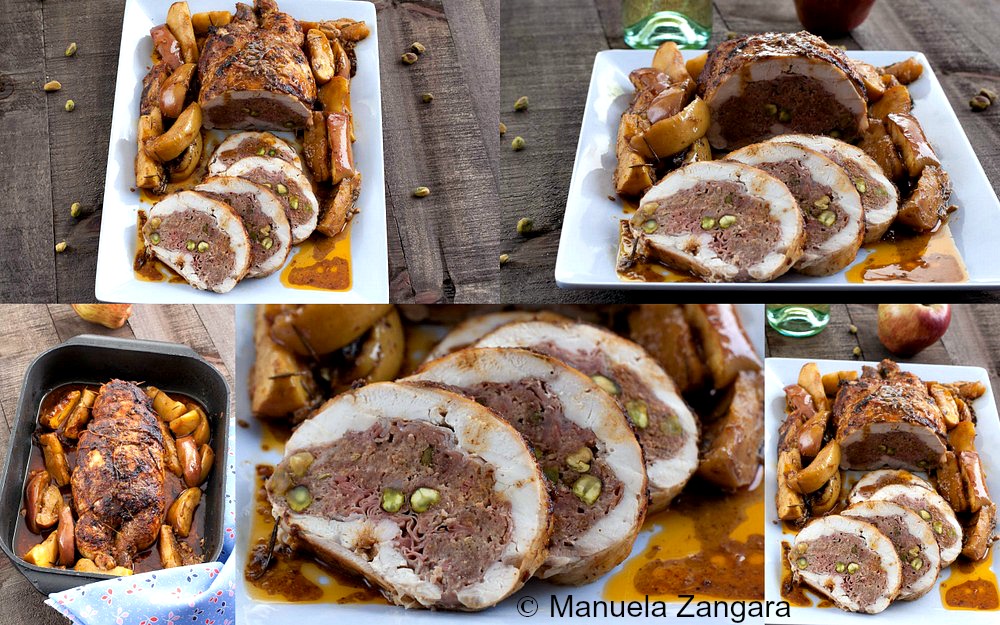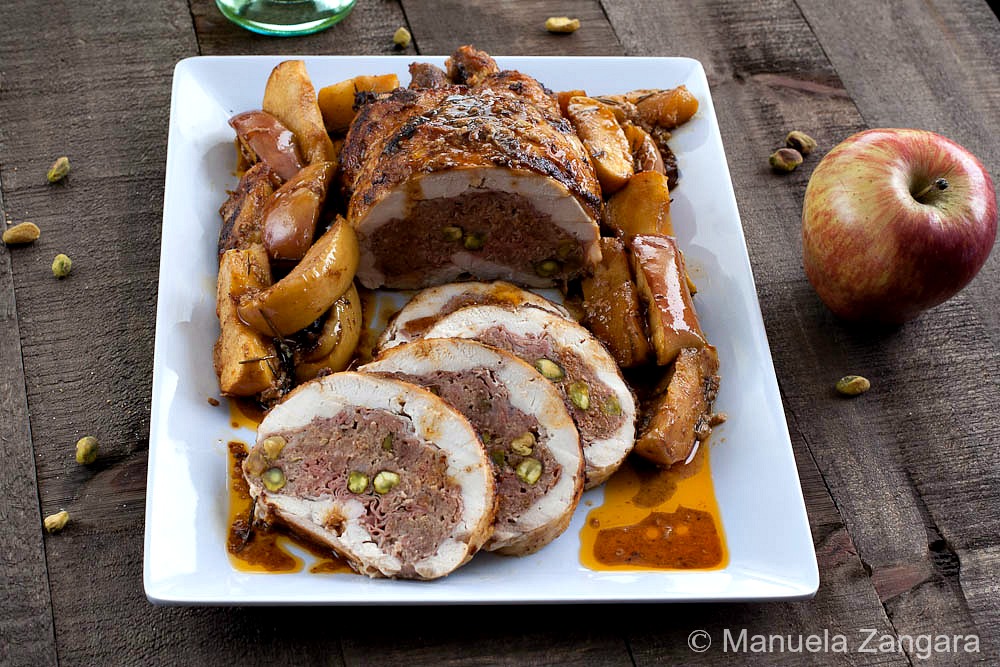 Chicken Ballotine
Chicken Ballotine filled with cold meats and pistachios... the Italian way!
Cook Time
1
hour
15
minutes
Total Time
2
hours
15
minutes
Ingredients
Chicken and Stuffing
1

whole chicken

1.5 kg to 1.8 kg – 3.3 lbs. to 4 lbs.

150

gms

– 5.3 oz. mince

beef or veal

150

gms

– 5.3 oz. Italian pork sausage

casing removed

60

gms

– 2 oz. prosciutto

sliced

60

gms

– 2 oz. mortadella

sliced

50

gms

– 1.75 oz. Parmigiano Reggiano

finely grated

1

egg

25

ml

– 0.9 oz. Marsala wine or Brandy

35

gms

– 1.25 oz. pistachios

15

gms

– 0.5 oz. sandwich bread

1

pinch

nutmeg

Sale and Pepper to taste
Roasting
2

garlic cloves

2

rosemary sprigs

4

sage leaves

2

bay leaves

½

tbsp

garlic powder

½

tbsp

paprika

100

ml

– 3.5 oz. white wine

1

chicken stock cube

40

ml

– 1.4 oz. water

2

red apples

cored and sliced in 6 or 8 pieces

Extra virgin olive oil to brush

Ground pepper and salt to taste
Instructions
Chicken and Stuffing
Soak the bread with Marsala and then mix it with all the other ingredients apart from the prosciutto and mortadella slices.

Keep the stuffing in the fridge while deboning the chicken.

Debone the chicken following the instructions in

this video

.

Gently flatten the chicken out with a meat mallet.

Season with salt and pepper.

Put the prosciutto slices on the open chicken. Spread the stuffing (make sure to push some inside the thighs!). Put the mortadella slices on the top.
Roasting
Put the ballotine in an oven tray and rub it with the ground pepper, paprika and garlic powder.

Drizzle with the extra virgin olive oil.

Put the garlic cloves, bay leaves, rosemary and sage in the tray.

Roast in a preheated oven at 230°C – 445°F for the first 15 minutes, then add in the white wine, water and crumbled stock cube.

Decrease the temperature to 200°C – 390°F and roast for 1 hour or until it reaches an internal temperature of 165°F – 74°C (or when the juices run clear when you pierce the chicken).

Let the ballotine rest for approximately 20 minutes covered loosely in foil before slicing and serving it with the apples and sauce.

Related Posts: