I love cheesecake… who doesn't?  I have made my share of no-bake cheesecakes, but to tell you the truth, I still have to make a baked cheesecake at home.  Don't ask me why, but baking a cheesecake always intimidated me.  After making these little gems though, I think I am going to have to bake myself a big cheesecake soon.  These mini cupcakes are so good, soft, moist and delicious.  They literally melt in your mouth.  I fell in love!  And, like all mini cupcakes, look really cute.  I made these for Victoria's 5th birthday party, so I decorated them with whipped cream and I topped them with coral and seaweed made with coloured fondant, but the topping is all up to you.  These were one of my favourite item from the buffet.  They are very easy to make and are also gluten free, which is a bonus.  Enjoy!
Recipe adapted from Kid Spot
Ingredients: (makes 24 mini cupcakes or 12 normal ones)
250 gms – 1 cup cream cheese (I used a reduced fat cream cheese and it worked just as well)
75 ml – 2.5 oz. heavy cream (whipping kind)
75 gms – 2.5 oz. sugar
½ tsp vanilla essence
1 egg
150 ml – 5 oz. extra cream for whipping as decoration
Coloured fondant to make the coral/seaweed decorations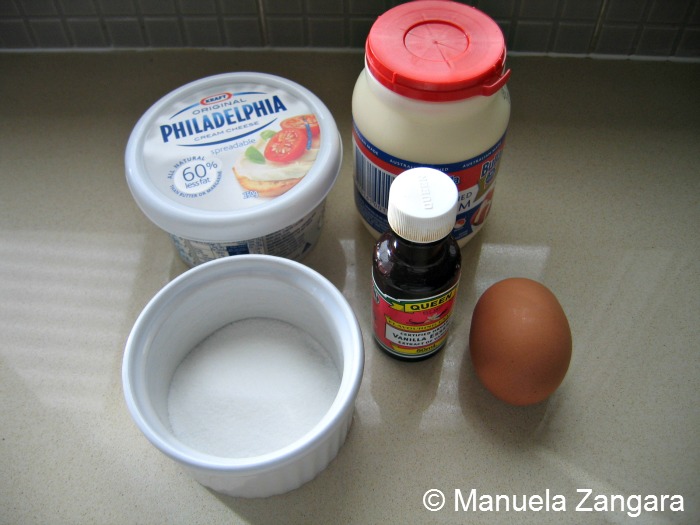 Put the cream cheese, cream, sugar and vanilla essence in the bowl of an electric mixer fitted with a whisk attachment and whisk until combined.  Add the egg and whisk again until smooth.
Put the batter into the lined muffin tray cups, filling each to 2/3.
Bake in a pre heated oven at 160°C – 320°F for about 20 minutes (25 to 30 if you make bigger cupcakes).  They are ready when the mix springs back when you gently press down.
Remove them from the oven and let them cool completely before you take them out of the tray.
Whip the 150 ml – 5 oz. of cream until stiff peaks form put it in a piping bag and decorate the cheesecake cupcakes with it (I used a 1M Wilton tip for this).  Top them with the coral/seaweed fondant decorations and enjoy immediately!
TIP: you can make the cupcakes ahead and freeze them for a few days.  I usually wrap them gently in foil (better if done individually or they may stick) and then put them in a Ziploc bag.  Make sure they are completely cold before wrapping them.  On the day you want to serve them, unwrap them and let them come to room temperature.  If you are decorating them with whipped cream, do so at the last moment or the cream may get spoilt or it may melt.
Pin It

Related Posts: