Manu from Manu's Menu was our Daring Cooks lovely June hostess and has challenged us to make traditional Italian cannelloni from scratch! We were taught how to make the pasta, filling, and sauces shared with us from her own and her family's treasured recipes!
WHAT??  Yes, you read that right!!!  I was this month's hostess at the Daring Cooks!  When Lis asked me if I wanted to host this challenge I was so thrilled!  Off course I did!  I have been a member of the Daring Cooks for more than a  year and I love it!  I had so many ideas on what to challenge my fellow Daring Cooks, but I had to choose only one dish.  I wanted it to be something Italian, for obvious reasons.  In the end, I decided to go for something I had not blogged about yet: Cannelloni, a traditional Sunday dish, that is not as well known as it should be.  In the next few days, I will share with you in detail 4 different recipes for Cannelloni.  For now, I will leave you with my challenge and a few pictures, just to tease you'll! 🙂
~*~*~*~*~*~*~*~*~*~*~*~*~*~*~*~*~*~*~*~*~*~*~*~*~*~*~*~*~
Hello everyone!  I am Manu from Manu's Menu and have been a member of the Daring Kitchen for over a year now and LOVE it!  I was born and brought up in Milan (Italy) by Sicilian parents and my passion for cooking can be traced back to my childhood, when I used to prepare meals with my parents.  After moving to Australia in 2006 and becoming a mother of 2 beautiful daughters, I decided to create a blog to share my passion for cooking and to spread the concept of authentic Italian home cooking to the world.  In fact, I often find that Italian cuisine outside of Italy is nothing like the original, so today I would like to challenge all of you to cook an Italian classic, the traditional way.  I am very thrilled to be hosting this month's challenge: Cannelloni.
Cannelloni are often mistaken for what is known as "manicotti" in many parts of the world.  To be honest, I have never heard of manicotti in Italy, so I have done some research and this is what Wikipedia says on the matter:  "Cannelloni is often erroneously referred to as manicotti (Italian: sleeves) (English pronunciation: /ˌmænɨˈkɒtiː/), which is actually a filled Italian dinner crepe, as opposed to pre-rolled pasta.[1] While manicotti and cannelloni are sometimes used interchangeably in preparing non-traditional versions of some dishes, in traditional Italian cooking cannelloni are made with pasta and manicotti with a specialized crepe pan, and the two have particular uses. Although both terms are plural nouns in Italian, the English term is often construed as singular, particularly when used as the name of the dish."
So, what are we going to cook today?  I am going to challenge you to make traditional Italian cannelloni from scratch, including fresh pasta and sauces!  I am also going to show you 4 different fillings and you can choose to make one of these or your own.
Cannelloni is not something we eat every day, it is a dish for special occasions like Christmas, birthdays or Sunday get-togethers, so it does require a little time but it is not a very complicated dish.  All the recipes below are mine (or my family's) with the exception of the Ham and Fontina Cannelloni.  If you browse online, you will find plenty of versions (some very similar to mine and some completely different)… I would go so far as to say that every Italian family has its own!
Recipe Source:  Cannelloni di magro – Manuela Zangara; Cannelloni di carne – Manuela Zangara; Cannelloni al pesto – Manuela Zangara; Cannelloni with Ricotta, Ham and Fontina from http://www.ricettedellanonna.net/cannelloni-ricotta-prosciutto-cotto-e-fontina/
Note:  As an advocate of authentic Italian cuisine I would advise you all to try, whenever possible, to cook Italian dishes with Italian products.  In this specific case, try and use authentic Parmigiano Reggiano (or Grana Padano) and Pecorino Romano, if available.  Also, traditionally Italians do not eat chicken with pasta.  You can however, use pork or veal or a mix of beef, pork and veal mince for the Meat Cannelloni's filling.
Mandatory Items: Prepare Cannelloni from scratch (that includes making your own pasta).
Variations allowed:  Variations allowed: Have fun!  You can use one of the following recipes or any combination you like.  There are also plenty of vegetarian options and if you do not eat eggs, you can make eggless pasta by mixing durum wheat flour with lukewarm water (and then follow the below instructions).  You can also skip the egg addition to your filling. If you are vegan, this is an easy dish to veganize: fill it with your favourite veggies and cook it with tomato sauce!  I look forward to seeing your creativity at work!
Preparation time:  30 minutes to make fresh pasta; 15 to 40 minutes for the filling (depending on what you fill the cannelloni with); 15 minutes to make béchamel sauce; 20 minutes for the assembly and 20-25 minutes for baking.  This dish can be prepared in advance and then baked whenever required.
Equipment required:
•           Pasta machine (or rolling pin)
•           Wooden spoons
•           Knives
•           Slotted spoon
•           Bowls
•           Colander (for spinach)
•           Cheese grater
•           Cling wrap
•           Electric mixer (to make pesto)
•           Oven dish
FRESH EGG PASTA
To make Cannelloni, you will need to also make fresh egg pasta.  Simply follow my tutorial here.  1 egg and 100 gms (2/3 cup and 2 tbsp) of flour are enough to make Cannelloni for 4 people.
BÉCHAMEL SAUCE
To make Cannelloni, you will need to also make béchamel sauce.  Simply follow my tutorial here.  500 ml (2 cups) of milk, 50 gms (3 ½ tbsp) of butter and 50 gms (1/3 cup) of flour are enough to make Cannelloni for 4 people.
Freezing/Storage Instructions/Tips:  You can easily make the pasta sheets in advance and freeze them uncooked for up to 3 months.  Simply let them dry for a few hours and wrap them individually in cling wrap and then put them in a freezer bag.
You can also prepare the full dish and refrigerate it for up to 24 hours before baking it, or freeze it covered with aluminum foil.  Defrost it and/or bring it back to room temperature before baking it.
Additional Information:  N/A
Disclaimer:
The Daring Kitchen and its members in no way suggest we are medical professionals and therefore are NOT responsible for any error in reporting of "alternate baking/cooking".  If you have issues with digesting gluten, then it is YOUR responsibility to research the ingredient before using it.  If you have allergies, it is YOUR responsibility to make sure any ingredient in a recipe will not adversely affect you. If you are lactose intolerant, it is YOUR responsibility to make sure any ingredient in a recipe will not adversely affect you. If you are vegetarian or vegan, it is YOUR responsibility to make sure any ingredient in a recipe will not adversely affect you. The responsibility is YOURS regardless of what health issue you're dealing with. Please consult your physician with any questions before using an ingredient you are not familiar with.  Thank you! 🙂
~*~*~*~*~*~*~*~*~*~*~*~*~*~*~*~*~*~*~*~*~*~*~*~*~*~*~*~*~*~*~*~
Here is a preview of my proposed recipes… come back in the next few days for all the details!  In the meantime, click here to check out what my fellow Daring Cooks have come up with!
CANNELLONI DI MAGRO (click here for the recipe)
CANNELLONI DI CARNE (click here for the recipe)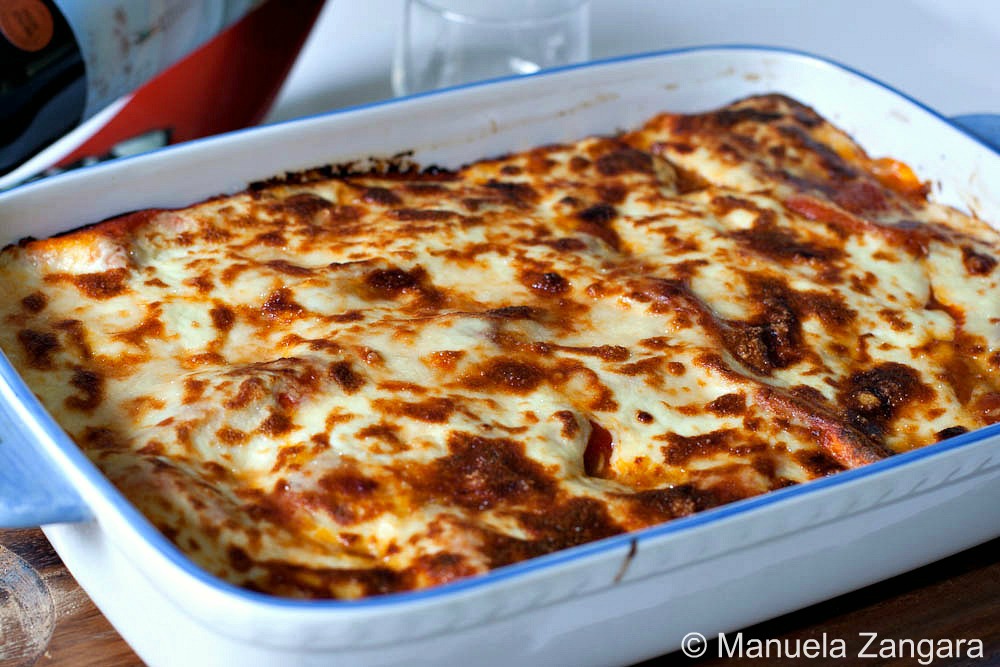 CANNELLONI WITH RICOTTA, HAM AND FONTINA (click here for the recipe)
CANNELLONI AL PESTO (click here for the recipe)

Related Posts: