Today I am going to share with you the last of the recipes that I provided to my fellow Daring Cooks for this month's challenge.  It is another one of my favourites as I love pesto and making cannelloni with it takes this dish to a new dimension!  I have also shown them how to make authentic Italian pesto from scratch, something that I had already posted about at the beginning of this blogging journey.  It also is a great vegetarian option!  I hope you'll like it and that you have enjoyed my little series on how to make Cannelloni (Cannelloni di  magro, Cannelloni di carne and Cannelloni with ricotta, ham and fontina)!  A big thank you to all the Daring Cooks who participated in this challenge, great job everyone!  I had a blast checking out all your delicious versions (you can see them here)!  I am so happy and honoured to have hosted this month's challenge and I cannot wait to see what next month's dish will be! 🙂
Ingredients (serves 4):
8 Cannelloni/lasagne sheets – as per my tutorial – made with 1 egg and 100 gms (2/3 cup and 2 tbsp) of flour
For pesto (makes about 190 gms/ 1cup)
80 gms – 2 cups basil, washed
15 gms – ¼ cup parsley, washed
1 small clove garlic
25 gms – 3 tbsp Pecorino Romano, finely grated
10 gms – 1 tbsp Parmigiano Reggiano, finely grated
45 to 60 ml – 4 to 5 tbsp extra virgin olive oil
5 gms – ½ tbsp pine nuts
Salt to taste
For the filling
500 gms – 2 cups ricotta
150 gms – ¾ cup pesto (from the above recipe)
85 gms – 1 ½ cups Parmigiano Reggiano, finely grated
1 pinch nutmeg
Salt and pepper to taste
1 small potato, boiled and sliced
8 green beans, boiled
To assemble
Béchamel sauce – as per my tutorial – made with 500 ml (2 cups) of milk, 50 gms (3 ½ tbsp) of butter and 50 gms (1/3 cup) of flour
40 gms – ¼ cup of pesto (from the above recipe)
35 gm – ½ cup Parmigiano Reggiano, finely grated
Start by making pesto.  Simply blend the garlic, pine nuts, salt, basil, parsley and half the extra virgin olive oil together (I use a hand blender to do this) until obtaining a fine paste.  Transfer to a bowl, add the grated cheeses and the remaining extra virgin olive oil and mix well.  Adjust salt to taste and cover it with a thin layer of extra virgin olive oil to prevent oxidation.  Keep it aside.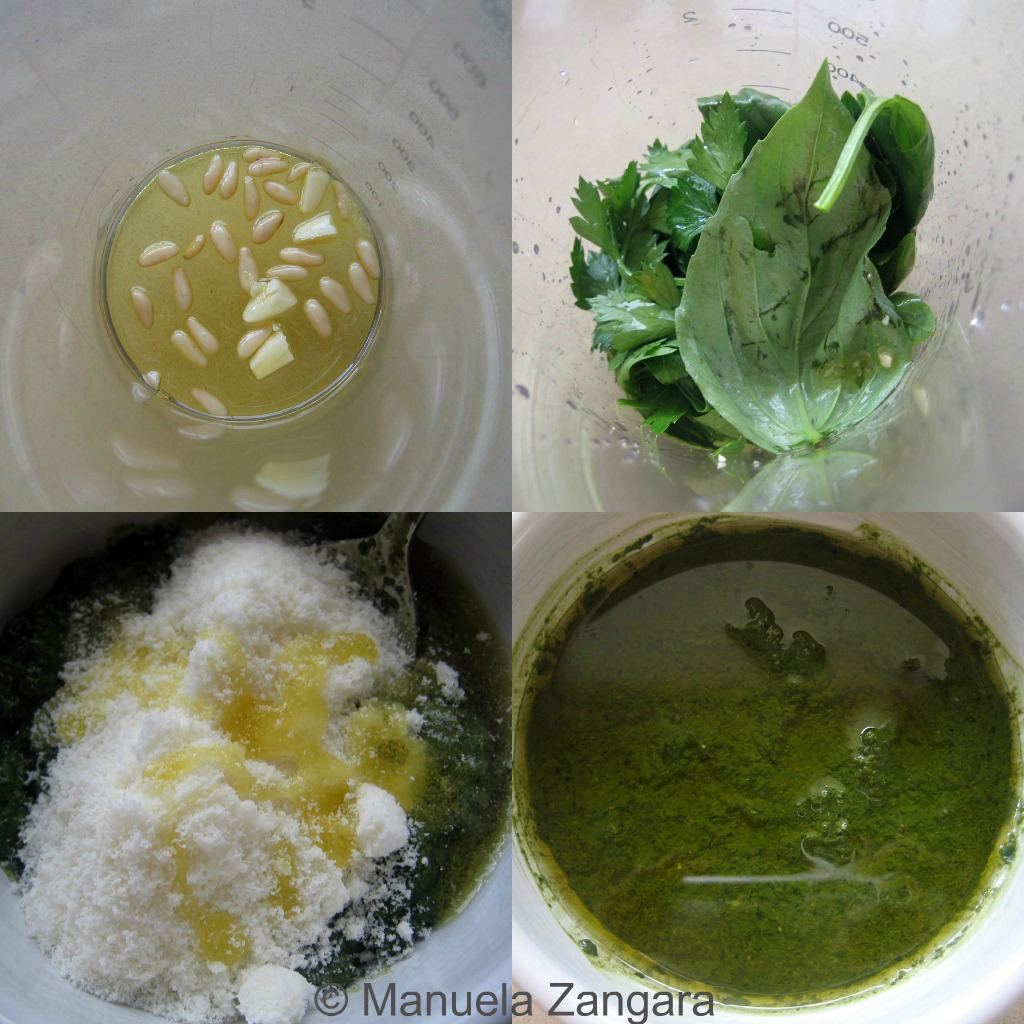 To make the filling, mix the ricotta, ¾ cup (150 gms) of pesto, 1½ cups (85 gms/3 oz) of Parmigiano Reggiano, nutmeg, salt and pepper together until well combined.  Refrigerate until ready to use.
Mix the béchamel sauce with the remaining pesto.
Put a large pot with salty water on the fire and bring to a boil.  Cook the pasta sheets in it for 1 minute.  Do this in batches (I use a shallow but large pot and I cook them in 1 layer, so I am sure they do not stick together).  Remove them with a slotted spoon and put them on a clean tea towel to cool down.
Now take one sheet of cooked pasta and put 1/8 of the filling along the long side of the rectangle.  Put 1 boiled green bean and 1 or 2 slices of boiled potatoes on top and roll the pasta over to make a cannellone.  Do so for the remaining rectangles of pasta.
Take a big enough oven dish to fit all your cannelloni tightly.  Spray the oven dish with some cooking oil (or melted butter) and pour some béchamel and pesto sauce on the bottom.  Spread it well, especially in the corners.  Put the cannelloni in the oven dish on 1 layer.
Cover the cannelloni with the béchamel and pesto sauce and sprinkle with the remaining ½ cup (120 ml) (35 gm/1 oz) of Parmigiano Reggiano.
Bake them in a pre-heated moderate oven 350°F/180°C/gas mark 4 for 20 minutes, then broil (grill) them at 400°F/200°C for another 5 minutes.
Serve immediately.
Pin It

Related Posts: