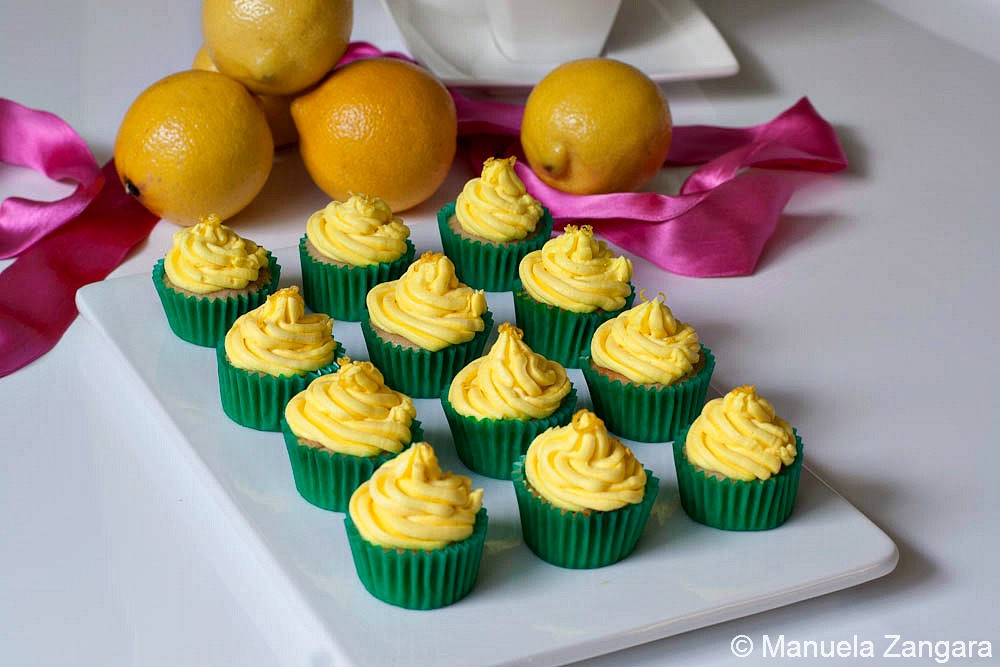 I think mini cupcakes are among the prettiest sweets ever.  There is nothing more beautiful and elegant than small, bite sized spongy cakes covered in a coloured swirl of fluffy icing.  I only recently discovered these treats, but they quickly became a favourite of mine to bake and I often take them to parties and get-togethers.  What I like the most is that keeping in mind the basic recipe, you can play around with different combinations of flavours, colours and decorations always obtaining a new kind of cupcake.  This time I wanted something classic and yellow for a little tea party we had with friends and I decided to bake some classic vanilla cupcakes and to ice them with some lemon flavoured buttercream.  I also added a sprinkle of grated lemon zest on the top for decoration and a little extra tanginess.  Enjoy!
Ingredients: (makes approximately 24 mini cupcakes)
For the vanilla cupcakes – recipe adapted from Sprinkle Bakes
1 ½ cups – 190 gms flour
1 tsp baking powder
¼ tsp sea salt
½ cup – 115 gms unsalted butter, at room temperature
1 cup – 125 gms + 2 tbsp packed brown sugar
2 eggs, at room temperature
1 tsp vanilla
½ cup – 120 ml buttermilk
2 tbsp milk
For the lemon icing
125 gms – 4.4 oz. butter
225 gms – 8 oz. icing sugar
Lemon essence (to taste)
Yellow food coloring (optional – I did not use any as my lemon essence was already coloured)
Lemon zest to decorate
NOTE: If needed, you can store the remaining buttercream in an air tight container and keep it in the fridge for up to 10 days or in the freezer for up to a few months.  Just let it thaw/bring it back to room temperature and re whip it on a low setting before using it.
To make the cupcakes
Preheat the oven to 165°C – 330°F and line muffin trays with muffins liners.
Combine the flour, baking powder and salt together in a bowl and set aside.  Then cream the butter and brown sugar using an electric mixer fitted with a paddle attachment until pale and fluffy.
Add the vanilla and the eggs, one at a time, beating until well incorporated.  Remember to scrape down the sides of the bowl as needed.  Add the flour mixture in three batches, alternating it with two additions of buttermilk and milk.  Beat until well combined.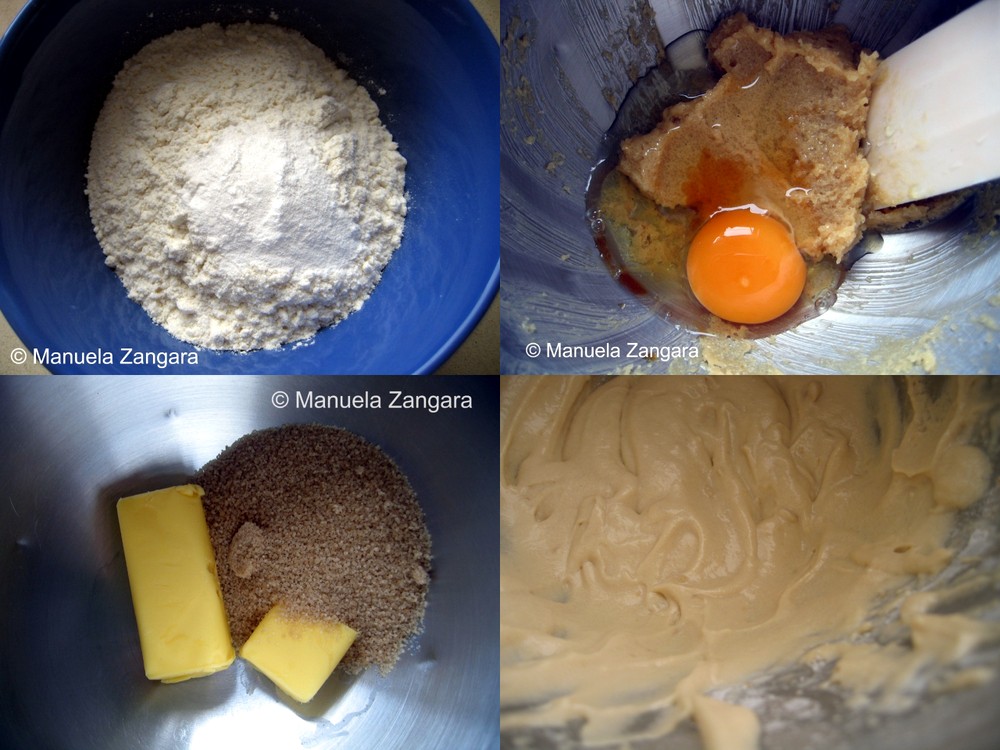 Put the batter into the lined muffin tray cups, filling each to 2/3.  Bake for about 15 minutes (25 if you make bigger cupcakes).  When cooked, let them cool down in the tray for 10 minutes, then put them on a wire rack to cool down completely.

To make the lemon icing
Beat the softened butter with an electric mixer fitted with a paddle attachment for a few minutes and then incorporate the icing sugar, lemon essence and the yellow food colouring (optional).  Mix well.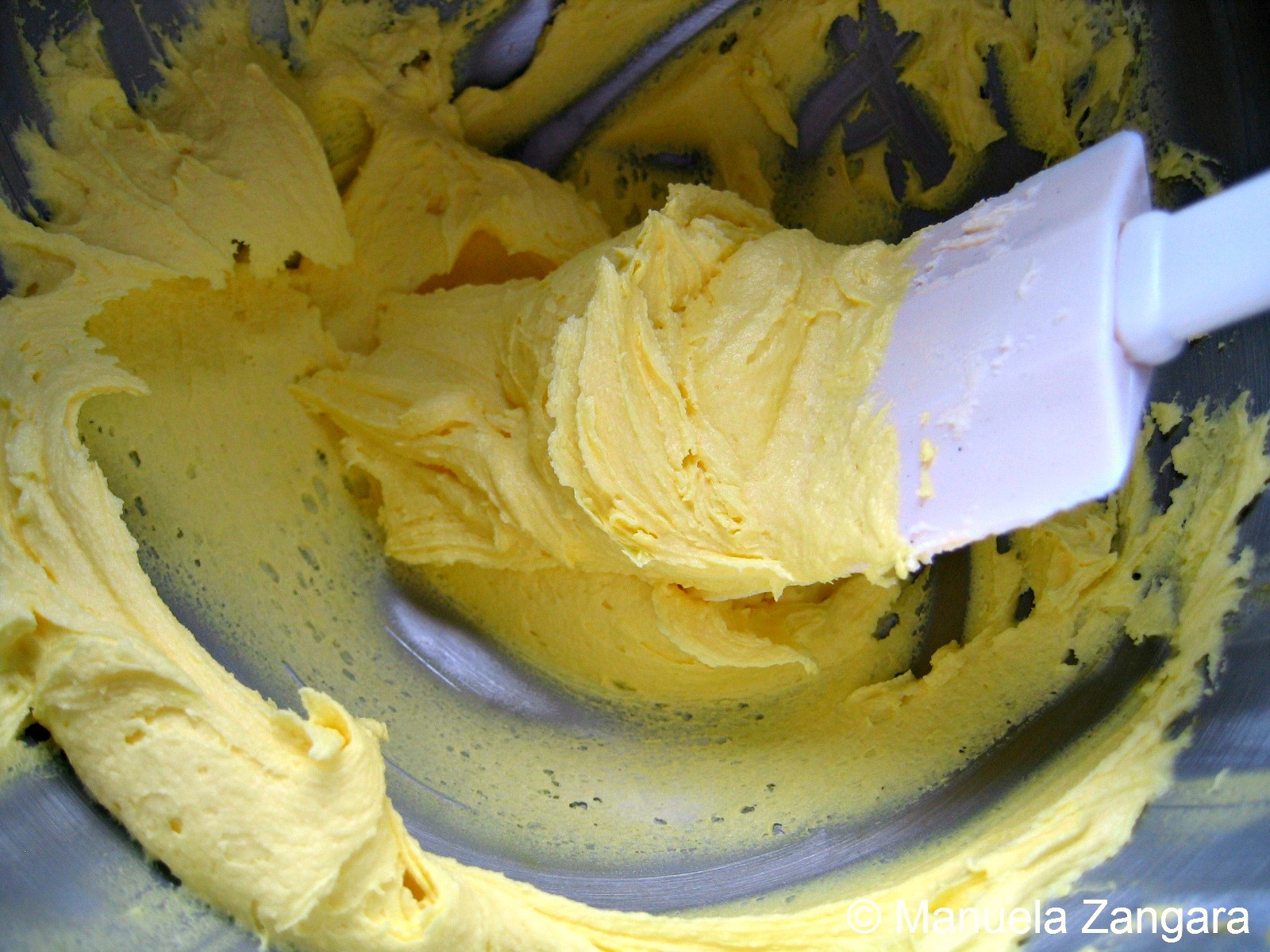 To assemble the cupcakes
Put the lemon icing in a piping bag and decorate the vanilla cupcakes with it.  Decorate with lemon zest and enjoy!
Pin It

Related Posts: