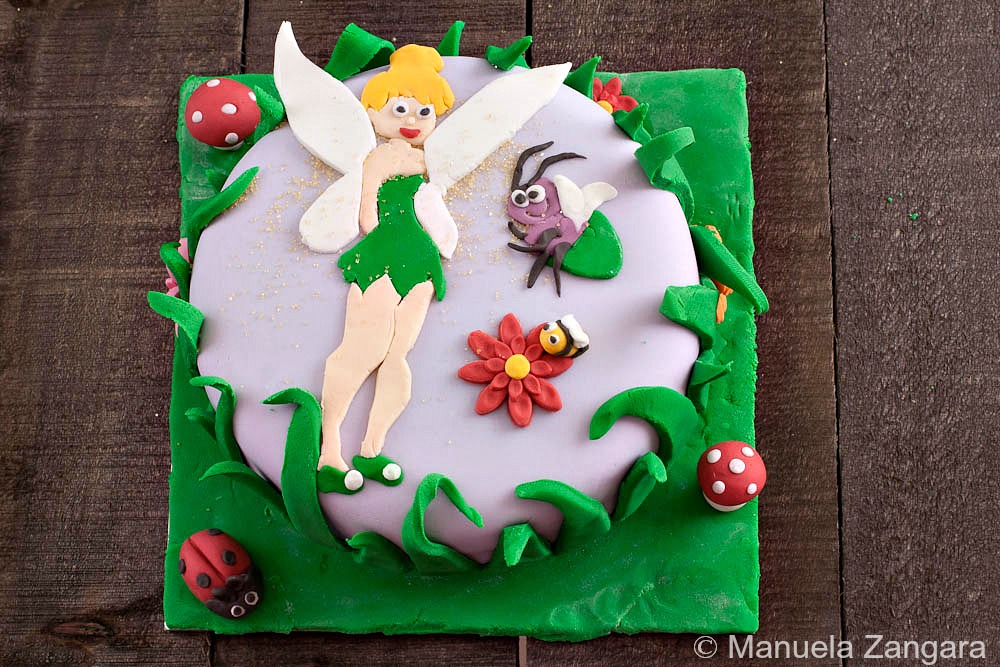 My eldest daughter Victoria loves Tinkerbell… she has all 4 movies and watches them endlessly together with her little sister.  They sit together on the couch, under a blanket and watch these movies with great pleasure.  When the time to choose her birthday cake came, she requested a "Tinky Cake".  I immediately decided to make a fondant cake with a flat image of Tinkerbell on the top and not to attempt making a figurine as that would have been too complicated.  I added Tinkerbell's firefly friend "Blaze", some flowers, 2 toadstools, a little bee and a ladybug, but you can add anything you like, as long as you keep "nature and fairies" in mind.  So, have fun and be creative!  In the end, both Victoria and I were quite pleased with the result!  I'll leave you to MsM's Tinkerbell Cake!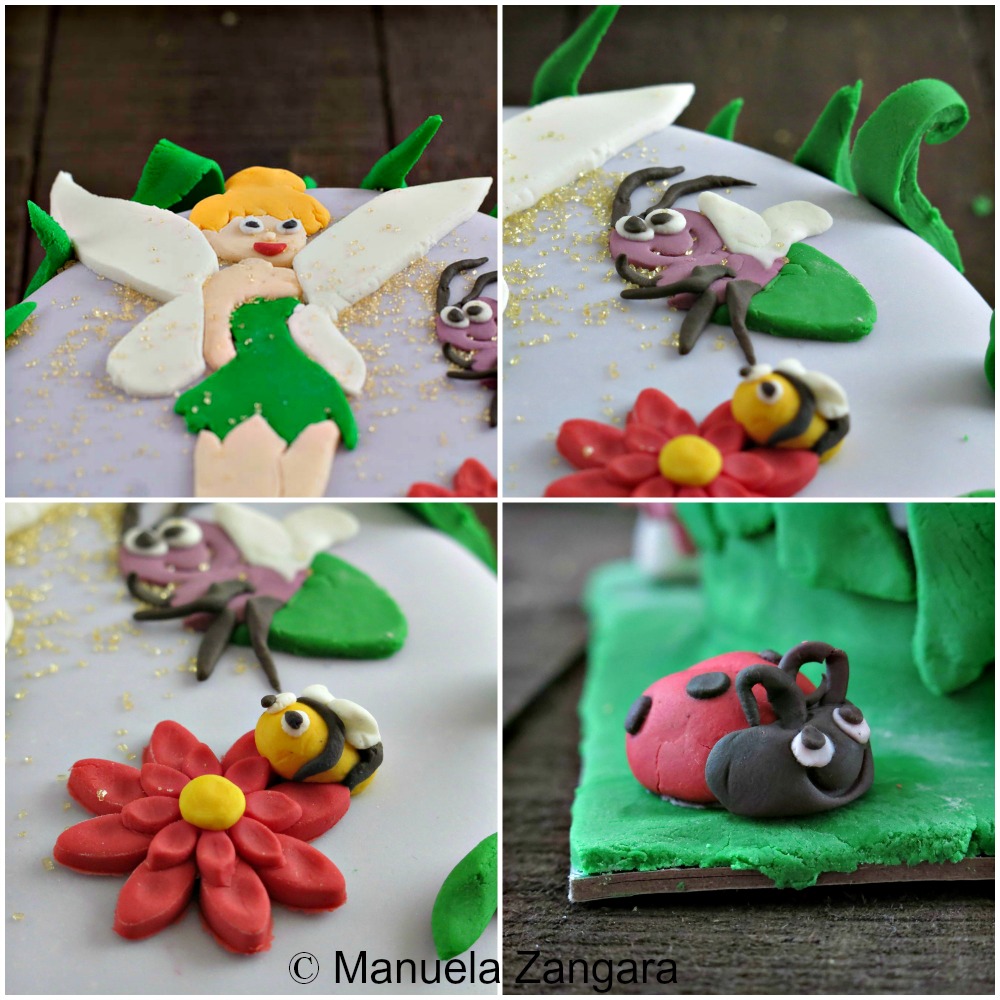 Tinkerbell Cake
My eldest daughter's 6th birthday cake: Tinkerbell... made of fondant!
Ingredients
Coloured Fondant

Icing for crumb coating

Icing Sugar/corn starch
Instructions
Start by baking the cake. I made 2 yogurt cakes and froze them.

Then colour all the fondant you are going to need. Dip a toothpick in the gel colour and then rub it onto the piece of fondant you want to colour. Then knead until uniformly combined.

You can start preparing the fondant for decorations about 3 or 4 days before the party (make sure to keep it wrapped and in a dry place so it doesn't harden).

To make Tinkerbell and Blaze I made my own stencils. It is quite easy, all you need is a printed image of what you want to make, some clean cardboard, some transfer paper, a pen and a sharp exacto knife. Put the transfer paper between the image and the cardboard and transfer the image onto the cardboard by tracing the outline with a pen. Cut out all the single pieces. I always use this method when I have to make my own stencils (also for making cookies), so I can virtually make ANYTHING I fancy!

The day before the party I assembled the cake. I made some icing for the crumb coating (you can use your favourite icing recipe, just make sure that it is a little less dense as it needs to be smooth and you should be able to apply it easily). I took the 2 yogurt cakes out of the freezer and levelled them while still frozen with a sharp serrated knife.

I put a layer of icing on the cake and topped it with the other cake. Make sure to choose the smoothest and flattest of the cake surfaces for the cake top (it is very likely going to be the bottom of one of the cakes), this will make it easier to ice and decorate the cake. Now you are ready to crumb coat it. You can do this while the cakes are still frozen and it is much easier this way. Start from the top, then do the sides. Use a cake spatula to make sure the surface of the cake is as smooth as possible. When the cake is all covered in icing, put it in the fridge to harden. This coating will make the fondant top look smooth and it will ensure that no crumbs will be visible through it.

When the icing has dried, transfer the cake onto a cake board. Make sure to attach it to the base with a bit of icing.

Then roll out the lavender fondant and cover the top of the cake with it (no need to get till the bottom as you will cover that with the green fondant, so trim off the excess of the lavender fondant with a sharp knife). Roll out the green fondant and cover the remaining cake and base with it. Smooth it with a fondant smoother and cut out the excess.

Then I cut some strips of green fondant to make them look like long grass and I "glued" them all around the cake using a little bit of water.

Always using water, I attached all the decorations that I had previously made: Tinkerbell, Blaze, some colourful flowers, 2 toadstools, a little bee and a ladybug. The possibilities are endless!

Just before serving it, I added a sprinkle of golden coloured sugar on Tinkerbell's wings to make "Pixie Dust"
Recipe Notes
I made 2 batches of my Yogurt Cake recipe, but I got leftover batter enough to make 12 cupcakes out of it… so I will try with 1 dose only next time!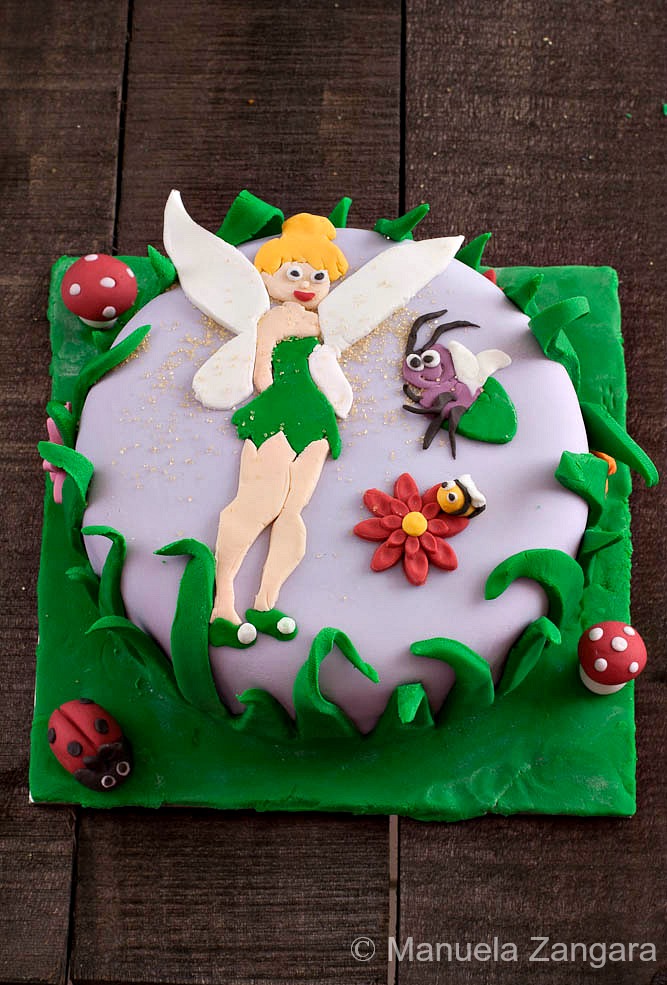 Related Posts: