On the 16th my eldest daughter turned 5 and I have been quite busy organising her birthday parties.  She celebrated in school with her friends on the 16th itself and I made her a Little Mermaid Yogurt Cake to take along and some Flounder Shortbread Cookie Pops to give as party favors.  When she came home in the evening we had a little family celebration: I made her a chocolate cupcake frosted with home made chocolate sauce and sprinkles and we gave her some presents.  We were looking for The Little Mermaid DVD, but we could not find it anywhere, so we got her The Princess and the Frog (which she loved!) and Pocahontas.  She also got some nice presents from her nonni, grandparents, aunts and uncles and she was very happy with all of them!
We had a little party today and invited some of our closest friend.  I was particularly happy to have Anna, one of my best friends from Italy, attend as well!  She's been in Australia for a little while and will be going back to Italy soon!  We will miss her a lot!  Victoria had a blast at the party and got many more wonderful presents (thank you everyone!).  She played non stop and it was great to see her having fun!
It is very hard to believe that my little baby is already 5 years old.  These last years literally flew… and I am afraid so will the next.  In January she will be starting "big school" and we are all excited about it.  We love you so much beautiful doll and we are all very proud of you!!! <3
I obviously prepared all the food at home!  So, I was a bit busy… hehehe  This time, we had a "theme party".  As you might have guessed, Victoria is particularly fond of The Little Mermaid… so that was our theme… Ariel and the sea.  We used a blue table cloth to make the sea and we decorated it with paper boats.  We made jellyfish too and hung them on our pergola.
Also the food was somewhat sea related, like these Sea Marshmallow Pops:
Or this Sweet Sushi: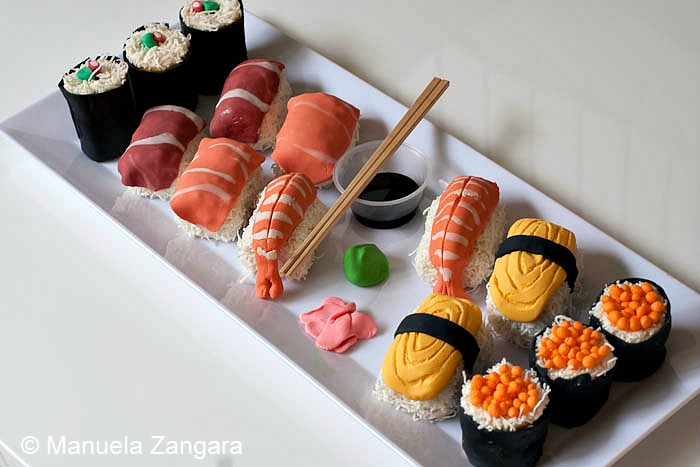 Or these Chocolate and Vanilla Shark Mini Cupcakes:
And these Cheesecake Mini Cupcakes:
And obviously… The Little Mermaid Cake!
I am going to post all the new recipes in the next few days… but here is a preview of the "menu" (hoover over each image with the mouse for the name of the dish and, where already available, a link to the recipe):
[nggallery id=26]
I won't write a separate post for the sandwiches, but the mousses are really easy to make: just blend smoked salmon (or tuna or ham) with cream cheese… and there you have it.  The proportions are up to you, depending on your taste.
I also served the mousses with rice crackers for a gluten free option.
Also, the Octodogs are just pan fried sausages.  To get the octopus effect, simply cut the bottom half of the sausage into eighths (using vertical cuts) and leave the top half intact.
I won't write a separate post on the Shell Cookies either.  They were mini Belgian waffles attached together with some pink frosting.  I also added a little ball of fondant to make the pearl: very easy!
We also had chips, shell shaped chocolates, "sea water" (made with a little powerade and water) and various juices/drinks.
Now it is back to "normal life" and a little rest!  Stay tuned for all the remaining recipes!
Have you ever organised/attended a themed party?  What was it about?  And did you like it?

Related Posts: