On the 16th my eldest daughter turned 6!!!  I cannot believe how fast time flies.  Before I had kids, a year seemed to last forever… now it's finished before I even get used to saying "Victoria is 5"!!!   She is turning into a precious little girl and she can look so "grown up" at times… but to me she'll always be my baby with big brown eyes and chubby cheeks!!  We love you so much beautiful princess and we are all very proud of you!!! <3
I have been quite busy in the kitchen this past week as I had a couple of parties to organise.
She celebrated in school with her friends on the 16th itself, which was the first day of Term 3 (already!!).  She is in kindy and as she is half Italian, she wanted an Italian themed cake.  I took the easy way out and I made a Yogurt Cake with the Italian flag (made out of fondant).
Quick, tasty, healthy and cute looking.  As there are 25 kids in her class, I also made some of my Shortbread and Chocolate Hearts for them to have for morning tea.  It was quite a lot of work, but the kids loved them, so it was worth it!
Actually the celebrations started early this year as we took her and her little sister to see Disney on Ice – Princesses and Heroes on Friday evening.  We all enjoyed it as the show was really nice and they both got to see their favourite characters.  The little one was ecstatic and kept on calling Goofy, while Victoria was more into the "princesses – princes" action.
I must admit they both got a bit scared during the Sleeping Beauty section as there was a huge dragon and fire involved in the acting (very cool)!  They loved Ariel, the Beauty and the Beast, Cinderella, Aladdin (thanks to nonni for the new DVD's that she has already watched a few times!!) and their favourite: Tinky!
In fact, they love Tinkerbell so much, that Victoria chose her as the theme for the party we had on the weekend with some of our closest friends.  Victoria played non stop and it was great to see her having fun with her friends!
She had a blast at the party and got many wonderful presents (thank you everyone!).
I obviously prepared all the food at home!  So, I was quite busy… hehehe  As the theme was Tinkerbell (and nature), we used a green table cloth to make the grass and put all the dishes on it!
Also the food was somewhat nature/fairy related, like these Butterfly Cupcakes:
And  these Pixie Dust Marshmallow pops:
And these Acorns:
And these Crespelle Snails filled with Philadelphia and Smoked Salmon or Prosciutto:
And these Parmigiano Reggiano Cookies:
We also had some less nature related food items like my Chocolate Avocado Mousse (which was very successful… nobody guessed it had avocado in it!):
And these Pizza flavoured Savoury Pastries:
And these Zucchini and Blue Cheese Savoury Pastries:
And obviously… a Tinkerbell Cake!
I am going to post all the new recipes in the next few days… but here is a preview of the "menu" (hoover over each image with the mouse for the name of the dish and, where already available, a link to the recipe):
[nggallery id=28]
I won't write a separate post for the Fruit Wands:
The Strawberry and Chocolate Ladybugs:
The Butterfly Fairy Bread: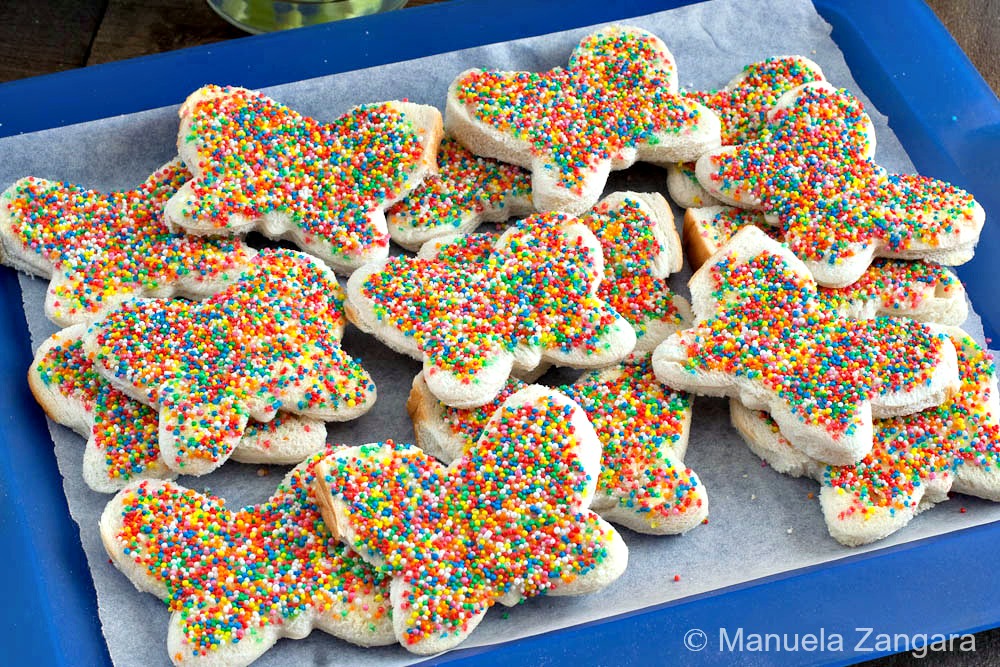 And the Umbrellas/Mushrooms made by halving Baby Bell cheese:
Now it is back to "normal life" and a little rest!  Stay tuned for all the remaining recipes!

Related Posts: